Property line fence laws in Missouri is always a hot topic. Being that there are two separate sets of laws addressing partition fences, many property owners in this state get easily confused.
This has made it more difficult for neighbors to resolve their fence disagreements peacefully. If you're ever wondering how to go about your conflict with your neighbor, here's what these Missouri fence laws say.
It depends on your county. In most neighborhoods, you'll need a building permit to put up any new fence. In towns that don't require a permit, you'll need to observe the zoning restrictions stipulated by the local ordinances.
Fences located within a City Historic District, or a City Landmarks may also demand the approval of the local Cultural Resources office, besides a permit.
Constructions in a flood-prone area will also need a Floodway Development permit, even where a building permit isn't required.
Can I replace an existing fence without a permit?
In most cases, no! Many town and city authorities demand a permit to alter an existing fence, whether through repairs or replacement. The only exception granted is usually replacing a fence with similar materials, height and location.
Note: The laws could be different depending on the Homeowner's Association laws in your area. Therefore, always review the regulations in your municipal code.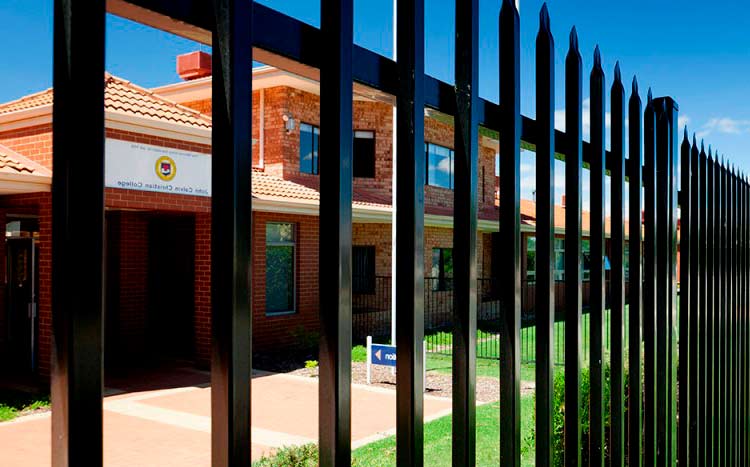 How tall can a privacy fence be in Missouri?
Fences in residential districts are limited to a height of 6 feet. Front yard fences shouldn't be taller than 4 feet, and the rear fence shouldn't exceed 6 feet.
Homeowners can, however, apply for a variance to build taller fences.
In commercial districts, the fence height is capped at 8 feet on all sides of the property.
Corner lots and privacy fences near the right of way may also have extra requirements. Consult the planning department in your county to find out what they are.
Who owns the fence on property lines in MO?
It depends on whether your county uses the general or local option fence laws. The general fence laws in Missouri recognizes a neighbor with livestock as the sole owner of a fence on the property line.
If each adjoining neighbor is a livestock owner, then responsibilities change to joint ownership. In this case, each neighbor has to share the costs for half of the fence.
In contrast, for counties in Missouri that use the 'local option,' all adjoining neighbors are regarded as owners of the fence even if they don't own livestock.
How do you know where the property boundary is?
Conduct a survey. Hiring a qualified surveyor will ensure you receive accurate data regarding the location of your property lines.
You can also visit your local Assessor's office and ask for a plat map of your neighborhood.
Some districts might even have these maps on their website.
If the need for these boundaries is urgent, you can also check your deed. It usually has details of your property's boundary.
Can my neighbor build a fence on the property line?
Yes! Regardless of what fencing law is enforced in your neighborhood, a neighbor can build the fence on the property line with minimal friction.
Having adopted a fence-in kind of law, the general Missouri laws require livestock owners to build and maintain the fence. You won't have to contribute to this fence if you don't use it.
But if you're in a local-option county, you will have to build and contribute an equal share of the fence, regardless of your livestock ownership status.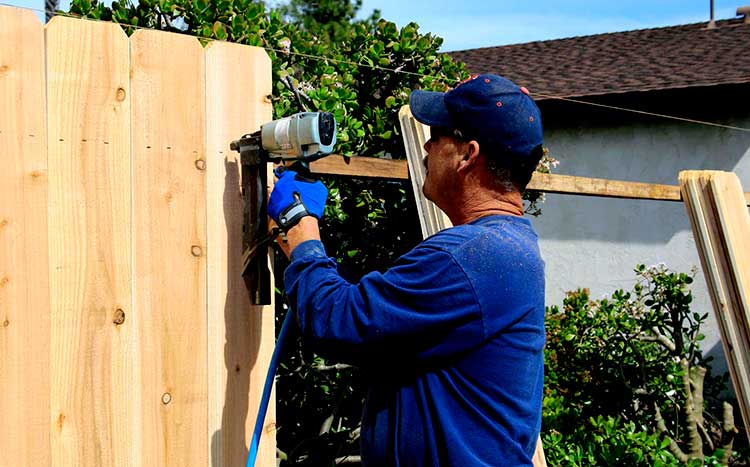 Can I put up a fence on my side of the property line?
Yes. There's no problem with building a fence on your side of the property line. If you have livestock or crops, fencing will prevent your animals from invading your neighbors land and damaging it.
There are, however, some local ordinances and neighborhood zoning restrictions that you must follow.
A spite fence refers to a fencing structure constructed by a spiteful neighbor for no other purpose but to annoy and frustrate their neighbor. In Missouri, Spite fences aren't directly addressed on either of their fence and property line laws.
Nonetheless, victims of such a fence can always file a lawsuit against such a structure to have it removed on grounds of private nuisance.
Missouri fence law basics
The Missouri fence laws are basically divided into two. There's the general law and the Local option. The general law is the most used, having been in operation since the 1800s, while the 'Local Option' was recognized in 2001 when the two fence laws become effective.
The basis for passing both laws in the state was to ensure that property owners with livestock and crops benefit.
Under both laws, a fence is considered legal if it's at least four feet in height, has four strands of wire or boards, and has posts separated by not more than 12 feet apart.
Any disputes that arise between neighbors can be resolved by filing a suit at a circuit court or seeking the help of fence viewers.
Counties that follow the local option
Although this local option fencing was only incorporated in 2001, it has enjoyed massive adoption from Northern counties in Missouri. At least 19 counties already implement these laws including:
Bates, Cedar, Clinton, Gentry
Daviess, Grundy, Harrison, Macon
Knox, Mercer, Linn, Newton
Putnam, Shelby, Schuyler, Scotland
St. Clair, Sullivan, Worth
Most of these counties opted for this law because it favors the livestock owners and farmers.
Differences between the two fence laws
The biggest differences between the General Law and the Listed Option are the responsibility for a shared fence and the landowner liability.
Under the general fence law, only landowners with livestock are required to build and maintain the fence on the property line. If both neighbors own livestock, they have to cost-share these expenses.
While there's no obligation for a non-livestock owner to contribute to the fence, if they ever keep livestock, they will be legally required to compensate the neighbor who built it.
For liability, if your livestock trespasses to your neighbor's side and causes any damage, you may be liable to pay up to double the cost of the damages.
In Local options laws, the concept of compulsory ownership is applied. This means that the adjoining neighbors have to share the responsibilities of a fence even if one neighbor doesn't benefit from the fence.
It further states that when livestock escapes into your property through your side of the fence (due to negligence) you have no rights to collect damages money.
Cities in Missouri have fence laws
Besides the two fence laws in Missouri, some cities and subdivisions also have their regulations regarding fences and property lines. These ordinances mainly cover fence heights, permit requirements, and zoning setback regulations. You, therefore, need to check these laws before beginning any fence construction.
Missouri boundary fence laws at a glance
This table provides an overview of some of the state laws governing Missouri's fence laws and links to their original documents.
Statues
Local Option vs. General Rule
Local Fence Regulations
Missouri code § 971.05 General law: Division fences, rights of parties

Missouri code § 272-070 General law: dispute resolution

Missouri code § 272-240 Local option: Demanding payment for partition fence

Missouri code § 272-235 Local option: Duty to build a fence
Local option:

Forced responsibility for the fence construction and maintenance;

The law does not specify which portion of the fence is each landowner's responsibility;

Livestock ownership is not required to trigger fence law.

General rule:

No forced contribution for unwanted fence;

Requires fence construction if there is livestock;

Allows for the county to define what is a lawful fence.
City of St. Louis fence ordinance

City of Kansas city fence and wall ordinance

City of Springfield building regulation
Keep in mind; These laws are bound to change with time depending on the new legislation, federal court decisions, and other initiatives. Use the information provided above as a guide and research the latest regulations in your municipality.