More and more people are moving towards wood fencing with metal posts because they are more durable and offer better support to the wooden fence.
On average, a customer will pay $4,500 for a wooden fence with metal posts. The total cost depends on the height, style, number of posts, and the shape of the posts.
The price is subject to change depending on the contractor that you use, type of metal and wood, permits, the terrain, among other factors.
To get the accurate cost of installing a wood fence with metal, you will need to involve a professional.
The cost of installation for a wood fence is $3000 – $6500, but the average customer will most likely pay $4500 for a standard-sized residential land, which is about 209 linear feet. On the low end, you can spend about $2,000 on the fence without a gate. The cost can go up to $10,000 for a 6' high privacy fence.
| National average cost | $4,500 |
| --- | --- |
| Average range | $3000- $6500 |
| Low-end | $2,000 |
| High-end | $10,000 |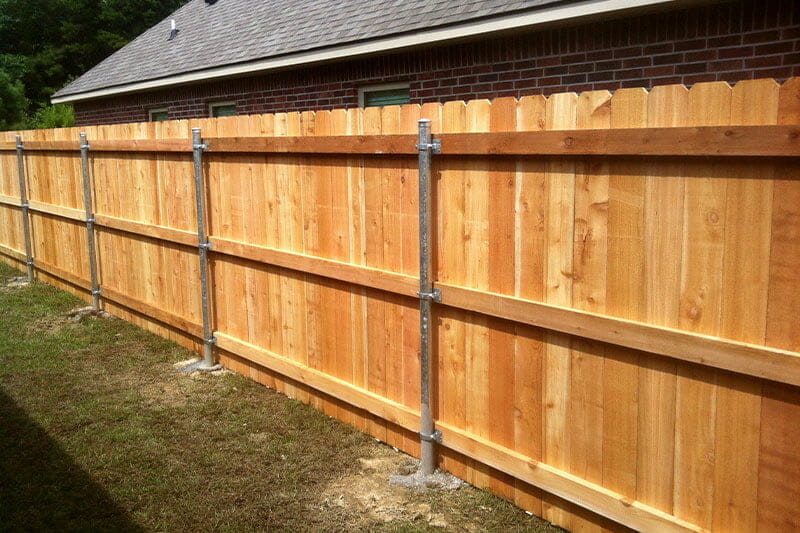 If you insist on getting the estimate yourself, get a pen and paper and:
Write down your budget.
Identify and note down the type of wood you want and is within your budget.
Identify and write the type of metal posts you want; again, ensure it's within budget.
Add any additional costs, such as gates and decorations.
Calculate the final price.
This will form the foundation of the whole project, and it will help you stay within budget and not break the bank. However, remember that this is just a rough estimate, and it may go overboard or even below budget.
Factors Affecting The Cost Of Wood Fence With Metal Posts
Various factors determine the cost of a wooden fence with metal posts.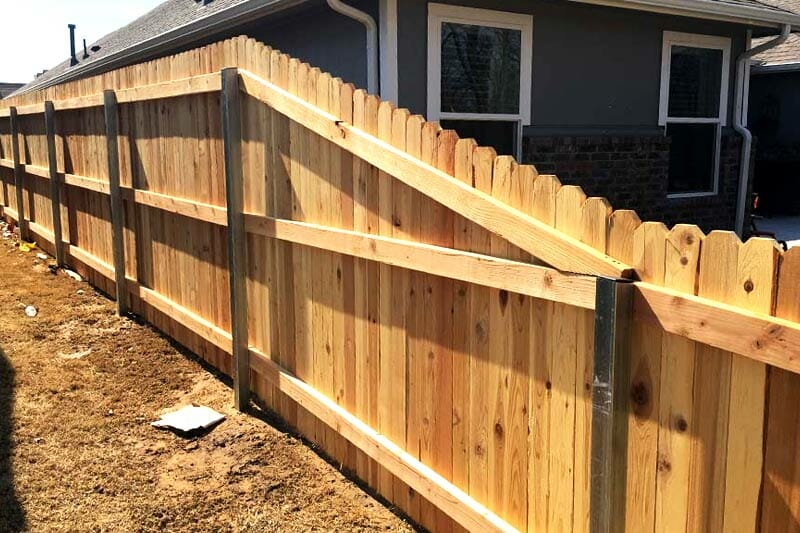 The type of wood is the primary determinant of the price. Different types of wood come in at different prices. The one you use narrows down to your budget as the homeowner and the aesthetic appeal that you are going for.
Some popular options you may explore include:
| WOOD TYPE | COST | BENEFITS |
| --- | --- | --- |
| Western redceda | $6 to $8 per six feet picket | Resistant to rot, moisture, and weather damage resistant |
| Redwood | $8 for six feet picket | A mid-priced option that needs to be stained before installation to preserve its beauty |
| Spruce | $5 for a six feet picket | An economical but less durable alternative |
| Pine | $1 to $5 for a six feet picket | An affordable fencing option resistant to rot and insect infestation |
| Tropical hardwood | $10 to $15 for a six feet picket | Last a lifetime and feel like natural wood |
The price of metal posts varies depending on the metal material used, its height, and the quantity you purchase. For instance, the price difference between a wrought iron metal post, steel post, and aluminum post is significant.
Steel posts are mid-priced, ranging between $30 and $60, and are often used to install wooden fences because they are robust and long-lasting. These posts will serve you well for more than two decades with little to no maintenance. You can enhance the strength and durability of steel posts through galvanization, which also boosts their rust resistance properties.
Aluminum plated posts are also a popular option that ensures you save a few coins. They cost $25 – $45 and are perfect for experimental designs since they are more versatile than steel posts.
Metal posts can cost between $3 and $50 each. The cost is also based on the style of the posts. For instance, you pay less for slim metal stakes than you would for round poles or sturdy square metal posts. Corner and gate posts are also significantly more expensive ($50-$150) than line posts.
Although you can install a wood fence with metal posts yourself, making use of professional contractors is always the best option because these contractors are skilled and more conversant with fencing jobs.
Most contractors charge between $40 and $150 to install the metal posts. That's because most fencing contractors only install vinyl or wood posts as part of a complete fence installation project.
The total cost of installing each post will depend on the size and depth of the post hole and the material used to anchor the post, whether concrete or gravel. Anchoring using concrete boosts the price by $2-$4 per linear foot more than gravel.
As aforesaid, a contractor is vital in this process because they should know whether or not local building codes require permits during the construction of a fence and what restrictions are present.
If you do not want to incur the cost and hustle of building your dream fence, then have to bring it down because you did not abide by the restrictions or secure a permit.
On average, the cost for a permit ranges from $400-$800, but this is different in all states.
The nature of the land also affects the cost of installing a fence.
Accessibility. If the land on which the fence is being built is not easily accessible, labor costs will shoot up significantly, making the overall cost of the project increase. This is because you have to incur the cost to transport employees and materials.
Hindrances. If the land has shallow groundwater, clay, rocks, and bushes, just to mention a few hindrances that will require preparing the ground, these obstructions increase labor costs by 20% to 40%. That's because prepping the land will take more time than it would if there were no hindrances.
Slope. If the land is on a slope, the cost will increase drastically. Working on a slope is cumbersome and may require additional materials to ensure the fence remains strong and sturdy.
You can also opt to surface mount the metal posts using a welded flange if the land is hard. This requires additional materials that result in higher costs.
Decorative Fence Post Caps
You can add decorative post caps to the ends of the metal posts to improve the attractiveness of the fence. These can cost between $5 and $50 each.
Boost the functionality of the caps by adding lighting, which typically costs between $20 and $60 per lighted cap. Installing the lighted caps is the job of an electrician and costs about $65 to $85 per hour.
The cost of removing and disposing of existing fencing is excluded from the average price and costs about $2 and $5 per linear foot.
Gate installation is also priced separately and ranges between $200 and $600.
Why Settle For Wood Fence With Metal Posts?
Metal posts became popular after the ban of Chromated Copper Arsenate, which was used as a preservative to prevent wood posts from being exposed to moisture in the ground.
The popularity of metal posts for wood fences is well deserved owing to the multiple advantages offered by the posts.
Makes Your Fence Last Longer
The minute wood posts are embedded on the ground and are in constant contact with moisture and insects they begin to decompose. This makes the wooden fence meet its early demise due to a rotten base. On the other hand, metal posts are not subject to destruction from moisture or insects, ensuring the fence lasts long and serves you well.
Regardless of the type of metal you use, metal posts are significantly stronger than wood posts. Erecting a wood fence with metal posts offers greater support to a wooden fence and makes it less vulnerable to harsh weather, which may easily bring down the fence.
There are plenty of designs to choose from as well as a handful of metal types that you can use to beautify your fence. This breaks the monotony of having a plain wood fence without outstanding designs.
The Fence Will Stand Straighter
As wood posts continue to age, individual posts begin to get weaker, and you may notice several posts in a section breaking at the base, making the fence posts lean to one side. Metal posts will not break easily or get weaker over time, meaning they will help maintain your fence's structural integrity for longer.
Every good thing has its negative side, and metal posts are not excluded. While its positive attributes outweigh the negatives, they significantly contribute to a high price point compared to other metals.
Looking for a Quality Fence Contractor?
Different contractors charge differently for the same task. Before hiring a contractor, always ensure you do extensive research and compare several contractors before settling on one because the fence contractor is an integral part of this project.
Homegardenguides.com is a FREE tool to help you get several estimates in your area, and compare them to get the most affordable prices.