Sod is one of the best ways to get an "instant lawn". Although it is costly, most homeowners prefer it over waiting for seeds to grow. The tricky part, however, is finding the perfect sod installer near you.
Once you start looking for a sod installer, be sure to do your homework and compare several options first.
Service
Low
High
Typical sod installation cost
$1,750
$4,250
Per Square Foot
$0.35
$0.85
Hourly Rate
$35
$75
1/4 Acre Sod Installation
$3,810
$9,250
National Average
$2,850
Typically, the national average cost to install sod is approximately $2,850. The typical cost range for sod installation is between $1,750 and $4,250. This cost depends on the type of grass used, location, size of the lawn, and condition of your land. Knowing all the cost factors before installing sod is essential to plan your budget.
If your land does not need levelling, the cost will be lower. Land levelling cost pushes the installation to the higher end. Land tilling or adding topsoil also makes the overall cost to be higher, as well. On average, you can spend about $1.0 per square foot on good-quality topsoil.
The cost to install sod per square foot is approximately $0.35 to $0.85. Expect to pay anything from $3,810 to $9,250 to install sod on ¼ acre of land. Professionals charge hourly rates ranging from $35 to $75 per hour. Most professionals, however, offer fixed rates after estimating how long the project might take.
Questions to ask sod installers
If you need an instant lawn, sod is the way to go. However, finding the right installation company may be quite daunting. Once you find several options, you should narrow them down to know the right fit for the job. Below are several questions you should ask potential contractors to determine whether they are the right fit.
Do you kill existing grass and weeds?
Killing existing grass and weeds is an essential step in sod installation. If the installers skip this step, the weeds and grass may infiltrate the newly installed lawn and affect its quality. Ask the professionals whether they will get rid of all the existing lawn and weeds before installing new sod.
This process may take a while, and the professionals shouldn't be in a hurry. If the installers are not keen on the first step, consider looking for a second option.
What type of sod will you use?
There are several types of sod you can install on your lawn. However, your lawn type will dictate the type of sod to be installed. The contractor should be ready to guide you through selecting the best sod for your lawn based on the traffic it receives, type of soil and the amount of sunshine it receives.
If the landscaping contractor does not provide you with the details, it is best to look for another installer.
Will you level the ground?
If your lawn has some bumpy areas, the professionals should level it first before installing sod. It can be distressing to spend so much money on the installation and realize that some areas are low and others are high. For this reason, it is essential to ask the sod installers whether they re-grade the area before they install sod.
Topsoil is essential, especially for dry and infertile lawns. It energizes sod and provides it with all the vital nutrients for growth. Ask the installers whether they will add topsoil or not. This will, however, depend on the state of your lawn. So, the professional should test the soil and determine whether it needs topsoil or not. In most cases, installers prefer using topsoil to ensure sod attaches well to the ground.
Before you hire a particular company, it is critical to check insurance first. This is to protect yourself in case of damages and injuries. Sod installation may not seem risky, but the equipment may harm the installer or damage your property. If the installer is not insured, you will be responsible for all the damages and injuries during the project. So, ensure the professional has the right insurance before you hire them to be safe.
Do you provide a warranty?
Not all sod installers offer a warranty, but finding one that does is essential. Sod may fail, which means you might lose your investment. Therefore, it is good to be prepared for such scenarios. Ask the provider whether they offer a warranty and the requirements for the same. This way, you will get free installation if the first one fails.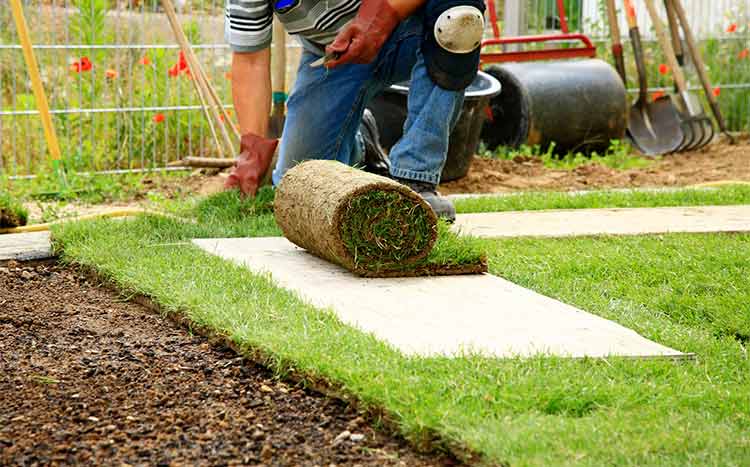 Choosing a good sod installer near me
The following tips will come in handy when choosing the perfect company to install a lawn for you.
A good sod installation company should be vigilant about quality. It should have the best practices and ensure the employees adhere to the installation standards. For best results, several steps should take place. For instance, herbicides should be applied to kill all the weeds and unwanted growth. The installers should then remove old sod and re-grade the area if necessary.
In case topsoil is required, the contractor should advise you on the best quality. Avoid a company that is not keen on the industry standards of laying sod.
Before choosing a particular professional to install sod for you, you should agree on the terms of work first. The terms should be favorable for both parties and should be presented before the project commences. The contractor should visit the worksite, measure your yard and determine the overall cost of the project. You should also measure the yard yourself to have an idea of how much sod will be required.
To avoid potential legal issues, it is essential to choose a company that has a license. Determine whether the professional you are about to hire has an operating license. The license should be current and genuine. If the contractor is hesitant to give you a copy of their license, you should also hesitate to hire them. This is because working with an unlicensed professional could lead to penalties that may affect your project.
Insurance cover is just as important as a license. Any landscaping company should have both workers compensation and general insurance. Although sod installation does not seem like a risky job, it is always good to be prepared for the inevitable. Therefore, make sure the contractor is insured by a renowned insurance company before picking them.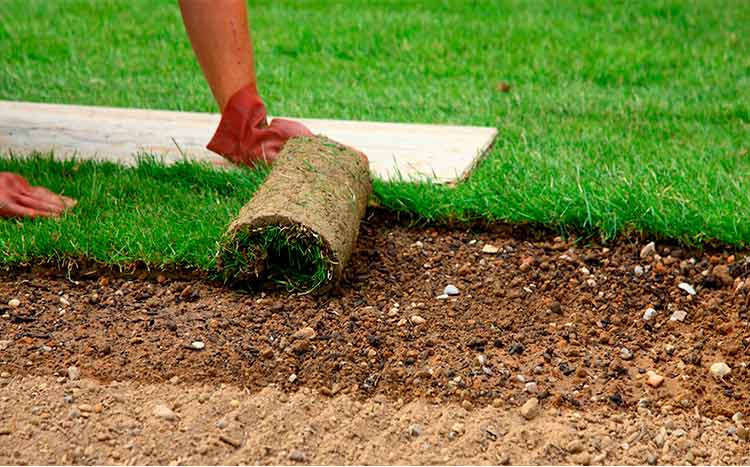 Hiring sod installers in my area
The process of hiring a landscaping professional may look easy, but it needs in-depth research. Just because there are dozens of professionals out there doesn't mean you can hire any company without vetting it first. The following tips will guide you when looking for a sod installer in your area.
Don't dive right in before seeing what is on offer. Most people are too trusting and have a perfect image in their head of what sod should look like. The reality is there is a big difference in quality and price. Get to know a few local sod installers before deciding on one. Price, presentation and knowledge demonstrated by the local sod installer will be a great indicator for you to go off.
Ask about the sod supplier
It is essential to request a sod sample to make sure you are getting high-quality grass. The professional should let you know of their supplier and ensure that they provide the best quality. There are so many varieties in the market. And knowing what will work for your lawn is critical.
No matter how busy you are, it is essential to meet with your sod installer before hiring them. There are several things you should check, which include their knowledge and personality. You need to be sure that the installer is knowledgeable and knows everything concerning the installation.
More so, you should hire a contractor with whom you feel at ease to ensure the project runs smoothly. By meeting with the expert, you will know their personality and level of expertise.
When looking for a sod installation company, it is essential to consider their experience. A company that has been installing sod for more than five years is the best to work with. This is because newer companies may lack the skills to install high-quality lawns. More so, with an experienced company, you will have peace of mind because the professionals will know how to counter any challenges they may encounter during the job.
HomeGardenGuides.com is a free service that quickly matches you with top voted local landscaping Specialists.
You can get 3 estimates fast by real certified experts in your area in just 2 minutes.
Scroll to the top of the page and enter your Zip code.
Answer questions about your landscaping job
Your landscaping job details are forwarded to three local experts. They will send you a price estimate for the job and some friendly advice.
IMPORTANT: There is no obligation to hire. This is a free tool and service to be used at your pleasure.