The cost of a pallet of sod can be very confusing to many lawn owners. Most of them don't know how the pricing works and even how much sod they will need to complete their lawn.
The national average for a pallet of sod, usually covering 400 – 500 sq. ft, lies at $285, but you can spend between $120 and $450 depending on the type of grass used.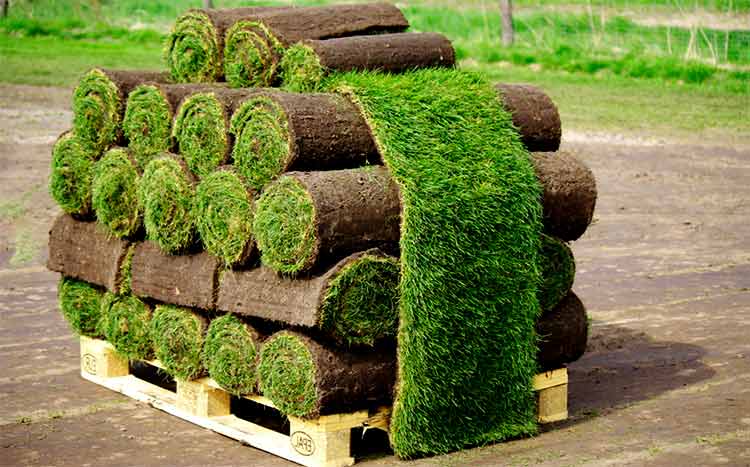 Most homeowners spend between $0.35 – $0.85 per square foot for sod. These prices can be higher depending on the quality of grass, quantity, and your location.
You might also find sellers who sell sod per square yard, but they're rare. Sod goes for around $2.70 -$8.10 per square yard.
| Service | Quantity | Low | High |
| --- | --- | --- | --- |
| Sod cost | per sq. ft | $0.35 | $0.85 |
| Sod cost (installed) | per sq. ft | $1 | $2 |
| Sod installation labor cost | 1 Hr | $35 | $75 |
| Sod installation cost 1000 sq. ft. (installed) | 1000 sq. ft | $1,350 | $2,850 |
| Cost of sod per pallet | 400 - 500 sq.ft. | $120 | $450 |
| Cost per 1,000 square feet | Average project | $1295 | $2875 |
| Cost per roll | 10 sq. ft. | $3.50 | $8.50 |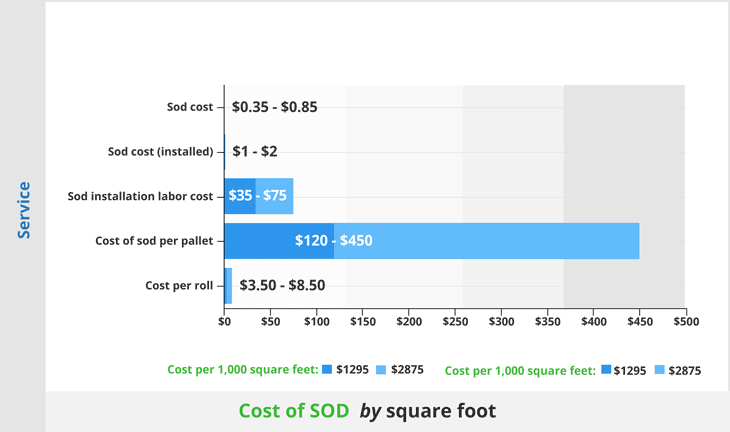 There are three different grades of sod pallets, each differing in quality. Depending on the grade you choose, your costs will vary.
Utility grade sod pallets which are the most popular pallet for domestic lawns in the country, go for between $100 – $150.
Medium-Grade sod pallets cost between $250 – $325 and offer better tolerance to weather elements compared to utility-grade sod pallets.
High-Grade sod pallets are the best quality sod pallets around. They cost $350 – $450 and offer better health, tolerance to weather elements, and overall lawn aesthetics.
| Service | Quantity | Low | High |
| --- | --- | --- | --- |
| Utility-Grade Sod | 1 Pallet | $100 | $150 |
| Mid-Grade Sod | 1 Pallet | $250 | $325 |
| High-Grade Sod | 1 Pallet | $350 | $450 |
| Average cost of sod by the pallet | 1 Pallet | $230 | $310 |
Sod pallet cost by grass type
The grass variants for the sod pallet also determine the overall costs you'll incur. In most areas, sod pallets range between $125 – $425 for the most commonly used grass types.
These grasses aren't available in every location in the country, and so you have to check what's available and works well in your region.
Here's a cost estimate for different grass types you might consider for your lawn.
| Service | Quantity | Low | High |
| --- | --- | --- | --- |
| Kentucky Blue Grass | Per sq. ft. | $0.35 | $0.40 |
| Perennial Ryegrass | Per sq. ft. | $0.30 | $0.60 |
| Fescue | Per sq. ft. | $0.25 | $0.85 |
| Bermuda | Per sq. ft. | $0.35 | $0.85 |
| St. Augustine | Per sq. ft. | $0.30 | $0.80 |
| Zoysia | Per sq. ft. | $0.40 | $0.80 |
| Dura Blend | Per sq. ft. | $0.40 | $0.70 |
| Centipede | Per sq. ft. | $0.35 | $0.90 |
How much sod will I need?
It largely depends on the size of your yard. The bigger the area to be sodded is, the more sods you'll need. It's hard to accurately estimate how many sods you'll need for your lawn unless you do the math. Here's how:
There are two ways to calculate how much sod you'll need. You can use a sod calculator online or do the calculations by hand. For the latter, follow these three quick steps:
Divide the part of your lawn that's to be sodded into triangles, squares, or circles to help you calculate the total size.
Add up the areas of each shape, then convert the total area into square footage.
Lastly, divide the total area of your lawn by 2.75 (which is the size of one sod in square feet). So, for a 1,000 square foot lawn, you'll need around 365 pieces of sod.
If you want to measure the number of sod pallets, you'll need, simply divide the total area of your lawn by the size of a pallet.
For instance, your 1000 sq. ft lawn will need two sod pallets, each covering around 500 sq. ft. This pallet usually has about 181 pieces of sod.
Tip: When calculating how much sod you'll need, always add about 5 -10% more since some sod may be destroyed during cutting and shaping for the landscape. It's better to have more sod left than running short while laying sod.
How much does it cost to sod a lawn on average?
The national average for sod installation on a 1000 square-foot lawn is between $1,000 – $2,000 or between $1 -$2 per square foot.
This cost is inclusive of the materials and labor costs. However, it doesn't cover other factors such as permit costs, cost to remove old sod, prep works, and delivery costs (if any).
Most contractors will charge you around $50 per hour for the job, but their prices may shoot up depending on the complexity of the job and the topography of your lawn.
If you're on a tight budget, you can choose to purchase the materials first, then only incur labor costs from the contractors. The materials may cost you between $0.24 – $0.64 per square foot.
For DIY projects, sodding your lawn will cost you around $1 per square foot.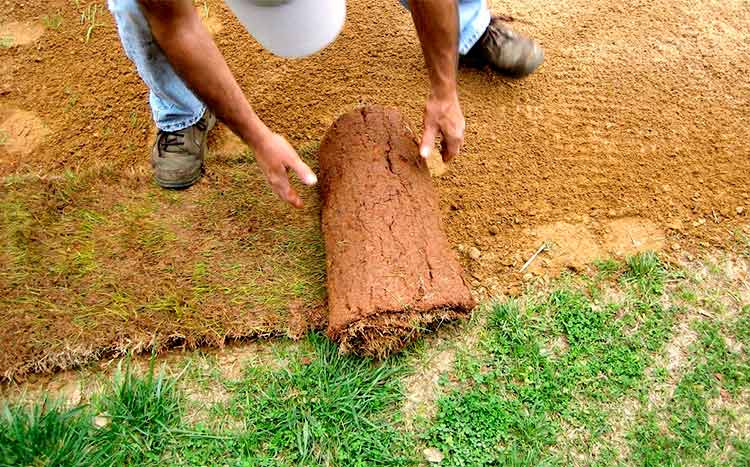 How much to resod a lawn?
Most lawn owners in the United States spend between $500 – $4,500 or $0.50 – $2.50 per square foot to resod their lawn. These costs are significantly high because resodding involves a lot of work which increases a contractor's labor hours.
Tasks such as removing the existing sod may cost you an extra $1 to $2 per square foot, while leveling and grading the lawn may go as high as $3 per square foot.
You'll also have to spend up to $400 more for fertilizer treatments of your lawn.
What size area does a pallet of sod cover
400 – 500 square feet. The size of a sod pallet usually depends on the source farm. The 500 sq. ft sod pallet is the most popular in the country, but there are still some bigger sods, around 700 sq. ft.
Research the different types of sods to find out which sod is right for your lawn. Look for sods that can handle traffic, work in shady areas, or even manage pets.
Make sure your lawn is installed on the same day it's delivered for best results. This means having the lawn prepared beforehand. As a rule, don't let it sit out for more than two days. If you can't install it that day, ensure that the sod stays in a warm moist place at all times.
You can save up more money with the sod installation by picking it up yourself instead of paying for delivery.
DIY the sod installation if you have the time, energy, and knowledge to complete the job. This will save you hundreds of dollars in labor costs.
Ask for a guarantee that the sod is healthy, uniform in size and height, and cut in the field. All these should be documented.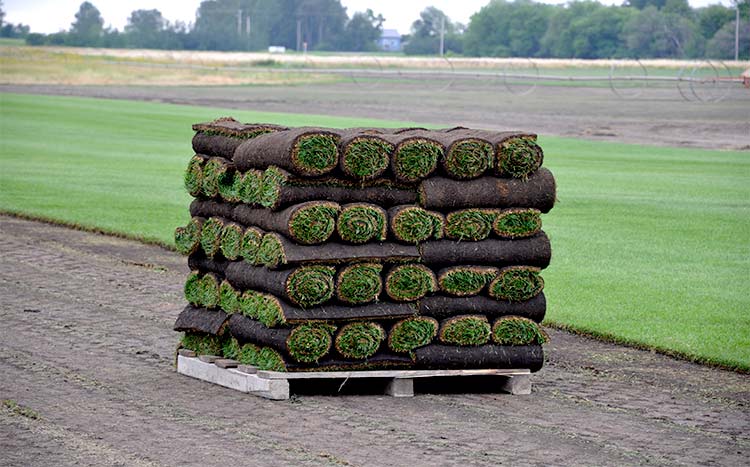 The secret to a successful sod installing project is hiring the right pros for the job. Before starting out any process, consult an expert to assess your lawn and help you determine the best sod types for the yard.
If you're tired of looking for a reliable lawn contractor near you, we've designed this service just for you!
HomeGardenGuides.com is a FREE service that quickly matches you with the top-voted local sod installation contractors.
You can get 3 estimates fast by real certified experts in your area in just 2 minutes.
Scroll to the top of the page and enter your Zip code.
Answer questions about your lawn's sod installation job.
Your sod installation job details are forwarded to three local experts. They will send you a price estimate for the job and some friendly advice.
IMPORTANT: There is no obligation to hire. This is a free tool and service to be used at your pleasure.