When looking to reinvent your home garden or yard, removing your old sod is among the first steps to take. But whether you choose to do it as a DIY or hire a professional contractor, you'll have to shell out a few dollars to do it right.
The average cost to remove sod from your yard ranges between $0.40 to $3 per sq. ft with most people spending around $1.45 per sq. ft. This estimates to be around $725 for a 500 sq. ft lawn.
Let's break down the prices
| | Quantity | Low | High |
| --- | --- | --- | --- |
| Material and equipment | Per sq. ft | $0.30 | $0.55 |
| Labor costs | Per sq. ft | $0.85 | $2.50 |
| Average cost | Per sq. ft | $1.15 | $3.05 |
| Total costs | Per 500 sq. ft | $575 | $1,525 |
Average to remove sod on 500 sq ft lawn = $1,050
How much you can expect to pay to remove sod on your lawn mainly depends on the size of the yard, its terrain and slope, plus the type of labor you choose.
The national average cost of equipment and materials to remove sod ranges between $0.35 – $0.55 per sq. ft. Labor costs alone will cost between $1 – $2.50 per sq. ft or between $30 and $50 per hour depending on the contractor.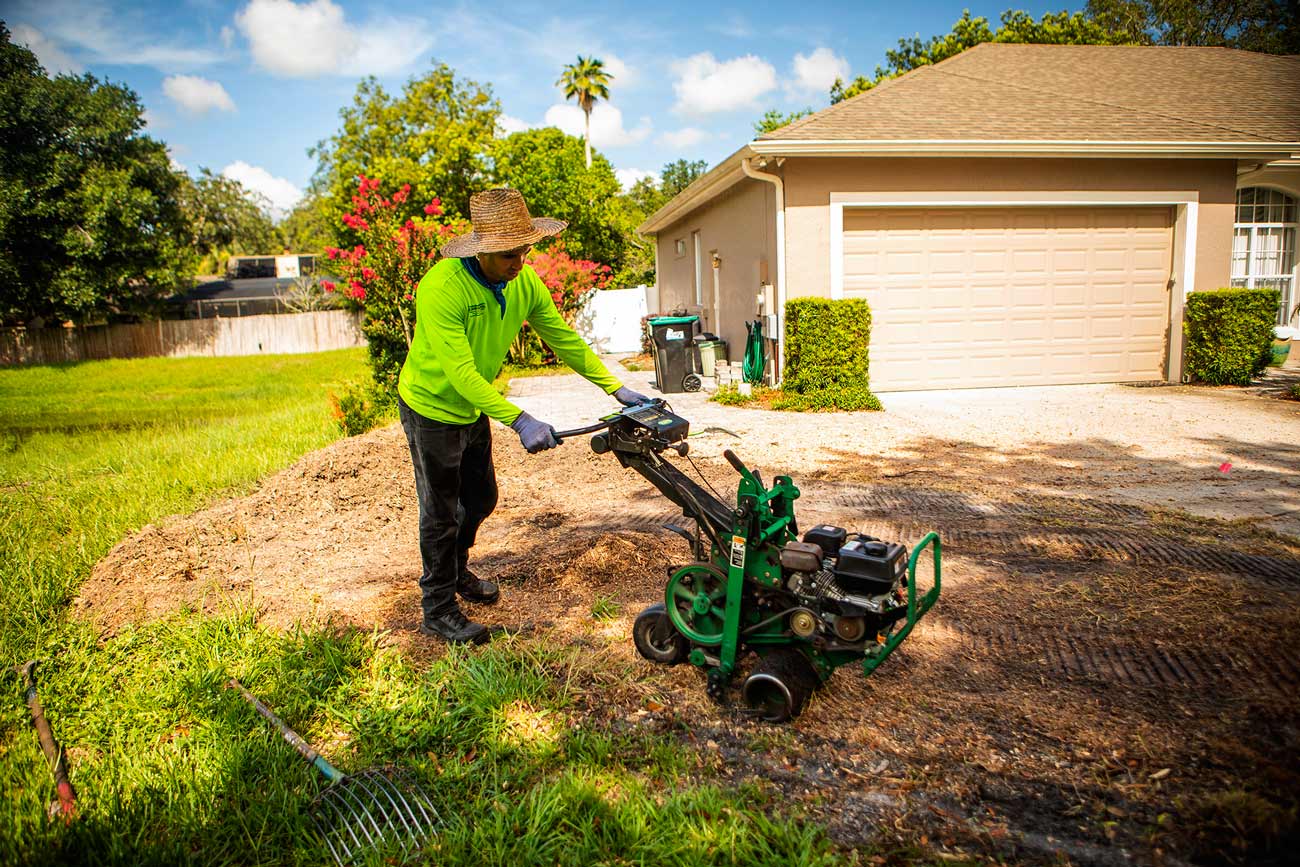 Sod removal cost per square foot
The total cost to remove sod pallets per square foot stands at $2.10 including labor, materials, and equipment. The real range, however, is between $0.40 (without labor) to $3.05 per sq. ft.
For very small yards, the sod removal costs may be as low as $0.08 – $0.25 per sq. ft since they won't need heavy labor or any specialized equipment.
Labor cost for sod removal
With labor, the average cost to hire a professional lawn services company ranges between $1 – $3 per sq. ft or, $30 – $50 per hour if they charge by the hour.
However, the labor costs might be much higher since most contractors opt for jobs with extra services besides sod removal. This could include transportation and disposal of the sod at your local dump.
You might also pay more if you hire a contractor for a small sod removal job, as they may have a standard minimum fee for such tasks.
Cost to remove sod by method
There are several different ways you or your contractor can use to remove sod from your lawn. Your choice of method will be determined by the size of the lawn, your budget, the urgency of the job, and what you intend to do with the land after the removal.
Some of the most cost-effective methods include: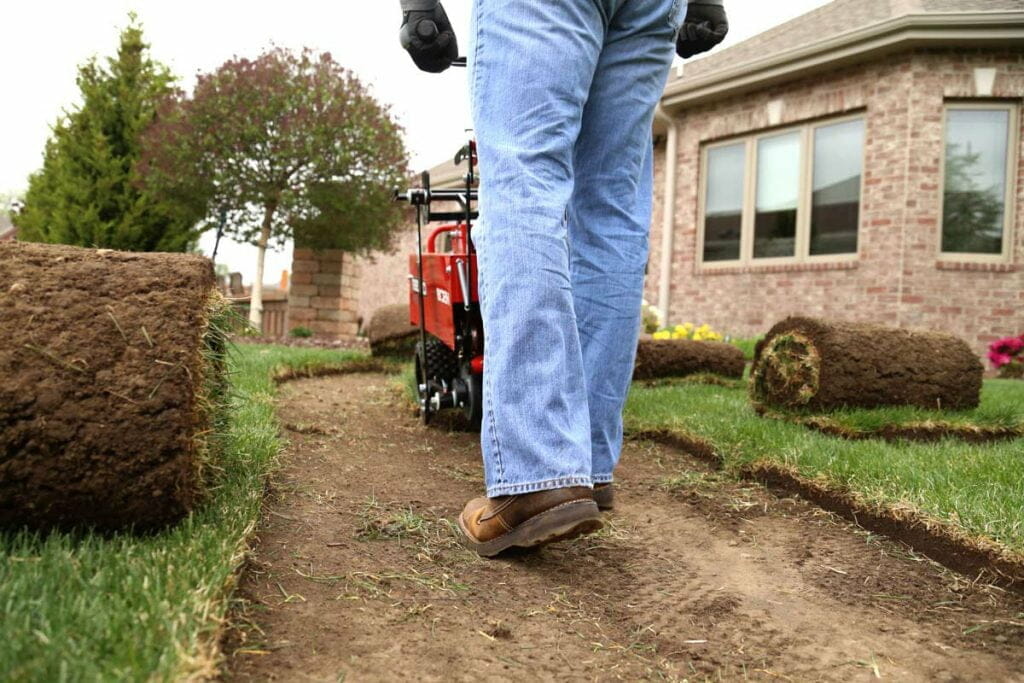 Physical Removal (Sod busting)
Physical removal of grass or sod busting is the easiest and quickest way to get rid of your sod. It involves removing the sod by hand or through tilling, but most homeowners today cut the turf into strips or pieces using a sod cutter, then roll them up.
These strips can be disposed of or turned over to allow decomposition.
On small yards, you can do this yourself at no cost, but for a larger yard, a landscaper will charge you anywhere from $0.10 – $0.30 per sq. ft.
Pros of sod busting
Simple making it cheap
Produces results quickly if in good condition
Allows immediate planting
Requires minimal planning
Doesn't use chemicals or other loud power equipment
Cons of sod busting
It's labor-intensive
Doesn't guarantee zero regrowth of the grass
Results in loss of organic matter on the moved soil
Exposes the subsoil to weed seeds
If the sod or grass on your lawn experienced heavy weed issues, this is the killing method to use. Solarization involves focusing the sun's heat on your sod through a clear plastic film to burn the grass.
It's more common in high-temperature sunny areas and is best done during the late spring and early summer months.
This is one of the slowest sod removal processes as the sod can remain covered for around 6 – 12 weeks before they're killed by the sun.
And in the case of stubborn grasses and weeds, it could take up to 6 months depending on the sun intensity in the area.
The average cost to solarize your sod ranges between $0.80 – $1 per sq. ft.
Pros of solarization
Requires minimal labor
Effective and kills all the grass and weeds
Environmentally friendly option
Very cost-effective
Reduced herbicide use
Cons of solarization
Takes time, up to 6 months to see results
Must be done in hot weather areas
Can become an eyesore for the homeowners
While this isn't always the most recommended option, it's often an effective way of removing sod. All you'll need is to find the right type of herbicide (designed to kill grass not just weeds) and wear your protective gear during the application.
Warning: Using herbicides may leave residues in your soil that may kill the roots of your future grass. To avoid this, always use a glyphosate-based herbicide. Moreover, never apply the herbicides when it's windy or rainy, the chemicals may be washed down to waterways nearby.
The average cost of using this method stands between $30 – $90 depending on the type of herbicide and the size of your yard.
Pros of applying herbicides
One of the fastest process
Kills all the grass and weeds
Relatively simple for small gardens
Cons of applying herbicides
Risks harming nearby plants
Easily contaminates the environment
Could be expensive for large lawns
Smothering your lawn is another easy way to remove your sod. The method involves denying the grass air by covering it with plastic, cardboard, or even newspapers until it dies.
Other materials can also be used but if they aren't biodegradable, they'll have to be removed. Smothering may take up to 6 months to completely kill the grass, but some materials may take shorter.
It's most effective during late summer and early fall allowing the grass to dry through winter. The best thing about it is the dead grass will decay and become a source of nutrients when reseeding and resodding.
The average cost to smother your lawn may be as low as $5 – $15 depending on the material you use. If you choose to recycle, the costs will be even lower.
Pros of smothering
Requires minimal physical effort
Doesn't affect the soil structure
Decayed grass adds more nutrients to the soil
Kills all the grass
Budget-friendly
Cons of smothering
Unattractive and can be an eyesore
Takes a long time, up to 6 months
Using plastic may kill some important soil organisms
Sheet composting (Lasagna Gardening)
This method, known for its characteristic Lasagna Garden, refers to the process of creating new soil layers atop the grass you want to remove. This new layer works by smothering your sod until they die and decompose.
The layers of this lasagna garden include any organic substances including kitchen scraps, old newspapers, leaves, hay, cardboard, etc. As each of these layers decomposes, they form a healthy ground for your new sod installed.
Since most of the materials required for this are recycled, constructing a lasagna garden is very cheap. You may end spending only $10 – $20 for the whole job.
Pros of sheet composting
It's very cheap and simple
Helps improve the soil
Requires minimal maintenance
Cons of sheet composting
Takes time to build and finish
Decomposing materials can be smelly
Not suitable for large lawns
Difficult to find safe carbon materials
Additional cost factors to remove sod
Besides the cost factors mentioned above, there are other items that could be included in your overall sodding cost estimate. These include:
Removal of obstacles – Before removing the sod, you may have to remove obstacles such as a tree stump, water sprinkler system, and other plants on the lawn. Each of these services will increase the final sod costs.
Extra services (Fertilizing, soil testing, and treatment) – Many companies offer extra services besides sod removal at a discount. For instance, if you need your soils tested, fertilized, or treated after sod removal, the contractor will charge you slightly higher for these services as part of one package.
Accessibility – Contractors will charge you higher in labor costs if they have to carry the sod out a long distance to their truck for disposal.
Permit and regulations – While most counties don't demand a permit for removing sod in single-family residential areas, the regulations from your
Homeowners Association will still apply. You might have to spend extra to have your local utility company come and mark any underground utility lines that could be running near/beneath your lawn.
How much does it cost to remove old grass and lay sod?
The average sod installation cost ranges between $1.10 – $4.50 per sq. ft. This includes removing the old grass and laying artificial turf. For a 500 sq. ft lawn, this translates to between $550 – $2,250.
The actual range will depend on the size of your yard and the sod cost of the artificial turf you choose.
Other services such as grading the land, installing a sprinkler system, and lawn aeration may also affect the prices.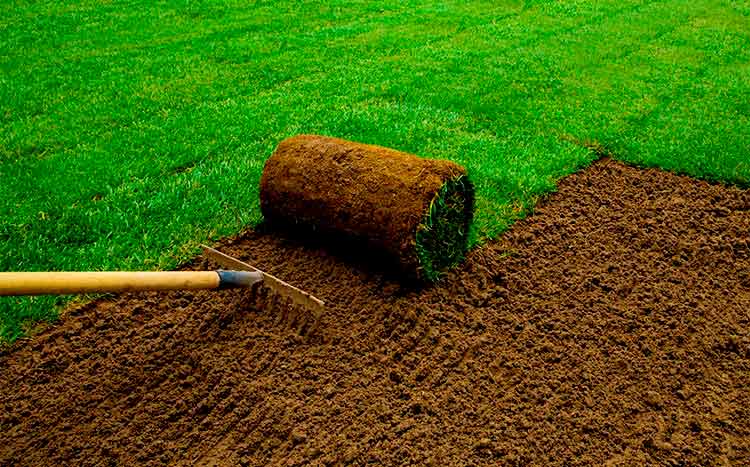 If you choose to remove sod as a DIY, expect to spend anywhere from $0.30 – $0.55 per sq. ft for the job on equipment and supplies. This is around $150 – $275 for a 500 sq. ft lawn.
Depending on the method of removal you choose, you can even spend much lower than $50 on the job.
DIY vs Hiring a sod removal expert
The truth about removing sod from your yard is that it's not very difficult. For many homeowners, it's the perfect DIY job and the easiest way to save on costs when resodding.
However, for massive lawns, hiring a lawn service company with a crew is the best way to get the job done quickly and more efficiently. They also have access to better sod prices if you intend to reseed or overseed your lawn.
Here are some of the advantages and disadvantages of each option.
Pros
Saves on costs
Gives you insight into dead parts of the lawn
Sense of accomplishment after the successful removal
You can work at your own time
Cons
Renting or purchasing equipment can be costly
Risk making costly mistakes
Can be time-wasting
Pros
Gets the job done quickly
Have the experience to guarantee you the desired results
Can offer more / extra services at a lower cost

Can give you free advice on the issue affecting your lawn
Cons
Can be expensive
Inexperienced teams can mess up your lawn
Work on their schedule giving you no flexibility
When is it time to remove sod?
Sod can be removed at all times of the year. However, if you intend to install sod after the removal, the best time to remove sod will depend on the type of grass seed you want to plant.
For cool-season grasses, the best time to remove sod will be between late summer and early fall. For warm-season grasses, the best time is during spring.
Need a sod removal contractor?
Try our FREE service! HomeGardenGuides.com is the fastest and easiest way to get three estimates for your sod removal project from the best and most affordable contractors near you.
The service quickly matches you with the 3 sod installation specialists voted #1 by previous users in your area. All you have to do is:
Scroll up to the top of this page and enter your ZIP Code in the blue form.
Give us a few details about your sod removal job, plus some contact information.
We will then forward your drywall details to the closest three sod removal contractors, all voted best priced in your area, who will price your siding job.
IMPORTANT: There is no obligation to hire any of the contractors. This is a free tool and service to be used at your pleasure.