Originally used to keep hogs in the pen, hog panels are very strong, and they are sure to do a very good job as a fence for keeping small animals safe and contained in an area.
A hog wire is made of strong, welded material that can be used as a fence option to contain small animals, especially dogs.
Using hog wire, or hog panel, as your fence material offers you several design options that are made from firm, rigid intersected welded wires. Its strong material is going to make an effective fence for your dogs.
The cost of installing a hog wire fence depends on the length of the fence, the size of the mesh, and the fence posts.
With $3 to $5 per foot, installing a hog wire panel fencing would cost around $500 to $1,000 for an average-sized backyard of 150 to 170 linear feet. Measuring by the quarter-mile, the cost range would be $4,000 to $6,500.
Hog wire mesh can be purchased in panels. These panels are usually 16 inches long and cost $30 each. They can also be cut into halves in case the fence or gate requires smaller sections.
Posts used in hog wire fencing are either wood posts or metal posts. Wooden fence posts make an attractive look especially when the hog wire panel is also framed with wood.
While it is more affordable to install wooden posts, metal posts are also a good choice as they are more durable and easy to install.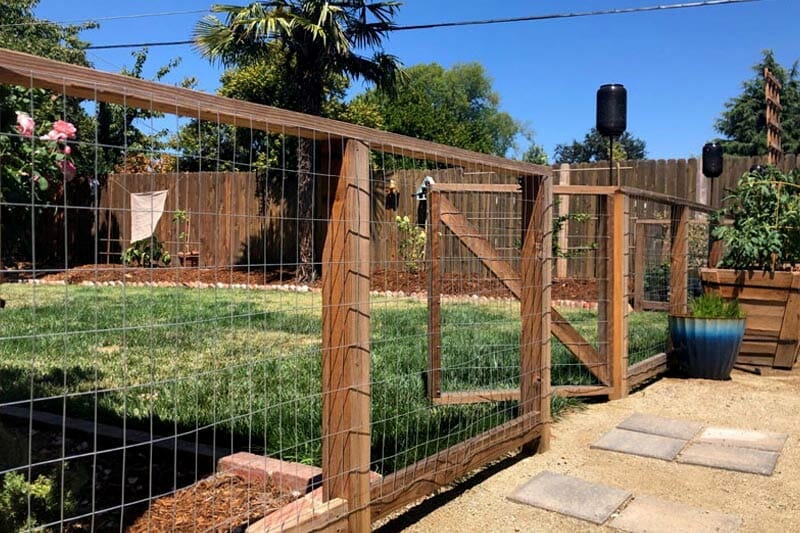 These metal posts installed would cost around $2.5 – $4 per foot.
Lastly, with a 6-foot high wire fence with wood frames, hiring a professional landscaper or fencing contractor will cost from $35 to $50 per running foot.
With a 5-foot wire fence, the labor cost per running foot would be about less than $10, or $25 to $40.
Is a hog wire fence suitable for dogs?
A hog wire fence is a good solution to keep dogs in containment without completely eliminating their view outside of the fence. Its almost-transparent feature allows for both dogs and owners to identify external issues that may exist.
This does not mean, however, that it is almost invisible, it may become unsafe for both animals and humans. Hog wires may almost be transparent but you can spot them quickly enough before you get super close.
This kind of fence also allows you as the owner to check on your dogs' statuses without any visual obstacle. Using hog wire for fencing your dogs is actually safe, just as it is safe for other types of animals.
The material is strong enough to keep them secured on your property, that is, if you opt for the best and strongest type of hog wire. It can even withstand wild pig attacks.
To assure your dogs are at their safest, make sure that your hog wires are in the best condition. This will prevent your dogs from getting stuck on the panels, should one of them attempt to make an escape.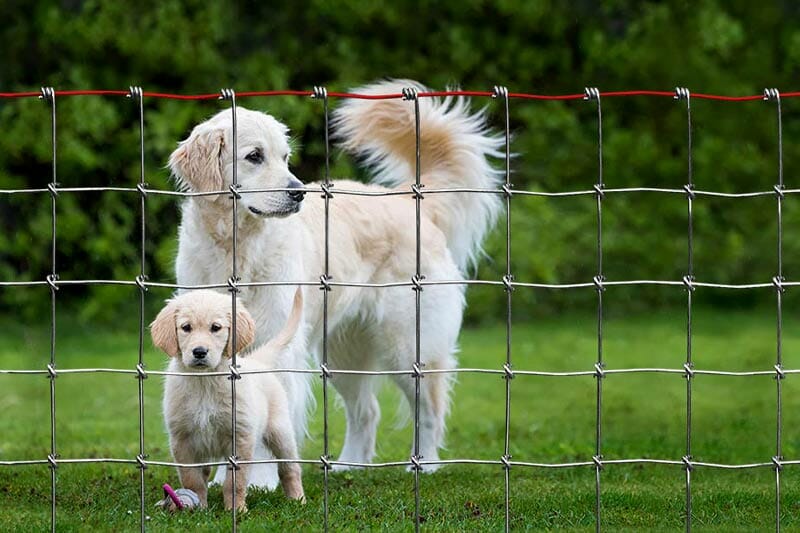 Is a welded wire fence suitable for dogs?
A hog wire fence panel is a type of welded wire fence. Welded wire products include hog panels, cattle panels, sheep panels, and horse panels, which are all flat and rigid.
While the term "welded wire" is often used to refer to hog wire and vice versa, welded wire fence actually comes in different assortments including thickness, opening sizes, colors, etc.
Welded wire fences are relatively safe for dogs, small or large. You just have to make sure your welded wires are of the best quality and that they do not rust easily and have burrs.
There are many types of welded wires that are effective in containing animals like chicken wires. Chicken wires have smaller openings than hog wires so the point of a fence being almost transparent is lost.
This means that choosing what kind of welded wire must be used in your property depends on your purpose/s and for having the fence installed in the first place.
What gauge wire is best for a dog fence?
The best gauge wire to use for a dog fence is a 14-gauge or thicker welded wire fence. A 16-gauge can also be used for dog fences as they are also strong and heavy enough that dogs will not be able to chew through them.
These gauge wires are what professionals use or recommend because they are more durable. The thicker the wire, the more durable and resilient your fence is to nature's elements.
Some people also go for a thin 20-gauge wire. It is a much cheaper option, but it works well enough for some to be included in most dog fence kits. While this option may feel like it will suffice, remember to think long-term.
For the wire to work best, make sure that you choose a stranded or solid insulated wire, preferably polyethylene or plastic-coated, no matter the gauge.
Another thing to remember is to test your wire for sharp edges and to make sure that it has been hot dipped to prove its durability.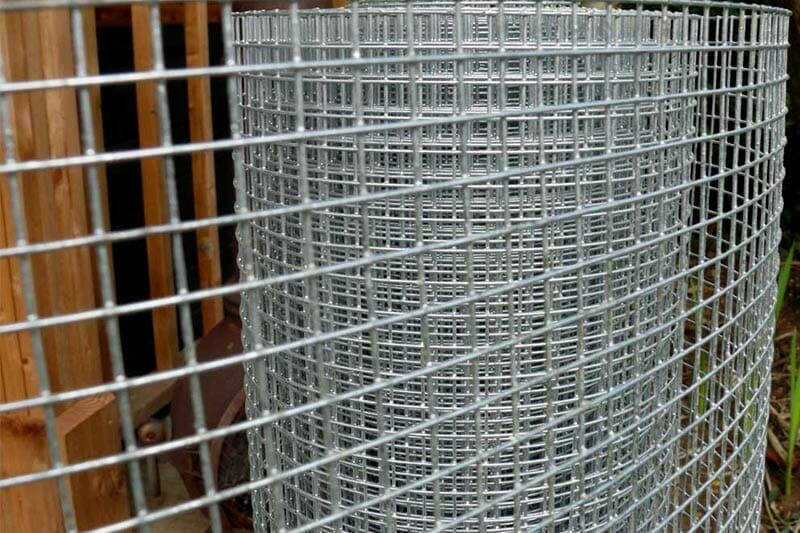 What gauge fence should you use for dogs? (Welded wire fence vs Woven wire fence)
Welded wire fences and woven wire fences can be used as fences for dogs. They both have their own advantages and disadvantages.
Both can be effective in keeping your dogs stay on your property, but ultimately, one is better than the other.
It has been found by most wired fence experts and homeowners that welded wire does its job better than woven or chain link fence designs. There are a couple of factors that support why welded wire acts better as a fence for dogs.
The cross points of this mesh are very strong as they are welded at the intersections. Welded wires are not easily cut or unraveled, unlike woven wires which are flexible at their cross points.
For a fence to be rigid is an important part of keeping your dogs safe. Welded wire panels have openings that are almost immovable – a quality you need in a dog fence.
Lastly, because of the strong cross points, it makes the whole mesh durable. You may not be able to stop your dogs from jumping or attempting to break the fence, but the fence is sure to keep them in just as it should be.
It can withstand other animals trying to break through it and it can also survive for a long time (if it does not rain too much). Despite it being firm and rigid, the welded wire can still be modified with little problem.
Choosing to have the best quality dog fence right from the beginning might cost you more in your initial investment, but the performance of a strong, quality material will be worth every penny.
By doing so, not only are you protecting your investment, but you are also saving yourself from the inconvenience of costly and time-consuming repairs to a broken dog fence.