Hog wire fences are popular for their purposes of creating pens, containing hogs, and for their versatility in residential purposes. They are then attached to a wooden frame and stretched on wooden fences for a visual appeal in residential yards.
As a type of fence that is made of multiple lengths of twisted wire, the hog fence can be very versatile and helpful for various reasons and applications. They can be used for agriculture, livestock, residential, or even for decor.
Whether you're gonna have it to protect your garden from harmful animals or secure agriculture for the night, or to repel predators – the hog wire fence is a very effective tool to have ready in your shed.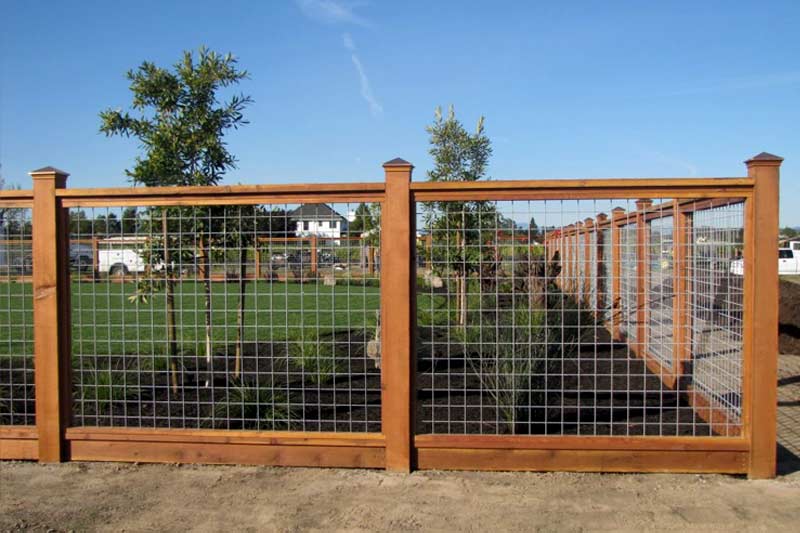 Originally designed for making pens and containing hogs, the hog wire fence has since then gained popularity for its versatile purpose and residential applications. This type of fence can be a little more expensive compared to other fences.
Most of the time, hog wire panels are frames with wood to add a visual appeal to your yard or your property. The average cost to install a hog wire fence can range from $3 to $5 per foot.
While this may be the estimated cost, the final price will be determined depending on the length of the fence, the size of the mesh, and the specific materials that you prefer to have.
For an average-sized backyard, you can expect $500 to $1,000. In terms of length, installing a hog wire fence for a quarter of a mile would cost you an average range of $4,000 to $6,500.
Hog wire fence design ideas
A hog wire fence typically refers to a type where some pieces of wire are intersected with one another which is then attached to a wooden frame. It is often used for physical containment, livestock boundary, or residential purposes.
Since the hog wire fence can be very versatile, there are a lot of different designs and purposes that this fence can offer. Depending on your necessity, you can use hog wire fencing for the purpose that you want it to serve.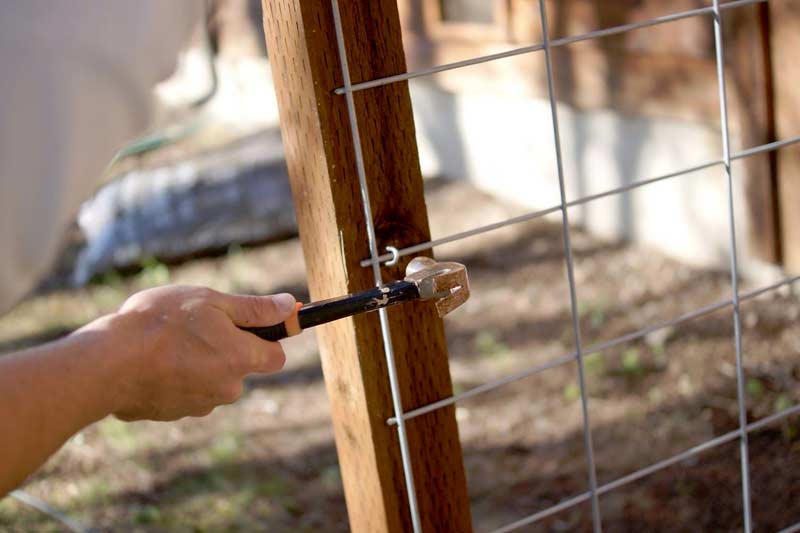 Below are some of the various designs that you can create with hog wire fencing.
Hog wire fence with bamboo
Instead of the usual thin wood frames to attach the hog wire to, this design uses bamboo for both the frame and the fence post.
Most people who use this design also go for an additional varnish for that natural look, and others repaint them to their liking.
This type of design takes after the construction principle of the hog wire itself. However, instead of interlocked pieces of wire, this design utilizes pieces of wood.
People who use this design would prefer to evenly sand the wood, apply some varnish, and use a uniform wood to make it visually appealing.
This type of wood fence is best used in gardens that have lots of flowers around.
Simple small-square hog wire fence
Depending on your preference and needs, the wire can be adjusted to have denser or wider squares.
After deciding on the mesh size, installing a simple hog wire fence with uniformed sizes of squares can bring out a neat and simple look for your yard or a small garden.
Hog wire fence for a backyard garden
This type of design caters to property owners who don't have the advantage of spending a lot for a simple fence.
This type of fence usually still uses wooden frames and wooden posts simplistically.
While this type of design can be typical, others still have the option of repainting and adding decorative elements.
Hog wire fence around a garden
Most homeowners and property owners find it imperative to have a front yard that's visually nicer and more appealing than the backyard. This hog wire fence design caters to that perspective.
Utilizing the same idea, the hog wire in this design is carefully cut and prepared so it may appear smoothly and properly once installed.
Typically, people who use this method will prefer denser hog wires and a wooden frame that is followed by varnish and paint.
Since the hog wire is versatile, it can also be installed on a metal post and not just wooden posts.
This results in a sturdier fence post that can be more visually appealing and elegant.
Round-looking fence from the hog wire
There are a lot of situations where the fence can be installed in not a straight line. For instance, some spaces can be curved or round, needing a fence that's versatile and flexible.
The hog wire fence can be modified to cater to this need. Using segmented fences, the hog wire fence can enclose a curved and round fence.
Hog wire fence as protection of an open land
One of the uses of hog wire fences is not just for residential and agricultural purposes, but they can also serve as security boundaries.
For instance, in commercial properties, installing a hog wire fence to emphasize restricted areas can be put to repel intruders or trespassers.
This type of hog wire fence can also be paired with barbed wires to add more security and enforce privacy.
Pros and cons of hog wire fence
There are multiple ways and applications where you can utilize a hog wire fence, each with its own upsides and downsides.
| Pros of installing a hog wire fence | Cons of installing a hog wire fence |
| --- | --- |
| Are cost-friendly compared to a wood fence. | Upon installation, hog wire fences must be covered with trims to cover the sharp edges. |
| Durable, strong, and sturdy. | Can not provide enough privacy due to mesh size spacing between wires. |
| Depending on preference, hog wire fencing can be ideal, especially if you prefer not to totally close off a provided space since this type of wire has visible spaces. | Because of the wire's flexibility, it can be very easy for intruders or trespassers to cut through. |
| Can be used or paired with other materials to provide more benefits and maximize its purposes. | Hog wire fences cannot be paired with an electric fence because of the corrosive properties of the material. |
| Hog wire fence is relatively easy to acquire and install. | A hog wire fence is not recommended for the safekeeping of domesticated animals since the wires are not sturdy enough to prevent them from escaping or breaking through. |
Cost to professionally install a hog wire fence
The cost to install a hog wire fence can vary depending on the size, the design of the hog wire fence, and the specifics of the project. Usually, professionals in the construction business will inform you that it is among the most expensive type.
The cost to have a fencing contractor do the project for you would run an average cost of $25 to $50 per running foot for a hog wire fence that is at a height of 6 feet.
The cost to do it yourself, assuming that you already have the necessary tools and skills, would run somewhere between $6 and $10 per foot.