Wrought iron is a tough metal that may be used to create a long-lasting and sturdy fence.
There's a lot to love about wrought iron fences, including their extremely strong and durable nature, attractive finish, and their versatile and timeless design. However, there are a few things that may discourage you including a high price point, high maintenance, and the fact that they are not suitable for steep slopes.
In this article, we will explore the pros and cons of a wrought iron fence, mention a few of the factors you must consider when choosing the suitable fencing material, and finish by discussing a few alternative fencing materials you can use.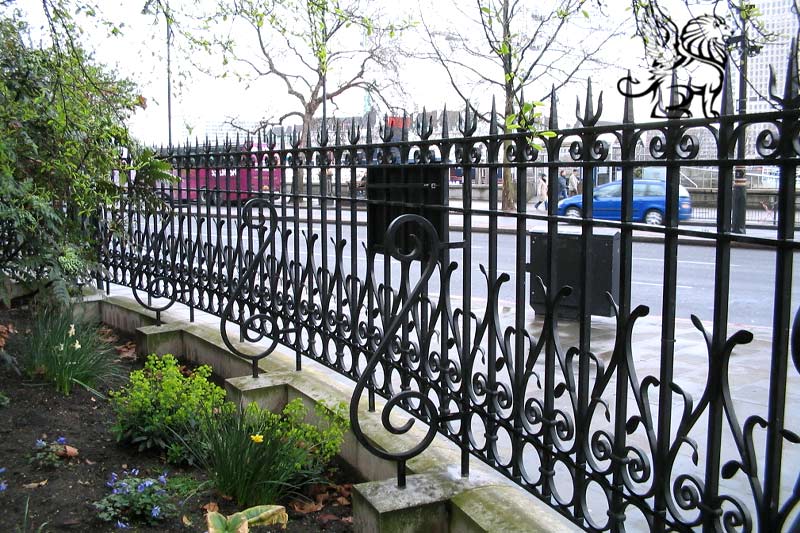 Pros of Wrought Iron Fences
Although there are plenty of other alternatives, you should consider this fence type because:
Wrought iron is among the strongest materials used to construct solid and extremely durable fences. Other types of fences tend to degrade over time; however, when the steel and iron construction is appropriately coated, the fence should outlast you.
This hard metal can withstand strong winds and dangerous weather and handle any shock or vibration without deteriorating or buckling. In addition, it is close to impossible for fire or water to penetrate this kind of fence.
Additionally, this fencing allows for optional welding of the panels to the post, which offers more strength, resulting in the fence being even more durable. In this case, I'm talking decades or even a lifetime of not replacing your fence.
This fencing material offers limitless security, which is attributed to its strength. Its strength helps prevent simple destruction, which other fencing types can fall prey to.
Climbing this upright picket and rail construction is also quite tricky, unlike other fences such as the wood, which can give hand and footholds.
One of the major reasons many people love wrought iron fences is that they portray a sophisticated and high-end look, which many other fencing options cannot match up to.
While other fencing types serve the same purpose as steel and iron construction, they are more functional than appealing to the eye. The fence compliments a home, making it more attractive, and improving its curb appeal.
Wrought iron fences have been around for over two centuries and have never gone out of style. In addition, wrought iron fences are very versatile such that you can use them to accentuate modern houses and maintain their modern theme.
Cons of Wrought Iron Fences
Although the pros of wrought iron fencing greatly outweigh the cons, you may want to look at all angles before taking the plunge. Some drawbacks that you may encounter with wrought iron fences include:
The laminar structure of the fencing material is made by repeatedly heating and remodeling the cast iron. This gives it tensile strength and ductility that's significantly higher than that of cast iron. Unfortunately, this manufacturing process makes the metal expensive.
This type of fence may come in at high costs compared to other types of fences, but the price gap is worthwhile. That's because this type of fence offers unmatched longevity, strength, and durability, which means this is most likely to be a one-off purchase.
You can find out the average cost of wrought iron fencing from our website.
Not Suitable for Steep Slopes
The welded solid construction does a lot of good for its strength. Unfortunately, it poses a considerable limitation in hilly areas or heavily graded yards.
When installing the fence on a mild slope, you can overcome this hurdle by using a stair-stepped. However, installing it on a steep slope may require customization, or else it may be an issue.
Some companies have made ornamental steel panels that will angle to follow the grade to solve this problem. Even so, this makes them compromise on the strength, and most times, it may lead to rust spots on the pieces where the panel pivots.
Finding a company that makes quality wrought iron is quite the task. This is because the factors that make this fence material the best option for fencing are the same ones that make it costly and labor-intensive during its production. For this reason, many companies avoid venturing into this business.
The beauty of ensuring your wrought iron fence is well maintained is that you enjoy years of a strong, high-quality fence with a striking appearance.
Applying a coat of preventive wax prevents rust from forming on your fence. If, unfortunately, rust has taken hold already, you'll need to contact a specialist or buff the rust with little pieces of steel wool.
A dull or worn fence can be made as good as new by applying a powder paint coat.
Factors To Consider Before Buying Wrought Iron Fences
Before settling on the decision to get a wrought iron fencing, there are a few factors that you should bear in mind:
Many people bail out of installing metal fences because of their high susceptibility to rust. It is important for first-time buyers to familiarize themselves with the various methods they can use to rust-proof their fences. These methods include:
This is the process of applying a thin layer of zinc to the iron, which prevents rust agents, like oxygen and excess moisture from reaching your fence. There are two methods of galvanization you can rely on. First, hot-dip galvanization, which involves immersing the iron for treatment in a bath of molten zinc. Second, spray-on galvanizing, which is using a mist sprayer to spray particles of molten zinc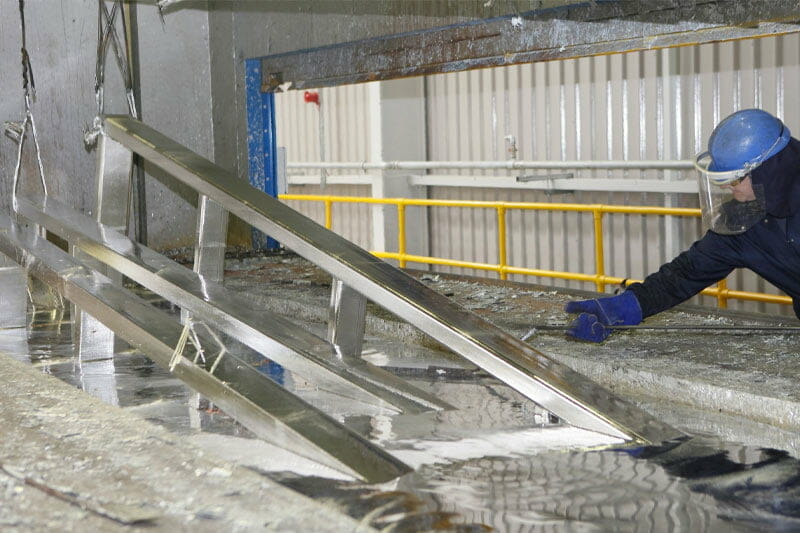 The process of spraying non-conductive powders, such as epoxy, polyester, vinyl, acrylic, and nylon, to your fence using an electrostatic spray.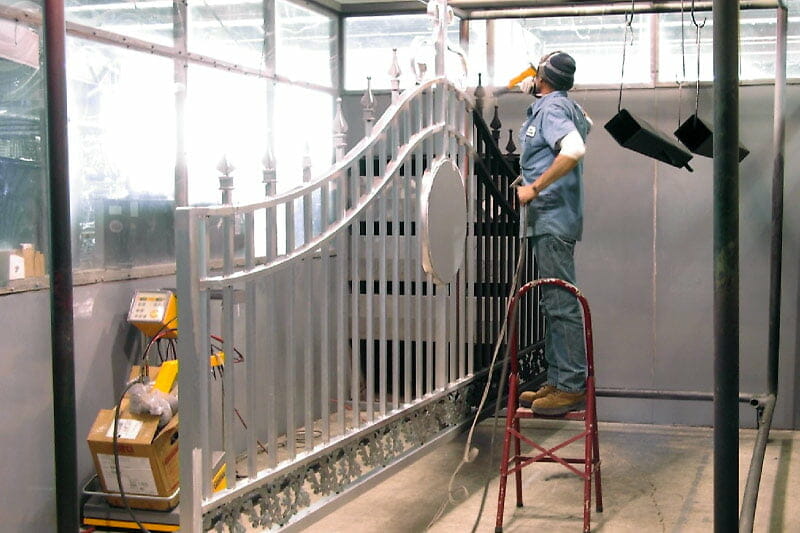 As aforementioned, it's crucial to regularly care for your fence to prevent rusting and remove already formed rust.
Even though welding is the most popular method of assembling metals, this method is not the best. The reason being the metal can be forced out of shape easily or become loose when the rust forms. The structure also tends to look tacky and forced.
Avoid constructors who use screws and nuts to keep the metals together because this method only scratches the metal fencing and enables rust formation during rainy weather.
The best option would be getting metals that are 'made for each other.' In layman's language, get metals that are specifically constructed for each other. For example, get one metal that has a hole so that the other one can slide through it before they are welded to each other.
Suitable Alternatives for Wrought Iron Fencing
If wrought iron does not cut it for you, there are other fencing materials that you could consider.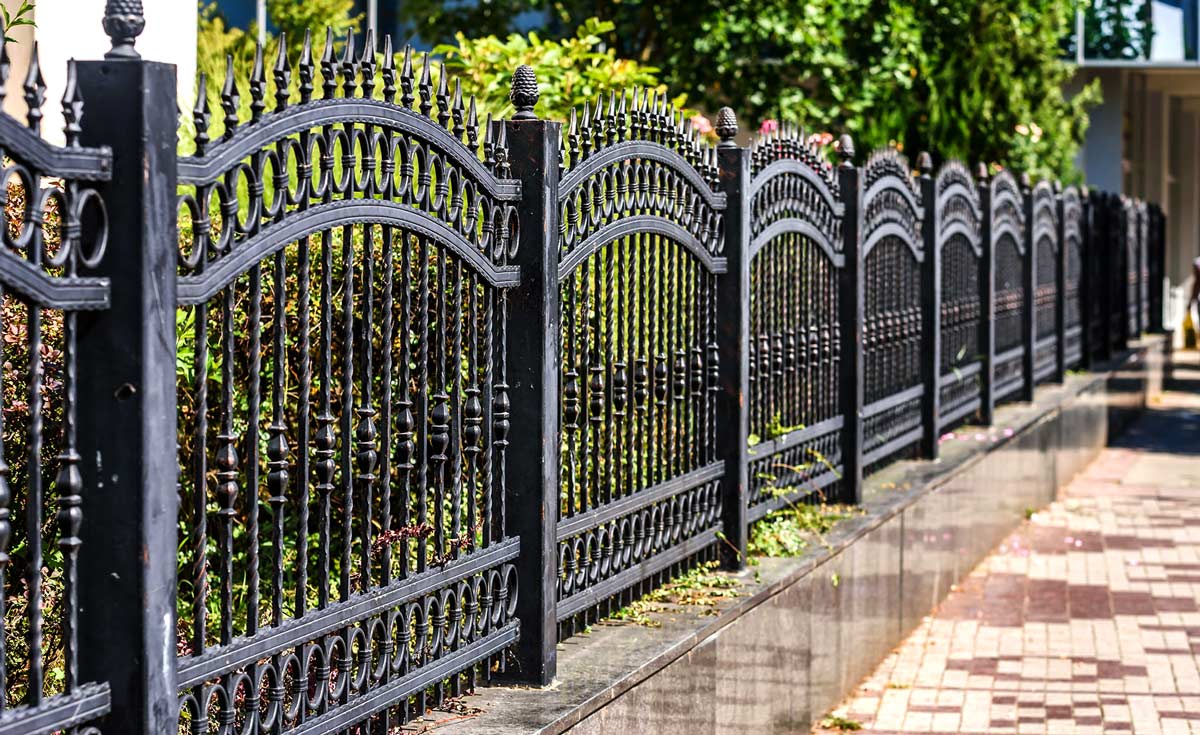 Steel can be a great alternative to wrought iron fences because it contains carbon and iron, making it durable. Its durability, however, can be compromised by a powerful force, say lightning or a car, which may make the fence break instantly.
Steel fencing is very cost-effective and requires very little maintenance more so because of its anti-corrosion performance. If the fence has an issue and needs repair, its repair is also a relatively inexpensive option compared to its alternative.
A steel fence is hard to cut through because it is hard and hardly deteriorates. This offers an unparalleled level of protection to the property.
Additionally, steel fencing offers aesthetic value, making it very popular among homeowners.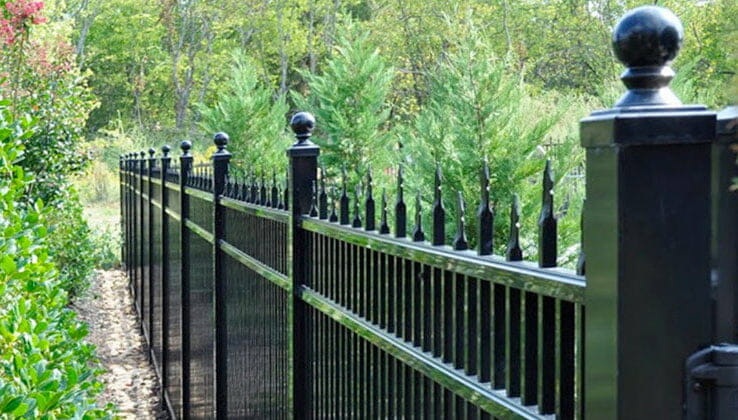 Unlike wood fencing, aluminum fencing is a more modern type of fencing with diverse styles that continue to meet the design demand.
Typically , an aluminum fence is made using a very hard metal with a minimum life expectancy of 20 years and requires very little maintenance. Within these 20 years, aluminum fences are not expected to shrink, crap or rot.
Installing vinyl fences is relatively easy to install and doesn't require the services of a professional as long as you have handy instructions, careful measurements, and the right tools.
PVC fencing comes in various attractive colors, which come in a wide range of styles that match. This gives the fence a very attractive look.
Minimal maintenance costs and effort are required for vinyl fencing. It requires nothing from the owner unless you may want to hose it off from time to time. Vinyl fences are designed to maintain their shiny look and should serve you a lifetime without the need for repairs.
Wooden fences have been around from way back and have remained popular over the years. Wood fences feature affordable prices because unlike other materials it's readily available and easy to install.
Despite being popular, wooden fences require regular maintenance. Painting, repairing, and generally taking care of a wood fence to ensure it does not wither takes a lot of time and energy.
Wooden fences have a typical lifespan of 12 to 16 years. Afterwhich wood fencing begins to crack and warp, making them less durable than other fence types.
In case of a budget concern, a chain link fence should be your go-to option. Chain link fencing is an inexpensive option that offers a vast number of advantages.
Affordability
Available in a variety of styles and decorative designs
Durable
Low-maintenance
Fast and easy to install
Easy to repair
Very secure
Leave the Job to a Professional
Fence construction or installation needs to be done by someone who is well conversant with how to handle the task, specifically a professional. As a homeowner, you cannot afford to compromise on the security of your loved ones by hiring services of unskilled and inexperienced people.
You can use our free tool to find readily available and experienced wrought iron fence installers.
Simply scroll up to the top of the page and enter your zip code. From here, you'll be prompted to answer a few questions about the job at hand, then fencing details will be shared with experts in your area. In just two minutes you will receive three price estimates and some friendly advice.
There's no obligation to hire, so the decision to use the contractors or not is entirely yours.