Wrought iron fences not only define your property line, and give your home a high-end and luxurious look. They also offer years of unmatched strength and security. The only limitation to fencing with wrought iron is the price point but the pros of this iron fence are absolutely worthwhile.
There are various wrought iron fence designs influenced by the shape, patterns, and sometimes the color you choose for your fence. You can also customize your fence design to take on a unique shape, pattern, and color.
Here are some wrought iron fence designs that will stand out despite your home's style.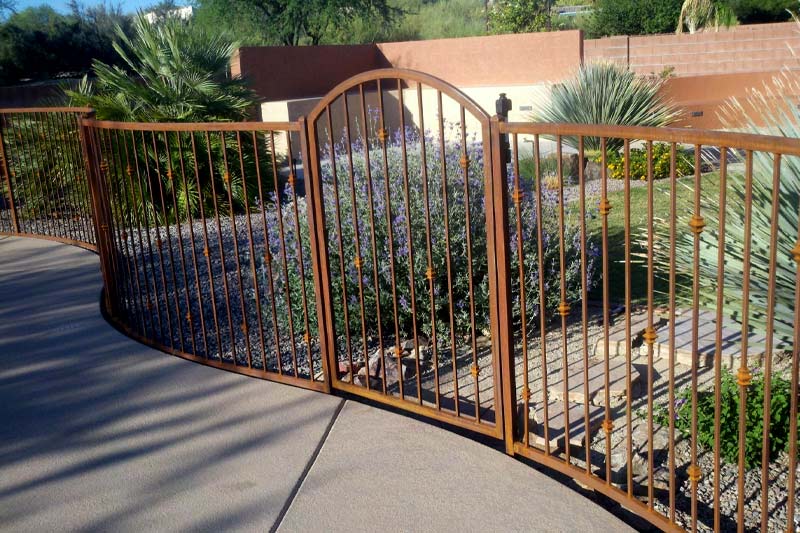 If you are going for a classical or historical look for your fence, which is reminiscent of the ancient buildings in Greece and Rome, go for a wrought iron fence with an arched top. Ornamentation of the wrought iron allows you to choose from a wide range of arches.
The varieties are pretty endless. They include:
A semi-circular arch at the top of the fence
A gentle arch that extends across a double gate
An arch that is finished with sharp finials to provide extra security
A higher arch to make the design more classic than modern
An arched top with very elaborate rails or double rails with pickets or simple circles in between
You can also merge the arch with white stone for your entryway gate posts in your fence to amplify the classical feel more. The characteristic classical aspect of the arch often accessories historical homes, such as Georgians as well as neo-classical buildings.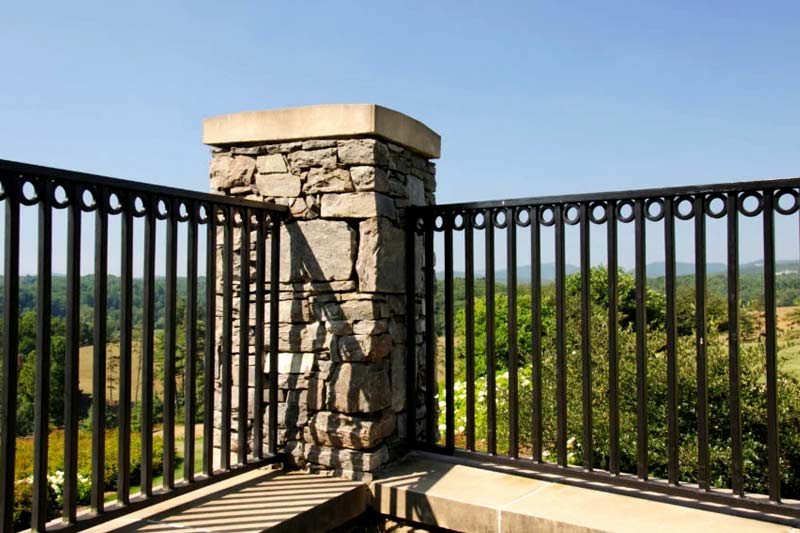 A great alternative to the arched top is the straight top.
Like the arched top, the straight top can also come with the double rail on top but has a slight difference in the ironwork between the rails. The ironwork is often simpler with either pickets or circles, or it can have geometric grid patterns.
If you are going for a more modern design, the straight top is ideal for any contemporary style house. This is because; the overall design is very minimalistic.
To bump up the fence's security because it misses the slippery slope of the arc, which prevents climbing, the straight top design has sharp and pointed finials.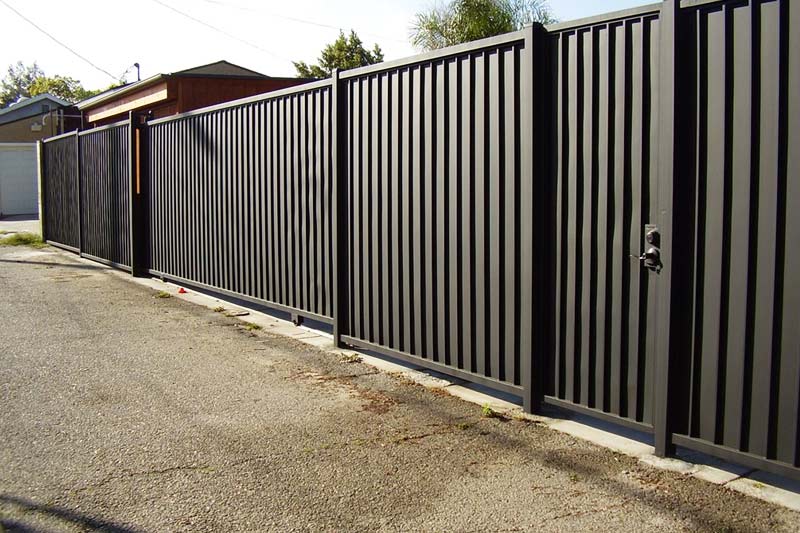 If privacy is a significant aspect of your fence, consider a closed metal fence which is quite different from most wrought iron fences.
Most iron fences have top and bottom rails, which traverse between the fence posts. This enables a person from the outside to easily see the inside of your home because of the pickets that fill the vertical area between the fence posts.
On the other hand, the manufacturers of a closed wrought iron fence cover the fence with a metal that is similar to the shape of the fence. Therefore, the pickets and the ornamentation which characterize the iron fence will not be altered.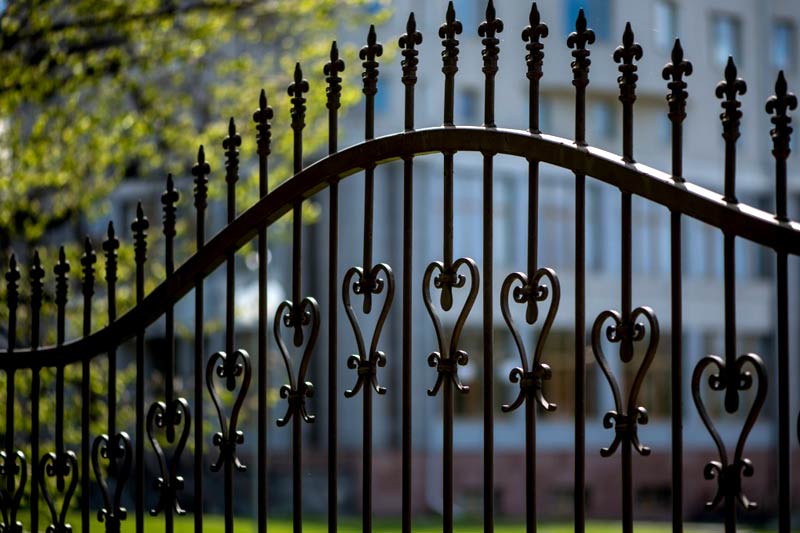 The Fleur-de-lis design is more common in French architecture.
'Fleur' in French means flower, while 'lis' is French for lily. This design takes its resemblance from a flower with curved ends, which French Royalty mostly used to symbolize heraldry and religious unity.
Its aged grandeur is attributed to its roughened surface and the muted variegated coloring blends perfectly with a vibrant greenery background.
Over time, the Fleur-de-lis design has continued to be stylized and embellished to add to its individuality and character. You can enhance the character of the Fleur-de-lis further by adding scrolls, swirls, and floral accents.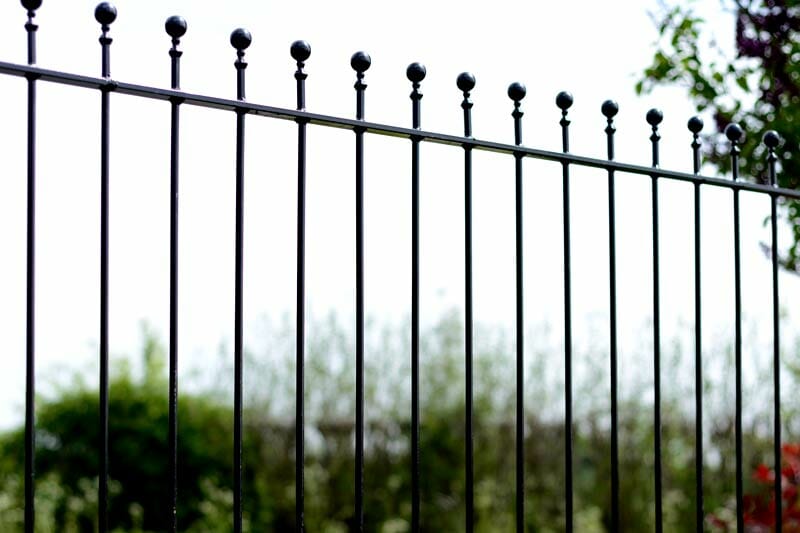 An iconic contemporary look is easily achieved by mounting a ball top finial on the wrought iron fence.
The ball top is mostly dark with a glossy texture and is accentuated better with light-colored brickwork.
This design is mostly preferred because:
It is a non-fuss fence option with simple and clean lines.
It is durable because its finials are welded directly to the picket and do not have sharp edges.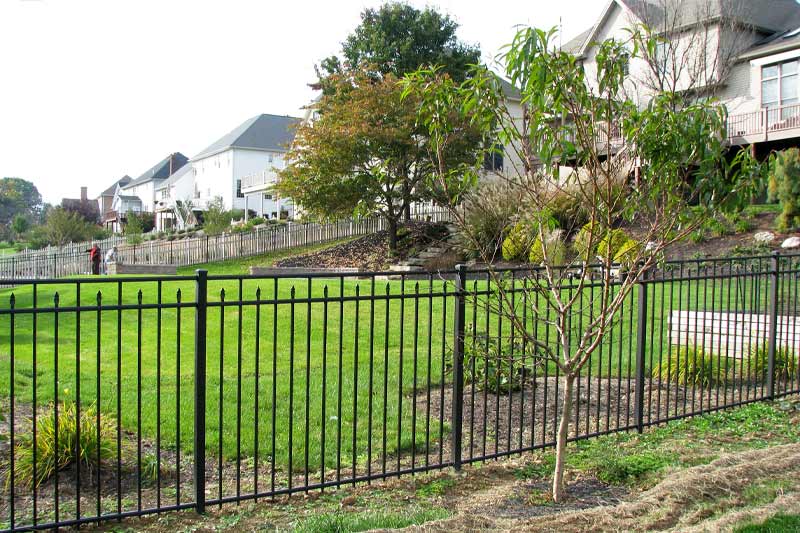 If security is a significant aspect when choosing your wrought iron fence, visually, the flat spear or arrow style commands a lot of security.
Its simplistic yet dramatic design, with a bold color, mimics medieval battles, and uncompromised bravery.
On the flip side, the curved arrow edges may suggest a bit of fragility but not so much.
Scalloped Wrought Iron Fence Design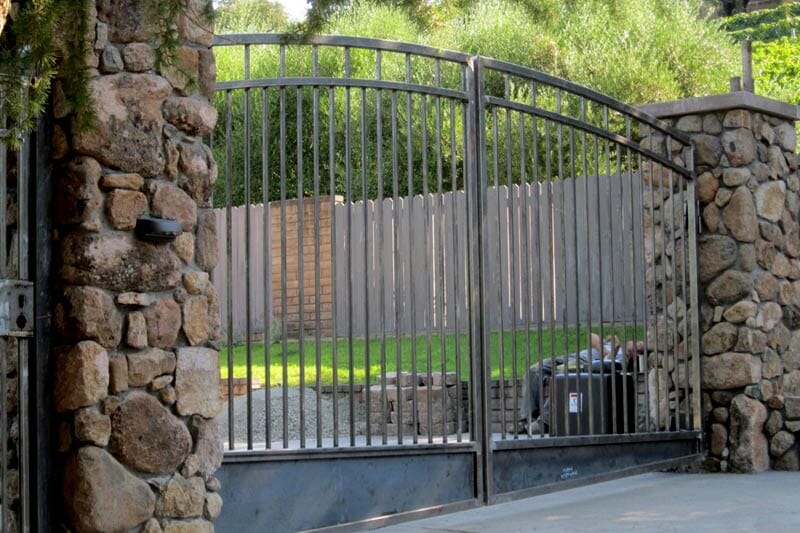 The simple arches in a border height of the scallop design are combined with the classic posts of the traditional wrought iron to make an elegant iron fence.
The fence sections can also be connected to form a continuous length which can also be turned to form an angle.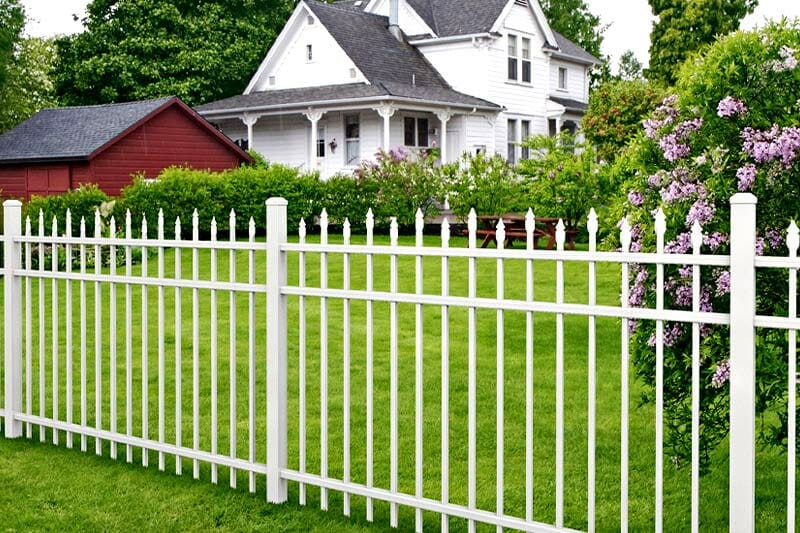 White wrought iron is a popular alternative because:
It gives you an antique fence with unmatched elegance.
The white color accentuates the curves and patterns of the fence making them stand out more.
It allows you to show off your outdoor plants.
A white wrought iron fence is ideal for a relatively smaller space because it gives an illusion of a bigger space.
Although dirt is conspicuous on white materials which can damage the shiny sparkly appearance that many love, it is still an added advantage because you can clean the dirt off before it causes damage to the fence.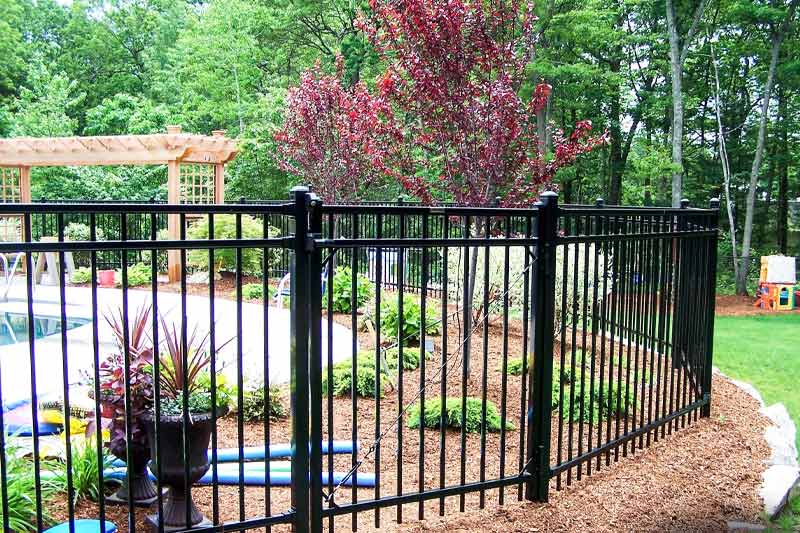 A black wrought iron fence is very advantageous to your property. It not only is easy to clean and not prone to any stains, but it also matches any aesthetics of your home.
A contemporary garden design is perfectly complemented by a black iron fence because it defines your edges better than a lighter fence and forms a frame that is definite around the perimeter and finishes of the layout.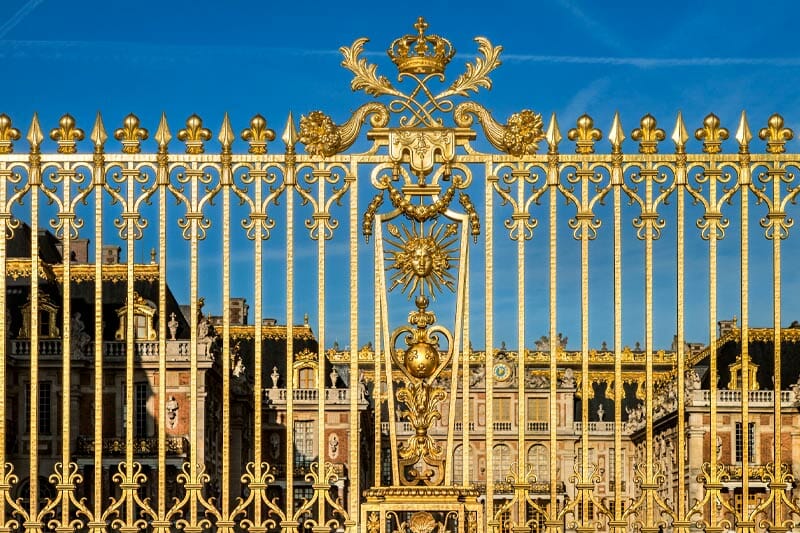 Gold is a bold and eye-catching hue that is mostly used to accentuate floral or leaf accents on the fences. It is often paired with black because the blend of the two is glorious.
The gold wrought iron is a memorial scheme dedicated to Queen Victoria, which evokes a luxurious and wealthy character.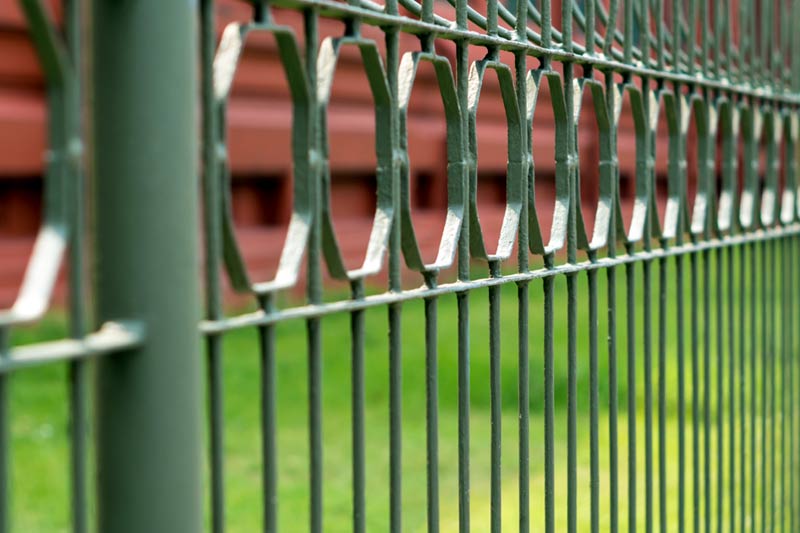 The green wrought iron is more common in parks or places where you would like the fence to mingle and mix with its surroundings. Apart from being synonymous with nature, green is a sign of hope, rebirth, immortality, and renewal.
When paired with gold or silver, a green wrought iron fence looks exquisite.
Bright Coloured Wrought Iron Fence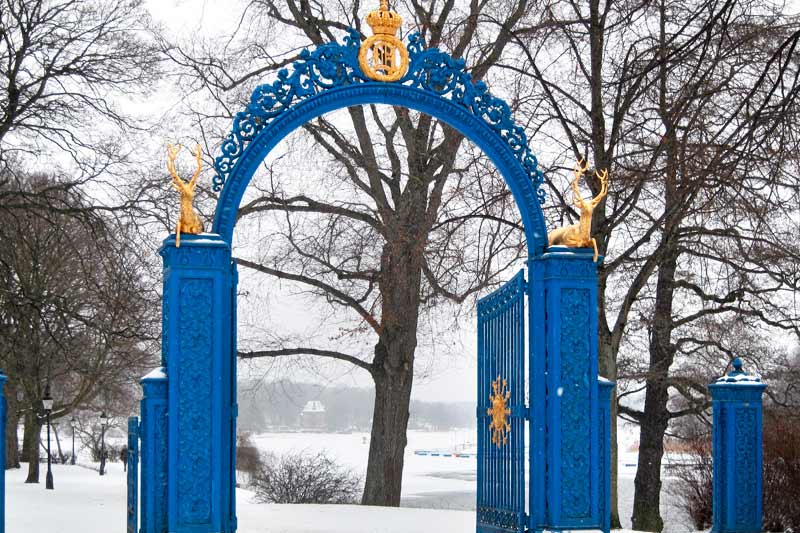 The most common colors of wrought iron are:
Warm earthy tones
Black
White
However, if you are an experimental person and you would love to make a statement, consider opting for hues of blue, purple, or go as far as settling for pink.
For example, the entrance gate to Djurgarzden, which is a public park located in Stockholm, is painted blue. In my opinion, they settled for a blue color because they thought incorporating an ornate entrance would triumphant the park's importance.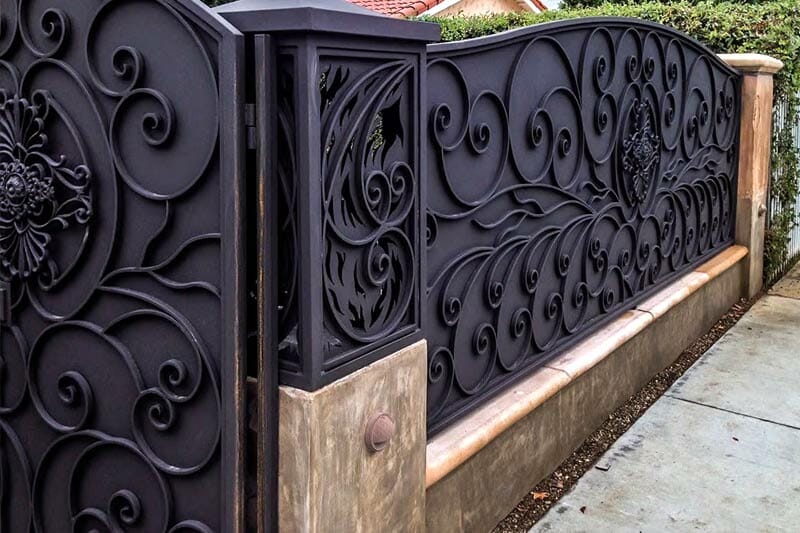 Your fence defines your home's first impression. And you could give the best impression that's warm and appealing with a custom-made wrought iron fence.
There are several benefits of choosing a custom design, including:
The designs at your disposal are only limited by your creativity and innovativeness.
You can combine different designs that already exist.
Other than the design you also get to choose the colors, ensuring your fence is as unique as it can be.
Go For The Best Fencing Company
We believe that installing a fence is not just a service, it is an experience. And for that reason, you need to work with a fencing company that promises and delivers the best experience.
We can help you select the best fencing company in a few easy steps.
Scroll up to the top of the page.
Answer a few questions about your fencing job.
Get matched with top-rated local pros within seconds.
Compare quotes and choose the best pro for the job.
Disclaimer: You are not obligated to hire any of the professionals. This is a free tool and service used at your pleasure.