Are you wondering how much it would cost to hydroseed your ¼-acre lawn? While hydroseeding is costlier than traditional seeding, it is a faster and more convenient option for establishing larger lawns. More so, it is cheaper than sodding.
Typically, an average US lawn size is ¼ acre (about 10,500 square feet), which costs about $1,470 to hydroseed. The low-end cost is about $750, while the high-end price can go up to $2,000 depending on where you live. This cost includes labor, materials, and machinery.
The actual cost depends on factors such as location, yard slope, and the quality of the slurry you use.
Here is a table showing the average cost to hydroseed your ¼ acre lawn.
| Description | Average cost | Low cost | High cost |
| --- | --- | --- | --- |
| National average hydroseeding cost (¼ acre lawn) | $1,470 | $750 | $2,000 |
| Hydroseeding cost per acre | $3,500 | $2,500 | $7,000 |
| Hydroseeding cost per square foot | $0.15 | $0.8 | $0.25 |
Hydroseeding cost per acre
Ideally, lawns that are more than 10,000 square feet are charged by the acreage rather than by the square foot. That being said, hydroseeding a one-acre yard would cost about $3,500 on average, ranging between $2,500 to $7,000.
Before hiring any contractor, ensure you know everything the cost covers. The quote should clearly state all the services offered by the landscaping service. Do not sign any agreement if you do not understand some clauses.
Hydroseeding cost per square foot
The average hydroseeding cost per square foot is between $0.08 to $0.25. This rate varies widely depending on your location, lawn size, and lawn condition.
For instance, if your lawn has steep slopes and many obstacles, you may pay a higher cost for hydroseeding than an even lawn.
While most lawn care companies offer flat rates for hydroseeding, some companies prefer hourly rates. This means that the overall labor cost will depend on the hours the contractors spend on the job.
Ideally, small projects of less than 500 square feet are charged by the hour. The hourly rate is usually between $24 to $30 for such jobs. Larger projects may cost up to $55 to $125 per hour.
However, hourly rates are not ideal for larger projects because the overall cost may be higher than expected. As mentioned earlier, large projects of more than 10,000 square feet are charged by the acreage. So, if a contractor prefers an hourly rate for such a project, you know better than to hire them.
Average hydroseeding cost per state in the US
| State | Average cost to hydroseed ¼ acre lawn |
| --- | --- |
| Austin, Texas | $1.200 - $1,320 |
| Knoxville, Tennessee | $1,100 - $1,250 |
| San Diego, California | $1,710 - $1,830 |
| Charleston, South Carolina | $900 - $1,090 |
| Pittsburgh, Pennsylvania | $1,150 - $1,260 |
| Fort Lauderdale, Florida | $1,490 - $1,585 |
| Jersey City, New Jersey | $1,875 - $2,030 |
| Baton Rouge, Louisiana | $1,200 - $1,430 |
| Wichita, Kansas | $950 - $1,200 |
| Alexandria, Virginia | $1,800 - $2,100 |
| Indianapolis, Indiana | $1,100 - $1,230 |
Note: These rates are just estimates and not necessarily the exact cost. To know the actual price you will pay for your hydroseeding, take advantage of our free service to find local hydroseeding contractors.
Is hydroseeding better than traditional seeding?
This depends on the size of your lawn and your preference. Hydroseeding is a better choice for larger lawns as it takes less time than regular seeding. More so, hydroseeding gives you a fuller, more lush yard than traditional seeding.
Hydroseeding is much costlier than conventional seeding. If you have some money to spare, it is an excellent choice. But if you are on a tight budget and want finer-bladed grass, you may need to opt for traditional seeding.
Can I hydroseed my own lawn?
Yes, it is possible to hydroseed your own lawn, but a larger yard should be handled by professionals. You will likely get the best results by hiring a professional lawn care company, but if you have a tight budget, you can DIY the job.
How much does DIY hydroseeding cost?
DIY hydroseeding may sound like a better option, but if you consider all the factors, it may turn out to be costlier than you expected.
DIY hydroseeding costs about $0.10 to $0.15 per square foot because you will not pay for labor. While this is about 50% less than what you would pay professionals, you will still need to rent the hydroseeding equipment and a starter kit from your local gardening store.
Here are the costs to expect for DIY hydroseeding.
| Equipment/materials | Average cost |
| --- | --- |
| Hydroseeding equipment (new) | $1,500 - $10,000 |
| Hydroseeding equipment (rental) | $300 - $500 per day |
| Store-bought slurry | $0.20 - $0.50 per square foot |
| DIY hydroseeding starter kits | $25 - $35 per 100 square feet |
You may want to go for cheaper rental machines if you decide to DIY your project. If you hire people to help you and use the rented equipment for several days in a row, the overall DIY cost may be higher.
Hire a professional to hydroseed your lawn
For a professional-looking lawn, it is best to hire a professional to establish your lawn. Professionals have the knowledge and experience required to handle all types of projects. Besides, they will come with their own equipment and materials, so you will not need to rent any equipment.
However, finding a reliable lawn care expert may be challenging, and if you are on a tight schedule, you may not have enough time to do your research.
To make work easier for you, we have this free tool that you can use to find local lawn care professionals in an instant.
Home Garden Guides is a FREE service that quickly matches you with top-voted local hydroseeding services near you.
You can get 3 estimates fast by real certified experts in your area in just 2 minutes.
Scroll to the top of the page and enter your Zip code.
Answer questions about your lawn job.
Your details are forwarded to three local experts. They will send you a price estimate for the job and some friendly advice.
IMPORTANT: There is no obligation to hire. This is a free tool and service to be used at your pleasure.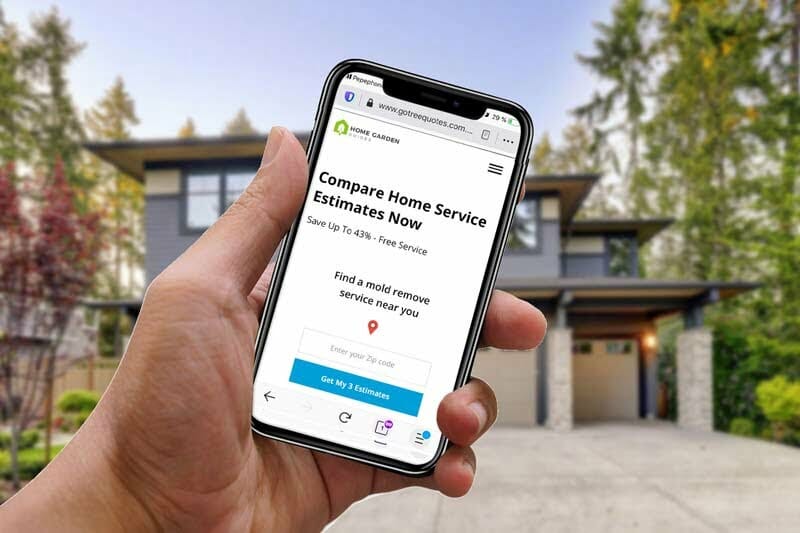 How do I prep my lawn for hydroseeding?
Prepping your lawn for hydroseeding is essential for a high-quality lawn. Usually, professionals will charge you for prep work, but you can eliminate the cost by preparing your lawn.
Here is how you can prepare your lawn for hydroseeding.
Remove all debris, including rocks and sticks, from the lawn
Remove any weeds and existing grass from the yard.
Make sure you install landscape irrigation prior to hydroseeding
We the soil and rough the dirt lightly with a rake
Can I hydroseed over an existing lawn?
Yes, you can hydroseed over an existing lawn. However, you need to be very careful not to ruin the lawn.
If carried out properly, it can be very simple to overseed and revive your lawn. For successful results, you may need to make some adjustments and proper preparation.
Do I need topsoil for hydroseeding?
If your yard has no topsoil, it is recommended to add up to 4 inches of top-quality topsoil. A loamy topsoil mix is an excellent option as it provides the necessary nutrients for your lawn.
If you are unsure where your lawn needs topsoil, you can conduct a soil test to know what nutrients are available and which ones are lacking. A pH test is also necessary to know whether you need to adjust the acidity or alkalinity of the soil.
A well-prepped lawn results in a quality lawn. That is why it is essential to add topsoil when necessary. However, the quality of the topsoil also matters a lot because it directly affects the results.
Late summer or early fall is the optimal time to hydroseed your lawn because the temperatures continue to fall as precipitation increases.
Spring and fall encourage faster growth than in cold and hot conditions. Also, the yard will not require as much water as one that was established during the summer season.
The hydroseeding mix contains tackifiers that bind the seed, mulch, and fertilizer to the soil's surface. Tackifiers protect the seed from wind and water erosion and prevent the seed from drying during droughts.
So, it is not easy for the hydroseeding mixture to be washed away because of the soil binders present in the slurry. However, during torrential rain, there may be a washout, but it is usually the green dye that gets washed away.