Finishing a garage definitely adds some value to a home. But the question is: compared to the cost of finishing the garage, is the increase in value worth the trouble?
If all you want to do is to create a space that is both aesthetically pleasing and useful, then finishing an unfinished garage is totally worth it. It will make using your garage easier, convenient, and less accident-prone. But if the reason for the garage finishing is to increase the value of your home, then finishing your garage by installing insulation, drywall, lighting systems, a high end garage door, and then giving it an epoxy coat, will not be worth it. The cost of such an upgrade will not be worth the minimal return in value that it is bound to generate in the open market.
Here is what you should know about finished garages, why you should consider finishing yours, and whether they add value to a home.
A finished garage is a garage that is painted, drywalled, well-lit, and in some cases, even insulated. It can also have built-in storage spaces, a resurfaced floor, and textured walls.
And while it may not have all of these features, two things that it does not have are exposed beams and rough flooring.
It is generally attractive, and can sometimes be converted into an entertainment spot or a liveable space.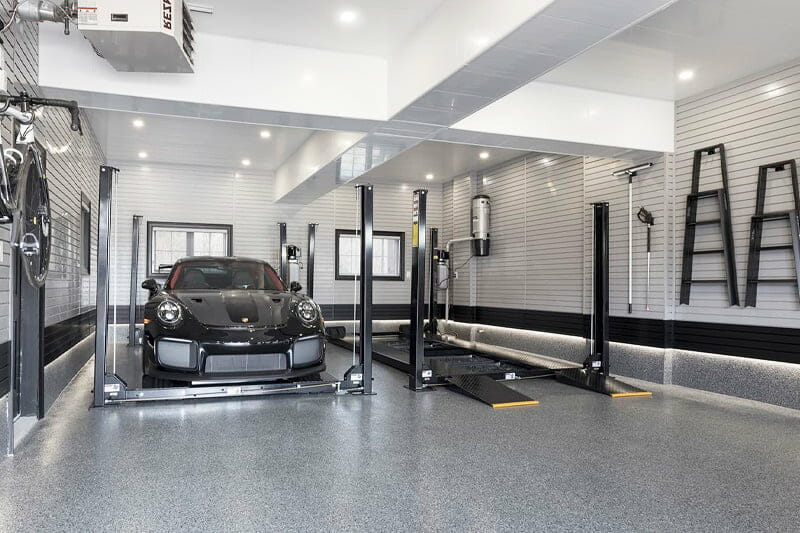 The cost of finishing a garage depends on the size of the garage and the type of finishing that a homeowner opts to install.
Cost of finishing garage walls
Most homeowners finish their garage walls by either installing plywood or drywall. Here are the comparative costs of these two popular garage finishing materials.
| | Drywall | Plywood |
| --- | --- | --- |
| Cost per square feet | $2 | $1 |
| One-car garage (14' x 22') | $1,056 - 3,168 | $495 - $1,386 |
| Two-car garage (24' x 22') | $1,400 - $4,200 | $792 - $2,376 |
| Three-car garage (34' x 22') | $1,700 - $5,100 | $1,122 - $3,366 |
Here is a breakdown of what it typically costs homeowners to finish home garages.
| | Cost in $ |
| --- | --- |
| The average cost of finishing a garage | $6,476 - $10,582 |
| Cost of painting a garage (per square foot) | $0.31 |
| Cost of installing drywall in a garage | $1,200 - $5,100 |
| Cost of insulating a garage (per square footage) | $0.50 - $1.25 |
| Cost of installing electrical components | $1,000 - $2,500 |
How much value will finishing a garage add?
Does a finished garage add value to a home?
No, a finished garage does not generally add any appraisal value to a home. It may make the garage more comfortable and safer. It will even increase the storage capacity of the garage. But it won't increase the home's resale value.
However, most real estate agents recommend finishing a garage in cases where one is targeting a specific type of home buyer.
In cases where one has a high-end home, and where they are targeting clients with car collections or who don't mind spending extra money for space and convenience, finishing a garage can add value.
In fact, it is estimated that for the right buyer, the "WOW" factor that a finished garage adds to a home can increase the value of the home by up to over $10,000.
Why should you finish an unfinished garage?
When you consider the fact that the cost of completely finishing an unfinished garage can easily exceed $10,000, finishing a garage primarily because you want to increase the value of your property is not worth it. This is because finished garages rarely move the needle as far as increasing property values is concerned.
However, this does not mean that a finished garage can't be worth the effort or money. The following are the reasons why it makes absolute sense to have a finished garage.
To increase the storage capacity of your garage
Creating storage lofts, pegboard panels, tool caddies, and cabinets is a key component of finishing an unfinished garage. Therefore, if you need your garage to be able to accommodate more items and equipment, you should consider finishing it. Doing so will make it more useful.
To make an unfinished garage safer
Proper lighting is a hallmark of a finished garage. Finished garages also tend to have strategically installed storage fixtures and spaces that make organizing easier. As a result, such garages tend to be generally safer than unfinished garages.
Therefore, if you want to prevent injuries and accidental property damage in your garage, you should consider finishing it.
To match the aesthetic of your home
You should finish your garage because it completes your home. It ensures that it matches your home's decor, guaranteeing better continuity in terms of looks.
To create a hobby and entertainment area
A garage renovation can provide you with an opportunity to create a hobby or entertainment area in your home.
With proper lighting, better organization, appropriate electrification, and adequate air conditioning, an unfinished garage can be transformed into a working hobby and entertainment spot.
You can then use any extra space in the finished garage as a home movie theater. You can also use any extra usable space in the garage for your workouts. And if you have a collection of luxury or vintage cars, your garage can become a showroom.
Does converting a garage or finishing a garage add more value?
Finishing a garage adds more value than converting a garage.
In fact, in some cases, a converted garage can reduce the value of your property. This is because when you convert your garage, you are essentially leaving your property without a garage.
This, in addition to the fact that the location of the extra living space can be a little awkward and inconvenient — in the case of a converted garage –, can make your home less attractive to potential buyers.
Therefore, if you are planning on selling your home, finishing your garage is probably a better financial bet than converting the garage. While converting it may create an extra bedroom in your home, it can end up hurting your home's property value.
How do you finish an unfinished garage?
A finished garage has adequate storage space, proper lighting, finished floors, painted walls and ceilings, and sufficient insulation. The following are the different ways in which you can transform an unfinished garage into a finished garage.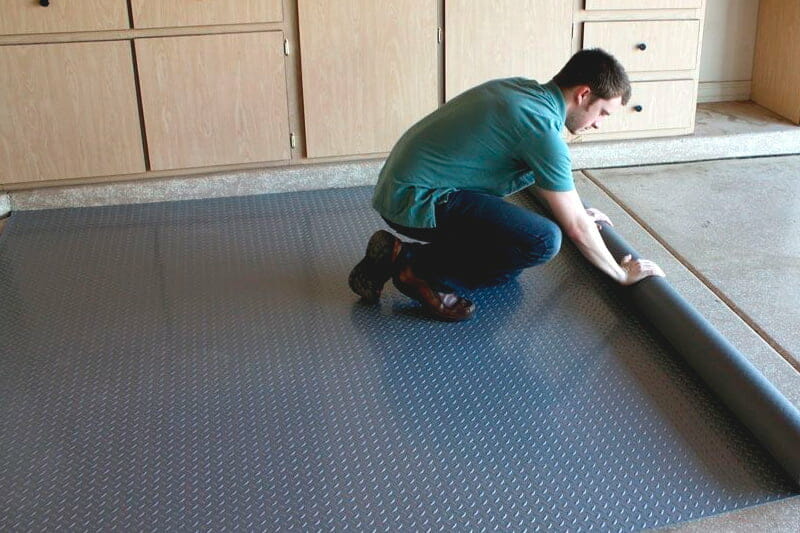 A common feature of a finished garage is adequate, convenient, and organized storage. This feature allows the garage to appear neat and better organized than the average garage. It also creates more space in the garage.
Adequate storage doesn't just make it easier to organize a garage. It also makes the garage safer to use. Therefore, adding extra storage space to your garage is an excellent finishing idea.
As far as the type of storage space that you want to create, it will all depend on your taste and your budget. You can install counters, drawers, basic shelving, workshops, or hobby tables. You can also settle on easy-to-remove stand-alone cabinets.
Essentially, you can create more space in an existing garage, and create a finished garage look, by:
Installing wall-mounted tire racks
Installing garage shelves
Installing wall hooks
Covering your garage walls with Slatwall panels
Adding cabinets to your garage
A garage floor needs to be tough enough to withstand the constant abuse of getting parked on. Therefore, whichever finishing that you are going to use has to be not only attractive, but also extremely durable.
When it comes to turning unfinished garages into finished garages, you have two main options as far as their floors are concerned. You can either coat them or cover them.
You can coat the floor of your garage door by painting it. You can also apply an epoxy finish on the floor.
Paint. If you have plain concrete floors, you can boost their aesthetic appeal by painting them. Painting them can also transform them from slippery floors to anti-slip floors, something that will definitely make your garage safer to use.
As far as painting is concerned, the two main options that you will have at your disposal will be either oil-based paints or latex paints.
Opting for paints that have been specifically designed for use on garage concrete floors, and which have a satin finish, is always advisable as these paints are generally more durable and less slippery.
Epoxy. While epoxy coatings tend to be less affordable than garage paints, they are tougher and generally more durable. This is because, unlike paints, epoxy coatings don't harden through evaporation.
They harden when their resins and hardeners react. This reaction usually leaves a hard, attractive, and durable coating that helps to protect the floor from scratching and peeling.
You can also choose to finish your floors by covering them. If you decide to do so, you should opt for either one of the following options.
Floor mats. Floor mats are easy-to-install garage floor coverings that are perfect for people who are looking for a quick solution.
They come in different patterns and textures. They are also made from different materials, with most of them being made from polyvinyl plastic or rubber. And while they are not a permanent solution for finishing a garage, they typically have enough resilience to withstand the rigors of garage use.
Floor tiles. Instead of using floor mats, you can opt for durable garage floor tiles. They are great especially in cases where the existing concrete floor is in bad shape since they are really good at leveling out any existing blemishes.
Garage floor tiles tend to be tougher than regular tiles. This is because they are designed to handle the weight of vehicles and heavy equipment. And they are typically made of wood composites, polypropylene plastic, and rubber.
Finishing garage walls is an easy way of not only making a garage aesthetically pleasing, but also improving its functionality.
Here are the ways through which you can finish your walls.
Covering the garage walls
Covering garage walls makes most garages attractive to potential buyers. And while it does not have a direct impact in terms of increasing property value, it usually increases the odds of homes with finished garages being chosen.
Covering garage walls with drywall is a cost-effective and popular method of finishing garages. However, it is not the only option that is available to homeowners.
You can cover the walls of an unfinished garage with any of the following materials.
Drywall. Drywall is by far the most popular method of finishing garage walls. It is inexpensive, offers a respectable degree of fire resistance, is readily available, easy to install, and also easy to maintain.
The fact that it is easy to paint means that you don't always have to carry out expensive garage renovations in order to spruce up the look of your garage. This is because newly painted drywall is usually enough to do the trick. However, it is not a perfect material since there is a limit as to how much weight you can hang on drywall.
Wood paneling. Wood panels are excellent choices for homeowners who are looking to create a natural feel in their garages. They are easy to install, and so can save time. And unlike other covering options like drywall, they make it easier to create storage space since attaching hooks, shelves and cabinets is easier.
The only downside is the fact that it is a less affordable method of finishing garage walls.
OSB / Plywood. OSB/plywood panels are inexpensive. They are incredibly attractive. And for garages that have an exposed wood stud frame, they are an excellent choice for covering their walls. They are thus a good alternative to drywall.
The only downside of using them in a garage may be that they are vulnerable to moisture and that they aren't sturdy enough to bear the weight of shelves, mounts, or hooks.
Fiberglass or plastic. Both fiberglass and plastic are inexpensive materials that are easy to maintain and install. And while they are not the most durable garage wall finishing materials in the market, their affordability and mold resistance make them an attractive option.
Metal panels. You can also finish your garage walls by covering them with corrugated sheet metal, diamond plating, or any other type of metallic panel that may be to your liking. With metal, you will have a durable covering that is easily customizable.
The only problem may be that you may have to spend more to both purchase and install these sheets. This type of wall finishing may also not be ideal for supporting shelves and other fixtures.
After covering the walls, you can further enhance their appearance by giving them a fresh coat of paint.
Finished garages typically feature painted walls. This is because high-quality paint not only enhances the aesthetic appeal of a garage, but also makes it look more spacious.
This is so especially if brighter paints are used.
When deciding on which paint color to choose for your garage, you should always remember that the goal of finishing your garage is to complete your home's look. Therefore, trying to match the overall decor of your home is something that you should consider.
You should also consider the color of your vehicles, flooring, or fixtures. And if you are looking for a safer option, then going for greys, tans, beige, and other neutral colors is always recommended.
You should use either blown-in insulation or batt insulation to insulate your garage.
If you had already finished your garage by installing drywall, then blown-in insulation should be the obvious choice. But if you haven't yet installed drywall, then using batt insulation is something that you can opt for.
But the question remains: why should you insulate your garage?
The following are the main reasons why adding insulation to your garage walls makes sense.
It makes the garage more comfortable.
It helps to increase the energy efficiency of your home, especially if your garage is attached to the main house.
It reduces the odds of ending up with plumbing problems that may result from freezing pipes that run through your garage
Good insulation can double up as soundproofing material
Simple and affordable garage remodel upgrades that are totally worth it
In most cases, a full garage finishing is not worth it if the sole purpose of the finishing is to boost your home's property value before a sale.
But there are some simple upgrades that you can make to increase your home's attractiveness to potential buyers.
Here are simple garage remodel projects that are guaranteed to give you a better return on your investment.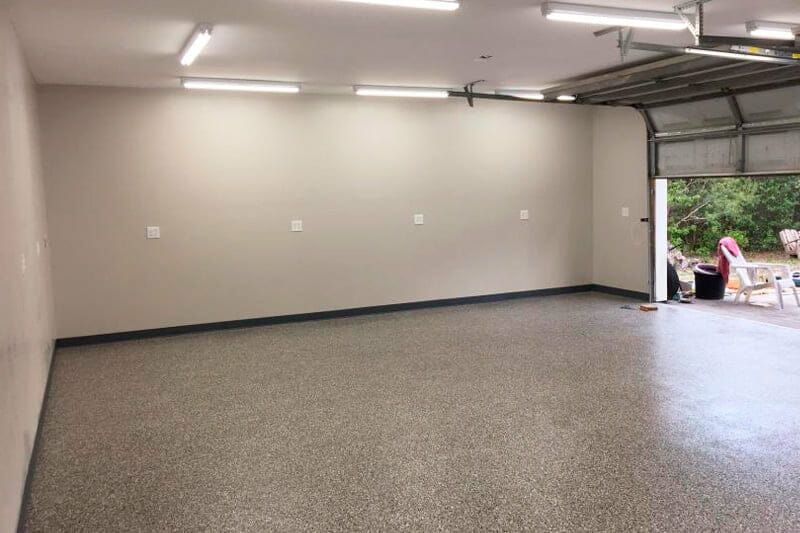 Installing a new garage door
Replacing an old garage door with a new one is a guaranteed way of improving the appearance of your garage. It is also effective as far as increasing the value of an existing garage is concerned.
When you consider the value added to the cost of the project, replacing garage doors offers one of the best returns on investment. This is so especially considering the fact that it is estimated that a garage door upgrade can generate a return that is as high as 97.5%. This makes it one of the most prudent choices as far as upgrading garages is concerned.
Old garage doors can be replaced with new garage doors that feature modern styles, ones that are easier to operate, or ones that are safer. You can even opt to replace an old garage door with a new one that looks exactly the same, and still get a good return on your investment.
Slip-proofing garage floors
Turning the floor of an unfinished garage from slippery to slip-proof may not add any significant value to your home, but it will definitely make it safer. It might also be used by your real estate agent as something that sets your home apart, and this can help to sway a potential buyer into choosing your home.
You can slip-proof your garage by:
etching the concrete surface
painting it with a paint that has gritty additives
taping it with a tape that has an anti-slip surface
Insulating an attached garage
If the garage that is attached to the main house is not insulated, it will increase the rate at which the entire home loses heat. This will reduce its energy efficiency and increase the home's energy bills — the home's air conditioning system will have to work harder to maintain a desirable environment. And it can make a home less attractive to potential buyers.
Garage insulation accomplishes two things.
It is essentially a home improvement project that improves the overall energy efficiency of the main living space.
It makes the garage more comfortable to work in during harsh winters.
To the right buyer, the fact that you have insulated your garage can go a long way towards netting you a higher price.
Use this free service to find garage finishing experts near you
If you need help finishing an unfinished garage, you should visit HomeGardenGuides.com. It offers a free service that quickly matches you with the top-voted local experts.
Using the website, you can get 3 estimates fast by real certified experts in your area in just 2 minutes. Here is how it works.
You scroll to the top of the page and enter your Zip code.
Answer questions about your garage remodeling needs
Your details will be forwarded to three local experts.
You will then receive a price estimate for the job and some friendly advice.
IMPORTANT: There is no obligation to hire. This is a free tool and service to be used at your pleasure.