If you are looking to finish your garage, there are a number of factors you may have to consider as far as your garage remodel cost is concerned.
The average cost of finishing a standard one-car garage is $6,000 while that of remodeling a conventional two-car garage is $10,400. However, these costs are only dependent on size thus making them quite variable when other factors are considered.
The other factors that affect the total garage renovation cost include the parts undergoing remodeling, the type of contractors you hire for the job and material costs in relation to their quality.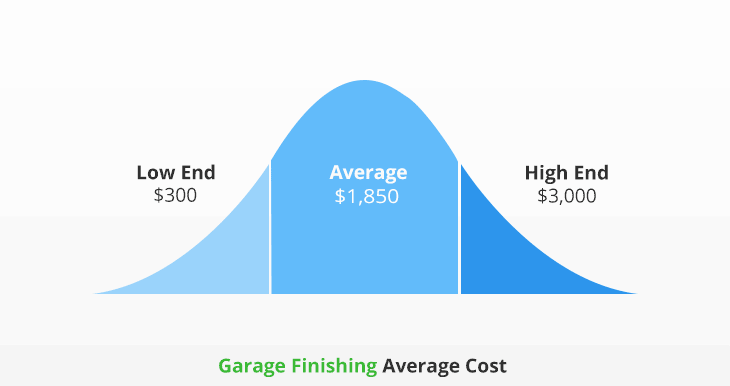 How much Does It Cost Per Square Foot to Remodel a Garage?
An average 2-car garage of about 360 square feet can cost about $11,000 to remodel. This translates to around $30 per square foot to drywall and finish a 2-car garage.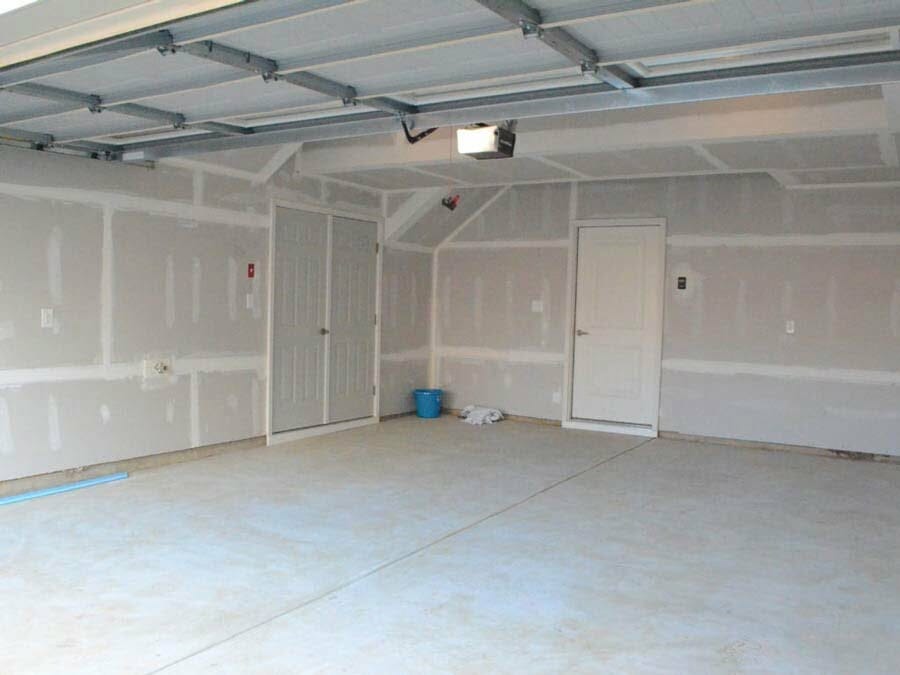 Labor Cost to Finish a Garage
Garage remodeling labor cost is usually dependent on the number and type of contractors engaged as well as the time spent in completing the various jobs at hand.
Most professional contractors usually charge between $15 and $200 per hour to complete a specific task. General contractors who are normally hired to complete all of the available tasks normally charge an average of $250 per hour.
| Labor | Average Cost (Per Hour) |
| --- | --- |
| Painter | $28 |
| Carpenter | $70 |
| Plumber | $125 |
| Electrical Contractors | $70 |
| Siding | $15 |
| Handyman | $75 |
There is a wide range of factors that normally affect the total cost of a garage remodel. Some which include wall insulation and floor painting are pretty obvious while others like building codes and permits need a bit more understanding. Let's look at them in detail.
There are certain local building codes that come into effect when one decides to convert his or her garage space into a living area. Installing a window large enough for an adult to crawl through in the event of an emergency is one of these codes.
The average cost of installing such a window in your new garage may be about $2,000. It is thus important to engage the relevant local building authorities before starting your garage renovation project.
Building permits are normally needed when a garage remodel is either quite vast or involves the complete construction of a new garage.
Permit costs normally vary based on a wide range of factors such as the complexity and size of your garage remodel. One should expect to pay an average of $1,000 to get one.
Plumbing and Electrical Fittings
A finished garage will almost certainly cost you a fortune when it comes to plumbing. This is especially true if there is a need to add an extra bathroom and sink in the remodeled garage. The average cost of plumbing line installation in a garage remodeling project is about $2,000.
Electrical fittings such as switches and sockets may also be needed in order to create additional outlets for power. These fitting along with the extra wiring and labor should cost you an average of $1,500.
Heating, Ventilation, Air Conditioning and Insulation
Most garage renovations normally involve installing additional HVAC and insulation fittings. This is because many garages often lack an adequate HVAC system and proper insulation facilities for living spaces like a game room or a family room
Apart from wall, ceiling and floor insulation, insulated garage doors are also becoming rather popular. Along with HVAC fittings, it can cost you about $2,500 to properly insulate your new garage.
Garage Remodel Cost by Part
It generally costs an average of $2,500 to install a new garage door. This is often dependent on the style, size and type of material you opt for it. The degree of insulation and opening technique of your garage door will also affect its overall price.
| Garage Door Material | Average Cost |
| --- | --- |
| Steel | $1200 |
| Aluminum | $1100 |
| Wood | $2000 |
| Fiberglass | $1600 |
| Garage Door Size | Average Cost |
| --- | --- |
| 8' x 7' | $650 |
| 9' x 9' | $750 |
| 10' x 10' | $800 |
| 12' x 7' | $900 |
| 12' x 12' | $1000 |
| 16' x 7' | $2150 |
| 16' x 8' | $2850 |
The renovation cost of garage flooring averages at about $6,500. This often depends on the present condition of your garage floor and your desired finishing level in terms of both quality and materials.
It is usually advisable to engage a concrete mason to repair any major issues before any epoxy coating is done on your garage floor. In cases where the entire garage floor is in good condition, one can furnish such a space with an elegant carpet after a coat of paint has been applied.
Drywalling a ceiling is normally considered to be the best material for renovating both traditional and attached garage ceilings. This is because of its user-friendly, flexible, durable and economical nature that ensures your converted garage serves you well in the long term.
Installing drywall costs between $1.5 and $3 per square foot. This means that the entire ceiling renovation project's costs can often average $1,850 inclusive of labor and material. 5/8-inch thick drywall panels are usually recommended for the ceilings of remodeled garages.
Adding windows to your garage door or walls can cost you an average of about $700. Most people choose to install windows on their doors rather than their walls since it is an easier process.
The cost of garage window renovation is usually influenced by the size and type of glass chosen. The kind of frames selected also contribute to the total price of garage window installation.
Drywall is widely considered to be the best alternative as far as garage wall renovation is concerned. It can cost as low as $1.5 to $3 per square foot to purchase and install drywall. This makes it an extremely cost-effective option.
A finished garage insulated with drywall is extremely resistant to fire. This makes such a space a lot safer at very minimal costs. 1/2- inch thick drywall panels are usually recommended for most garages.
A garage exterior renovation project costs an average of $3,600 to complete. This cost can be lowered if you decide to simply add a fresh coat of paint to your siding.
Where the siding is damaged, it is usually advisable to replace it with more durable cladding materials. You can then apply an elegant layer of paint on the new exterior.
When finishing a garage, insulation is a great idea especially if it is connected to your home, or if you wanted to use it as a living space in the future.
The cost to insulate a garage before drywalling it varies depending on the type of insulation such as fiberglass, cellulose, rigid or spray. This will cost anywhere from $1,200 – 3,000 extra depending on the garage size and insulation used.
Garage Remodel Cost by Size
The size of a garage is usually determined by how many cars its floor space can take at a go. Although there are garages that can take up to 4 cars at a go, most garages only have enough room for one or two cars.
A normal single-car garage with a floor space of about 240 square feet costs an average of $6,600 to finish. A two-car garage refinishing project, on the other hand, costs an average of $11,000 to complete. This is because it is usually done on a larger floor space of about 400 square feet.
Three and four-car garage finishing projects usually cost $16,500 and $22,000 on average respectively. These projects are rather costly since they are done in garages with a flooring space measuring between 600 and 800 square feet.
Garages that are large enough to fit recreational vehicles are usually the most expensive to convert. With an average flooring space of about 880 square feet, they often cost in excess of $24,000 to remodel.
Garage Remodel Cost by Extent
The cost of a garage remodeling project is heavily influenced by the extent to which the space in question is remodeled. When doing such a project, you can choose to do it either partially or fully. You can also completely convert the garage into a functional room of your choice.
Partial Garage Remodel Cost
Remodeling your garage partially can cost you between $500 and $5,000 depending on how much you want to remodel the room in question. Such a project is normally quite affordable since it does not involve wholesome structural changes.
Whether it's insulating your walls with drywall or adding storage facilities to the room, a partial garage remodeling project usually focuses on improving small aspects of a garage. When done well, it can go a long way in increasing the overall curb value of your house.
It costs an average of $11,000 to complete a full garage remodel. Its price is more expensive than that of a partial remodel since it is usually done to make the garage more structurally flexible in terms of storage, flooring, walls, ceiling and general appeal.
Full garage remodels basically enable a garage to have greater functionality than just car storage. They however do not convert a garage into a room that cannot store cars. They are the most common garage upgrading projects.
It generally costs an average of $5,000 to fully convert your garage into a living space. Although this price is rather expensive, it is often dependent on the kind of space you want to convert your garage into.
Garage conversion projects have a wide range of merits and demerits. On one hand, they can massively increase your living space and provide you with an extra room at a very reduced price.
On the other hand, such projects can drastically reduce your home's value when done in areas where traditional car garages are highly valued, for example cold and snowy areas. You may thus have to incur additional costs for external garage add installation.
DIY Vs Professional Garage Remodel Cost
The total costs incurred when finishing a garage are heavily dependent on whether you hire a professional contractor or do it yourself. Although it costs much less to do it yourself than hiring a contractor, the wide range of benefits that experts come with make them worthwhile.
First off, professional contractors usually possess a degree of skill that is required when handling certain essential remodeling materials. Such materials which include plumbing lines, insulation and electrical wires can be very dangerous to handle for DIY contractors.
Garage finishing experts also possess the wherewithal to complete such a project in minimum time. DIY contractors may find it extremely time-consuming to demolish walls, find studs, screw-in drywall, tape wall joints and construct wall storage facilities all on their own.
This provides a perfect opportunity to hire professional remodeling experts in spite of the exorbitant costs that they come with. Ensure you visit a wide range of remodeling experts and obtain free estimates from each of them before settling on one.
Pros and Cons of Garage Finishing
Pros
Most homeowners undertake remodeling projects on their garages for the increase that such projects bring on the curb value of their houses. This enables them to sell such houses at a significantly higher price than they would have before the garage remodel.
Most garage remodels that include new insulation can also help one to save some money on energy bills. They may also make it unnecessary to install a garage add particularly in warm climates where cars can be safely parked on driveways.
Cons
Although garage remodeling costs vary from one garage to another, they are generally considered to be quite expensive. With a national average cost of about $10,000, most people have to save over time to undertake such projects.
Turning a garage into a living space can also bring the value of a house down especially if it is located in an area where a high value is placed on a traditional one or two-car garage for example cold, snowy areas.
The remodeling of a garage may also mean a reduction of storage especially if the garage in question has been converted into living space such as a utility room. You may thus have to find some extra room for things like old sporting gear and tools which were previously in the garage.
How Do I Hire a Garage Remodeling Contractor?
When hiring a contractor for garage renovation, it is important to identify their pros and cons as far as your home improvement project is concerned. You can do this by considering the following questions:
Do you need a General Contractor?
No matter how small a garage remodeling project is, a general contractor can really come in handy. This is because he or she can help you to hire skilled and certified contractors such as electricians, plumbers and HVAC experts for your home improvement project.
This will in turn save the time and costs you would have otherwise incurred in looking for the professionals by yourself.
Do you need an Interior Designer?
You may need to hire an interior designer if you feel that your garage needs a lot of major changes when it comes to its overall structure. This is because interior designers are often knowledgeable when it comes to building codes and standard contractor practices.
They can therefore help you in converting your garage into a safe and functional space within acceptable limits. They are also quite flexible and can convert all parts of your garage including its doors, flooring, storage, walls and ceiling into beautiful, attractive and functional features.
What are the most Important Questions for the Contractors?
When working with many contractors, it is vital to ensure that they are all on board in regard to the project on hand. The first step to achieving this is to seek clarity as far as all current and future project costs are concerned.
It is also important to make sure that the credentials of each contractor are verified before the project commences.
https://homegardenguides.com/ is a free tool that quickly matches you with the best local garage remodeling contractors near you. You can get free estimates from local garage remodeling contractors in a matter of two minutes. Kindly follow the steps below to enjoy this great service free of charge:
Scroll to the top of the page and enter your zip code
Answer questions about your garage remodeling job.
Your garage remodeling details are forwarded to three local contractors who will send you a price estimate for your job with some friendly advice.
What Garage Details Should You Provide the Contractors with?
The important details to provide your contractors with include:
The extent of your garage remodels, whether partial or full.
The placement of the material you will use to insulate your garage.
How do you want your new garage to connect to the main house in terms of electricity and plumbing.
The number of garage doors you prefer.
Your preferred garage door opener.
Your preferred garage floor installation material