If you're like most homeowners, finishing your garage is probably the last thing on your home renovation list. After all, if you just use it to store your car or other valuables, the aesthetics won't really matter.
But once you're looking to sell your home, you might want to rethink this decision.
The truth is, while finishing your garage doesn't significantly increase the home's value during resale, it attracts more buyers to it, ensuring the house isn't in the market for long.
And with studies showing that over 80% of homebuyers want a home with a garage storage space, finishing it makes you stand out and gives you a massive competitive advantage.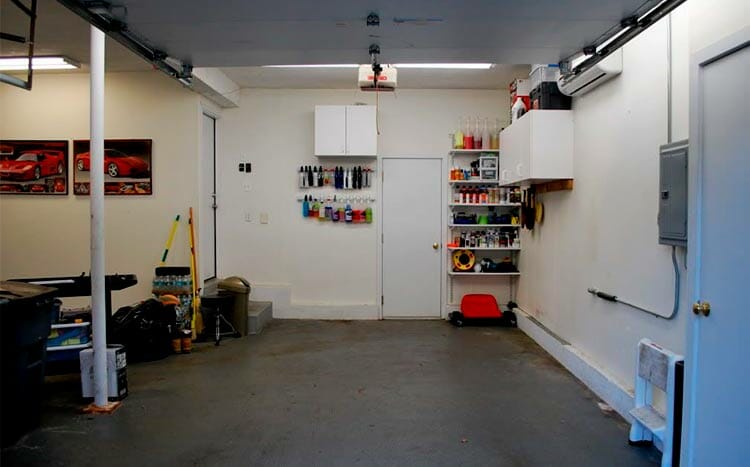 Before going into many details, let's first get this out of the way. A finished garage refers to a garage that looks like any other room in your house i.e, all the beams and gaps are covered with drywall.
It has finished walls, floors, ceilings, it's well organized and has plenty of space.
A finished garage is also complete with plumbing, insulation, drywall, and even concrete flooring. It can be easily converted into an extra room which you can use for other purposes.
Important: A finished garage is different from a converted garage despite both offering multiple uses for the room. A converted garage means that it's completely renovated to serve as an extra room, i.e., living area or bedroom in the house.
How a finished garage affects the home's appraisal
While we've mentioned that a finished garage won't directly increase its appraisal value, it still helps in the overall resale of your property.
Here's a breakdown of how finishing helps:
When potential buyers are looking at a series of homes, one with a finished garage is definitely bound to catch their eyes. Even if they weren't looking for a garage, nobody can say no to that extra space. This is called the "wow" factor.
Finishing a new garage in an area where only a few houses have finished garages could also add to the value of your home.
Provides additional square footage
Finishing your garage also provides you with a good room to use for other purposes. This means that it can create an extra room in the home and not just a storage space.
For this, it's a win-win for both you and the buyer because finishing is much cheaper than remodeling the entire basement.
Some owners even install an insulation system in their garage ensuring that it's protected from too much heat and cold. All this goes a long way in attracting homebuyers and also in increasing the home's initial asking price.
How much money you'll spend on a finished garage will be determined by your definition of a finished garage. For instance, if you just want to cover the exposed beams, then the job will be very cheap, requiring drywall alone.
If however, you want to completely revamp the unfinished garage with insulation, change the door, painting, seal the floor, and add an electrical system, the total project costs will be much higher.
Here's a cost breakdown:
The average cost to finish an unfinished garage varies depending on its size, condition, location, and materials used. Your decision to either hire a professional contractor or DIY will also influence the prices.
Finished garage cost per square foot
Generally, you can expect to pay anywhere from $8 to $25 per sq. ft to finish your garage. This includes the price of materials, labor, equipment, and supplies when done by a professional.
As a DIY, such projects may cost you between $3 – $15 per sq. ft, depending on the equipment and materials you'll have to purchase.
Finished garage materials and supplies cost
Materials alone cost an average of $0.50 – $15 per sq. ft and the supplies and equipment range between $4 -$7 per sq. ft. Drywall is the main material required, and it costs anywhere from $0.40 – $0.80 per sq. ft or around $12 – $20 per panel.
Other materials you'll have to account for include insulation strips, paints, floor epoxy, drywall mud, etc.
Finished garage labor cost
Most contractors charge around $40 – $70 per hour but this can easily go to $100 an hour on labor or between $1.50 – $3 per sq. ft for this finish.
For the garage floor, contractors might charge you an extra $1 – $2 per sq. ft to paint using stain-resistant solid epoxy.
Note that you may also need to hire an electrician, painter, flooring installer, and maybe even a roofer. All this depends on the condition of your garage and it will increase your expenses.
Permits and inspection costs
Depending on your town's or city's state laws, you may have to pay an extra $300 -$1,350 on a building permit. This includes the inspection fees which will ensure your garage is up to code. It could also be more if you need a variance.
While permit fees mainly apply if you're converting the garage, it's still a good idea to check the rules first. Visit your local county offices or website if you don't know about their regulations on finishing garages.
| | Quantity | Cost Range |
| --- | --- | --- |
| Materials | Per sq. ft | $0.50 - $15 |
| Equipment and supplies | Per sq. ft | $4 - $7 |
| Labor | Per sq. ft | $1.50 - $3 |
| Average costs | Per sq. ft | $8 - $25 |
Note: The prices of home remodeling materials have sporadically increased over the past year due to the increased demand and shortage in supply. Therefore, expect to spend 5 – 10% more than the prices stated above.
Additional cost factors
Other factors that increase the cost of finishing garage projects include:
The level of drywall finish – The higher the finish level you choose, the more expensive it becomes. Level 5 finish is the most costly.
Painting the wall and ceiling – If you choose to paint the garage walls, floor, and ceiling, your cost of materials and labor will significantly increase.
Repairs and replacement – Any repairs needed, be it water damage, wall and floor cracks or ceiling holes will add to the total project costs. Large garage repairs may also require the help of wall and flooring contractors which may become expensive.
Size of the garage – A one-car finished garage is likely to cost much lower than a two-car or three-car finished garage. However, material and supplies costs tend to be lower per square foot for large car garages than smaller ones.
Garage additions that could add to the home's value
While the value addition of your finished garage may not be as good as you expected, it's not all gloom with finishing garages.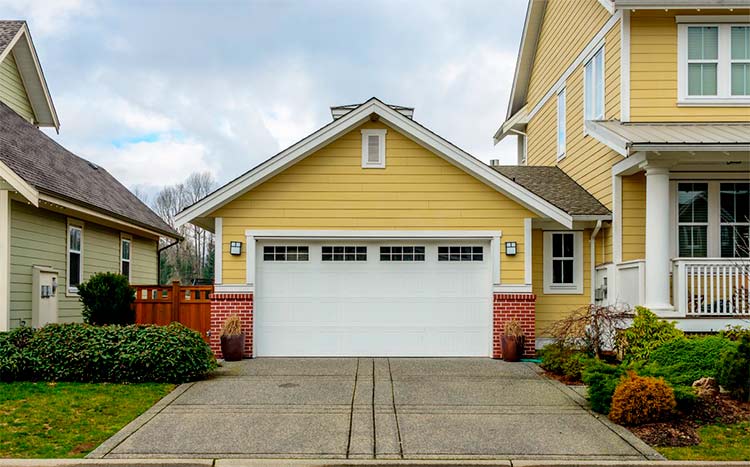 There are several upgrade projects you can do to get the best returns from the garage when selling your house. These include:
Install a functional garage door
Your garage door plays a massive role during the resale of the house. When done right, it boasts of a massive 95% ROI value during the sale.
So, instead of your old and heavy wooden garage door, swap it out for an automatic one or at least a lightweight option with insulation. Aluminum doors are a fantastic option. A basic lightweight manual door costs around $500 – $2,000 while an automatic one ranges between $900 – $2,800.
The garage door color also has to match that of your house to make your garage appear new. This becomes a key selling point to the potential buyers.
You may also consider a side-access door if the garage has only one entrance. Some homeowners will find it tedious lifting the garage door every time they need to get in.
Resurface stained flooring with stain-resistant epoxy
According to many real estate agents, shiny, easy-to-clean flooring is often a huge plus in the eyes of potential buyers. A stain-resistant epoxy finish is usually the most recommended for this project as it seals out the concrete and gives it the shine you're looking for. Epoxy is also easy to maintain and doesn't stain with engine oils or grease.
Add more electrical outlets and improve the lighting
Besides working on the floors and walls, consider hiring an electrician to add more electrical outlets to the garage. While it's a small investment, buyers like it because it means they have more uses for the garage including using it as a workshop.
If you have some room above your ceiling beams, you can also install shop lights or motion-sensitive lights to brighten the rooms. Dark garages always spoof off the potential buyers.
Increase the usable space by adding shelves and storage cabinets
Increasing garage storage is another key selling point most homeowners today are banking on. You can do this by adding more storage shelves, cabinets, and heavy-duty plastic bins.
Every buyer loves the idea of more space for their house and so, doing this gives them the illusion that there's more usable room than there actually is.
Important: Ensure everything is tidy and well-organized. Any clustering makes the garage appear very small.
Install energy-saving insulation and HVAC
Installing insulation and a reliable heating and cooling system can make your garage more valuable in the market. With most people avoiding these installations, good insulation makes the garage usable throughout the year, regardless of the weather.
This is especially crucial if you have an attached garage. You'll have better climate control in your home and will be able to protect your family and cars from extreme heat or cold.
Don't forget to add insulation strips to the garage door as well to prevent draft from getting through.
Even before getting to your finished garage, a serious prospective buyer will form a perception about the garage based on its surrounding. If the driveway looks dirty, cracked, and in shambles, they'll definitely avoid that home.
Therefore, ensure that you don't invest too much in the interior that you overlook the garage exterior.
Is finishing a garage worth it?
Yes and no. The impact of finishing your unfinished garage on is subject to what you're looking for.
Its key benefit is that you get more usable area, ample garage storage, heat insulation, and an advantage to get the house off the market quickly.
However, a finished garage doesn't guarantee an increase in the appraisal value of the house. Therefore, if you have an option, it would be better to invest that money in another high ROI project.
Bottom line: Unless you live in a neighborhood where each home has a finished garage, don't invest too much money in finishing it.
What about converting your garage to living space?
Well, the answer still remains, it depends on what homebuyers are looking for in your area. While most people would be happy to pay the extra bucks for the converted garage space, some may still be looking for a home with more storage room.
And especially in neighborhoods where homes have limited dedicated spaces and driveways for parking, a car garage becomes super important.
Therefore, before spending all your money on converting your garage into a living space, consult a real estate agent who knows your area well. They should be able to inform you whether this decision will increase the value of your home.
You'll find that in most cases, it's more profitable to add a home extension if you have space in the yard and retain the car garage.
However, in the right area, a converted garage can offer an ROI of up to 80% of the initial investment during the house resale.
Looking for a garage contractor?
Try our FREE service! HomeGardenGuides.com is the fastest and easiest way to get three quotes for your garage finishing project from the best and most affordable contractors near you.
The service quickly matches you with the 3 garage contractors voted #1 by previous users in your area. All you have to do is:
Scroll up to the top of the page and enter your ZIP Code in the blue form.
Give us a few details about your garage finishing project, plus some contact information.
We will then forward your project details to the closest three garage contractors, all voted best priced in your area, who will price your job.
IMPORTANT: There is no obligation to hire any of the contractors. This is a free tool and service to be used at your pleasure.