Over time, cabinets become worn out. Their aesthetic appeal erodes. And their functionality also gets compromised as different parts break or wear out. Therefore, as a homeowner, the question as to whether to paint or replace cabinets is almost inevitable.
When compared to replacing cabinets, painting is a cheaper way of refreshing the look of your cabinets. This is because, with painting, all you have to buy is paint, paintbrushes, and a few extra materials that are typically very affordable. On the other hand, in order to replace cabinets, you have to spend money on new cabinets and the additional materials necessary to install them. The fact that painting is a simpler and less taxing process, also makes it cheaper as far as labor costs are concerned.
Here is what you should know about painting and replacing cabinets.
When comparing the cost of painting and replacing cabinets, there are a few factors that you should consider. The first is the number of cabinets that you need to either replace or paint. The second is the cost of the various materials that are required to complete the project. And the third is the cost of labor.
Here is a breakdown of the costs of each renovation activity.
| Service | Quantity | Low | High |
| --- | --- | --- | --- |
| Cabinet painting single coat | Single | $25 | $65 |
| Cabinet painting per hour | 1 hr | $45 | $75 |
| Cabinet painting labor costs | Whole Project | $450 | $650 |
| Cabinet painting materials | Whole Project | $90 | $175 |
| Cabinet replacement (doors only) | Single | $30 | $100 |
| Cabinets replacement materials | Whole project | $1,350 | $10,000 |
| Cabinet replacement labor | Whole project | $525 | $1,350 |
Cabinet painting is cheaper than replacement by: 65 %
Save an average of: $3,500
Can I install kitchen cabinets myself?
Yes, you can install kitchen cabinets yourself. Here is what you need to know.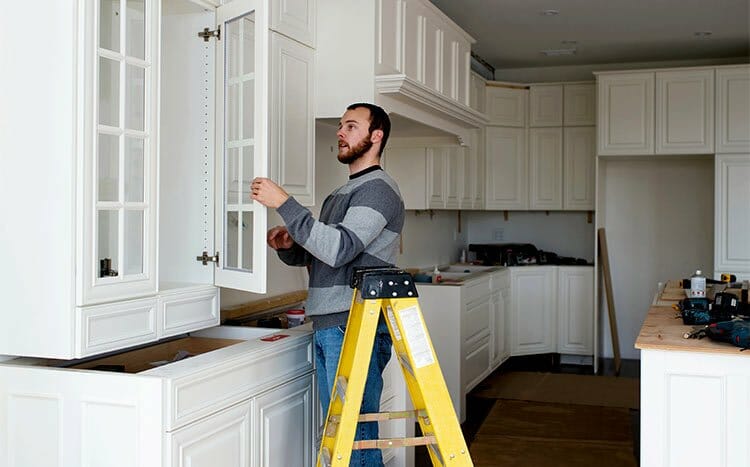 Tools and materials needed
If you are going to DIY a cabinet installation, then you should definitely go for ready-to-assemble cabinets. They require less skill and less time to assemble and are thus more manageable as far as DIY projects are concerned.
As for tools, you will need to purchase, or at least rent out, a 4-inch lever, a good screw gun, a pencil, measuring tape, clamps, and a stud finder. You will also need a 1×2 ledger board, two-and-a-half-inch screws, and wood shims.
Steps you should take to properly install the cabinets
Figuring out the base of upper cabinets
The first step you should take is to figure out how high, from the floor, you should install the upper cabinets. When doing so, it is ideal to first measure the height of the lower cabinets, include the height of the countertop, and then add the height of the backsplash. The total should give you the point at which the bottom of the upper cabinets should be.
Find wall studs and screw in the support
The next step is to find where the wall studs are located. For this step, a stud finder will come in handy. And when you locate them, use the pencil to mark them out.
With the studs marked out, it is now time to create a temporary support system for your cabinets. Take a ledger board, and using the extra screws, secure it into place. Use the wall stud markings as a guide as to where to drive the screws.
Remove cabinet hardware and secure it on the ledger board
The next step is to strip the cabinets of its doors and any other removable hardware. The goal should be to make them light enough to ensure that they are easy to lift and secure in place. And after you are done doing so, attach as many cabinets as you can, lift them, and then secure them onto the ledger. At this stage, a pair of extra hands will go a long way towards making things easier for you.
Drill and screw into place
The next step is then to drill pilot holes through the cabinet and into the studs. This should make the next step easier: using the screws to screw the cabinet into place. After you are done, use the level to check if it is properly aligned. You may have to use shims to get it right.
Install subsequent cabinets
If you have a corner cabinet, you will have to start by installing it. And after you are done, you will then need to start installing subsequent cabinets. The procedure is the same, with the only difference being that you will have to use clamps to secure subsequent cabinets to the preceding ones.
After you are done installing the top cabinets, the next step will be to install the lower ones. These are easier to install, with the only goal being to align them with the top cabinets. And in trying to do so, you may have to use shims in order to make sure that their heights are aligned, especially if you have an uneven floor.
Cost to install cabinet hardware
A cabinet maker will charge you anywhere between $130 to $275 to replace your cabinet hardware. This includes handles, hinges, pulls, and knobs, However, this is assuming that you already have the hardware and all they are doing is the installation.
If you don't already have the hardware, then the average costs vary widely — from as low as $34 to as high as $10,550. The total amount that one ends up spending on the hardware usually depends on the type of materials the hardware is made from, the number of cabinets, the quality of finishing on the hardware, and the overall style of operation of the cabinets.
Mistake to avoid when replacing kitchen cabinets
In order to ensure a smooth installation process and to guarantee installation results that you will be proud of, there are a few mistakes that you should avoid. They include the following.
Opting for preset stock sizes
Every kitchen is unique in its own way, and yours is no exception. In order to get an easier time installing your cabinets, and if you want aesthetically appealing results, you have to start the process by getting the dimensions of your kitchen. With these dimensions, you can then shop for premade cabinets that are a perfect fit.
Failing to account for utilities
When drilling through your walls, you have to be always aware of the existence of electric wiring and plumbing fixtures. You need to locate them and then use a pencil to clearly mark them out. You can even go as far as turning off your power.
In short, when it comes to installing cabinets, it is always a good idea to proceed with caution. Failure to do so could lead to electrocution. It could also cause costly plumbing problems.
Forgetting to mark wall studs
Drywall isn't sturdy enough to support cabinets. Screwing them onto drywall only will thus likely end in a disaster.
To ensure that your cabinets have the appropriate structural support, you need to screw them onto wall studs. As a result, using a stud finder to locate the studs, and thereafter marking their location with a pencil, are usually the first steps in the cabinet installation process.
Failure to account for sloping floors
Sloping floors increase the risk of ending up with misaligned cabinets. It can also lead to functionality problems especially with regards to the height of installation and the effect it will have on plumbing and the installation of other fixtures in the kitchen.
Therefore, in order to guarantee a functional and appealing installation, you need to take sloping floors into account. This means taking measurements from the highest point of the floor when trying to determine the installation height of upper cabinets. It also involves using shims to correct any misalignments. Doing so will help you to avoid ending up with the ever-annoying misaligned cabinet problem.
Cost factors to consider when painting cabinets
The amount you end up paying in order to paint your cabinets varies widely depending on the following factors:
The number of cabinets that have to be painted: the more the cabinets, the more the surface area that has to be covered with paint. It means more paint costs. It also means having to pay more in terms of labor costs.
The type and quality of paint that you intend to use. Paint costs vary depending on their types and quality.
The painting technique you choose to use: Whether you use a paintbrush or a sprayer will determine the cost of your tools
Whether you choose to prime the surface: Even though a primer will definitely help to enhance your painting results, it is still an extra cost
The number of coats that you use: the more the coats of paint that you use, the more the amount of paint that you will need to paint the cabinets. Therefore, it will cost more.
Labor costs. If you choose to use a professional painter, you will need to include the amount that they will charge you in your cost calculations. However, if you choose to DIY it, then labor cost isn't something that will affect your painting costs.
The condition of your cabinets. This is because cabinets that are in bad shape have to be prepped. This is an extra step that requires additional tools and materials. And if you are going to use a contractor, they will charge you extra either because they will have to take longer to paint, or because it is simply an extra cost item that they charge for.
Cost factors to consider when replacing cabinets
When you have to replace your cabinets, the following are cost factors that you should always keep in mind.
The labor cost of removing the old cabinets
The labor cost of installing the new cabinets
The cost of rerouting or relocating plumbing and electrical wiring if a need arises
The cost of the new cabinets. The cost will vary depending on their size, the type of materials that they are made from, and the number of cabinets that have to be installed.
DIY cabinet replacement vs Professional
Cabinet replacement is incredibly detail-oriented and physically taxing. Therefore, if you choose to do it on your own, you should be prepared to dedicate a significant amount of time to it. And if you don't have experience with installations, you should be prepared to make and correct installation mistakes. You will also have to worry about having to dispose of the materials that result from the demolition of the old cabinets.
The upside to doing the replacement on your own is the fact that it will be cheaper. You won't have to worry about labor costs since you will be doing the work on your own. You can also just rent out the tools that you may need. Furthermore, if you are into DIY projects, this may make for a fun and challenging project.
On the other hand, while professional cabinet replacement costs more, the workmanship is almost always high quality. This is thanks to the fact that professional cabinet installers have the requisite experience and expertise necessary to avoid newbie mistakes. This experience will also enable them to do the work faster, hence saving you time.