Homeowners do not typically consider their garages as "real" interior spaces within their homes. And it is the primary reason why garages are often abused, damp spots without heat, insulation – or paint. But does this make your garage a suitable area for exterior paint? Read on as we reveal the answers.
You can use exterior paint in your garage, depending on the garage type and local climate conditions. Exterior paint is suitable for well-ventilated detached garages in wet, soggy climates with extreme temperatures. In contrast, interior paint is excellent for attached garages in moderate weather environments.
This article has several excellent recommendations on the durable and high-quality exterior and interior paints for your garage walls. Continue reading to learn more about their characteristics and how they can meet your different needs.
It is not safe to use exterior paint within a home interior, including your garage interior walls. Exterior paint is formulated with chemical additives such as anti-fading solvents, fungicides, etc., to protect it from harsh outdoor conditions, including UV rays, mold, mildew, and moisture-related damage without deteriorating. However, the chemical additives in exterior paint contain high levels of volatile organic compounds VOCs, which are released into the air when drying, a process known as outgassing.
Unfortunately, VOCs are toxic, and several studies link them to a plethora of illnesses and other health issues in individuals. Using exterior paint with high VOC concentrations on your garage walls puts you at risk of developing "building-related illness" (BRI), which physicians can directly attribute to the harmful effects of toxic airborne particulates from exterior paint on your garage interior walls.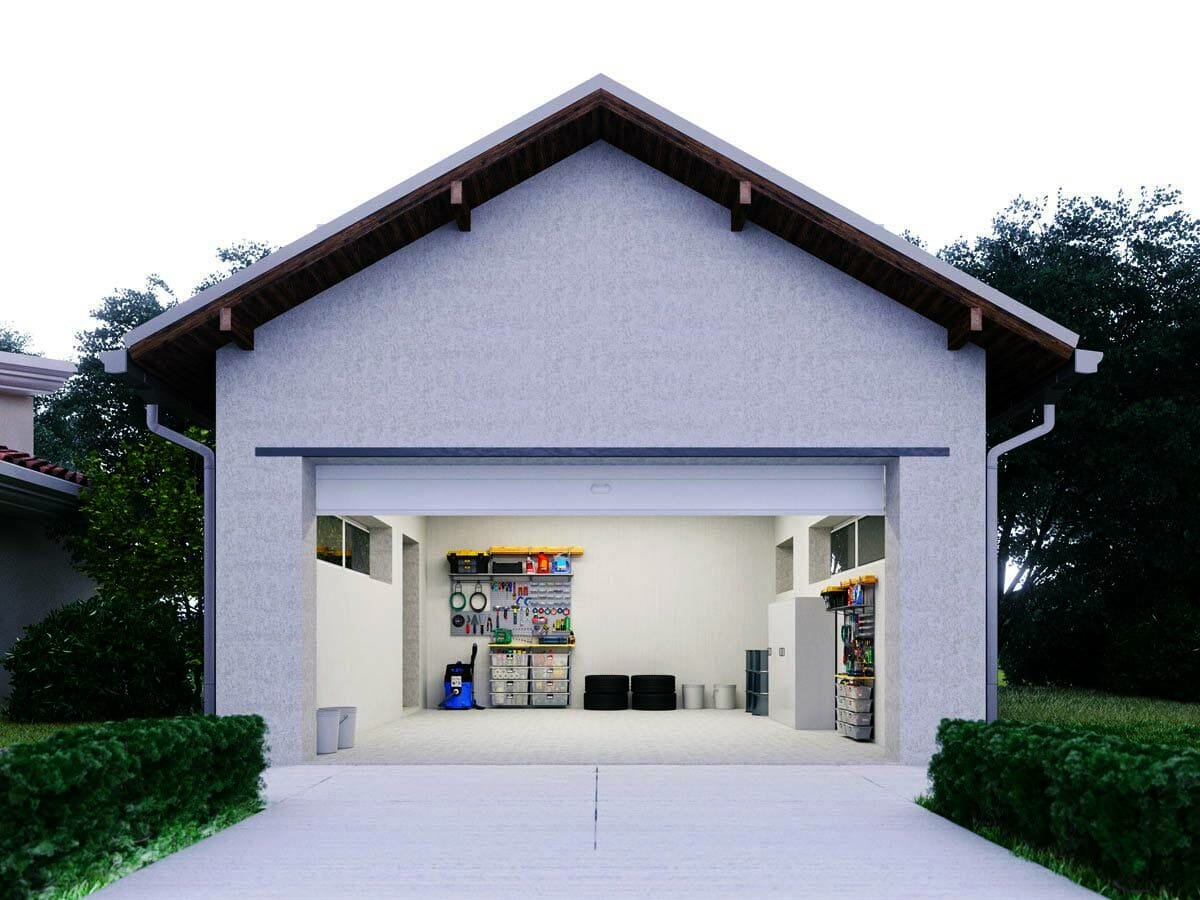 How painting your garage with exterior paint affects your health
The VOCs released into interior spaces when you use exterior paint in your garage can affect your home's indoor air quality for a long time. Most outgassing typically occurs within a couple of days after paint application. But lesser amounts of VOCs are released into the air for several years, which can take an awful toll on your health.
Exposure to VOCs from exterior paint can affect your health in the following ways:
Side effects from short-term exposure to VOCs include:
Throat, nose, skin, or eye irritation.
Headache.
Breathing problems.
Nausea.
Dizziness.
Side effects from long-term exposure to VOCs include:
Nervous system impairment.
Liver damage.
Kidney deterioration.
Fumes from VOCs released during outgassing have strong and unpleasant odors which can trigger allergies, including asthma attacks in both adults and children. Also, high levels of propylene glycol and glycol ethers (types of VOCs) in exterior paint can cause higher rhinitis, eczema, and asthma in children.
Exposure to VOC fumes in exterior paint applied on your garage walls adversely affects pregnant women and their unborn children. Studies link non-occupational exposure to VOC fumes with increased congenital abnormalities in fetuses during the first trimester.
Exterior vs. interior paint for garage walls
Although, exterior paints are formulated to withstand almost anything nature throws at them. Its superior outdoor performance doesn't make exterior paint an obvious paint choice for your garage interior walls. The table below shows the comparative analysis between exterior and interior paint when used inside your garage.
| Exterior paint | Interior paint |
| --- | --- |
| Exterior paint is an excellent choice for unheated and detached open utility garages with high humidity and condensation levels. | Interior paint is unsuitable for damp and non-insulated open garages. And may rapidly deteriorate in extreme temperature and moisture conditions. |
| Exterior paints are unsuitable for enclosed garages or garages that serve as living spaces and poorly ventilated storage areas. | Interior paints are ideal for heated, non-detached garages serving as a living or recreation area. |
| Exterior paints contain additives that reduce air quality when used in garages. | Interior paints have minimal or no additives with contaminants that reduce interior air quality. |
| Paint manufacturers formulate exterior paint with softer resins, combined with additives and pigment to create flexible paint primarily for outdoor use and not for your garage interior. | The resins used to formulate interior paints are stiffer. As a result, interior paint is more flexible than exterior paint, which means it is suitable for indoor garage use. |
| Exterior paint contains VOCs and other compounds which provide it with mold, mildew, and fade-resistant qualities. However, these compounds give off a strong smell that lasts for years when used on your garage interior walls. | Interior paints with moisture-resistant additives give off minimal odors, which often subside a few days after painting your garage interior. |
The best type of paint for garage walls
Interior acrylic latex-based paint is the best paint type for use inside your garage. Acrylic latex paint is a high-quality paint used for exterior and interior applications. It is water-based and offers exceptional adherence to your garage wall surface. You can add moisture-resistant properties to acrylic latex paint by combining it with low or zero VOC additives approved for interior use.
The qualities of acrylic latex paint that made it our top pick include:
It offers exterior oil-based paint performance without VOCs.
It is durable.
It is a quick-drying paint with an average drying time of around 20 minutes.
It is easy to clean with soap and water, eliminating the need for chemical-based paint removers.
It needs fewer coats to give better wall coverage.
It adheres well with most wall types and surfaces, including wood, metal, masonry, siding, plaster, and wall trims.
It can withstand freezing indoor temperatures without peeling or cracks.
What to look for in a garage interior wall paint
Now that we have determined why exterior paint isn't an ideal paint option for your garage interior. Let us consider the qualities that can help you identify the perfect paint for your garage type and environment.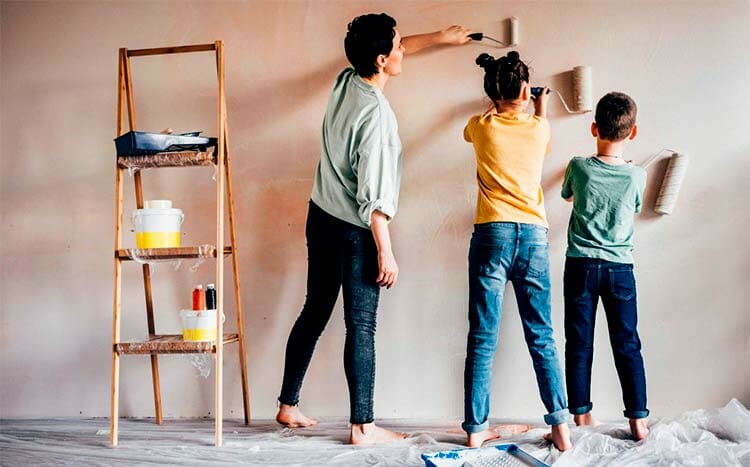 Paint base: you have an option of picking either oil-based or water-based paints. Latex (water-based) paint has low VOC levels, ideal for small garages with poor ventilation. Interior oil-based paint may have fallen out of fashion due to its high VOC composition. But it is still a cheaper and practical alternative for painting your garage. The only downside is you must leave your garage doors open to provide ventilation and eliminate the VOC fumes.
VOC composition: this is a deal-breaker. It would be best to consider paints with zero or low VOC levels for use inside your garage. The EPA-approved low-VOC classifications for interior paints are as follows.;
Water-based paint – less than 250 grams of VOC per liter of paint.
Oil-based paint – less than 380 grams per liter of paint.
VOC free paint – less than 5 grams per liter of paint.
Paint quality: higher quality paints are more durable and offer better performance under any conditions than lower quality paint. High-quality paints are formulated with acrylic binders to create a thicker, more durable paint and provide better surface adhesion. They also have a higher amount of pigments to give scratch and scuff resistance, color retention, and better coverage.
Environment: garages are often unheated and not climate-controlled areas of your home interior. Therefore, it is vital to consider interior paints that can withstand extreme temperature fluctuations and high moisture levels.
Cure or dry time: check the product label on the paint can for how long it takes the paint to dry or cure. Latex paints dry faster within 2 hours compared to oil-based paints, which typically dry to touch after 24 hours. In contrast, cure times are longer. It takes a month for water-based paint to cure, while oil-based paint becomes fully hardened in 7 days.
Paint finish: the tools, heavy equipment, and other stuff you keep in your garage often leave nicks, scratches, and scuff marks on the walls. It is best to consider gloss finishes due to their scratch-resistant qualities. Also, gloss paints are moisture resistant making them an excellent choice.
Can I use exterior paint on a garage door?
You can paint your garage door with high-quality latex exterior paint to provide excellent protection against outdoor weather conditions, mold, and extreme temperatures. Professionals do not recommend painting your garage door with interior paint because interior paint is not designed for outdoor use, and it will quickly fade or deteriorate after applying it to your garage door.
The type of exterior paint you use will depend on the door material. Below is a table showing the best paint type for each garage door material.
Garage Door Material
Paint type
Vinyl
Use exterior latex paint.
Oil-based paints tend to peel, crack, and do not adhere well to a vinyl garage door.
Composite
Use exterior latex paint.
Oil-based paints tend to peel, crack, and do not adhere well to a composite garage door.
Fiberglass
Use exterior latex paint.
Oil-based paints tend to peel, crack, and do not adhere well to a fiberglass garage door.
Wood
Use exterior latex paint.
Oil-based paint tends to peel, crack with time. Experts recommend using a stain-blocking primer when painting a bare wood garage door with a light color.
Metal (aluminum and steel)
Use oil-based paint, which offers metal garage doors better protection against corrosion.
Professionals recommend painting the inside of garage doors with exterior paint, provided you make frequent use of your garage door, which helps with ventilation. However, if your garage is climate controlled and hardly ever open the doors, then you may paint the garage door inside with interior paint.
Exterior paint for an unfinished garage wall?
You can paint your unfinished garage walls with exterior paint, but it is not necessary. However, you may use either exterior acrylic latex paint or interior oil-based paint, or a combination of both for an unfinished garage in a humid and damp environment.
Installing drywall before painting isn't mandatory. But it makes the paint job look better and your walls thicker and more moisture-resistant, which gives the paint extra protection.
Best paint for garage walls for 2021
Here are our recommendations on the best exterior and interior paints for your garage walls in 2021.
Glidden® One Coat Interior Paint + Primer|Semi-Gloss. Price: $17.49 - $48.41
Montage Signature Interior|Exterior Paint. Price: $26.99
Diamond Brite Paint 31200 Oil-Based Paint. Price: $29.99
Rust-Oleum 2774 Zinsser Paint|Interior Price: $28.89
Yes, you can paint the interior of a detached garage in a wet and extreme temperature environment with exterior paint, provided the area is well ventilated to prevent the accumulation of harmful off-gases. Accordingly, adding moisture-resistant additives to interior paint may give it similar performance characteristics to exterior paint with minimal toxic side effects.