When it comes to matters of painting floor tiles, we won't beat around the bush.
Yes, you can paint your tile floor. Unlike previous years when you had to dish out thousands to replace your old tarnished tiles, modern commercial tile manufacturers have made it possible to paint them.
This saves you a ton of cash if replacing the tiles wasn't in your budget. However, it's important to know that painting tile floor is a short-term solution. Due to the heavy traffic experienced in most tiled rooms, i.e., bathroom, kitchen, the paint is likely to peel off soon.
It depends. The biggest appeal of painting tile floors is its economical aspect compared to retiling. It's also an easy and quick way to give your outdated floor tiles a beautiful and effortless look.
However, it may not be the best as a long-term solution. According to some experts, some tiles don't pair well with paint. And even though most modern tiles can be painted, most of them will fade, peel and blister due to the wear and tear they experience.
Therefore, whether or not you paint the floor tile is a good idea is subjective. If you're looking for a quick way to improve your tile floor's aesthetics, go for it.
But if you want a long-term solution, consider other alternatives.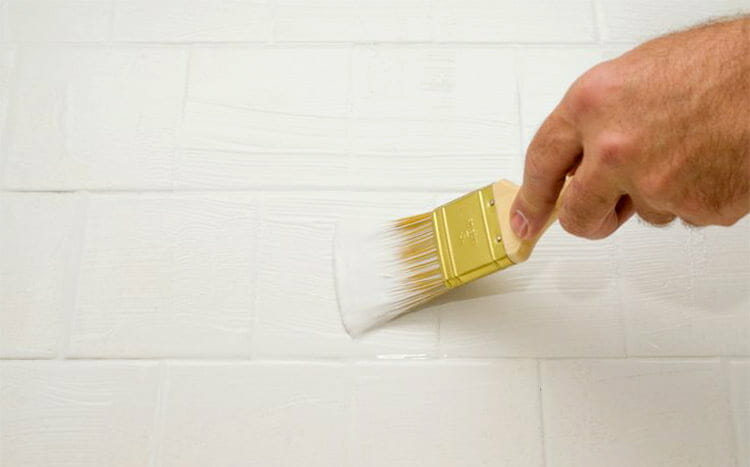 In most cases, yes. However, you'll need to be keen to choose the right paint for the tiles you have. Keep in mind, tile paints work perfectly on floors that aren't located in the moisture-prone areas of the house like the bathroom floor.
If you need to paint the tiles on your bathroom or kitchen tile floor, ensure that you choose a strictly water-resistant paint designed for the bathroom tile floor. For outdoor spaces, patio paint works best.
What kind of paint do you use on tile floors?
The best paint for a ceramic tile is either latex/epoxy paint or an oil-based paint. Avoid water-based paints as they will easily disintegrate in high-moisture areas.
Oil-based paints adhere to your floors better than other latex paints and are less prone to peeling or chipping. Nevertheless, they may take longer to dry.
For the finishes, you can opt for high-gloss paint for a patterned tile, and semi or high gloss paint for a solid tile finish.
Chalk paint is also viable for floors and can serve perfectly as a base coat for patterned finishes. The chalk paint you use should be contrasting to the color pattern of the overlay. 
Top paint picks for tiles
When choosing your paint, the brand you choose is also important. Be keen to look for paint manufacturers who've specialized in floor tile paints.
Here are our top picks for some of the best paints for ceramic tiles.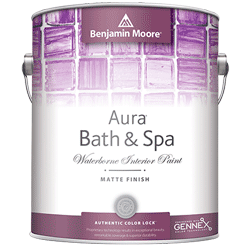 Benjamin Moore is one of the most popular paint brands in the market today, known for manufacturing top-quality paint. This Aura Bath and Spa tile paint are no different.
It's easy to apply and is designed for ceramic tiles in water-prone rooms like your bathroom and spa. 
The paint is quite popular among homeowners because it's mold and mildew resistant, and requires a few coats for good coverage. Benjamin Moore also introduced its proprietary color lock technology on this paint, giving it richer colors that can last for a long time.
Pros
Easy to apply
Wide range of colors
Withstands repeated washing with no color fading
Low odor and has zero VOC (good for the environment)
Mold and mildew resistant
Requires fewer coats for a fresh finish
Works with most primers
Cons
Not the cheapest in the market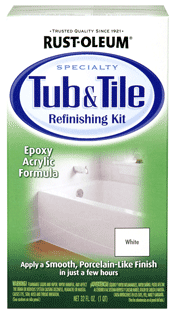 Another industry big-name Rust-Oleum comes in second. Their Tub and Tile Refinishing kit combines acrylic paint with 2-part epoxy paint to form a super durable ceramic floor tile paint.
It comes in three colors; White, Almond, and Biscuit, and needs to be mixed before application. The manufacturer recommends it to paint ceramic floor tiles, fiberglass, porcelain, steel tubs, and sinks.
Pros
Exceptional adhesion and color retention in high-moisture areas
Resistant to moisture, wear, and abrasion
Clean and natural look reviving floor tiles appearance
Dries quickly
Uses a 2-part epoxy acrylic formula
Easy application with roller or sprayer
Cons
May take longer to dry with poor ventilation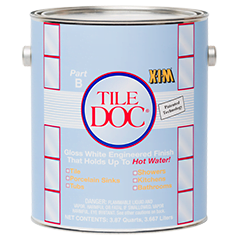 XIM Tile Doc Aerosol is widely known as the king of durability. The epoxy acrylic paint prides itself in its patented technology that enables it to bond strongly with other materials including ceramic, making it perfect for bathroom tile floors.
It can easily withstand both hot and cold soapy water and retain its color ensuring homeowners enjoy long-lasting fresh bathroom floors.
It can also be used on porcelain bathtubs, shower areas, and sinks. It's the go-to floor tile paint and is perfect for ceramic tile and others.
Pros
Withstands water regardless of the exposure levels
Very durable and sticks to ceramic floor tiles for a long time
Simple and easy application since it comes in a spray can
Excellent unique finish, easily gives the bathroom floor a new look
Cheaper than most other alternatives
Cons
Takes around three days to dry
Only available in glossy white so limits your color options
May require xylene during cleanup
Can't be used on galvanized surfaces

Rust-Oleum's Speciality Tub and Tile Aerosol is yet another powerful and efficient paint for ceramic floors.
This one-step acrylic paint outshines most competitors in durability, good adhesion, and color retention in the highly water-prone surfaces of the house.
It gives off a shiny waterproof finish that can also work well with porcelain, sinks, tubs, and fiberglass.
Pros
Resists moisture and extremely hot temperatures
Durable and corrosion-resistant
Excellent color retention in high-moisture areas
Superior adhesion with tiles in water
Dry to the touch in 15 minutes
Easy application
Smooth/glossy, and waterproof finish
Cons
Only available in white
Other good paints you can try in the market include:
How to paint ceramic floor tile (Step by Step)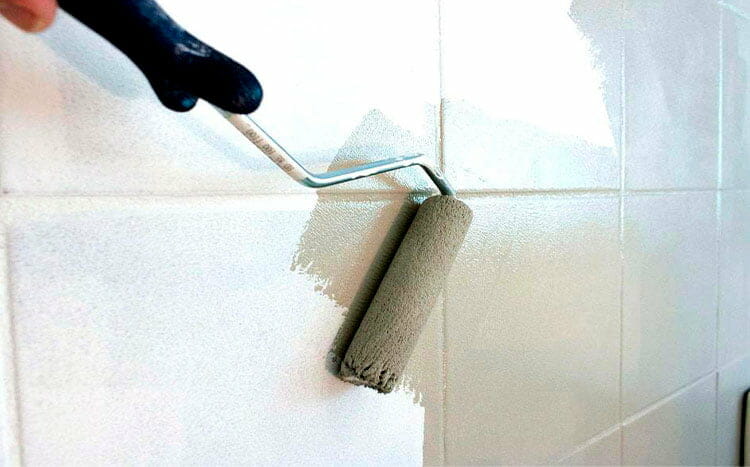 Preferred tile paint
Medium 220-grit sandpaper
Bonding primer (Optional)
Sealant or polyurethane (Optional)
Painter's tape
Protective gear
Paint tray
Paint roller or sprayer
Synthetic paintbrushes
Step 1: Prepare and clean the surface
First, ensure there's nothing on the floors then put on your protective gear and clean the tile surface. You can use simple warm water and soap to wash down the tiles and grout lines so that no debris or dirt is left. For tough stains, you can use a commercial chemical cleaner.
Next, tape off any fixtures that don't need painting with painter's tape to protect them from any spills or splash from the paint roller or paint brush.
Using your 220-grit sandpaper, lightly sand down the tile surfaces to get rid of any extra finishes. This is very common among glossy tiles. Sanding roughens the surface to make the painting easier.
Once done, clean the surface using a damp cloth and rinse it then leave the tiles to dry.
Even though priming isn't always necessary, it's a critical step to consider. It helps improve the paint's adhesion to the tiles as well as ensuring it doesn't peel or flake after some time.
Confirm which bonding primer your paint manufacturer recommends then use a paint roller to apply it. Ensure it's distributed uniformly across the floor surface to avoid ending up with an uneven finish after painting.
Now, leave it to dry completely before painting.
Once the primer is dry, read the manufacturer's guidelines on how to mix and use your paint, then use a roller to apply it over the grout lines and exposed tiles. In case of any uneven sides, use your synthetic soft-bristled paintbrush to even out the surface.
If you're using spray paint, consider a spray gun as it's likely to produce a much smoother painting.
Leave your first coat to dry for at least 6 hours to 48 hours, before applying the second coat. The right wait duration will depend on the type of paint, so, read the manufacturer's instructions.
In some cases, you might have to sand down the painted surface before adding the second coat of paint.
Step 5: Apply your sealant
Once the paint is dry, you can apply a sealant like polyurethane over the painted tiles. Do it at least three times for optimal results, leaving time to dry in between coats, then let it dry after the third coat.
Don't use your painted bathroom tile floor for at least a week to ensure it's completely dry. You're now done!
How to create patterns when painting tile floors
If you want a more decorative and stylish finish, the easiest way to do it is by using a stencil. Depending on your preference, you can choose from unique tile patterns like Mexican Talavera tile, Herringbone tile, Hexagon floor tiles, Spanish tiles, etc.
Your first step will be choosing a tile stencil that matches the dimensions of your old tiles. Other important tools you'll need include latex or acrylic stencil paint, and a stencil brush.
The steps initiating this decorative painting are similar to what we've discussed above. But in summary, before you stencil, you'll first need to:
Prepare the floor by cleaning it to remove all the dirt, dust, and debris. You also have to fill and repair any cracks or chips before stenciling.
Use the painter's tape to mask out the edges of the floor (baseboards) but ensure that this is done once your last coat of paint is completely dry.
Take your bonding primer and apply 2-3 coats to the floor using a paint roller. This will improve the floor's adhesion to the paint. Let the primer dry in between coats.
Finally, apply at least two coats of paints following the manufacturer's instructions and let it dry.
Working with stencil
Once your paint is dry, position your stencil on the tiles. Make sure you center it over each tile, then use a chalk pencil or line to draw a grid that will ensure you maintain that square row.
Some painters also choose to secure their stencil to the tiles using painter's tape. In such a case, ensure the tape doesn't touch the graphic portion of the stencil.
Next, pour the stencil paint on a tray, load it onto your dense foam roller then apply it directly over the stencil. Do this on each individual tile, moving the stencil each time until the entire floor is covered.
Avoid using too much paint on the roller as it can seep under your tape and mar the freshly painted floor.
For any partial tiles, use an artist brush to make any touch-ups and designs necessary. Any tight edges or corners and whenever shading is required, a stencil brush will do the trick.
Once you're done, leave the paint to dry, then apply a coat of water-based sealant which acts as a protective layer.
Does tile need repair before painting?
Yes! Repairing any cracks on the floor tiles before painting makes the painting process smoother and results in a uniform finishing. This ensures the floor paint lasts longer.
When left unrepaired, the cracks and chips could easily expand into a bigger problem that will later cost you more in repairs. It may also mean that painting is no longer an option, and retiling is the only solution.
Can you use any color when painting old tiles?
Ideally, your house, your color choice! However, you have to ensure that the color combinations you choose for the old tiles match your existing fabrics, furniture, carpet colors, and even the walls.
Your color choices will, however, be limited to the range of colors available for the kind of paint you choose.
How to take care of a painted tile floor
Applying a sealant is usually the first maintenance step to protecting your painted floors. It protects it from scratches and scuff marks caused by foot traffic.
Experts also encourage regular vacuuming, damp mopping, and sweeping to preserve the floor's sheen. When cleaning, be keen to use neutral-ph solvents and use non-abrasive mops to rub the floor-otherwise you might damage the floor paint.
Additionally, don't leave all-purpose cleaners and water sit on the tiles for too long. They'll weaken the paint allowing moisture to penetrate and thus resulting in peeling.
You can also use floor mats and pads in high traffic areas and under heavy furniture or objects.
DIY vs. hiring a contractor for tile painting
Finally, whether or not you should hire a contractor to or do a DIY challenge with tile painting is all up to you.
Generally, the job isn't difficult as a DIY. Nonetheless, the difference in outcomes between a DIY painting and a pro painting is usually very visible.
Therefore, you need to be really good and experienced in painting to get the best results DIYing your floor tiles.
Here's a summary of the pros and cons of each option to help you make a better decision.
Pros
Economical and saves money
Freedom to paint any designs you want
Satisfaction for a job completed
Cons
You can spend more money purchasing equipment and materials
Chances of messing up are high
Wastes a lot of time especially in big rooms
No insurance against safety risks that could happen on the job.
Final quality may not be what you desired
Tile flooring is not an easy task and requires the help of professionals. Some of the areas like the bathroom walls, bathroom floors and garage floors will require a great deal of expertise to excel. Again some tiles like require subway tile, porcelain tile and Benjamin Moore floor will require professionals to get it right.
Pros
Receive great deals on the materials like paint and brushes from manufacturers
Have the equipment and experience to complete any tile paint job including stencil decorations
Have warranties and insurance that guarantee the success of the job
Complete the job quickly saving you more time
May help you find the required permits
Cons
Want Contractors you can trust?
Try our FREE service! HomeGardenGuides.com quickly matches you with the best and most reliable tile painters voted by previous users within your area. Using our website, you can get 3 estimates from real certified experts in just under 2 minutes!
Here is how it works:
You scroll to the top of the page and enter your Zip code.
Answer questions about your painting floor tile project
Your tile paint job details are forwarded to three top-rated local experts.
You will then receive a price estimate for the job and some friendly advice.
IMPORTANT: There is no obligation to hire. This is a free tool and service to be used at your pleasure.
Not really. Painting floor tiles is a short-term solution for your old tiles. Due to the heavy foot traffic and the regular exposure to water, the paint starts fading after some time and requires repainting.