If you have a garden or a bunch of livestock, you may need a hog wire fence to be part of your yard. Hog wire fences are unique wire and panel fences made of welded wire and typically spaced closer at the bottom.
The average cost to install hog wire fencing per acre is $4,000. Most homeowners spend a minimum of $2,508 and a maximum of $8,360 to fence in an acre garden with 5' high hog wire fences with cedar frames.
Hog wire fences are traditionally made for hogs and these welded wire fences can also be used for several purposes. When they are installed in panels, many homeowners use them for garden and gate fences because they are cheaper and look nicer than some wire fencing.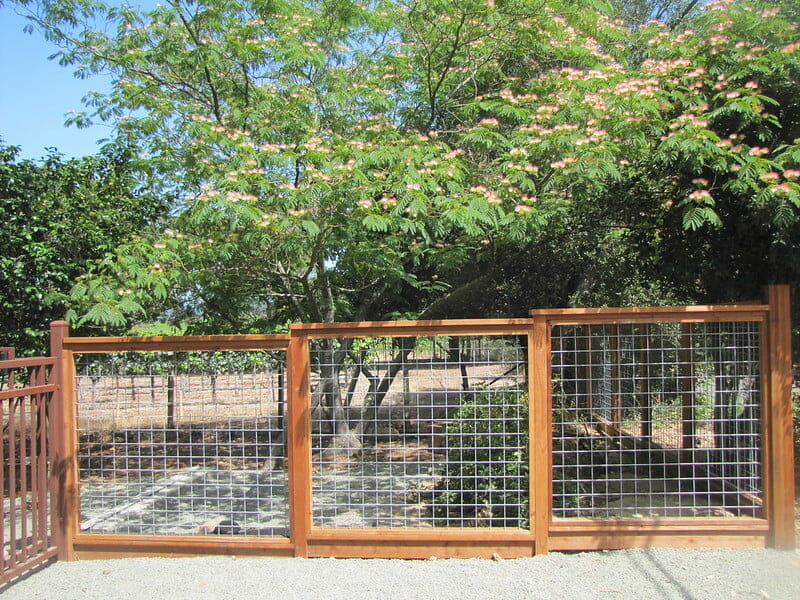 The average cost of installing a Hog wire fence is $3 – $5 per linear foot. This can change depending on the height of the fence and the materials used. Please see the price list below:
| Fencing | QTY | Low | High |
| --- | --- | --- | --- |
| Hog wire Fencing cost (installed) | per acre | $2,508 | $8,360 |
| Hog wire Fencing labor cost | Per linear foot | $1 | $2 |
| Framed Hog wire Fencing labor cost | Per linear foot | $3 | $4 |
Cost of a hog wire fencing by type
The two types of hog wire fences are the framed and frameless types. A frameless hog wire fence is usually less expensive than a framed one, with cost variations coming from the height, gauge, and frame type. Below are the average costs of frameless and framed hog wire fences per linear foot installed.
| Fencing | QTY | Low | High |
| --- | --- | --- | --- |
| Frameless Hog wire Fence (Installed) | Per Linear foot | $2 | $3 |
| Framed Hog wire Fence Installed) | Per Linear foot | $3 | $10 |
Labor cost to install a hog wire fence
The Labor costs to install a hog wire fence will vary depending on whether you're working with a framed or frameless hog wire fence. The cost starts at around $1 to $2 a linear foot for unframed fences stretched across posts.
For framed ones where the frame is created on-site, the framing process becomes a part of the fencing process. The labor costs begin at $3 to $4 per linear foot. For the average installation of an acre of hog wire fence, the labor costs range from $2,400 to $3,200.
Additional cost factors of hog wire fences
It's always necessary to install a gate on your fence in a garden or other area you may want to access. The gate is usually a smaller panel of the same type. They cost around $20 to $30 to install.
If you have a wooden frame made of a material other than cedar, you may want to paint or stain it to improve the aesthetic. The average cost to paint a fence is around $2 to $3 a linear foot. The more paintable material you have, the higher the average costs may be.
Advantages of hog wire fencing
Some of the advantages of choosing a hog wire fence includes
Affordable cost: Hog wire fencing is a cheaper fencing option for any homeowner. You can expect to pay anywhere from $3 to $5 per square foot for installation. If you're installing privacy fencing you will prepare to pay around $20 – $30 per square foot.
Ease of installation: The fact that a hog wire fence is easy to install is responsible for its cheap cost. It is one of the simplest fencing options you can consider. Most DIYers will easily install their hog wire fence without calling a professional.
Longevity: The material used for hog wire fences is durable, making it resistant to corrosion for a long time.
Disadvantages of hog wire fencing
Like every other fencing type, hog wire fencing has its drawbacks and some of them are discussed below:
Hog wire fences cannot be electrified: Hog wire fencing is not fit to be electrified. So, if you're using it for livestock, it's important to consider this.
Predator access: Hog wire is made of soft and flexible material which may allow easy access to predators. Some predators can cut through the wire, allowing them access to your property and harming or killing your livestock.
No privacy: Hog wire fences offer little to no privacy. The holes and the see-through nature make it easy for pests and predators to gain access. Hence, there's little to no security and privacy with hog wire fences.
Maintenance of hog wire fence
The maintenance of your hog wire fence depends on the materials with which the wire is made. If your fence is framed, you should try to paint or stain the wood to prevent rot. If the frame is cedar or redwood 4, you should prime the wood before painting it to avoid cedar bleed.
In any case, you should inspect it regularly to ensure it is not corroding or losing from the frame. If you find loose areas, you may need to reattach or replace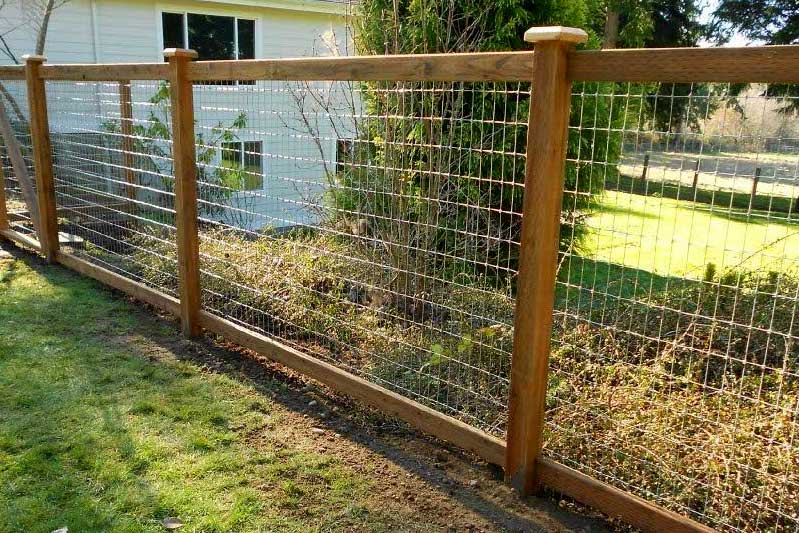 How to build a hog wire fence
If you are a DIYer, you may want to attempt building your own hog wire fence. Follow these steps to build a durable and long-lasting hog wire fence for your yard.
Step 1: Measure and mark the location of your post holes. The ideal spacing is 4 feet.
Step 2: Use a post hole digger to dig the holes. Each hole is between 14 and 18 inches deep.
Step 3: Cut your fence posts to about 54 inches and set the posts.
Step 4: Install your top 2 x 4 bar.
Step 5: Install your bottom support.
Step 6: Roll out your wire fencing and attach it to the framework.
Step 7: Take note of the measurements and mark out the gate.
Step 8: Fix every necessary part and your fence is ready.
Professional fence installers near me
HomeGardenGuides.com is a free service that quickly matches you with top-voted local Fence Installation Specialists.
You can get three estimates fast by real certified experts in your area in just 2 minutes.
Scroll to the top of the page and enter your Zip code.
Answer questions about your fencing job
Your fencing details are forwarded to three local experts. They will send you a price estimate for the job and some friendly advice.
IMPORTANT: There is no obligation to hire. This is a free tool and service to be used at your pleasure.