During any drywall project, drywalling a ceiling is usually one of the first but hardest tasks. However, it's essential in ensuring that your house looks fantastic after the painting and finishing.
The national average cost of hanging and attaching drywall on a ceiling is $1.75 – $3.50 per square foot. Your actual costs will depend on the size and height of the ceiling being drywalled.
These costs are typically higher compared to what you'd spend on drywalling walls because the ceilings take more work, and you might have to use special lightweight drywall.
Most homeowners spend around $2.60 per square foot to drywall a ceiling. These costs could be higher depending on the professional drywaller you choose.
Most professionals charge between $40 to $100 per hour for the job and around $1.50 – $3 per square foot for labor. Material costs may also cost you anywhere from $0.40 – $0.60 per square foot.
Other factors that may increase your overall costs include your finishing options, the type of ceiling, and the condition of your job.
| Service | Quantity | Low | High |
| --- | --- | --- | --- |
| Cost to drywall a ceiling | 1 sq ft | $1.75 | $3.50 |
| Cost to drywall a vaulted ceiling | 1 sq ft | $2.10 | $4.20 |
| Replace drywall on ceiling | 1 sq ft | $2.75 | $5.30 |
| Cost to repair ceiling drywall | 1 sq ft | $0.50 | $1.50 |
| Cost to drywall ceiling in 10 x 12 room | 10 x 12 ft | $210 | $420 |
| Drywall ceiling 1,500 sq ft home | 1,500 sq ft | $2,625 | $5,250 |
| Drywall ceiling labor cost | 1 hr | $40 | $100 |
| Drywall ceiling materials cost | 1 sq ft | $0.40 | $0.60 |
| | | | |
| Total cost to drywall ceiling | Total (Per sq. ft) | $1.75 | $4 |
Cost to drywall ceiling on 10 x 12 room
The average cost to drywall a 10 X 12 room ceiling will range between $210 and $420. A good drywaller may cover around 50 sq. ft per hour, and so, it may take him around 2 – 4 hours to complete the job.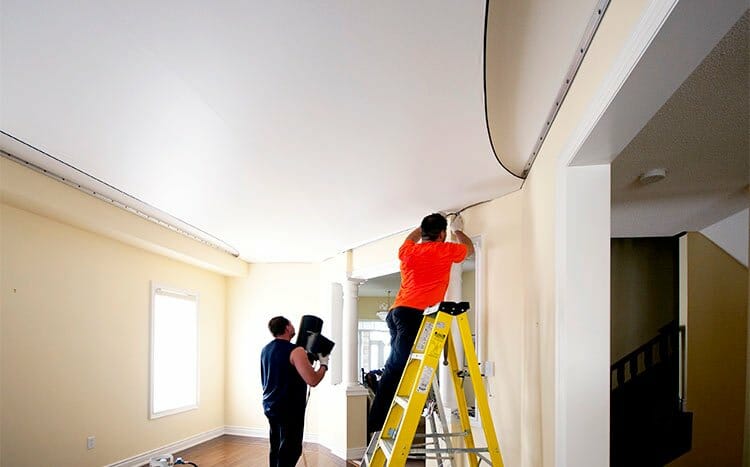 Cost to drywall ceiling in 1,500 sq. ft house
For a large 1,500 sq. ft house, the average cost to drywall the ceiling stands between $2,625 – $5,250. Most homeowners spend around $3,940. This job could take several days to complete and finish, and the costs may be higher if your hired pros also have to complete site cleanup.
If you choose to DIY, your material and supplies costs will range between $600 to $900.
Cost to drywall vaulted ceiling
Drywalling vaulted ceilings and other high ceilings are usually around 20% more expensive than drywalling regular ceilings. Expect to spend anywhere from $1,050 to $2,100 for 500 square-foot ceilings.
Cost to replace ceiling drywall
If your ceiling drywall is destroyed beyond repair, expect to incur hefty replacement costs due to the tasks involved. Your overall costs will include removing the old drywall and installing a new one.
You can expect to spend anywhere from $1,375 – $2,650 to replace drywall in a 500 square-foot room. The costs will, however, vary depending on the amount of work involved.
Most drywall contractors will charge you between $400 – $800 to remove and about $100 to dispose of the old drywall from a 500 sq. ft room.
Cost to repair ceiling drywall
The average cost of ceiling drywall repair will depend on the type and extent of damage to your ceiling drywall.
In many cases, these costs will range between $100 to $300 for minor drywall repairs. Bigger repairs will cost you anywhere from $500 to around $2,000.
For any cracks on your ceiling, expect to spend around $2.50 per linear foot to repair. Most small cracks may cost you from $50 and at least $300 for larger crack hairlines.
Most water damages will cost you anywhere from $40 to $60 per square foot to repair, including materials and repairs. How much you'll spend on this will depend on the size of the damaged area which could cost anywhere from $300 to $500.
Water damage could cost you more in case the area is also infested with mold and mildew. For this, you'll spend up to $3,500 for mold remediation.
Drywalling small nail holes will cost you around $60 each, while the large holes will cost you around $110 per hole, depending on the hole's actual size.
The average cost of drywalling over punch holes on your ceiling may start at $40 per hole.
Drywalling your peeling drywall may range from $100 to around $300 when completed by an expert. You might need a primer and joint compound, which may add up to the cost.
Installing and repairing sheet gaps on your ceiling will cost you somewhere from $1.50 per sq. ft, which will include the taping and mudding costs.
Cost to install a drywall drop/ suspended ceiling
Drywall drop ceilings are usually quite costly and may cost you anywhere from $5 to $20 per sq. ft. However, most of these costs come from material costs.
Drywall ceiling installation labor cost
Drywall ceiling installation costs may cost you about $60 per hour and around $1.50 to $3 per sq. ft for labor. However, these costs will vary depending on the amount and complexity of the work.
Cost to drywall a basement ceiling
Textured drywall ceiling cost
Ceiling drywall cost by type
| Type | Quantity | Low | High |
| --- | --- | --- | --- |
| Regular drywall | Per sq. ft. | $1 | $3 |
| Green board | Per sq. ft. | $1.20 | $3.60 |
| Purple Board | Per sq. ft. | $1.10 | $3.30 |
| Fire-resistant drywall | Per sq. ft. | $1.12 | $3.40 |
| Moisture resistant drywall | Per sq. ft. | $1.20 | $3.60 |
Since you don't have to incur the hefty labor costs of hiring a drywall expert, the main cost factors for a DIY project will be between materials and supplies costs.
Expect to spend anywhere from $0.50 to $1 per square foot, including the removal and disposal costs. Hiring and renting drywalling materials will also increase your overall costs.
Should I DIY or hire a pro?
It depends on the condition of your project. Even if you've handled multiple DIY renovations before, there's always a benefit of hiring a professional. And if you're working on a budget, you can always make some savings on DIY.
Your decision on whether to choose an expert or go DIY should therefore not be purely based on your cost savings. Other factors you should consider include: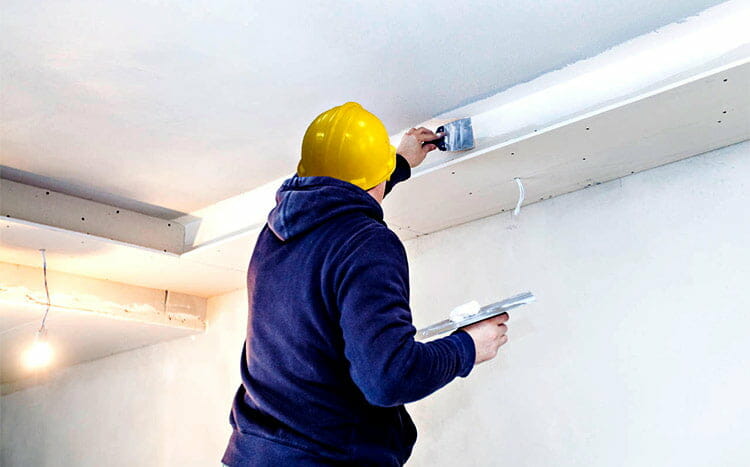 If your walls are peeling and caulking or they have cracks and holes, doing it as a DIY may not be your best idea. Presence of health hazards such as mold and mildew on your walls will also call for expert services.
Pros have the necessary training and equipment to fix wall damages permanently, regardless of their extent.
DIY projects are all time-consuming and quite tedious. In many cases, they take about a week or more to complete the drywalling job, depending on your rooms' size. So, if all you have is the weekend, you'll be better off getting a team of pros to complete the job within that timeframe.
While you may not need permits for most renovation services, different states may demand a permit for you to proceed with your drywall job.
You may also need a permit if the drywalling causes any structural changes to your home. In such cases, you'll need to be a licensed professional for the job; otherwise, contact a pro.
Tips on Hiring a drywall service
Once you've decided to involve a drywall professional for your home, that's just the easy part. For a job that will transform your home's outlook for several years, you need to hire the perfect drywall expert!
Here are some tips to help you separate the inexperienced drywallers from the real pros.
As a rule of thumb, never settle for the first contractor that comes your way. First, look around in your area and make a list of the best contractors close to you.
Get at least three well-detailed quotes from different contractors and compare their services. You can also check online ratings and reviews or opt for the old-school word-of-mouth recommendations.
Doing this will give you a better insight into which expert to choose.
Questions will reveal most of the hidden details any drywall contractor may be hiding from you. When meeting any drywaller, ask them about how they intend to go about the project.
Inquire about their tentative timeline and whether they use an in-house team or subcontract the jobs. If you don't like any contractor's responses, go with your gut and find another one.
Look at qualifications, Licensing, and insurance
Licensing, certifications, and insurance should be your biggest deal-breakers when considering any house contractor. Only go for a contractor with the proper licensing as required by your municipality.
They should also assure you that all their contractors are trained, certified, and have the necessary experience to work on your home.
Insurance is also a big plus since companies with up-to-date liability insurance will protect you in case any accidents occur when working on your property.
HomeGardenGuides.com is the fastest and easiest way to get three quotes for your drywall ceiling job from the best and most affordable contractors near you.
The service quickly matches you with the 3 drywall specialists voted #1 by previous users in your area. All you have to do is:
Scroll up to the top of the page and enter your ZIP Code in the blue form.
Give us a few details about your drywall installation, repair, or replacement job, plus some contact information.
We'll then forward your drywall details to the closest three drywall contractors, all voted best priced, who will also price your drywall job.
IMPORTANT: There is no obligation to hire. This is a free tool and service to be used at your pleasure.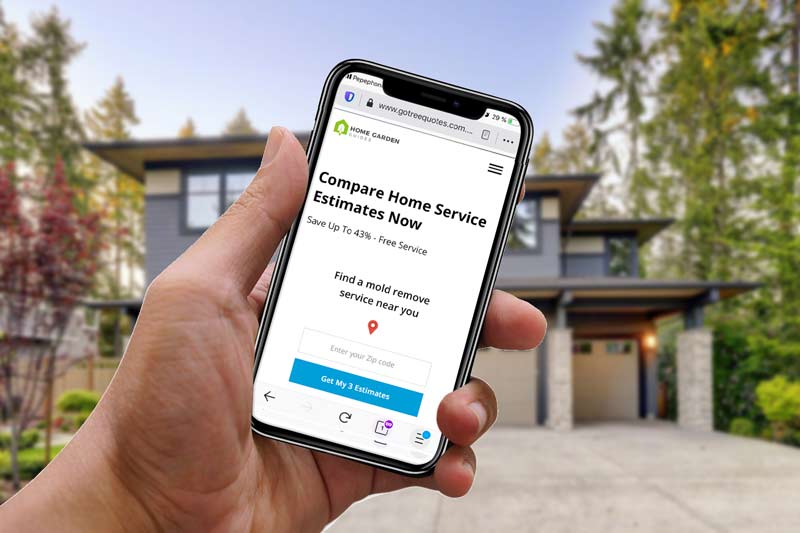 5 Tips for drywalling a ceiling
Drywalling may be an easy process for any DIY enthusiast, but that's not the case when it comes to the ceiling. With this being the first part of the job for many experts, how you do it sets the tone for the entire project.
You, therefore, have to get this part right. Here are five tips that could help you achieve your desired results.
Mark positions of Studs on the ceiling
Before beginning the drywall installation, you need to know where the stud edges are and map them out. Use a light pencil and mark the spots on the ceiling and the drywall.
This will make it easier to start screwing when hanging and attaching the drywall. Ensure that the pencil marks are faint to prevent them from bleeding through the paint job.
Working with high ceilings makes the drywalling harder and exposes you to back strains and fatigue. A drywall lift makes it easier to raise your drywall when working alone, making the job more comfortable.
Even though you may have to pay the rental fees daily, these costs are quite low and reduce your risks of damaging your back.
One of the biggest reasons professional drywallers do a good job is because they have the right tools and equipment. The good thing about drywalling tools is that they're cheap and can be easily found at your nearby home improvement store.
Ensure you have tools like a power drywall gun, drywall stilts, drywall rotary saw, and T-supports that hold sheets on the ceiling.
If you're not sure which tools you'll need for the job, ask a local drywaller which tools they're using.
Whether you're drywalling your walls or your ceiling, you'll have to prep your ceiling to achieve a high-quality finish. Ensure that the plane of your ceiling is flat and that the framing planes are level to ensure that the drywall is smooth.
The type of nails you use for your drywall ceiling play an important role in determining the quality of your drywall ceiling finish. When hanging your drywall panels, avoid drywall nails and instead opt for drywall screws.
Once you've driven all your screws, look for any protrusions or bumps and seal the depressions with a drywall compound.
There are numerous ways to do this, and different DIYers employ different methods. However, one of the most effective methods you can try is screwing a piece of 2×4 to the wall studs, then setting all screws in place on the drywall.
You can then build a T-Brace that provides the necessary support and leverage to lift the ceiling's drywall panels.
You can determine where the screws will go on the drywall by first marking the ceiling joists then transfer those locations to the drywall. You should also mark the precise locations where vents and lighting fixtures will go on the drywall.
Doing this makes it easier to hang and attach the drywall while on a ladder.
Yes! Hanging and attaching drywall on your ceiling by yourself is tough and challenging – especially for beginner DIYers, but it's not impossible. All you need is the right tools and knowledge on how to use them, and you'll be fine.
You'll also need a rigorous drywalling plan to ensure that your markings for the joints, fans and vents, and lighting fixtures are accurate.