Low-maintenance fencing materials have become increasingly popular in recent times. If you don´t like the idea of spending a lot of time and money in dealing with fencing issues like fading, rotting and warping a few years after install then you need to choose wisely.
Common low-maintenance fencing materials include:
Vinyl
Steel
Aluminum
Composite materials
If you want to avoid a lot of maintenance, make sure you avoic timber fence as they fade, crack, and rot over time which will require attention.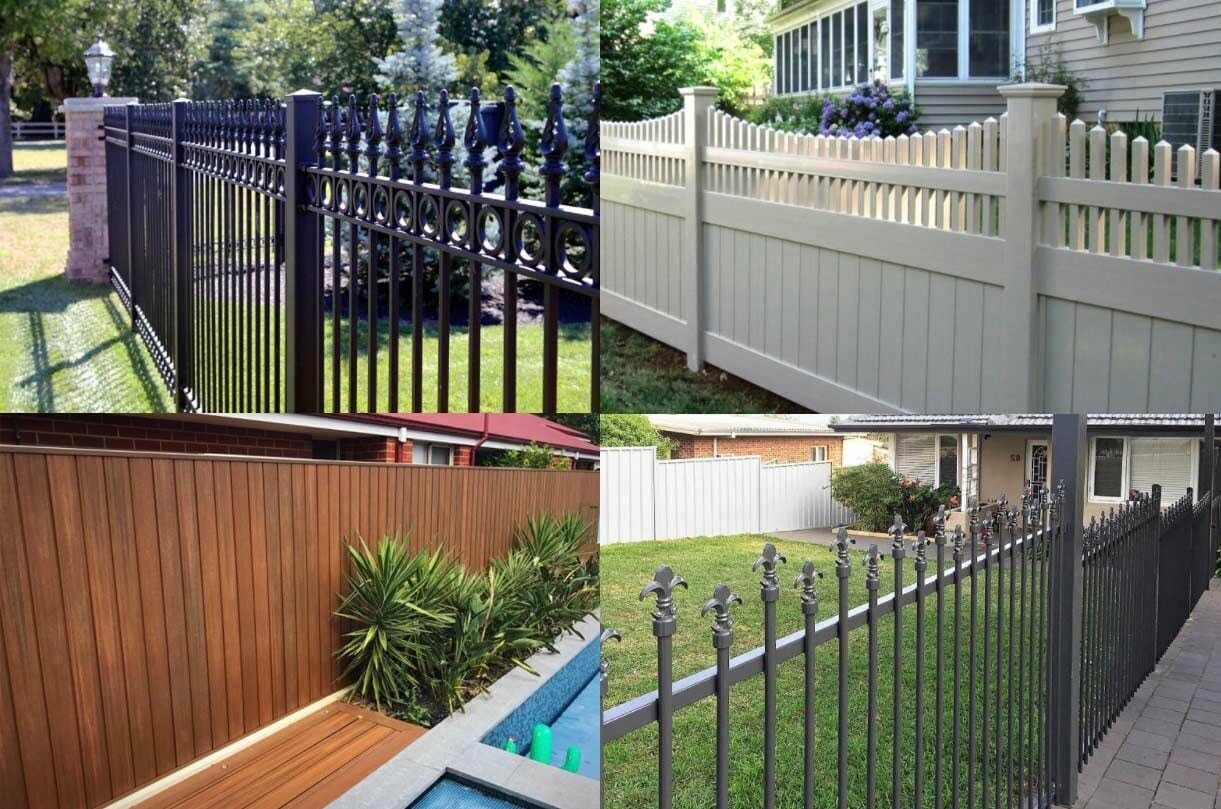 A vinyl fence is sometimes referred to as a PVC fence. This is because it is made up of posts, rails and boards that have a smooth, shiny, plastic surface. Professionally installing vinyl as a fencing material will cost you an average of $25 per linear foot. Top-quality vinyl fencing can however cost you up to $60 per linear foot.
Vinyl fences are considered to be low-maintenance because they do not need to be painted or stained to increase their durability. They are also not easily scratched and only require occasional washing using a garden hose and a soap solution. You may however need to repair your vinyl fence if it develops holes and cracks.
This will cost you an average of $550 depending on the extent of repair needed. Vinyl pickets and slats will cost you an average of $5 each while panels will cost you an average of $120 each. Professional vinyl fencing replacement is normally recommended if the fence is damaged beyond repair.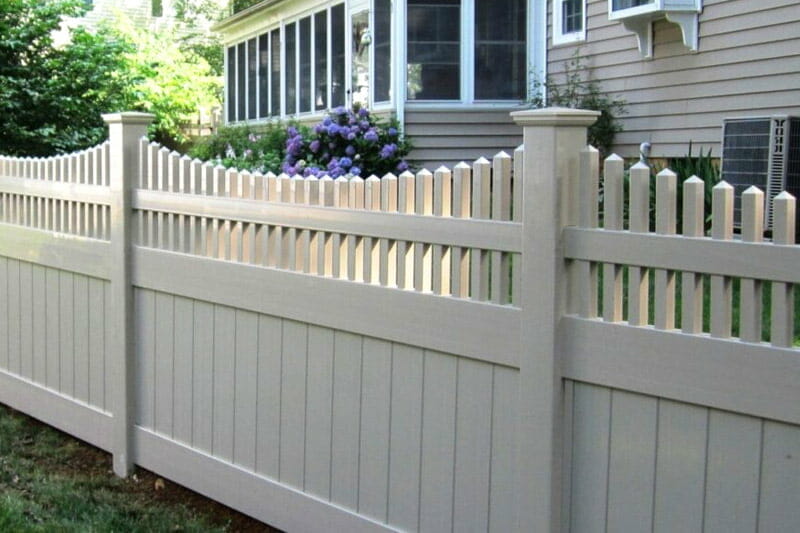 Aluminum is regarded as a maintenance-free fencing material because it is rust-resistant, long-lasting and extremely easy to install. Aluminum fences are made to resemble the ornate wrought iron fences that were quite common. They are, however, cheaper, lighter and more durable. Most aluminum fences are styled using narrow pickets and horizontal rails.
They are then customized using scrolls and ornamental ball caps before finishing with an excellent baked-on coating. Expect to pay an average of $51 per linear foot to install an aluminum fence and $20 per linear foot to repair one.
Maintaining an aluminum fence generally involves regular dirt cleaning and painting. Homeowners pay an average of $10 per linear foot for professional aluminum fence painting.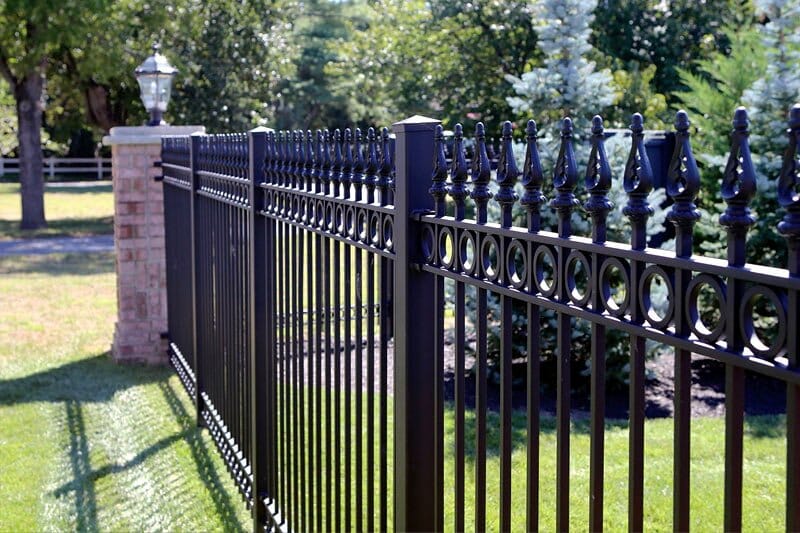 Steel is generally considered to be a very low-maintenance fence material. This is because it is extremely difficult to dent or break. Steel fences also resemble wrought iron fences in appearance. They, however last longer than both iron and aluminum fences. Both tubular and solid steel fences are great options for security fencing on a flat yard.
Most steel fencing styles consist of thin pickets fitted into railings attached to posts. The posts and pickets are sometimes decorated using ornate caps. Expect to pay $55 per linear foot on average for a professional steel fence installation and $30 per linear foot for a steel fence repair.
Steel fencing maintenance generally involves regular cleaning and painting. Steel fences require immediate painting when scratched to prevent rusting. Experts, however, recommend powder coating because it lasts longer than paint. Homeowners pay an average of $10 per linear foot to paint their steel fences.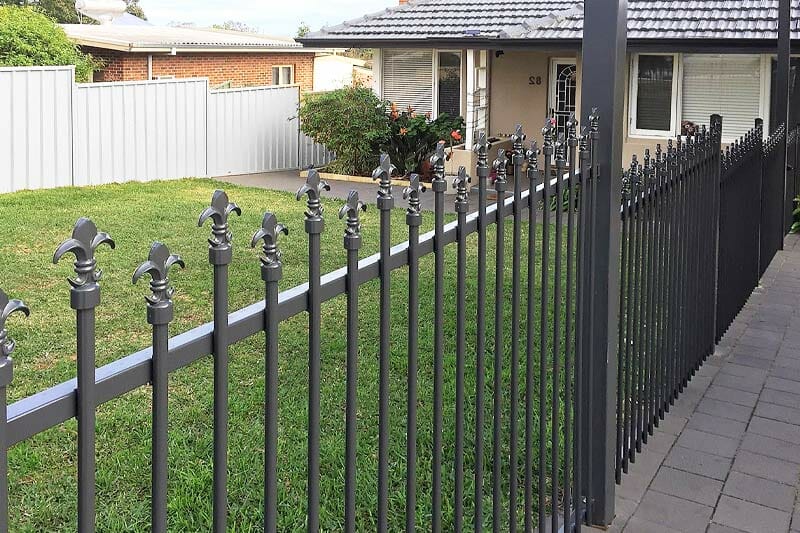 Composite fencing resembles metal and wooden fences in appearance. It however does not require any staining and sealing like a wood fence. It is also not prone to rusting like a metal fence. A lot of composite fences are constructed using a mixture of recycled plastic and wood fibers. Some manufacturers also use fiberglass and polypropylene.
Two-part composite fences consist of pre-fitted railings that glide into or are fastened to the posts. Three-part composite fences are made up of horizontal railings, posts and vertical pickets. Composite fencing is available in a variety of styles and colors. A new fence made of composite will cost you an average of $27 per linear foot to install.
Most composite fences require little to no upkeep because they are rust and rot-resistant. There are however some which are made up of pressure-treated wood posts. This makes them vulnerable to rotting and cracking. Homeowners pay an average of $485 to repair such composite fencing.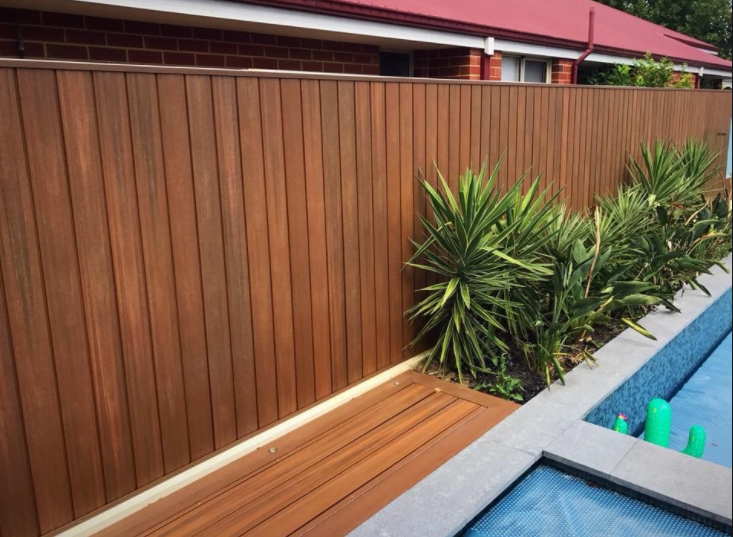 Factors to Consider When Choosing a Low Maintenance Fence
Vinyl is the most versatile maintenance free fencing option. This is because it can be applied in a variety of fencing styles including open picket and solid privacy designs. You can also go for metal fencing that closely resembles ornate wrought iron designs. This sort of fencing is known to offer classic long lasting good looks.
Metal fences are not a good option for coastal regions because they are prone to post and rail rust. Vinyl and composite fences are both good choices for various climatic conditions. Vinyl is especially known to effectively endure both the sun's ultraviolet rays and high degrees of wetness.
Composite fences are the easiest to maintain and the cheapest to put up. They are however not as available as vinyl, aluminum and steel fencing.
Ornamental steel and aluminum fences are the most expensive low maintenance fencing options. High-quality vinyl fence professional installation is also quite costly.
homegardenguides.com is a great tool that quickly matches you with the best maintenance free fencing specialists in your locality. You can get three free estimates from local professionals in a matter of two minutes. Kindly follow the steps below to enjoy this great service:
Scroll to the top of the page and enter your zip code.
Answer questions about your maintenance free fencing job.
Your maintenance free fencing details are forwarded to three local experts who will send you a free estimate for your job with some friendly advice.
Most property owners consider a good fence to be one that guarantees their privacy. A taller fence is a great option for those who desire absolute privacy when relaxing in their yards.
Shorter fences are usually installed by those who simply want to create a barrier that prevents unlawful entry into their property. Vinyl is the most preferred privacy fence construction material.
Installing tall fences made using strong materials like steel and aluminum panels is normally recommended for those living in crime prone areas. Such fences prevent both the entry of unlawful visitors and the unwarranted exit of kids and pets.
Yes, they are. Aluminum-vinyl fences are beautiful double-tone fences that have become quite fashionable in recent times. This is because they offer unequaled privacy and a distinctive appearance.
They are also quite easy to maintain since you don't have to worry about staining them. Any dirt or stain on these fences can simply be gently washed off using soap and water.
There are removable posts and rails on certain vinyl fences. Such removable parts come in handy when you want to remove them for repair. They can also be lifted to allow a vehicle to pass through.
Yes, they do. Although concrete, block, brick, stucco and stone fences provide an attractive home exterior, they are quite costly in installation and maintenance. Maintaining them often involves repointing mortar joints that have become loose and unstable over time.