Metal roofs look amazing in the first few years after installation but can become chalky and a little drab looking after years of exposure to the elements.
Metal roofs can be repainted as a cheap alternative to replacing a tired looking roof or maybe to just update to a modern color. Using a professional is the way to go to get the best long-lasting effect, but you can also hire some equipment and do the job yourself.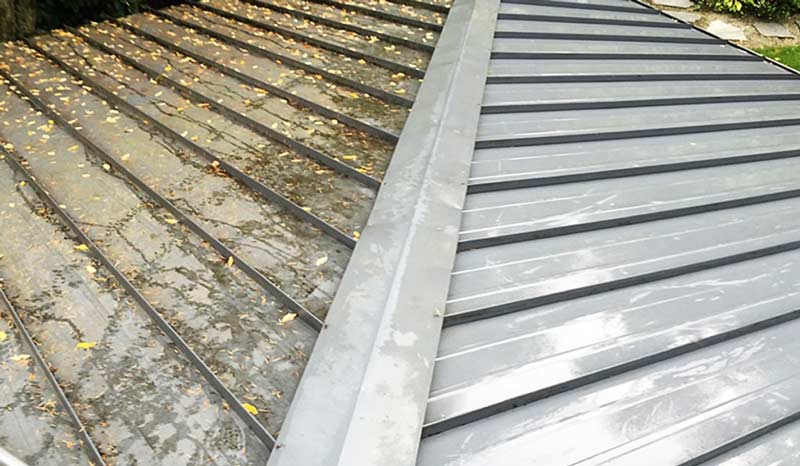 Metal roof paints are available in different categories and paint grades, and they have an average life expectancy range of 35 – 60 years. Metal roofs carry a manufacturer's paint fade warranty of 30 – 40 years and lifetime warranties are increasingly common. 
How often does a metal roof need painting?
A new coat of paint increases the lifespan of your metal roof and lowers your energy costs. Typically, you can repaint your metal roof every 10-15 years, which is the average time it takes for the roof's protective coating to break down due to weathering, biological growth, debris, and other organic deposition.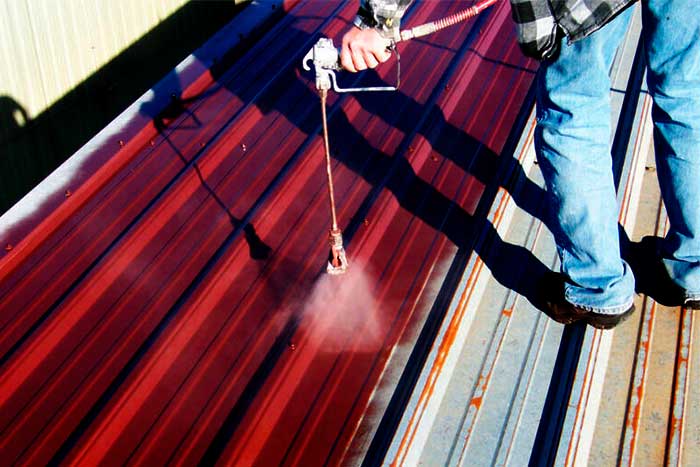 How much does metal roof painting cost?
The average cost of metal roof painting range from $2,000 – $10,000, including labor and materials. Factors that determine the cost of painting your metal roof are your location and the condition of your roof, its size, and incline.
Professional painters charge between $1.20 and $2.72 per square foot, or $120 – $272 per roofing square feet.
Average Project Estimate: $ 2,352
Average per sq. ft. Estimate: $ 2.27
Is it cheaper to paint or replace a metal roof?
In all likelihood, roof replacement is probably the most expensive home maintenance job you will ever perform. The average cost to replace a metal roof ranges from $1,200 – $10,000 depending on the usual factors such as your roof's size and the quality of the roofing materials used. Roofing companies charge an average of $8.00 per square foot to install a metal roof.
Roof repainting does more than protect your roof against rust. It improves the longevity of your roof and offers energy savings over time. Compared to roof replacement, painting your metal roof is way cheaper. Average roof painting costs for a 1500 square foot home ranges from $1,597 to $3,304.
Painting your metal roof is only useful as long as the roofing sheets are in good structural condition. Severe rust, impact from projectiles, strong winds, and extreme weather conditions can damage or dent your roofing sheets, causing them to loosen and leak water into your home. When this occurs, replacing your roof is your only option.
What color paint is best for a metal roof?
Metal roof paint last for several decades, and choosing a color that will retain its aesthetic appeal over time can be a challenge. Consulting a color specialist can help you select a color that combines both aesthetic and functional qualities based on personal and environmental preferences.
Icy blue, dusty rose, soft beige, and other light colors are trending for 2020 for their classical and elegant appearance. Plus, they are effective at keeping your home cool.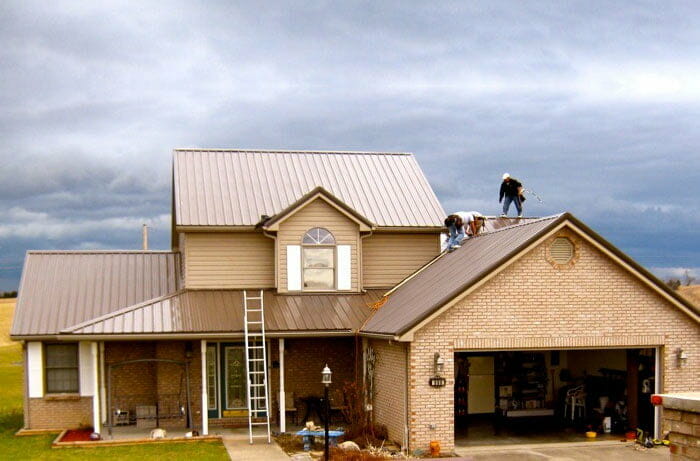 White is a popular exterior color for homes, and our top roof picks for white homes are black, grey and dark brown colored metal roofs.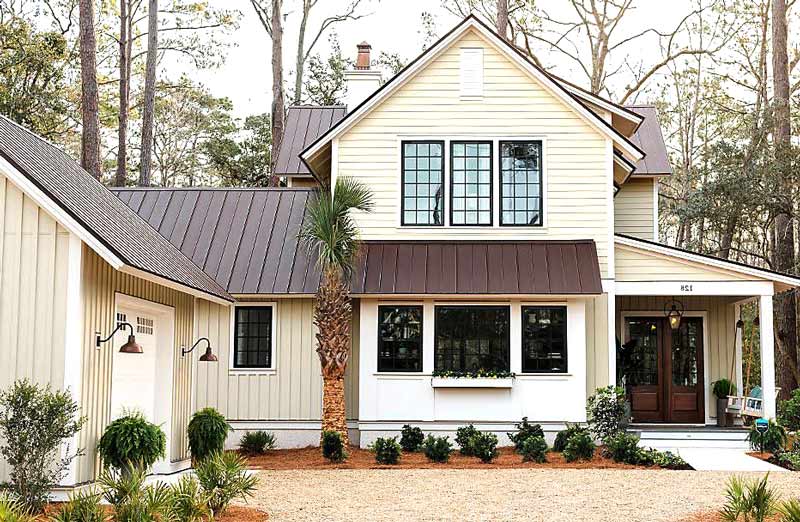 Brick homes are mostly in shades of red and brown. A dark brown roof is our pick for brown or tan brick homes. Our choice for white, grey, or cream brick homes is dark grey or beige-colored roof.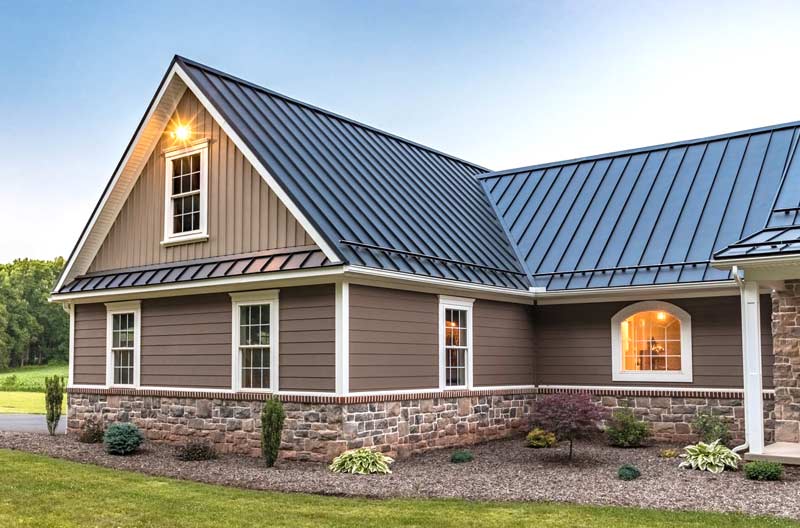 What are the disadvantages of painting a metal roof?
Painting your metal roof brings your roof back to life; it makes your home more attractive and saves you money in the long term. But like all home improvement techniques, painting your metal roof also has its drawbacks.
These are: 
Metal roofs require specially formulated paints that contain a fire or water-resistant properties. 
The roof painting process requires a great deal of expertise and attention to detail. For example, a single mistake such as not applying a sealant to the metal roof before painting can ruin the entire process. 
Metal roofs require regular maintenance after painting to keep the paint in pristine condition and prevent damage to the paint job.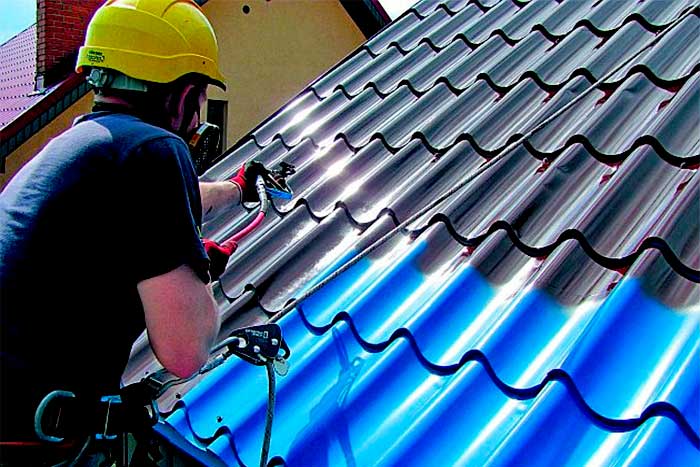 DIY vs. professional painting services
Ideally, roof painting is a job for qualified professionals due to its difficulty and the painting process's risks. Even the most DIY enthusiastic homeowner knows these risks, but that hasn't stopped anyone from attempting the procedure. And if you decide to paint your home roof by yourself, be sure to follow essential safety protocols and deploy the proper equipment.
Below are a few of the benefits of painting your metal roof by yourself.
Painting your roof by yourself saves you money in fees and other professional charges.
It gives you that immeasurable feeling of satisfaction and pleasure in seeing your work completed.
You'll be more willing to perform routine inspection and roof maintenance activities.
You can invite friends and other homeowners who share the same passion for assisting you.
Hiring a professional to paint your metal roof is a relatively straightforward process. You could either ask around from neighbors and friends or search your local listings for a licensed professional. Hiring a local is advised, so you'll be able to verify information about the painter's reputation and references quickly.
Below are the benefits of hiring a professional
Professionals pay more attention to detail.
Professionals have the proper safety equipment, and they observe safety protocols during the painting process.
Professionals will deliver quality work on time and according to set deadlines.
Hiring a professional to paint your metal roof saves you time while you are free to perform other activities.
How to paint a metal roof
Metal roof painting is a highly structured procedure, and painters must strictly observe the steps involved in the room painting process if you wish to achieve a quality and long-lasting finish. Metal roofs can be scorching hot during afternoons, so be sure to start the painting very early in the morning.
There are two main stages during the roof painting process: the preparation stage and the painting stage. These two stages comprise of several steps, which we will explain below:
Step 1
Remove flaking and other surface rust by scrubbing them off with a bristled or stiff wire brush. Scrub the entire roof as methodically as possible while covering as much surface area as you can.
Step 2
Sweep off all residues and debris, and hose down the entire roof with water in preparation for painting. You can wash the metal roof using trisodium phosphate TSP and water mixture (1 cup TSP mixed with 1-gallon water). You can either wash the roof by hand with a garden sprayer attached to a hose or with a power washer. Wait for the roof to dry completely before painting.
Step 3
Apply paint primer to the metal roof using a paint roller. An extension pole can be attached to the end of the roller for easy reach. Use a primer that's specifically formulated to prevent rust from forming on roofing sheets. Wait for the primer to dry completely before applying the first coat of paint.
Step 4
The final step is the process of painting the surface of your roof. Apply two coats of paint to the metal roof using either a paint roller or an airless spray gun. Start painting a new coat from different directions to ensure full coverage, and use a paintbrush to touch tight or hard to reach spots. Wait for the first coat of paint to dry before applying the second coat.
Maintenance tips after painting
No matter how great your roof paint looks, you'll need to pay close attention to your roof and carry out regular inspections and maintenance activities to keep your metal roof looking like new.
Here is a list of maintenance tips:
Sweep your roof regularly to prevent the accumulation of debris. Decomposing debris on your roof surface can damage the paint coating.
Clear out your roof gutters to allow the effective discharge of rainwater and snow. Debris buildup along roof gutters and edges can trap water and moisture, leading to corrosion.
Inspect your roof for any missing, dislodged, or loose screws. Tighten or replace them to prevent leaking or loosened sheets.
Replace sealants on the seams and edges to prevent rust.
Check for holes and gaps in your metal roof and repair them immediately.