The cost to hire a pro painting contractor actually isn't too bad when compared to DIY. When you factor in the cost of paint, what you would spend buying all the equipment such as ladders, rollers, brushes, drop sheets, etc, you might as well pay someone to do it.
The average cost to hire a painter is $55 per hour. Depending on where you live and the job, you could pay anywhere from $35 per hour right up to $85. A day rate you could expect to pay, not including paint, would be $280 to $560 depending on the task and your location.
The trick is to find a good painter who doesn't charge like a wounded bull. Let's look at the breakdown of costs and how to find good painting contractors near you.
The average cost of hiring a painting contractor ranges between $20 to $65 per hour or $1 to $6 per sq. ft. For new constructions, the costs vary between $2 – $4. While these costs seem relatively high, they are justified.
| Service | Qty. | Low | High |
| --- | --- | --- | --- |
| Interior painting single coat | Per Sq. ft | $0.30 | $0.40 |
| Interior painting double coat | Per Sq. ft | $0.40 | $0.60 |
| Painting labor | per hour | $35 | $65 |
| Labor day rates | per day | $280 | $560 |
| Painting exterior brick | Sq. ft | $2 | $5 |
| Painting exterior siding | Sq. ft | $1 | $4.50 |
| Painting materials | per room | $50 | $100 |
Cost of supplies and labor
A professional painter's job begins with room prep work, i.e., taping wall edges, laying drop cloths, covering/moving furniture. They then work on painting different layers of paint before finally doing the finishes.
These activities take a lot of time and skills to come up with good results. As such, the contractors factor these in their overall quote.
The painters also include the costs of paints and supplies, which account for around 15% of the total quote.
Other factors that affect the painter's pricing include their experience, location, condition of your walls, and nature of the job (interior or exterior).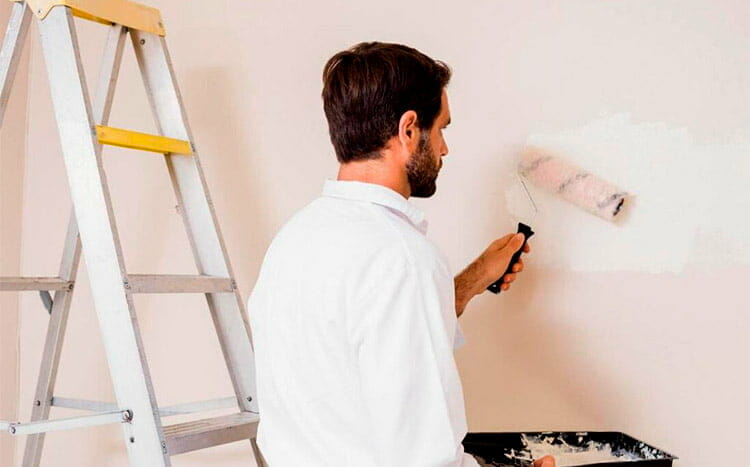 How to save when hiring painting contractors
There are a few things you can do to save when hiring painting services. Some are during selection and others are prep work you can do.
1. Cheap painters are on pages 2 and 3 Search
What does that mean? Well when you do a search for "Painting Contractors near me", you are going to get a few things pop up. A map with a list of local guys, search results like Yelp and other directories, but the Google list of sites.
Companies at the top of search results pay a lot of money to be there. So they generally charge a lot more to recoup that larger marketing budget. The same goes if they are at the top of a directory.
Pro Tip: Skip page one of Google, Yelp or any other list. Go right to pages 2, 3 and 4 to begin your selection process.
2. Hiring in the offseason
Painters are normally busy during warmer months leading up to summer, so getting the painting done in the cooler months will save you money. But why?
It's a supply and demand thing. When painters are in high demand, then generally charge more per job because, well quite frankly, they can. People pay for it. Stick to odd times of year to save 20% or more.
3. Move and cover furniture
If you have a lot of furniture, it's going to take a few hours of prep for the painter to move, and cover it in each room. Explain to them during the quitting process, you will be doing all of that yourself. This will save you $50 per room at least.
4. Fix holes yourself
When painting the interior of a home, there are always little nicks and cracks that need filling in and sanding. This takes hours and if you do it all yourself BEFORE they come out to quote the job, it will be much cheaper. Depending on the number of holes, nicks and cracks, this will save you another 10 – 20%
Hiring painting contractors in my area
Once you've come up with a shortlist of all potential contractors in your area, your last step is pinpointing the right one for your project. Here are some tips to help you;
While your budget shouldn't be the only basis for your choice of contractor, it's still a critical factor. Decide how much you're willing to spend on the project. This amount will help you determine the quality of materials as well as the contractor to use.
Nevertheless, you should be open to spending slightly more on the project to receive the best quality services.
Additionally, don't be quick to go with the cheapest contractor – they're most likely inexperienced and use cheap paints that won't last.
Get at least three quotes
Understanding how your painting project is priced is vital to ensure you don't get cheated. The best way to know this is by getting estimates from at least three contractors.
Ask them to break down their cost structure covering the costs of materials, labor and travelling time. The estimate should also include indirect costs like overhead costs, rent, equipment costs, and utilities.
With this information, you can now compare the prices to find which painter to hire based on your budget.
Look at the communication
Before settling on the contractors, take some time to meet with them and ask the questions on your mind. Be keen on how the contractors respond to each question. If you feel like he/she is hiding some things from you, it's best to avoid them.
Only hire the contractor you feel is open about their processes and who is willing to listen to your project demands.
Ask for a written contract
Finally, once you're all set to start the project with your chosen contractor, ask them for a written contract. This document should contain all your agreements, including payments, timelines, and conflict management (should any arise).
A written contract will keep the contractor on their toes when working, ensuring they deliver quality work.
Questions to ask painting contractors
Asking questions is a good way to find out if a contractor is a good fit for you. Even if you're not well-versed in painting projects, the right questions will help you understand a contractor's integrity and expertise level.
Among the most crucial questions you need to ask include:
How long have you been in operation?
Do you use sub-contractors or an in-house team?
Do you use sub-contractors or an in-house team?
Can you provide a list of references from your past clients?
Do you provide a guarantee or warranty for your work?
What type of paint will you use?
How is your painting process?
How long have you been in operation?
A contractor's time in the market gives you an idea of their experience. Those who've been in the market for a long time tend to have the more technical and hands-on knowledge to handle any type of painting.
Moreover, they're likely to have completed a similar project before; hence they're less prone to make mistakes when working.
Do you use sub-contractors or an in-house team?
Some painting companies subcontract their painting jobs to independent contractors instead of having an in-house team. You want to avoid such a company as they can't guarantee the quality or safety of the painters they use.
If they have an in-house team, how often are they trained? Are they covered by the workman's compensation insurance?
Can you provide a list of references from your past clients?
Every painting contractor worth his/her salt should easily be able to provide at least three customers who can vouch for their work. Ask for contacts of a recent client and talk to them to get a good idea of how the contractor works.
The painter should also show you a picture portfolio of some similar projects they've completed before.
Do you provide a guarantee or warranty for your work?
Contractors who are confident in the quality of their work will always provide warranties for their work. A solid guarantee should cover both material and workmanship (labor) and should last for at least three years.
It's important to ensure you understand their terms and have the insurance in writing before the work begins.
What type of paint will you use?
The type and quality of paints to be used will determine how long that paintwork will last. Unless you have a short-term goal, always ask the contractor to use premium-grade paint. They last much longer than the cheaper alternatives and produce better finishes.
If the painter is adamant about using a specific paint brand, listen to their reasons. If it's motivated by experience, then it could be worth a try.
How is your painting process?
Before signing any contracts, you need to have a concise explanation of how the contractor will handle the job.
He/she should give you a rundown of everything from the prep works to the final finishes.
This will help you know how many people will be involved in the project and also in estimating the cost.
Finding a good painting contractor near me
When looking for a good contractor, the secret is to avoid rushing the process. Take some time to consider different aspects of every contractor on your way before finally making the hiring decision.
Here are some of the tips to follow when choosing a painter:
i. Ask around and read online reviews
Asking your neighbors and friends is a great way to get recommendations of good contractors in your area. If possible, visit anyone who's recently done a repainting project to see the quality of work done by the contractor.
If you don't have close references, you can also read online reviews of the contractors. A good rating and online testimonials can be good evidence that the company knows what they're doing.
However, ensure you're using credible websites like Yelp or Angie's List to find these reviews.
If you're looking for the best contractors in your area, you can't afford to be lazy in your search. If you need an exterior painter, refine your searches to contractors who handle a lot of exterior projects.
If the walls first require drywalling, some repair, or restoration, look for contractors who handle such issues.
With a clear list of your painting needs, you'll be able to choose a contractor that understands the project.
iii. Go for experience and reputation
Experience and a good reputation beat every other factor you want in a contractor. When comparing painters near you, always opt for the one with more years in the industry.
Most new painting companies may not have adequate resources to do a good job. Moreover, some of their painters may also be inexperienced in the business.
As a rule, always check if the company is listed on the Better Business Bureau website. Most contractors listed on this site are experienced and have met the proper licensing and certification requirements.
iv. Verify licensing and insurance
Choose to only work with contractors who possess the proper licensing. Keep in mind; different contractors need different licenses depending on the scope of their operations.
A license for a commercial contractor isn't the same as that of a residential contractor. So, always check to ensure that a contractor has the right license.
You should also ensure that the contractor has both general liability and worker's compensation insurance. This will protect you in case any worker is injured while working on your property.