Whether you plan to paint your ceiling yourself or intend to hire painting professionals, it is essential to understand the total cost to paint a ceiling.
The national average cost to paint a 140 square foot (12 x 12 room) ceiling is $205, but it can range from $ 150 to $ 320. Vaulted ceilings will cost 30% more. You can base prices on the average labour cost being $1.42 per square foot including paint and materials.
The actual price to paint a ceiling will depend on your location, the size of the project, finish options, and the conditions. Also, the type of ceiling paint you choose will determine the overall cost.
| Service | Quantity | Low | High |
| --- | --- | --- | --- |
| Ceiling painting cost | 320 Square feet | $90 | $238 |
| Ceiling painting labor cost | 5 Hours | $172 | $420 |
| Ceiling painting job supplies | 320 Square feet | $16 | $18 |
| What to expect | | | |
| Total per square foot | | $0.93 | $2.25 |
| Total for project | | $279 | $676 |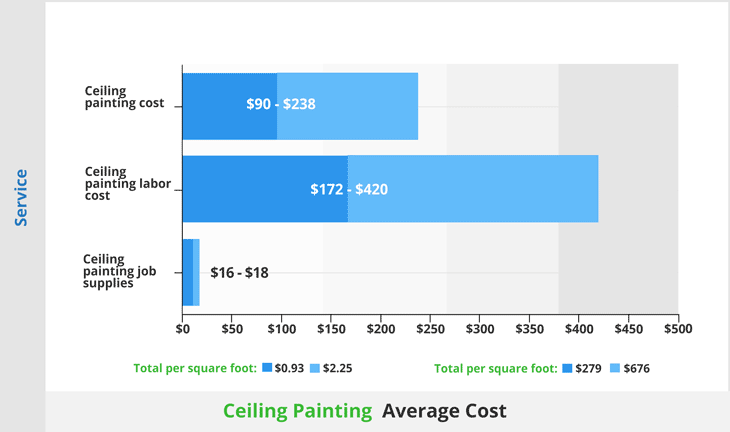 Ceiling Painting per square foot
On average, most homeowners spend about $150 to $350 to paint their ceiling in one room. This is equivalent to approximately $1 to $2 per square foot. This cost is not inclusive of any repair costs or painting the surrounding walls.
However, the final cost depends on three factors. These include:
If you want to paint more than one ceiling, you may save about 10-15% on the total price. Covering a large part allows you to save some money per square footage. So, you should plan to paint all your ceilings at the same time if possible.
Ceiling paint tends to be costlier than regular paint with approximately 10-15%. Also, the brand you choose will dictate the final cost. Ensure you do some research to select the best paint that will offer you value for money.
The ceiling's height also dictates the final cost to paint a ceiling. Most ceilings have a height of 8 square feet. If your ceiling is higher, you may be required to add about 9-10% for each additional foot.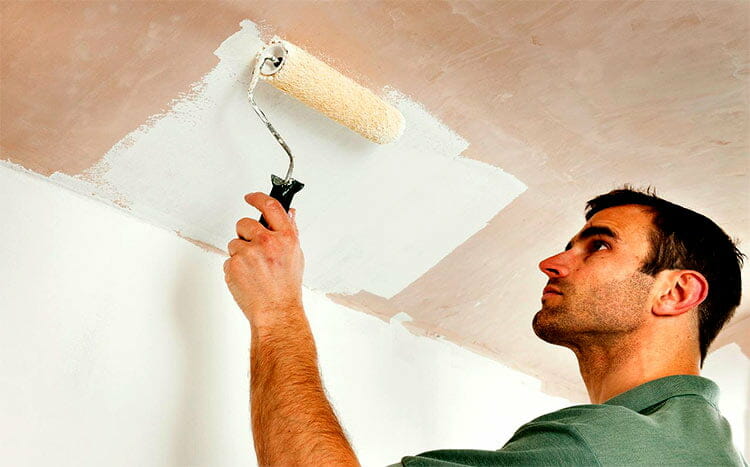 The average cost that homeowners pay for ceiling repair is $805, and the price for the project can range from $351 to $1260. Labor costs can be anything from $ 60 to $90 per hour. The professional you hire will come with the required materials, and he/she must include the cost in the initial price quotation.
The ceiling repair per square foot ranges from $45 to $90, and the overall cost will depend on the materials used, and the total area that needs repair.
The total repair cost also depends on the type of ceiling. Below is an estimate for different ceiling types.
The repair cost for drywall per square foot is about $45 to $55. This includes labor, site preparation, materials, and cleanup. It may take a maximum of two hours for minor repairs and fixes at a rate of approximately $60 to $90 per hour.
Plaster and lath ceilings repair cost is about $65 to $80 per square foot. This price is inclusive of labor, materials, and site preparation and cleanup. If the repair is extensive, you may have to add more money per hour at a rate of about $60 to $90 per hour.
Popcorn ceiling tends to be more expensive, and it may cost from $75 to $90 per square foot. This includes site preparation, cleanup, materials, and labor. The hourly rate is similar to other ceiling types, and it ranges from $60 to $90. However, repairing this type of ceiling needs time because it is more complex.
Repairing a drop tile ceiling takes up to $200, while a professional charges $60 to $90 per hour. Homeowners can buy prefabricated 2×2 foot tiles for $4 to $68 each. Installing drop tiles is not complicated, so homeowners can do the repairs themselves.
It is paramount to repair your ceiling early if you see any signs of cracks or paint chippings. This way, you will use a significantly low amount to repair the ceiling than when it is extensively damaged. Therefore, act fast whenever your ceiling develops any problems.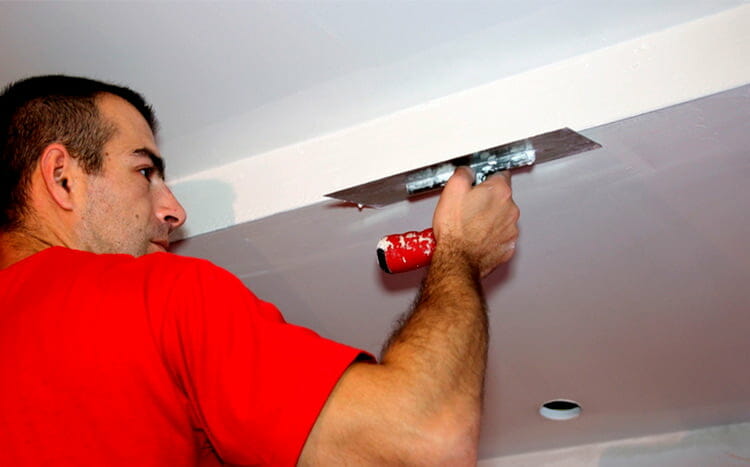 Textured or popcorn ceilings
If you want to make your room more appealing, you can create a popcorn or textured ceiling.
Different professionals have their unique techniques and materials to create a beautifully textured ceiling.
They may use drywall mud or textured paint to create a customized ceiling, depending on your preferences and tastes.
Usually, popcorn ceiling is the choice of homeowners because it is more budget-friendly than a textured ceiling.
Nevertheless, since both types require time and experienced professionals, you may pay an extra cost of about $0.5 to $2 per square foot.
Textured ceilings tend to be a challenge when cleaning them. Also, they absorb a lot of light, so you should not install them if your room does not get enough light.
Ceiling paint vs. wall paint
The quality of the paint you use dictates the total cost of the project. Usually, most ceiling paints are white and flat. Some people prefer using regular white and flat wall paint for their ceilings. The best way to create a long-lasting and attractive ceiling is by selecting paint specially designed for ceilings.
The actual ceiling paint has a unique viscosity that is not common in regular paint. It is much thicker and does not drip like wall paint when applying it on the ceiling. This makes the job neater and faster because you will be free of the messes created by drips.
On top of that, ceiling paint has a unique formulation designed to cover the ceiling and protect it from stains, molds, peels, and cracks, unlike regular wall paint. So, it is critical to use ceiling paint instead of wall paint in all rooms.
Another feature that makes ceiling paint ideal for your ceiling is the gloss of the paint. Usually, ceiling paint has the most matte and flattest finish than any other paint. This makes the ceiling look even and extremely beautiful.
Areas like bathrooms and basements do not get enough ventilation. So, applying high-quality ceiling paint in such areas is essential to avoid repainting every other month.
Cost to paint a 12 x 12 ceiling
On average, painting a 12 x 12 ceiling costs about $200 to $800 depending on the type of materials used, and labour cost. To get the right estimate, it is critical to find out what a majority of professional painting contractors charge per square foot.
Most professionals charge approximately $1 to $3 per square foot. By calculating how much space you need to paint, you will know the project's total cost beforehand. This will help you get ready in advance.
If you want to do the project yourself, painting a 12 x 12 room may cost you anything from around $100 to $300. However, if you want the job to be professionally done, be ready to use approximately $1000.
The overall cost to paint a 12 x 12 room will depend on the paint's quality and quantity. Ensure you know what colors you need and the type of ceiling you want early. This will help you get ready in terms of money, and find experienced professionals for your project.
Cost to paint high/vaulted ceilings
The ceiling's size is usually the driving factor when it comes to calculating the total cost to paint a ceiling. However, the height of the ceiling also matters a lot. Typically, high ceilings pose a challenge in accessing them. This calls for additional equipment for the job, such as scaffolding and ladders.
For this reason, the cost to paint high or vaulted ceilings will increase by square foot depending on the height. If you are painting more than one vaulted or high ceilings, the cost may be a bit lower, but not always.
Cost to paint 8-9 feet high ceiling
These ceilings are usually the easiest to paint as no special tools are required. Also, you will not need a ladder to access the ceiling. Painting this ceiling costs about $0.50 to $0.75 per square foot. The project takes about one day to finish for a 500 square foot room at approximately $250 to $375.
Cost to paint 10-12 feet high ceiling
For a 10-12 feet high ceiling, you may spend about $0.75 to $1 per square foot because it is a bit higher. For a 500 square foot room, you will need about $375 to $500 for the job. The project takes a day to complete.
Cost to paint 12-18 feet high ceiling
This kind of ceiling requires more preparations than the first two types. For instance, you need a ladder and special sprayers or poles. Painting this ceiling will be more complicated. Thus, it will require more time.
Typically, the cost to paint 12-18 feet ceilings ranges from $1 to $1.5 per square foot. It may take one to two days to complete a 500 square foot room at the cost of about $500 to $750 in total.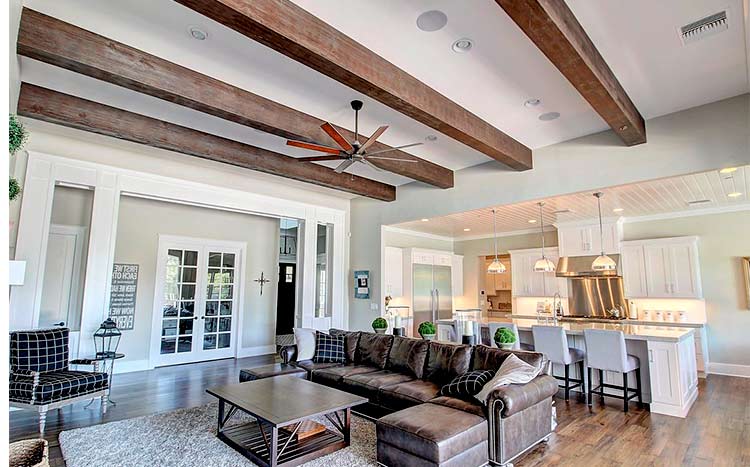 When planning to paint your ceiling, there are several cost factors you should consider. These include:
There are different materials used when painting ceilings. These include paint, painting brushes, and rollers among others. The paint quality and type of paint play a significant role in estimating the total cost of painting a ceiling.
Usually, better quality paint will cost more than low-quality paint. Also, tinted paint and paint that has sheen costs more than white flat ceiling paint. Therefore, you should decide what paint you are going to use for your ceiling. For long-lasting paintwork, it is essential to select the best quality of paint.
Several things must be done before painting your ceiling. For instance, furniture and any delicate household items must be moved. Your painting contractor may move the furniture and anything else that may cause hindrances when painting at a cost. To cut down on overall cost, you may prepare the site yourself beforehand.
If your ceiling is damaged, it may need repair before painting. The cost of repairing the ceiling is separate from the painting cost. Ensure you know the extent of the damage before you bring in a professional to avoid surprises.
The typical price to repair a ceiling is about $45 to $90 per square foot. This price will depend on the extent of the damage and materials needed to fix it, like frames and metal. Once you know the total repair cost, you can add it to the painting cost to get an overall estimate for the entire job.
Several processes must take place before you begin your painting project. For instance, you need to test for mold to take the appropriate steps before painting commences. If you find mold on your ceiling or surrounding areas, you should think about buying mold killing paint.
If you need to remove existing old and chipped paint before applying a fresh coat, think about lead paint neutralizers and tools for the job.
This process may cost you extra money that may make the overall cost rise. Also, you may spend more on a special mold killing paint in case your ceiling has mold.
For this reason, you must adequately prepare yourself and think about any additional costs that may come up early. This will help you get ready for the project, both physically and money-wise.
Permits or inspection fees
You do not require a permit to paint your ceiling. However, you should find out the rules and regulations of home building and repairs in your state before you begin a project. This is because laws differ from state to state. So, to be completely sure that you do not need a permit for your ceiling painting project, ensure you ask the relevant authorities.