Giving your room a fresh coat of paint enhances the way it looks and can also give your spirits, feelings, and emotions a boost; though the cost of achieving this feat may vary, discuss with a professional painter to have an idea of the cost.
The cost of painting a room (labor and materials) ranges from $2 – $6 per square foot, with an average price being $3.50 per square foot. The labor cost alone ranges from $1.50 – $4 per square foot. The total cost of hiring a professional to paint a medium-sized room ranges from $200 – $850. The DIY cost of painting the same size room ranges from $70 – $150 in materials.
Professional painters prefer to bill their customers per square foot because it is a reliable method for calculating painting costs. It is useful in quickly estimating the project price of hard to reach and tricky areas like trims, moldings, and high ceilings.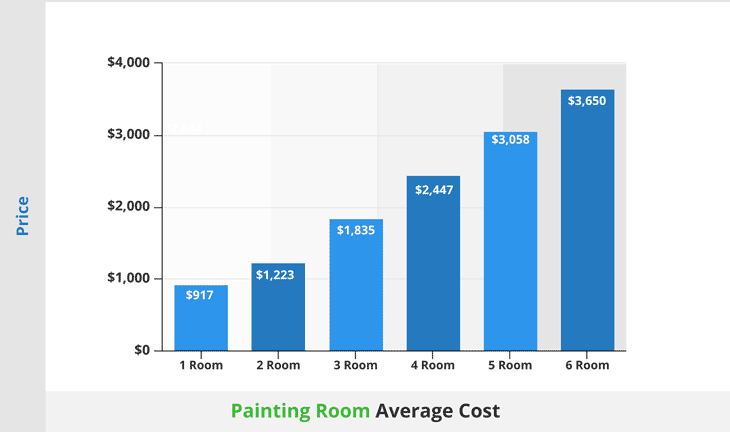 The average prices of hiring a professional to paint a standard
120 square foot room ranges from $200 – $800 (labor and material inclusive). Painting with lighter colors or on accented and textured walls can cost up to 20-50% higher. During the estimation process, professionals calculate labor and supplies costs by measuring the room's size. Other factors, such as the type of room, paint type, and, If any – specialty work such as murals, are factored into the cost estimate.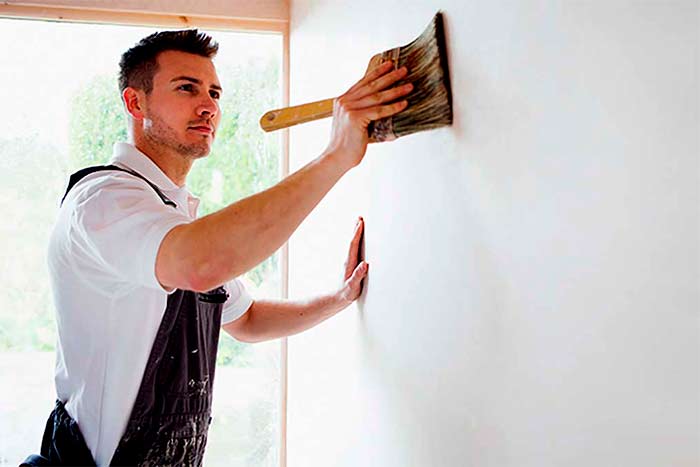 Cost to paint by the square foot
Although some people may prefer hourly rates, estimating room painting costs per square foot has become a widely accepted practice in the industry. Calculating costs per square foot makes it easier for you to determine how much your painting will likely cost, and before you hire that painting contractor, you must understand the square footage rates.
Professionals charge between $2 to $6 per square foot to paint a room, including labor and materials. On average, you'll pay $3.50 per square foot; if you have extras like ceilings and trims, your average rates could increase to $4 per square foot.
Cost to Paint a 10 x 10 room
The cost of painting a 10 x 10 room is $300 to $550, including labor and materials. Costs will vary depending on the color, state of walls disrepair and the height of the ceilings.
Other factors include the city you live and the painting service used.
Cost to Paint a standard 12 x 12 room
According to industry-wide estimates, the cost of painting a 12 x 12 room is $400 to $950, and this price includes both labor and materials. Factors unique to each room could increase the overall painting cost. For example, painters charge extra for moving pieces of room furniture.
Cost to Paint a 12 x 16 room
The cost to paint a 12 x 16 room will vary depending on the height of the ceiling, and whether the walls need repair and preparation. It will cost $405 – $750 if the walls are in good nick, but it could cost up to $1,200 if they are in a bad way.
Cost to Paint a 20 x 20 room
The cost of painting a 20 x 20 room will depend on the height of the roof, and the state of the walls. It will cost $450 – $650 if the walls are in good nick, but could cost up to $1,400 if they are in a bad way.
Bedroom painting costs vary according to room size and color used. Average prices range from $2.82 – $5.88 per square foot or $448 for a single bedroom. Assuming you're hiring a professional to paint a standard 10×12 foot bedroom, your costs will range from $300 to $750. DIY costs range from $30-$100 depending on the quality of the paint.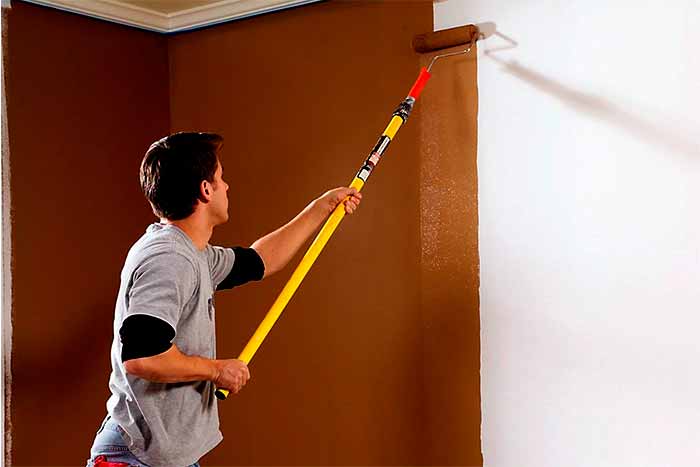 Cost to Paint a living Room
The cost to paint a living room like all of the above will depend on the size and shape of the room.  A common-size living room is 120 square feet, so with a painting price of $2 – $6 per square foot, you can expect to pay $240 to $720.
What do painters charge per hour?
The hourly wages you pay to hire a professional painter varies depending on the city or town you reside. Average hourly rates across the U.S is around $21, and most pros charge customers between $20 – $50. You are likely to pay rates of more than $100 per hour if you're living in an area with a higher than average cost of living.
Eighty percent of the fees experts charge are for labor, so it is a good idea to ask your painter for a precise breakdown of costs when receiving an estimate. Highly skilled professional painters with decades of experience will charge higher rates than less educated and unqualified painters with less experience. You might pay more to hire an experienced pro, but you get your money's worth. Ensure you request references and proof of certification before hiring a painter.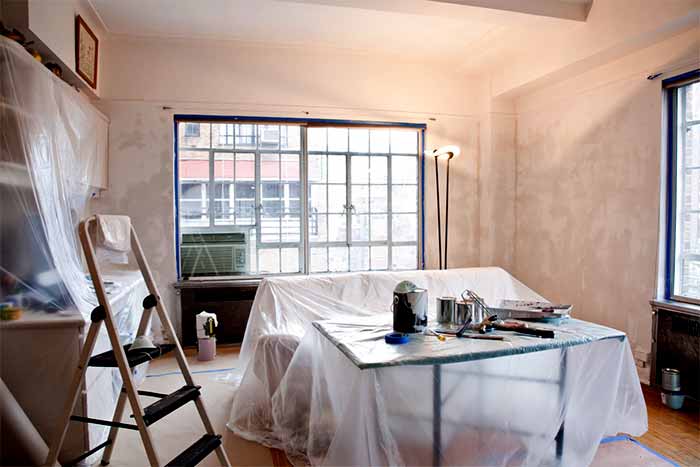 Should I hire a licensed painter?
Federal, state, and local laws require painting contractors to hold a license before being paid to paint people's homes. Hiring a professional with a valid painting license assures you of receiving a reliable and quality service.
Hiring a licensed painter can help you in the following ways:
A licensed painter delivers a quality paint job and paints your home professionally and according to the best industry practices.
Licensed professional painters build clear and easily accessible channels of communication with their clients. Pros communicate in clear writing the contract terms and the milestones involved in the project.
Hiring a licensed painter protects you from scams such as the painter disappearing after taking a deposit cheque or abandoning your painting project midway through.
Since the government regulates licensed painters, they are insured and are legally bound to pay for any damages caused while working on your property. The government licensing agency can impose fines or withdraw a contractor's license if he fails to comply with regulations.
Is there a warranty on painting?
You are eligible for two types of warranties when you hire a professional to paint your room. The first is the manufacturer's warranty on the paint, and the second is the contractor's painting warranty, which guarantees the quality of the painting project.
1. Manufacturers' warranty
The paint used on your home comes with a warranty. However, a paint warranty does not include financial compensation for costs associated with hiring a professional to remove or correct defects in the finish caused by faulty paint. A paint warranty merely compensates you with free paint materials if you can connect paint failure to production errors or improper factory or warehouse storage conditions.
2. Contractors warranty
Most painting contractors offer their customers a two-year paint warranty as a standard industry practice. This warranty protects customers against paint problems such as peeling, flaking, and blistering caused by the contractor's use of inferior paint materials and shoddy craftsmanship. However, the contractors' warranty does not cover paint damage from weather, heat, fire, or other external factors.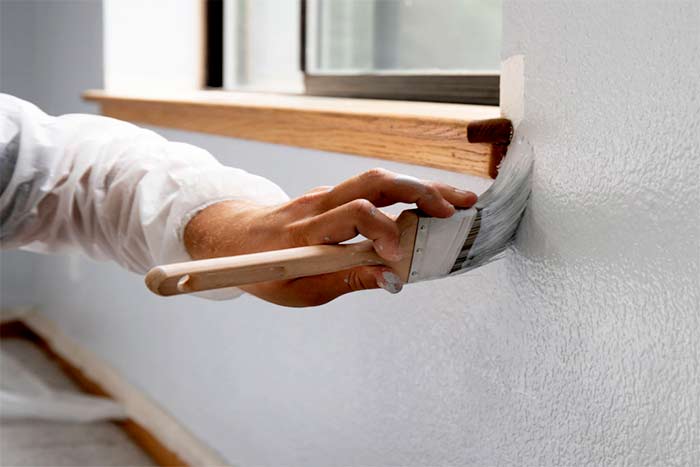 What affects the cost of painting
Many people merely focus on room size and ignore other important factors that impact their room painting costs. Professional painters consider these little-known factors in preparing an accurate painting estimate for their clients.
They are:
Wall repairs: Repairs affect painting costs because painters may have to fix damaged walls, install drywall, or patch wall gaps and holes. Contractors may need additional labor to remove wallpaper before wall painting. Wall repairs can cost an extra $40-$45 on top of your existing painting costs.
Color: Color choice can affect your overall costs because some colors require extra coats to achieve enough wall coverage and saturation. While painting an averaged sized room with a dark or bold color only requires two paint coats, choosing a lighter shade may consume several paint coats to attain a smooth and uniform color.
Quality of paint: High-quality paints are pricier than ordinary type paints. The average price of a generic gallon of paint ranges from $20-$30, while a high-quality quality brand can retail for higher than $100. The difference in costs becomes more noticeable when painting multiple rooms. Painting in gloss also increases your overall painting costs.
High ceilings: Professionals charge around 50% more to paint a room with cathedral or vaulted ceilings. Cathedral and vaulted ceilings require a longer time to prepare for painting and present a higher level of difficulty.
Trims: Door and window trim also increases the cost of your painting project. Painting window trims cost an additional $2-$6 per square foot. It is recommended that you negotiate this cost into your overall painting costs.
Complex decorative finish: Painting professionals charge more fees to paint rooms with murals, faux finishes, and textured walls. A textured wall creates additional surface area without increasing the overall square footage, increasing painting costs by almost 50%. Average fees for painting marble textures range from $5-$6 per square ft.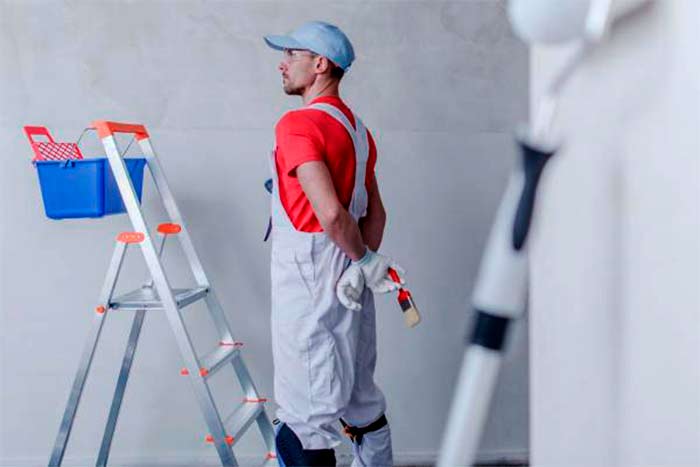 Hiring a professional Vs. DIY
Going to the DIY option when considering painting your room is a good idea if you are on a tight budget. And if you possess the right skills to wield a paintbrush, you could paint your room for a fraction of the cost of hiring a professional. Painting is highly forgiving of mistakes, and if you think that you haven't done a perfect job, you can buy another gallon of paint and redo the entire work.
While cost and time constraints are the two significant factors influencing homeowners' decision to hire a professional or DIY, knowledge also plays a crucial part in the decision process. Homeowners may not know the right paint type or quality to use for their rooms, and picking room and trim colors can be overwhelming for some people, so they turn to a professional to do the job. However, if you're quite adept at handling all those, you can grab a paintbrush and paint on.
Listed below are a few benefits of hiring a professional painter.
A professional painter has years of experience, and he knows what to do to give your room a high-quality paint finish.
Professional painters possess the right equipment, and they have better quality equipment and tools than the average homeowner.
Hiring a professional saves time, and your painting project will be completed within an agreed timeline.
Professional painters have insurance covering the cost of repairing damages that may occur during the painting project. This insurance also covers the treatment costs of injuries suffered from accidents while performing their job.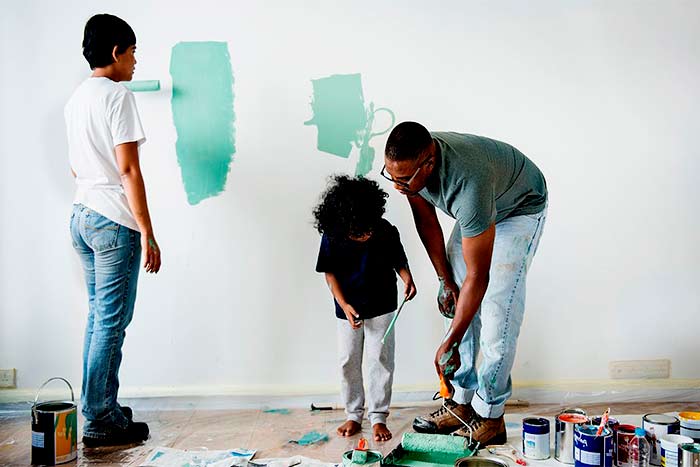 Below is a list of a few benefits of DIY painting your room.
You can work at your own pace while painting your room. Since there are no strict timelines for completion, you can take your time to finish the project at your leisure.
You save money by painting your room by yourself. Just a fraction of painting costs are for materials, while the rest is for labor. And by painting your room yourself, you merely spend a few dollars to purchase materials.
You can build a healthy relationship with your friends and family by inviting them to paint along with you.
Painting your room yourself produces a high feeling of satisfaction and accomplishment you don't get by hiring a professional.