Are you planning to paint your apartment, and you are wondering how much money you are likely to spend on the project? This cost guide provides you with the national average cost to paint an apartment and the factors to consider.
The average cost to paint an apartment ranges from $1,100 to $3,000, including labor and materials. The exact cost depends on the project size. For instance, painting a one-bedroom apartment with a ceiling of 10' will cost around $1,000 to $2,000. A larger apartment will cost between $2,500 and $3,800 to paint.
Other factors affecting the project's overall cost include location, job complexity, ceiling height, apartment size, and finish options.
Cost to paint an apartment per square foot
The average cost to paint an apartment ranges from $1 to $3 per square foot. This translates to roughly $1,000 to $3,000 for an average-sized apartment. Most pros offer fixed prices as it allows them to estimate the job better than hourly rates.
Cost to Paint a studio apartment
Painting a studio apartment will cost you between $700 and $1,600. The actual cost depends on the size and quality of the paint. Before you paint your apartment, ensure you seek consent from your landlord first. Also, remember that you will need to restore the apartment to its original condition before moving out.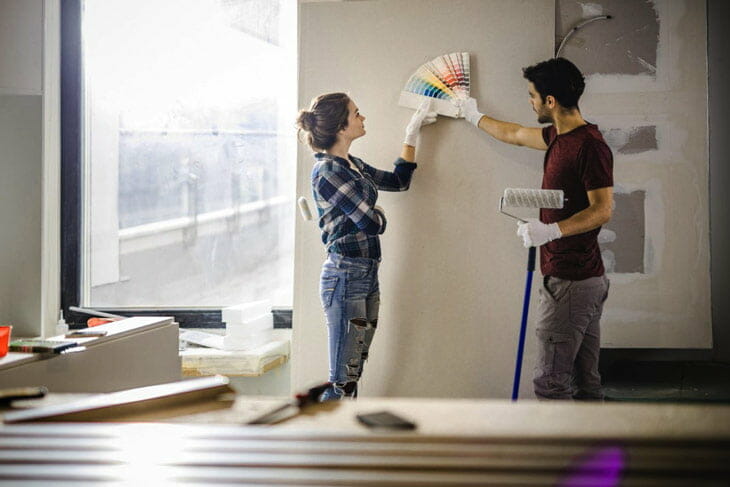 Cost to Paint a one-bedroom apartment
If you wish to paint a one-bedroom apartment, expect to spend between $900 and $2,500. For a DIY project, you should determine how many gallons of paint you will need for the job. Also, include the cost for tools such as paint brush/roller, painter's tape, paint tray, etc.
Cost to Paint a two-bedroom apartment
The average cost to paint a two-bedroom apartment averages $1,100 to $3,000. The cost is slightly higher than that of a one-bedroom condo because of the additional square footage.
Typically, the average cost per square foot for a larger project tends to be lower than for a smaller project. This means you will get a better price for painting your entire apartment than just one room.
What do painters charge per hour?
The average cost to hire a painter is roughly $20 to $50 per hour. This translates into about $200 to $500 per day or $1 to $3 per square foot. Most painting professionals calculate the amount of time the project may take and provide fixed rates. Some pros, however, offer hourly rates for small projects.
Should I hire a licensed painter?
It is wise to hire a licensed painter to paint your apartment. Most states require professional painters to be licensed, bonded and insured. Working with a licensed painter gives you security and peace of mind because you can follow up and file complaints against the professionals if they fail to meet their end of the deal.
Cost factors to consider when painting an apartment
There are several cost factors that can affect the final cost of painting an apartment. Have a look at the main ones below.
Job complexity – while most apartment designs are simple, some high-end apartments may have complex architectural designs. The overall cost to paint an apartment will be determined by its design, where simple designs are cheaper to paint than complex ones.
Regional factors – typically, low-income areas (mostly rural areas) tend to have lower labor rates than high-income areas (booming metropolitan regions). Therefore, the average labor cost will depend on the area you live in.
Quality of paint/materials – as a rule of thumb, high-quality paint and materials will cost more than medium-quality and low-quality ones. When buying paint and materials, it is best to buy good quality ones as they will serve you for a longer period.
Paint type – the type of paint you use will determine the overall cost of the project. For instance, oil-based paint takes longer to dry, which means labor time will be increased. Apartments, however, use flat paints for easy and quick blending with the previous paint.
Wall height – the height of the wall/ceiling matters a lot when pricing a paint job. High walls will need more paint and special ladders to reach the ceiling. This will add to the overall cost of the project.
Apartment size – a large apartment will cost more to paint than a smaller one. So, the amount of money you will spend on the project will depend on the total square footage of your condo.
Number of paint coats – the number of paint coats you wish to apply will affect the overall project cost. The more coats you use, the higher the cost. Pros recommend two to three coats of paint for an even and neat finish.
Hiring a professional Vs. DIY
The average cost to paint an apartment depends on whether you hire a professional or |DIY the project. Some landlords require tenants to hire professionals, while some may allow DIY painting. Make sure you consult your landlord before you begin your project to know whether there are any rules you need to observe.
One thing to note is that different professional painting companies offer different rates depending on their level of expertise and experience. However, the national average cost to paint an apartment ranges from $1 to $3 or about $1,000 to $3,000 for the entire project. This cost includes materials and labor.
Some professionals will charge by the hour, depending on the size and nature of the project. However, hourly rates may be unreasonable for large projects, and they keep the door open for unexpected costs. Fixed rates are, therefore, the best as you can set aside enough money for the job.
If you are experienced in painting and would like to hone your skills, DIYing the project is an excellent option. Besides, the project will be cheaper as you will not include labor charges. That being said, you need to know all the supplies you will need and how much they cost.
Some of the items you will need include paint brushes, drop cloths, paint rollers, paint trays, painter's tape, safety gear, etc. Here is a breakdown of the cost of painting supplies.
Estimated cost of DIY painting supplies
Painter's Tape – $7Drop Cloths – $10
Paint Roller Frame – $7
Paint Tray – $6
Paint Roller Covers – $10
Paint Brushes – $10
Painter's Masks – $20
Safety Goggles – $12
Painting Gloves – $8
Painter's Masks – $20
1 Gallon of Behr Paint – $36
1 Gallon of Sherwin Williams Paint – $40
1 Gallon of Primer – $36
Total cost: $200 – $400
If you already have some of these supplies or can borrow some from your neighbor, family member or friend, the total painting cost will be much lower. However, if you possess none of the supplies above, buying them is the best option as you may need to use them again in the future.
Keep in mind that you will need more than one gallon of paint, depending on the total square footage of your apartment.
The major downside with DIY painting is that you may end up spending more money to fix your mistakes if you are inexperienced. Besides, the paint job may not be professional-looking, which may affect the visual appeal of the rooms.
The good news is that the cost will still be lower even when prep work and painting supplies are included.