Like it or not, the condition of your exterior door says more about you and your home than you'd think. It's usually among the first things guests and potential homebuyers see when they're visiting and so forms their perspective of the entire home.
This is why you have to maintain it through painting regularly. Fortunately, unlike other remodeling projects, painting your exterior isn't very costly.
In fact, homeowners with some painting experience complete the painting as a DIY. But even if you choose to hire a professional, the costs are still low.
The national average cost of painting an exterior door ranges between $95 – $300 when done by a professional. As a DIY, the exterior door painting cost will range from $50 – $180.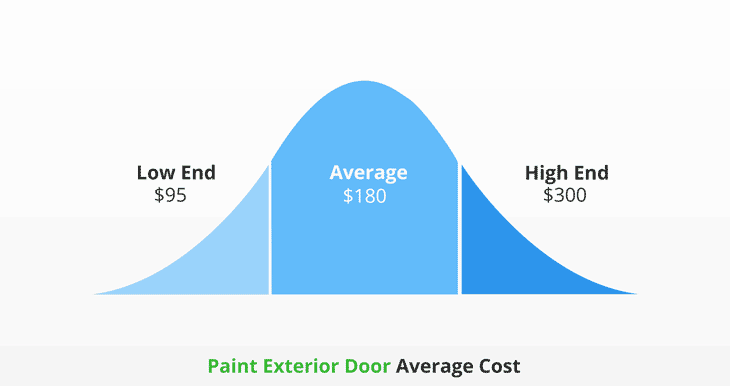 | Service | Quantity | Low | High |
| --- | --- | --- | --- |
| Cost to paint exterior door | 1 | $175 | $300 |
| Door and trim painting cost | 1 | $257 | $502 |
| Cost to paint exterior door | 3 (doors) | $425 | $1,305 |
| Door and trim painting cost | 3 (doors) | $772.50 | $2,407.50 |
| Supplies Cost | Per door | $49 | $93 |
Average Door Painting Estimate: $257
The exact cost for your door project will depend on several factors, including; The size and type of door, choice of finish, number of coats/primers needed, and the condition of the door.
Most professionals will charge anywhere from $25 – $75 per hour for the painting job. Some contractors may also charge you $5 – $11 per linear foot.
For a DIY project, the costs will be high if you have to hire or purchase all the painting equipment.
Cost considerations for door painting
Painting exterior doors isn't expensive but there are things that can drive up the final bill. The other factors that will affect the overall costs for painting your exterior door may include:
Type of paint you choose – High-quality paints can double the overall expense on paints. However, these paints are proven to last longer due to the weather-resistance features and offer better appeal due to the high-gloss finishes. How many coats you need will also be factored in as this also determines paint job size.  You can never go wrong when you choose high quality paint for your paint job.
Door design – Typically, painters will spend more hours on doors, either front door or exterior doors, with more windows. This increases the labor costs, especially if you're paying by the hour.
Your location – Your location in the country determines the climate and the cost of paints and other materials in your area. If you're in a very humid area, you'll have to purchase high-quality, moisture-resistant paints, which are more expensive.
Number of doors- The number of doors you want painted matters. Whether its the front doors, back doors or even an interior door will affect the overall cost. If you have a one door, one coat, same color, of cause the cost will be minimal. But if you are doing French doors, the costs may go up. 
Prep work required – Your painter will charge more if your door needs prep work or surface repair like scraping or sanding before painting. A new is relatively cheaper to paint as there is little prep work. Make sure they've included these costs in their estimate before starting the project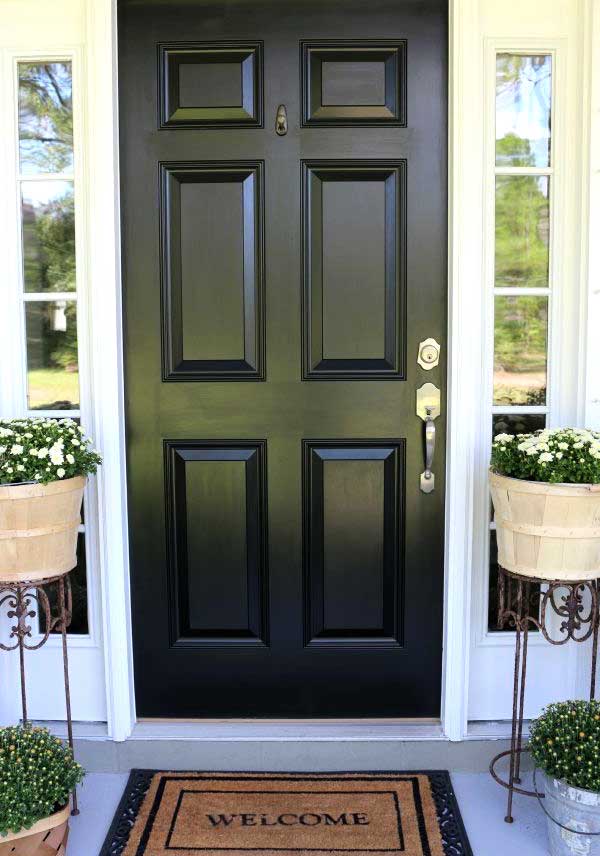 Door and trim painting cost
If you also need to paint your trim together with the door, expect to pay much higher for the entire project. The national average cost of painting your trims range between $500 – $1,000.
However, you can expect to pay anywhere from $7 – $11 per linear foot for door trims and there are some painting companies that charge per square foot. Most homeowners spend around $75 on the lower end and about $152 on the high end for the exterior trims.
The total cost to paint exterior doors and trims will range between $257 – $502.
Keep in mind; These prices will differ depending on your contractor and will be higher if the trims need to be washed first.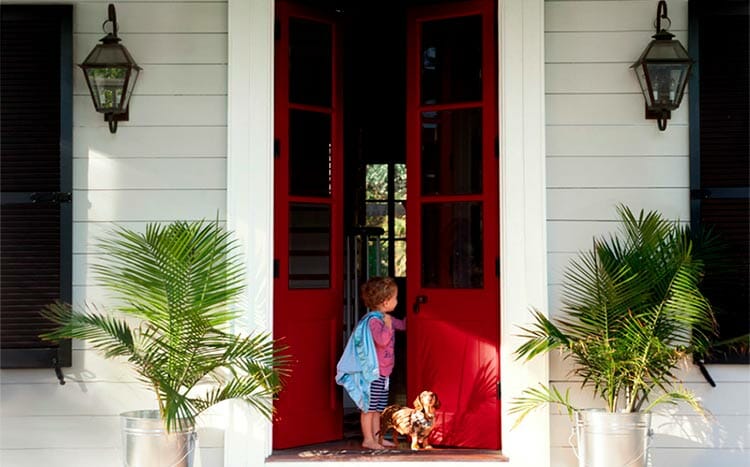 For most exterior paint jobs , the painter can't start painting right away. They'll first have to detach the door, and remove parts like the doorknobs, handles or even the door frame.
Next, depending on the condition of the front door, the painter may have to scrape and sand the door surface to ensure it's smooth for painting.
For these services, a painting contractor may charge you around $30 – $40 per door.
Generally, you don't have to prime the exterior door before painting if it was initially painted and the paint is in good condition.
Priming is only necessary on surfaces that have never been painted on before. It's also required on exterior doors that have been heavily scraped or sanded.
You can also consider using a primer before painting if:
You're changing the colors of the door
You want to paint over a stain or bare wood
You're painting over a high-gloss finish surface
As a rule, ensure that the primer you use is compatible with the paint and surface you want to use it on. i.e., know when to use enamel-based, latex-based, and shellac primers. Use a foam roller to prim or paint your exterior doors. 
Oil-based primers – Work perfectly on many materials and are suitable for stain removal on freshly coated surfaces. They're particularly effective in stopping tannins bleeding on wood, and also prevent paint cracking and peeling. This primer goes for around $17 – $35 per gallon.
Latex-based primers – Dry the fastest and are very flexible when preventing paint peeling and cracking. They're, however, not effective for covering stains. This is the cheapest primer going for $10 – $32 per gallon.
Shellac-based primers – Are the best primer for stain protection on wood and other surfaces like metal, plastic, and both latex and enamel-based paints. Shellac primers are also excellent at protecting water damage, preventing mold growth, and sealing smells from smoke damage. Its only drawback is that it gives off a lot of fumes. A gallon of the primer costs between $36 – $50.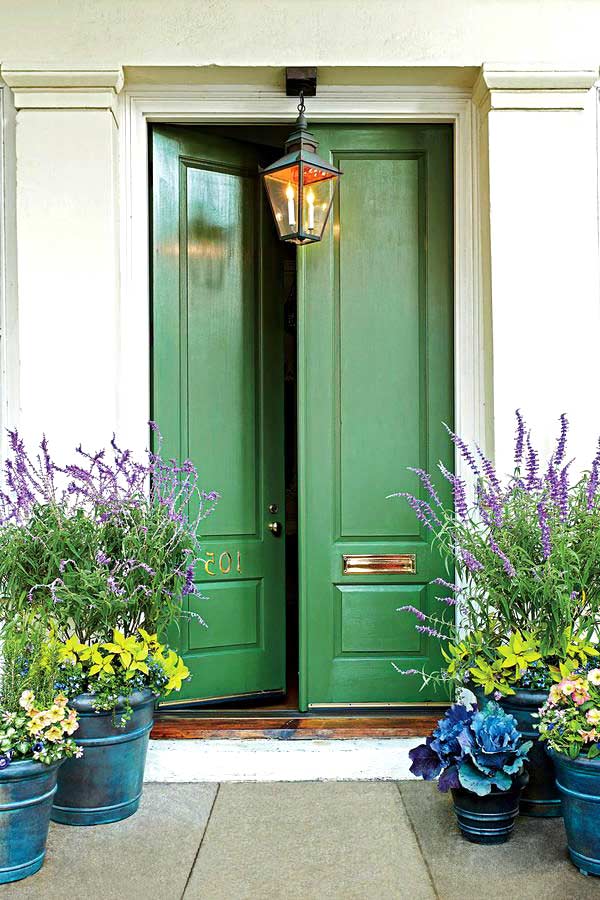 Exterior door painting is generally an easy job. With the right tools and knowledge, anyone can do it – even though not with a pro's quality.
This is why many homeowners are trying exterior door painting themselves. The prospect of saving a buck or two also makes the entire venture more appealing. Exterior door painting like a pro requires having the right knowledge.
Given the simplicity of the task, DIY can save you some money and give you more control over the colors – but only if you do it right.
For homeowners with some painting background, this is a no brainer! But if you're not sure what you're doing, you may end up spending more on DIY than you would hiring a pro.
You will also waste a lot of time painting and may even hurt yourself since you don't know the procedures to follow. The cost to paint your front door can end up being way higher than you planned.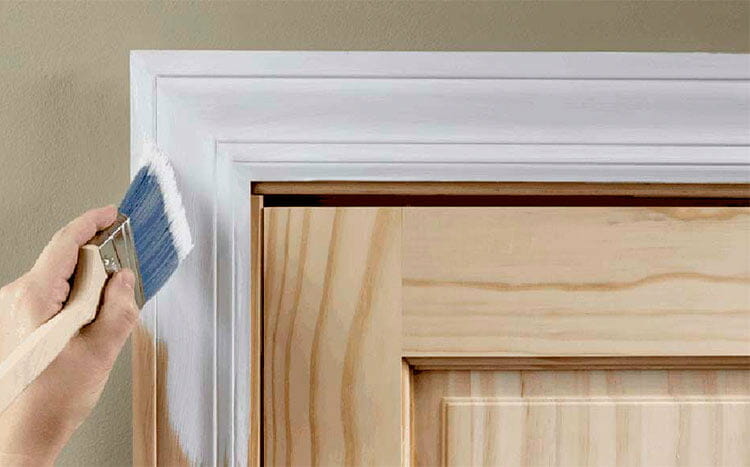 When you want to paint exterior doors, you want the best possible outcome. An expert painter knows precisely how to handle the painting job right from the prep work to the finishing. They know which is the best paint and primer for the job and which paint color combinations won't work.
Due to their experience, they're also likely to complete the paint job faster and with much better quality than you could achieve.
Tip: When looking for a professional painter, always get at least three quotes before hiring.
If you don't have the time to keep looking for painters near you, we created this FREE service just for you!
At HomeGardenGuides.com we quickly match you with top-voted painting contractors in your area for free in just under two minutes!
By following these three easy steps, you'll get three free estimates fast by real certified experts near you.
Scroll to the top of the page and enter your Zip code.
Answer questions about your painting job
Your exterior door painting details are forwarded to three local experts, who then send you a price estimate for the job and offer some friendly advice.
IMPORTANT: There is no obligation to hire. This is a free tool and service to be used at your pleasure!