Painting a brick house maybe is the best way to add some freshness to your own home and boost the curb appeal.
The cost of painting a 2,500 square foot house ranges from $3,500 to 10,500, with an average price of $7,000. While the cost per square foot generally varies from $1.40 to $4.20. These prices may vary due to labor and paint prices. If you need to rent power washing equipment from your local hardware store, you will have to pay from $40 to $150 more money.
| Low Cost | $10,500 |
| --- | --- |
| Average Cost | $7,000 |
| High Cost | $10,500 |
The cost to paint your home's exterior walls varies based on your brick home's square footage, professional painters' labor cost, the cost of the paints, etc. Besides this, painting brick will improve the curb appeal of your brick home.
Cost to Paint a Brick House per Square Foot
The average price to paint a brick house per square foot ranges from $1.40 to $4.20. This includes preparation, paints and primers, labor, painting supplies, and equipment. Proper preparation is essential for a good job in the end. Your contractor can give you the right estimate of the condition of your siding and whether it is ready for a new coat.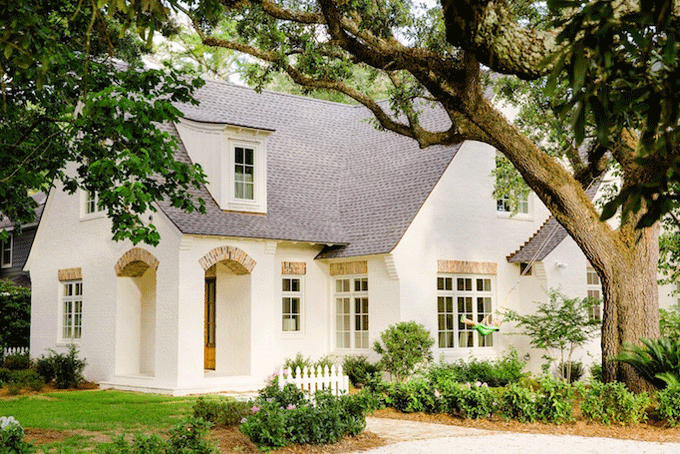 Cost to Paint a Brick House by a Professional Painter
An important thing to know is that every painting company charges different rates for their paint job.
Keep in mind that asking the painters to do some extra exterior work simultaneously will produce additional costs.
The average cost per square foot if you hire professional painters is from $2 to $3, and for the average 2,500 square feet two-story home, you will have to pay from $5,000 to $7,500.
Professionals charge by square foot rather than by hour because that gives them more insight into the total exterior painting cost and the cost of materials and labor.
Labor cost for exterior walls is much higher compared to the painting of interior walls because interior walls need fewer coats, usually two coats of paint. In contrast, exterior painting requires weatherproofing and durability. This is important while painting brick because of its porous surface and absorption ability.
The main reason for hiring a painting contractor for painting exterior brick is that they are experts in that field, and they truly know how to make your home's paint durable, long-lasting, and fully sealed.
Average Cost to Paint a Brick House if You DIY
If you want to DIY this project it will be less expensive than hiring a painting contractor, but there are some other painting costs that you wouldn't have to pay if you are not DIY.
This includes things such as drop cloths, painter's tape, paint sprayers, paintbrushes, or rollers, paint trays, and safety equipment. On the other hand, if you already have this thing in your garage, you will have to pay only for the paint you will need for the job.
Average Cost of The Items Needed
Just a brief guide to the average prices of the tools and materials that you will need so you can make a rough estimate of the budget you will need:
| Item | Price |
| --- | --- |
| Drop Cloths | $30 |
| Painter's Tape | $7 |
| Paint Sprayer - renting/buying | $35/$85 |
| Power Washer - renting | $40 - $150 |
| Detailing Paint Brushes | $10 |
| Ladder | $50 - $80 |
| Disposable Painters Mask and Gloves | $28 |
| Safety Goggles | $12 |
| Paint Tray and Paint Bucket | $20 |
| 1-Gallon of Exterior Paint | $35 - $85 |
| 1-Gallon of Exterior Primer | $35 - $55 |
| Putty or Caulk | $10 |
| Caulking Gun | $15 |
Factor That Will Affect the Total Cost
The final cost will depend on the square footage of your brick home and any other hidden project costs.
For example, the cost of paint may vary if you choose a high-end paint or you will realize that your brick surface needs multiple coats of paint.
However, even with all of this considered, painting your brick house yourself will still be probably less expensive than hiring a professional painter even if you buy the highest quality paint. This is the good news, and the better news is that once you buy the painting supplies once, the project for every future painting project will be less.
Painting is one of the few home improvement skills that is quite easy to master and can save money for you in the long run.
Deeper Analysis of DIY Painting Cost
This is where the quality of paint comes to the fore because some paints cover more surfaces than others. Normally you will need at least two layers of a fresh coat of paint, but for the home's exterior it is recommended to apply 3 or more coats to ensure your paint is fully sealed and weatherproofed.
To be sure with the amount of paint needed to paint your house look at the gallon of paint you are using to see how much coverage it provides and then estimate the size of your own home to determine how many gallons of paint you will need. Make sure that you are using exterior paint, specially formulated for brick painting.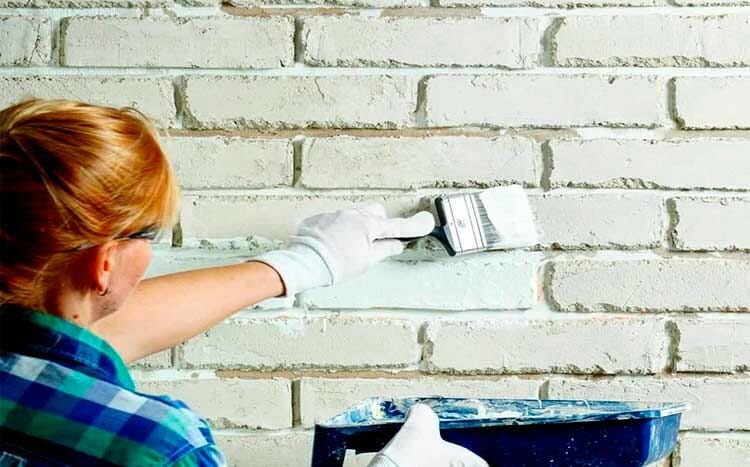 Should you paint your brick house?
If you are looking for a fresh look, painting your brick house is a good idea and is by far the cheapest way to do it. Stucco, rendering, and other types of siding will cost you $15,000 + to install. Painting is a great way to achieve that.
BEHR Masonry Stucco & Brick Paint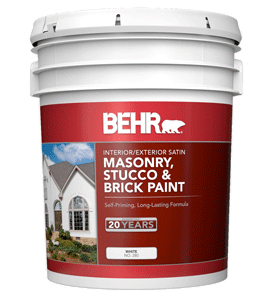 For example, this BEHR Masonry Stucco & Brick Paint in a satin finish cover approximately 250 – 400 square feet per gallon, and if your painting project involves a 2,500 square feet house you will need about 8 gallons of paint to cover the whole area and probably a gallon or two more to cover it more times.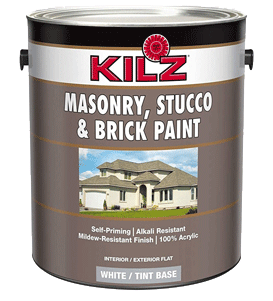 This paint option from the palette of KILZ is an acrylic latex paint that offers excellent hiding properties with great adhesion and water repellency on the textured exterior surfaces. It is a self-priming paint. Same as the BEHR option, coverage per gallon varies from 250 – 400 square feet.
These two options explained above are just a small example to give you a clear picture of what to look for in a big world of brick paints.
Priming your brick is very important to get the best quality finish on your paint job, even on unpainted brick, primer provides you a smoother surface for the paint to glide on.
Priming will also help loose paint not to get trapped in the crevices of the brick and to destroy the wanted even finish. So it is highly recommended to use a high-quality primer because that way you will create an optimal surface for actually getting an amazing paint job on your brick.
HomeGardenGuides.com is a free service that quickly matches you with top-voted local Paint Specialists.
You can get 3 estimates fast by real certified experts in your area in just 2 minutes.
Scroll to the top of the page and enter your Zip code.
Answer questions about your paint job
Your brick house painting project details are forwarded to three local experts. They will send you a price estimate for the job and some friendly advice.
IMPORTANT: There is no obligation to hire. This is a free tool and service to be used at your pleasure.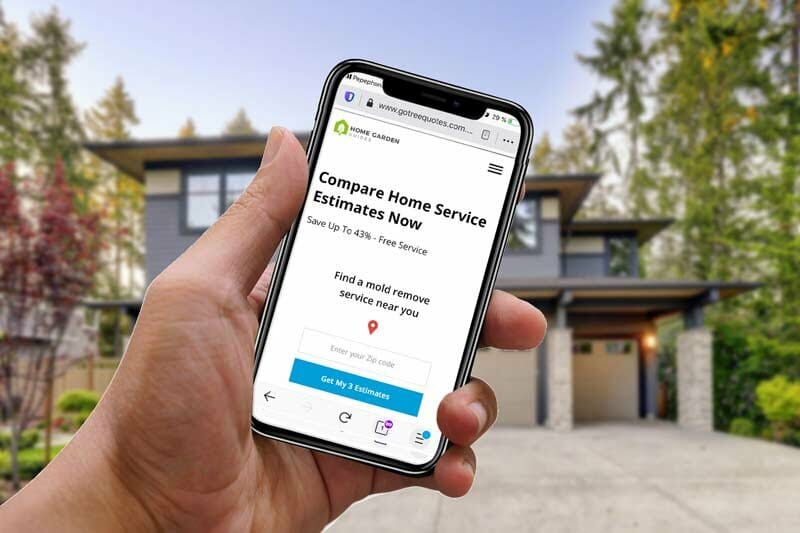 Preparation and Power Washing
Good preparation and a power wash are very important for a successful paint job. Power washing equipment's typical range cost is $35 to $100 per project including chemicals. Even if you have an option to rent the power washing equipment and to do the power wash by yourself, it is highly recommended to leave this task to the professionals because they know the appropriate pressure that will not cause damage to your brick surface.
Diluted white paint applied on a brick surface is a process known as a whitewash. Whitewash offers a vintage look at a lower cost than fully painting your home's exterior. This painting project will cost you between $0.45 and $0.80 per square foot for the paint, plus paint rollers, brushes, and a ladder. It can be easily completed as a DIY task, but hiring a pro can ensure a proper thickness of the whitewash layer since professionals have the experience on their side.
Limewash is another alternative to the painting made by mixing water, hydrated masonry lime, and table salt. If you choose to do it yourself, this project's typical range cost is $30 to $60 in materials for the entire house plus $50 to $100 if you need ladders and paint rollers. Limewash does not provide full coverage to the original brick color but rather adds a thin coat of bright white and can be tinted to any color you prefer.
How to Save Money When Painting a Brick House?
The good news is that you can save money on your painting project if you decide to take the DIY route. I will present you with several things and tips on how to do that.
Choose carefully the type of paint that you will use. If you choose to apply multiple paint colors you will spend more money since you have to buy individual paint cans for each color.
For this situation, the recommendation is to buy your paint quart sizes to save money. For example, if you know that you will need just a small amount of red color buy one quart and then buy gallons of paint for the main colors.
Also choosing the paint finish carefully can save you from spending more money because high-gloss and semi-gloss paints cost more than matte paints or flat paints. Also, latex paints are cheaper than oil-based paints and easier to use if you are a beginner who wants to DIY this task.
Renting VS Buying Supplies
Certain painting supplies can be rented so you don't have to buy them because most hardware stores have a rental program where you can rent out certain home improvement supplies.
Another interesting thing is that some local libraries rent out basic home improvement supplies. Check with your local library if they have any tools like a paint sprayer that you can borrow. Also, ask your friends and family if they have some of these tools, that will save you lots of money on your painting project.
Wait for sales in hardware stores and then buy paints, primers, tools, and everything else that you will need.
Also, ask if they have some dented and blemished cans of paint that can sell you for less. Some people will not buy a dented can of paint just because it looks ugly but actually, the content is usually in perfect condition.
In modern times, the Facebook marketplace is a perfect place to order your paint for a cheap price if you are not picky about color or you are going with a standard color like white.
Few More Tips on How to Save Money
One more thing that can save you money, in the long run, is the quality of the current paint on your home. If there are a lot of areas that will need patching and a lot of peeling paint, it is recommended to hire a professional painter to fix all that before starting painting.
This is very important because if the surface is not well prepared, peeling paint will appear eventually, and you will end up repainting in a year and spending lots of money.