It's not hard to screen an experienced painter from an inexperienced one. Most people are just too lazy to do some basic research on who they're hiring.
Therefore, below we'll look into some tips you need to know when looking for a local painter. We'll also cover a few key questions you need to ask them to determine their expertise.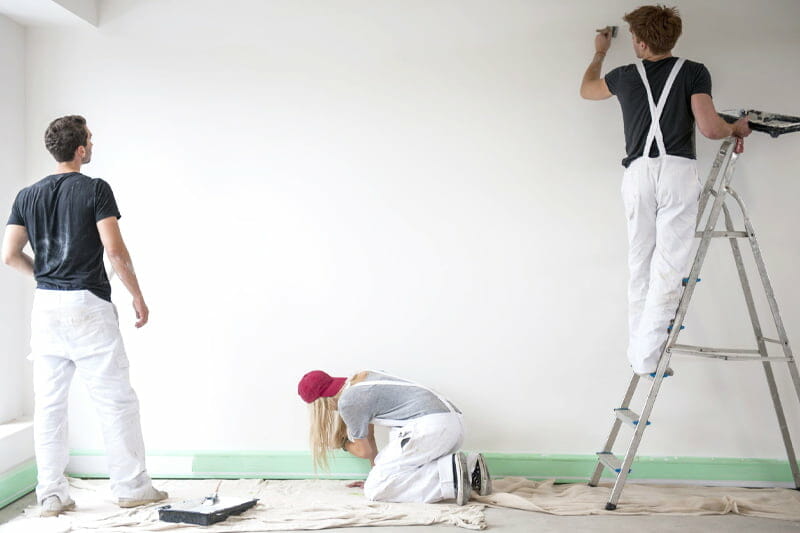 As with anything else, before you start looking for a painter, you need to have a well-detailed plan. Doing this will ensure you have specifics of what you need and makes it easier to find a painter that can work with your budget.
Among the most important elements that must be covered in your plan include:
Timeframe of the project – When do you want the project to be done and how soon do you want it complete? Including this in your plans helps eliminate all the contractors who are swamped with work at the moment. It also helps determine the flexibility of the painting project since painting the exterior is hugely affected by the weather.
Quality of paint – If you want to use the best quality paints for your home, it should be decided way before you start going through the painters' websites. Unless you're looking for a short-term fix, never bank on cheap low-quality paint.
Implications on your home schedule – Hiring a painter and allowing them in your house means you'll need to have someone in the house to oversee the job. Work this out with your family or even neighbor before calling the painter.
Do Your Due Diligence (Website and Online Reviews)
If you don't manage to get a word-of-mouth recommendation, the internet should be your best friend. Take time to look at the online reviews of different contractors then visit their websites to learn more about them.
Look for information regarding how long they've been in business and check out their gallery section to see if you can spot a project similar to what you want.
But since things on the internet can be faked, don't be too trusting with what you see. Be prudent and contact the contractors with questions. You can also opt for an in-person meeting with the painter to decide if they're right for you.
Once you've identified several contractors who seem genuine, the number one industry rule is that you should seek estimates from at least three contractors.
The estimates or quotes should be comprehensive indicating how much everything costs and how they've arrived at their prices. This way, it'll be easier for you to pick a quality contractor that's within your budget.
Nevertheless, don't be quick to rush to contractors with the cheapest quotes. Some of them use lower quality materials or they're still gaining some experience in the industry.
It's better to pay more for an experienced contractor who'll do a good job that lasts a lifetime!
Demand for a Detailed Written Contract
Your final tip, once you've agreed in principle with the contractor, is to ask for a well-detailed contract that includes everything you've agreed to. Among the most important things that should be included in the contract include:
Company information – This means the contractor's name, address, website, office telephone number, etc.
The total cost – Includes taxes, the cost of paint, supplies, and other materials plus the cost of labor.
Payment method – Ideally, you should pay a small deposit first (not more than 40% of the total cost) then complete the payment after the job is complete. All the terms involved in these payment agreements should be included here.
Scope of the work – Ensure that every wall, ceiling, and floor that needs to be painted is indicated. If there's any prep work or cleanup and disposal services required, that should also be clear.
Project timeline – If you've agreed to complete the job in a few weeks or months, that should also be in writing. This way, the painter can't stall the project to increase their paydays (if working by the hour).
Important: Once you've read the contract and it's okay, get a copy and keep it safe. It could come in handy in the event that things go wrong and you have to settle the matter in court.
Questions To Ask a Painter Before Hiring Them
In addition to the tips mentioned above, asking the contractor questions is also a big part of finding the right local painter. Before signing that contract, come with a list of questions that need the right answers.
Here are some of the questions you can consider asking: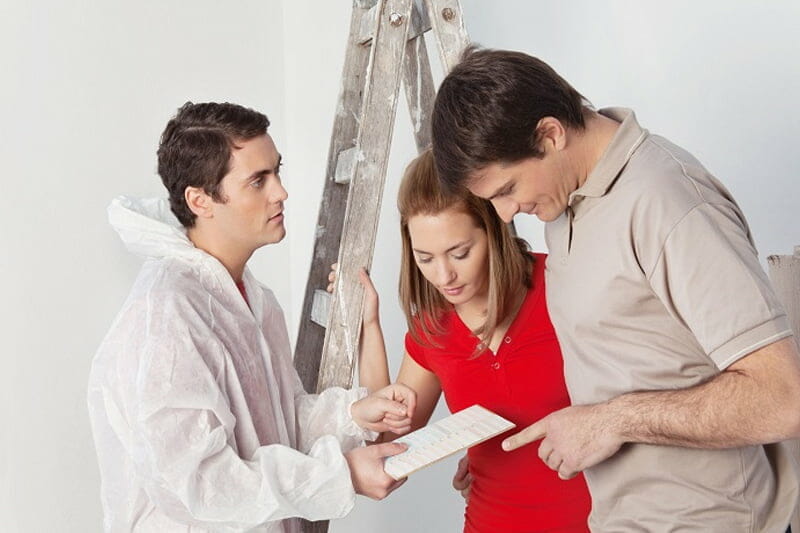 How Long Have You Been in the Industry?
Experience is often the key to mastering any craft and painting is no exception. That's why you need a painter who has been in the industry for several years and has worked on similar projects for a long time.
Keep in mind that many painting companies state their experience in collective years and not individual experience. Therefore, confirm that the painters sent to work on your project have been in the business for at least five years.
What Are Your Credentials? Are You Licensed and Insured?
Licensing is also important for any contractor you hire. Ask them to provide you with a copy of their license number and confirm that they're registered to operate in your state.
Besides the license, the painter should have general liability insurance. This cover ensures that any damage that occurs on your property e.g., paint spills to your expensive furniture, is insured.
Most reputable painters also have workman's compensation insurance, which protects both you and the painters in case anyone gets injured on the job. The cover bears all the medical bills and protects you against any legal action.
To be sure they are insured, ask for a copy of their insurance certificate and contact the insurer to confirm their account is still active.
Do You Do the Work Yourself or Do You Use Subcontractors?
Some companies today opt to subcontract work to other freelance painters instead of using their employees. This is often cheaper for the company but almost always never good for you.
With employees, the company can easily manage and oversee the quality of work delivered but with subcontractors, you can never know their quality or expertise.
Therefore, always go for a painter who works with their in-house team.
Can You Offer References to Some of Your Past Clients
Any company worth their salt should be happy to offer you references to some of their past, happy clients. Make sure the reference has worked with the contractor recently and contact them to find out more about their experience with the painter.
If the reference seems overly selling or more hesitant when answering your questions, avoid them. They're more likely to be the contractor's friend or relative.
What Type and Brand of Paint Will You Use
The quality of paint used will determine the final appearance and longevity of your painted rooms. Therefore, ensure the painter uses the best paints and brands available in the market.
How Long Will the Project Take?
Before starting the painting, ask the contractor how long they think they'll take to complete the job. Once you're both in agreement about the tentative dates, make sure this information is indicated in your contract.
Are There Any Hidden or Underlying Extra Costs I Should Know?
Besides their stated cost of labor, material, and supplies, there are usually other costs that come up once the painting has begun. A painting contractor who's been doing this for a while should know most of them by now.
Do You Guarantee Your Work?
Most contractors today guarantee their work before starting. This shows confidence and faith in their employees. It also means that if you're not satisfied with their work, they'll redo it at no extra cost.
Other important questions worth asking include:
How do you go about the painting? (Your procedure)
Do I need to be home during the painting?
How many paint coats will be required?
How many painters will be involved in the job?
Is the cost of the paints included in the estimate?
How much money will I need to pay upfront?
Is It Worth It To Hire a Professional Painter?
Yes! For most large-scale painting projects, hiring a professional painter is the best decision. While they tend to be quite costly, hiring a pro means that you're guaranteed quality work from the word go.
Other benefits of hiring a professional include:
Painting is done quickly without compromising on quality
Professionals can achieve intricate designs with ease
Many painters get discounts on paints and other supplies making the overall cost cheaper
Pros can assure you of long term quality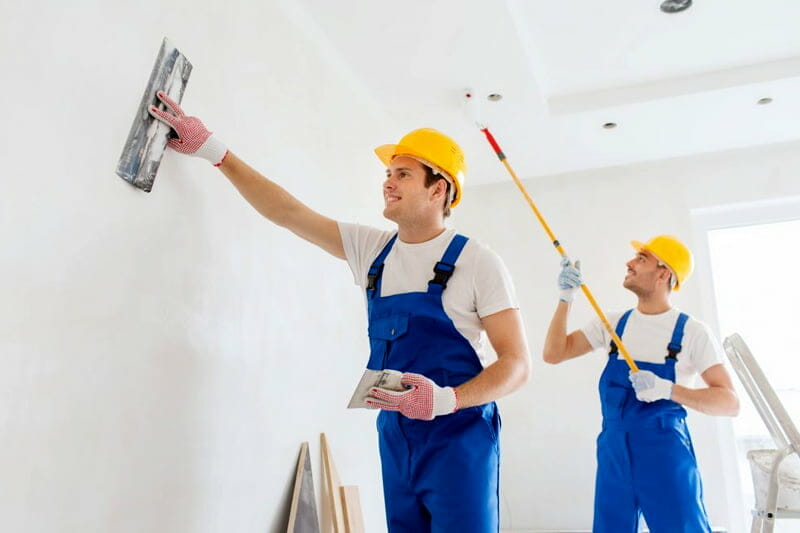 How Much Will Painting Cost?
The total cost of painting your house will be affected by many things. However, most painters will charge anywhere from $2 – $6 per square foot or between $20 – $60 per hour.
On average, you can expect to spend anywhere from $200 – $1000 to paint one room depending on its size and the paints used. Painting the exterior may, however, be more expensive since exterior paints can be costly.
Looking for the Best Painters in Your Area?
Try our FREE service! HomeGardenGuides.com is the fastest and easiest way to get three quotes for your painting project from the best and most affordable contractors near you.
The service quickly matches you with the 3 painting contractors voted #1 by previous users in your area. All you have to do is:
Scroll up to the top of the page and enter your ZIP Code in the blue form.
Give us a few details about your painting project, plus some contact information.
We will then forward your paint job details to the closest three painting contractors, all voted best priced in your area, who will price your job.
IMPORTANT: There is no obligation to hire any of the contractors. This is a free tool and service to be used at your pleasure.