How much a California painter earns depends on the experience, location, and clientele.
On average a California painter earns $41,231 to $53, 500 annually. Calculated hourly, painters earn $18.25 to $21. Experienced painters earn up to double the annual salary of journeyman painters and other painters with less than 15 years of experience.
A range of factors determine how much California painters make.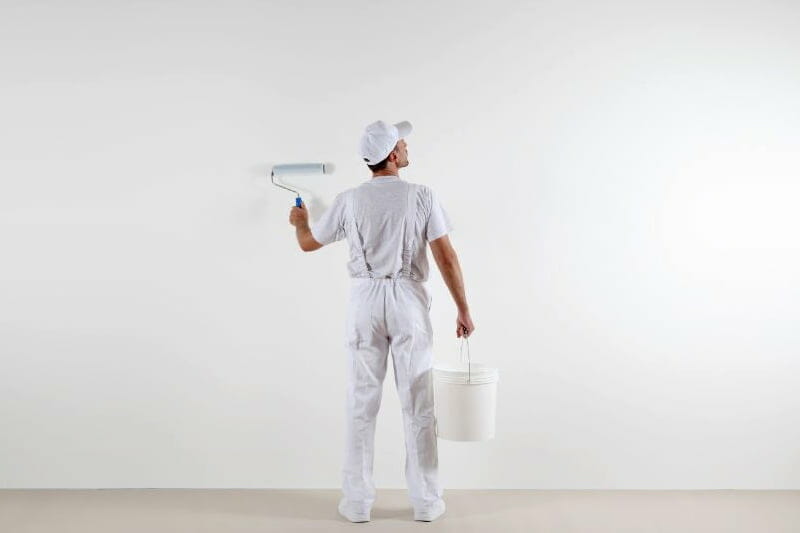 Factors that determine how much a painter makes in California
The part of California that you work in determines how much you earn. Different cities have varying rates of pay and living. Therefore, how much you earn depends on where you live or work.
Here are painter earning rates in different California cities.
| City | Painter Earnings Per Hour |
| --- | --- |
| San Jose CA | $23.27 |
| Los Angeles | $21.97 |
| San Diego CA | $21.42 |
| Sacramento CA | $21.39 |
| Long Beach CA | $20.72 |
| Elk Grove CA | $19.56 |
| Victorville CA | $18.91 |
| Ontario CA | $19.36 |
| Rancho Cucamonga | $18.90 |
The more experienced a painter is, the more they earn. Highly experienced painters earn up to $39. Beginner to mid-level painters earn from $17 – $23.
Additionally, painters have different types of jobs. Commercial painters and residential painters earn different rates. Depending on the task, commercial painters earn more than residential painters.
Summer and spring are appropriate times to repaint a home. In these seasons, painters are busy and charge more for work done.
In winter, there are few painting jobs. Additionally, it is not a good time to paint as painted walls do not dry as fast as during winter.
Winter painting jobs are difficult and expensive.
Self-employed painters earn more than painters employed by contractors.
As a result, most California painters are self-employed.
Supply of Jobs Vs painters
Different regions of California may have many available painting jobs. The more painters there are in the region, the higher the competition and the lower the pay.
When there are many painters available, clients can choose the most affordable painter who will deliver to their expectations. As a result, the painters will have to charge lower rates to attract more clients.
Most California painters have a high school diploma. Beyond that, they have at least four years of apprenticeship to learn on the job.
More experienced painters may have complete trade tests to achieve technical certifications. Depending on the type of job to be completed and the region of work, more qualified painters will earn more money.
Painting surfaces and walls
Apply varnish and wallpaper on walls in commercial and residential projects.
Preparing surfaces for painting. Preparation involves plastering, caulking, sanding, and other activities.
Advise on a color scheme and paint selection.
Order and manage paint supplies for the project.
Ensure that property in a room and floors are protected when painting. Painters cover furniture and floors with a drop cloth to protect them.
Follow their clients' instructions in terms of style and finish.
Assess the surfaces to be painted to determine the types of paint to use.
How do painters charge for their work?
Like all other additional jobs in construction, a painter can calculate how much to charge for work in different ways.
They can charge:
By the hour. However, many clients would not agree to it.
By the job. Here, the painter assesses the number of rooms that the client needs painting. The larger the room the higher the charge. The painter will add the cost of each room to arrive at a final price to charge.
Based on the amount of paint they need for the task.
The tools they need for the job.
Complexity of the task. The higher the ceilings or if your home or room to be painted has an odd shape.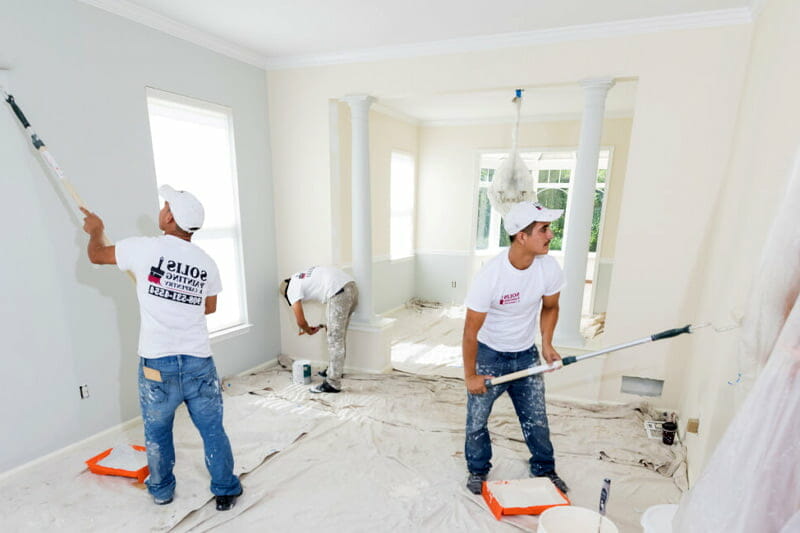 Do California painters need a license?
In California, painters working on projects worth over $500 need a license. Therefore, you must ensure that the painter you hire has a valid license.
A $500 painting project is as small as painting a living room.
What can happen if you hire an unlicensed painter?
When hiring a painter, always make sure that you hire a licensed painter.
Here are some negative consequences of hiring an unlicensed or unregistered painter.
They may not deliver as agreed.
Unlicensed painters will quote a low price to get your contract.
Unlicensed painters may have convictions for crimes
It will be difficult to recover money from unlicensed painters from other states.
Shoddy work. Licensed contractors have passed practical and written examinations to show their experience and competence.
You will have to pay for any damage or accident during the job since unlicensed contractors do not have insurance. It will cost you more if an unlicensed contractor causes damage to your property.
It will affect the value of your property.
It may void your home insurance.
Should I DIY or hire a painter?
If you do not have the time or skills to paint, it is best to hire a painting contractor.
If you choose to hire a contractor, ensure that you hire a registered painter. Get at least three quotes from registered painters. It helps you to find affordable painters who will deliver according to your preferences.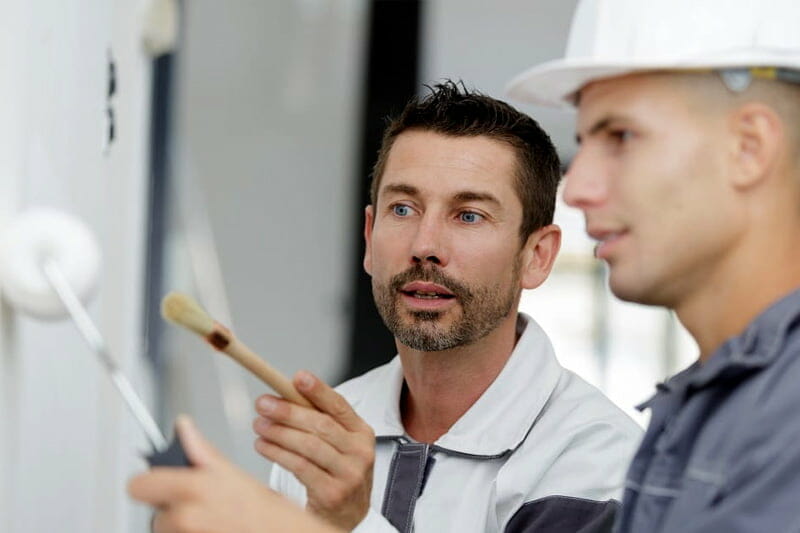 Hire a pro for all California painting jobs
Homegardenguides.com is a free-to-use tool that connects homeowners to professional painters.
To use this tool:
Enter your zip code at the top of the tool.
Fill in the form to provide more details on the service you require.
You will receive three quotes from professional painters.
Contact the provider who falls within your budget and hire them to complete your painting project.