Paint is very vital both for the interior and exterior of a home. It adds a protective coating that helps preserve the walls from the elements such as humidity, sun, and rain. It also slows down the home's wear and tears.
Interior painting cost tends to vary due to job size, location, finish options, and the condition of the wall. If the house is new, the price may be lower because you will not need any repairs. Some repair jobs usually increase the cost substantially, especially if there are mold remediation costs involved.
Typically, the average cost of interior painting is $1.50 to $3.50 per sq. ft. This includes labor and materials. For a 12 x 12 interior room, expect to pay $150 to $325. For a typical 1,500 square foot house, you can pay about $2,150 to $5,750.
The price can affect by higher ceilings, trim work, and baseboards. Also, factors such as your location, repairs, cost of materials, and finish options may influence the job's final cost.
Average cost for interior painting
| Services | Quantity | Low | High |
| --- | --- | --- | --- |
| Interior wall painting cost | 300 Sq ft. | $229 | $308 |
| Wall painting labor cost | 17 Hrs | $570 | $1,388 |
| Wall painting job supplies | 300 Sq ft. | $16 | $16 |
| | | | |
| Total per square foot | | $2.91 | $6.11 |
| Total for project (15, 000 sq ft. house) | | $40,150 | $84,095 |
The national average materials cost for interior painting is about $0.85 per square foot, coming in between $0.73 to $0.98. The cost can go up to $4.41 per square foot for labor and materials, coming in between $2.84 to $5.98.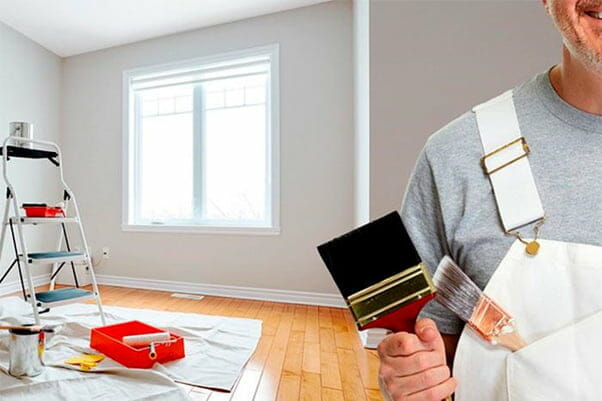 What do painters charge per hour?
Most painters will charge you approximately $49 to $70 per hour for your painting project. This cost varies widely depending on the region, season, experience level, size, and project type.
It is essential to do some research to determine what most painters in your locality charge for painting the interior or exterior of homes. Also, ensure you know exactly what you want, the size of the surface, and the finish option you would like. This will help you get the right estimate for your project.
Do local interior painters need to be licensed?
Typically, most states require painting contractors to be licensed and be registered with a local body. If the painter handles jobs that cost more than a certain amount set by that state, he/she must have an operating license.
The licensing requirements vary from state to state. Therefore, the contractors must meet all the requirements of their state to get the license.
Cost to Paint a 12 x 12 room
On average, you can pay up to $400 to $800 to paint a 12 x 12 room. This cost is inclusive of labor and materials. The cost may vary depending on the amount and type of prep work required before you begin painting. If there are critical repairs, the price will shift to the high end.
Painting contractors may take approximately five hours to paint a 12 x 12 room. If doors, baseboards, and windows require painting, the contractors will need an additional three to four hours for the job.
Finding cheap interior house painters
Although most people say cheap is expensive, you can still find affordable painters near you that will help you finish your job flawlessly and on time. However, to find experienced painters near you, you must use some wise techniques that most people do not know. These include: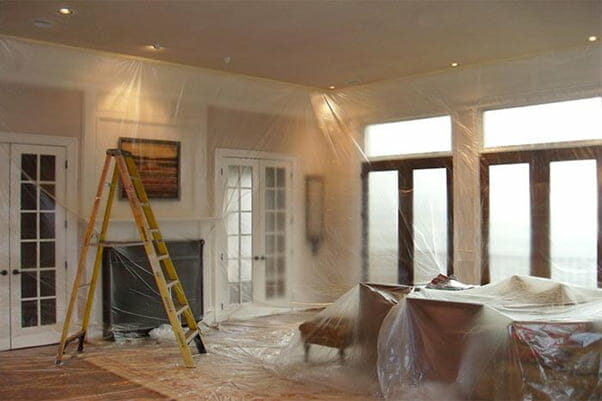 This is a common phrase for many people, but there is a way to get quality painters at cheap costs. If you are looking for painters in your locality or nearby areas, you should put in the keywords plus your town. The search engine will provide you many painting companies and individual contractors in your locality or your surroundings.
Once you find several prospective contractors, ensure you take the time to compare their quotes and qualities. This will help you to get the best painter at an affordable price in your area.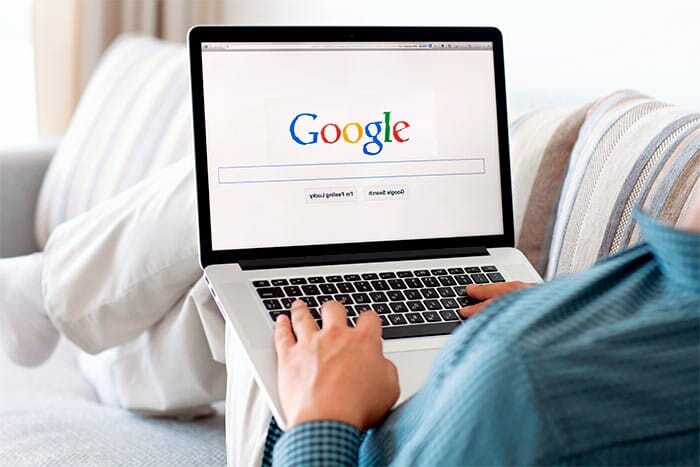 Skip page one of the search engine
Since you are looking for a cheap painter, ignore all the contractors on the first page of the search engine. Also, ignore the yellow pages and yelp.
This is because all companies that appear on the first page of Google pay a substantial amount of money to be found first. Therefore, they are put at the top because they have paid to be considered first.
Since they have used a large amount of money on marketing, they will pass those costs to their customers. As a result, they will regain the money they used to market themselves and gain a substantial profit on top.
To get cheaper quotes, ignore the first page on Google and look for the painting contractors on the second and third pages.
Select a company with fewer projects
By now, you have an idea on how to search for a cheap painting contractor. The next thing you need to do is to eliminate companies by workload.
Most small and upcoming businesses do not have fixed rates for their services. They usually charge depending on the season as well as the type of work. So, if you strategize, you can get your work done at a cheap cost.
Usually, if a company has a workload that may last up to one month, they may increase their prices to control the number of jobs coming in. If you hire such a company, you may end up paying more than the job is worth. Also, since the company will be in a hurry to finish the job to start the next one, they may not work to perfection.
For this reason, you should consider looking for a company that does not have a lot of work. Besides offering you lower rates, the company will do the job to perfection because they will have enough time. Also, they will not be in a hurry to handle another project.
Most people think that a company that has a high demand offers cheaper quotes. This is not always true, and you should avoid such a company if you are looking for a more affordable quote.
It is essential to know when to hire a contractor. If you are not in a hurry, you should wait until the low season, when most companies do not get many painting projects.
The best time to hire a painting contractor is during winter because there is usually little work going on. Since not many people paint their homes during winter, most companies will drop their prices to win clients, if any.
If you need to finish the project as soon as possible and cannot wait until winter, contact some of the painting contractors you found on the internet. Then request them for their services and ask them whether they have many projects at the moment.
The way the company will react will tell you whether they have many projects or not. Also, you may have an idea of whether they will charge you a high or low rate.
HomeGardenGuides.com is a free service that quickly matches you with the top voted local painters.
You can get 3 estimates fast by real certified experts in your area in just 2 minutes.
Scroll to the top of the page and enter your Zip code.
Answer questions about your mold job
Your interior painting details are forwarded to three local experts. They will send you a price estimate for the job and some friendly advice.
IMPORTANT: There is no obligation to hire. This is a free tool and service to be used at your pleasure.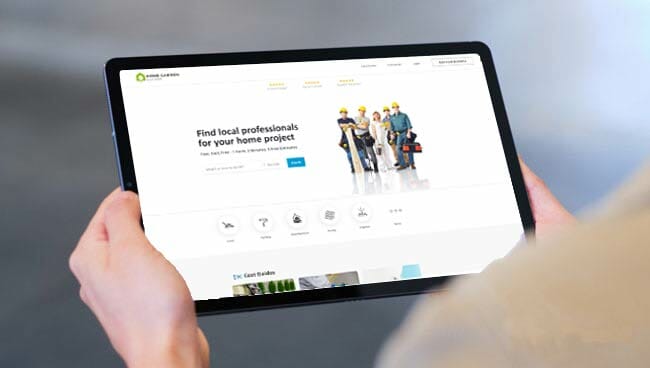 Another fast and easy way to find cheap painters is by asking for referrals and recommendations from people close to you. These may be your friends, colleagues, and family members who may have completed a painting job recently.
Having a direct referral will make everything easy for you. You will not go through all the hassle of looking for a professional on the web. You will also have an idea of how qualified and experienced the contractor is by checking out the job he/she has handled recently.
If you are lucky, you may get a discount when you hire a painter through recommendations. This is because most painters offer discounts to customers who are referred to them by previous customers.
Professional interior painters near me vs. DIY
The question as to whether you need to do the painting job yourself or hire a professional will depend on the size and complexity of the project.
Typically, you must prep the surface and the work site before you begin painting. You will move furniture and other household items and cover the walls, doors, and windows before you begin painting.
If the furniture is heavy, you may need to hire a professional to help you. If the surface needs some repairs, you should hire a contractor to handle them beforehand or DIY them if they are not critical.
Control – The opportunity to paint your walls yourself gives you total control over the job. This means you can do anything you want. Also, this allows you to be creative as you handle the job.
Some contractors may not understand your vision. So, they may not deliver to your expectations. If you do the job yourself, you will bring out everything the way you envisioned it.
Cost – DIY painting costs are usually cheaper than hiring contractors. This is because you will only buy materials for the job and eliminate the cost of hiring contractors, thus saving some extra coins to use on other projects.
Quality – If you prefer to handle the project yourself, you will have to compromise with quality. Since you may not have experience like professional contractors, the painting may not have a professional look and finish.
Time – Professionals are experienced to handle even the biggest jobs and can complete them within a few days. However, if you DIY your job, you will take longer to finish because you may only be painting during the weekends when you are free.
Skill – Professional painters will have more skill than you because they have mastered the art for years. Also, painting is usually the primary job for these professionals. Without such skill and experience, your walls will not have that professional look you may have hoped for.
Hiring professional interior painters
Expert advice – Hiring professionals come with a lot of benefits. For instance, you will get expert advice on painting the wall. Also you will know whether you need special paint for moisture or mold. In addition, the experts will tell you the best paint to use on your walls.
Skill – Professionals are highly skilled and experienced because they have been painting for many years. Therefore, the level of workmanship they will show on your project will be much higher than your skill.
Safety – Contractors have experience in painting different surfaces and heights. Also, they are trained to paint high areas for hours without feeling dizzy or fatigued. Painting such areas yourself may pose a danger to you due to lack of experience.
Professional interior painters
Cost – This is the major disadvantage of hiring professionals, especially if you are working on a tight budget. Most painting professionals charge a high cost if they have many projects to handle. Also, they may recommend materials that may be costly which may make you go overboard with your budget.
What makes a good interior house painter?
Home is where you find peace and joy. So, it is essential to hire professionals that will enhance it and make it even better. A good painter will have certain traits. For example:
Reputation- a good painter should have at least three to five references. This shows he/she is reputable and will not disappoint you. You can check customer reviews and testimonials to determine whether the professional is reputable.
Trustworthy- this goes hand in hand with reputation. If a painter is reputable, it means he/she is trustworthy. You should make sure the painter can be trusted to avoid putting your family in danger.
Competent- a good painter should have the experience to handle different surfaces and heights. He should also have all the necessary experience and know the best paints and primers for different surfaces.
Reliable- reliability is of the utmost importance when hiring painters. No matter how experienced and competent the professional is, everything cancels out if he is not reliable. You need someone who can observe deadlines and deliver exactly what you need.
Is interior painting cheaper than exterior painting?
Ideally, most people can tackle most interior painting jobs themselves because exterior jobs tend to be complicated.
Typically, the average cost to paint a home's exterior is about $2.50 to $4 per square foot. For a home's interior, you can pay about $1.50 to $3 per square foot. These rates show that painting a home's interior may be cheaper than the exterior.