The presence of deteriorating lead-based paint in your home Is dangerous. Hiring an EPA certified lead abatement professional is an effective but expensive option for safely eliminating the lead risk for you and your family.
Professional lead-based paint removal costs range from $8 to $15 per square foot. The cost of removing lead paint from a 1,500 sq. ft. house ranges from $3,500 to $17,000, and prices rise with each square footage increase.
Professionals consider certain factors during the estimation process. These factors include your home's age, location, type of surface, and labor.
| service | Quantity | Low | High |
| --- | --- | --- | --- |
| Lead paint removal cost | Square feet | $4 | $17 |
| Lead paint removal labour cost | Hours | $30 | $80 |
| Lead paint removal job supplies | Avg. | $125 | $350 |
| Lead paint removal window sill | Lineal ft. | $4 | $8 |
| Lead pant inspection cost | Total | $230 | $450 |
| Lead paint encapsulation cost | Sq. ft. | $4 | $14 |
| Lead paint abatement cost | Sq. ft. | $4 | $14 |
Average Estimate per 12 x 12 room: $ 420
The removal method is the most expensive lead paint abatement option, and the average national cost of removing lead-based paint from your home is $3,350. At the same time, average prices of eliminating lead-based paint from large homes can cost you more than $20,000.
This cost includes lead-based paint assessment costs, cost of materials, labor, deployment, and decontamination of protective gear, and safe disposal of toxic waste. Expect to pay extra to replace and paint home fittings such as windows and doors. Since lead-based paint used on windows is prone to faster deterioration due to constant friction, lead abatement professionals recommend removing and replacing your windows altogether.
Cost of replacing windows in the average-sized home range from $1,000 and $15,000. Cleanup and safe lead waste disposal are indirect costs that can significantly increase the overall costs. And even though lead paint removal is expensive, it offers a permanent solution to your lead paint problem.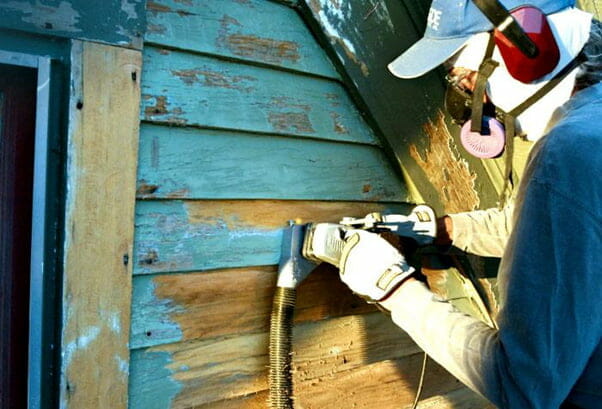 Lead paint removal per square foot
Lead removal costs range from $8 – $17 per square foot. Most lead paint abatement professionals charge their clients per square foot, and removal costs rise with each additional square footage.
Lead paint abatement cost
A lead-based paint abatement project's primary purpose is to minimize lead paint exposure levels within a home environment. Lead abatement costs can be as low as $5 and can reach $15 per square foot. depending on the abatement method, the size of your home, and the scope of work. Abatement methods range from eliminating the risk from lead-based paint in your home to merely containing the risk behind temporary structures (mitigation). You can hire an EPA certified lead abatement professional to perform a lead abatement project, or you could do it yourself.
Lead paint encapsulation cost
Hiring a professional to perform a lead paint encapsulation project will cost $4 per square foot. However, if you want to DIY, you can purchase encapsulants from hardware stores at $50 a gallon or $230 for a 5-gallon bucket. DIY encapsulation costs for a 1,000-2,000 square foot house range from $800 and $1,400. Encapsulation is a lead abatement method that offers a temporary fix to lead paint risks. It is the process of covering up a lead paint surface with paint-like polymer-based encapsulants to prevent direct human contact with lead paint surfaces within the home.
Carrying out a test for lead is the best means of identifying the presence of lead-based paint on both the interior and exterior surfaces of your home. Testing for lead paint in a home is a routine activity during real estate transactions. Also, it can be mandated by local authorities as part of the Childhood Lead Poisoning Prevention Measure. Prolonged exposure to deteriorating lead paint causes the body to absorb high levels of lead into the body resulting in lead poisoning. Young children are especially at risk because their body absorbs lead at a higher rate, and lead poisoning can severely disrupt their neurological growth.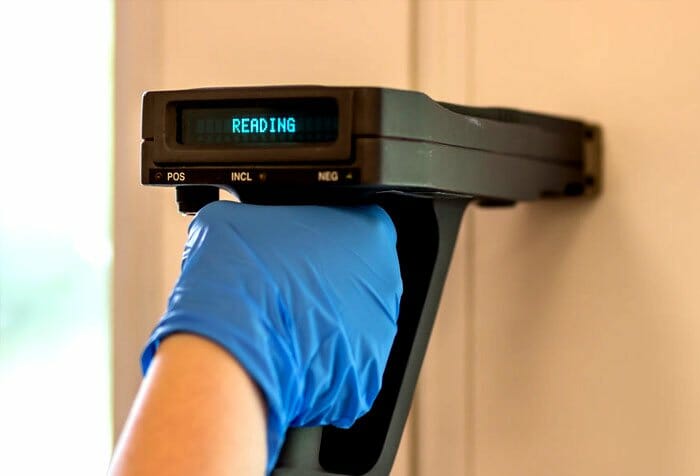 You can choose the lead paint testing method that's most suitable for your current needs. However, the lead inspector could recommend the most appropriate testing option by assessing your house paint condition. There are different means of testing for the presence of lead-based paint in your home. These are lead-based paint inspection, risk assessment, and DIY test for lead using home lead test kits.
Here is a table indicating the cost of inspection and testing type.
| | Average Cost $ | Range $ |
| --- | --- | --- |
| Lead-Based Paint Inspection | $321 | $234 - $700 |
| Risk Assessment | | $800 - $2,000 |
| DIY Test Kit (Price per sample) | | $25 – $100 |
Lead-Based Paint Inspection
Hiring a certified lead inspector is a quick way to have your home professionally tested for lead. During a routine inspection, the lead inspector will test painted surfaces both on the interior and exterior of your home for the presence of lead paint. The average lead inspection costs are around $300. The inspector can test for lead paint with a portable XRF (X-ray fluorescence) machine. Or collect paint samples collected from your home, and send them to a laboratory for analysis.
A lead risk assessment is an extensive evaluation of your home by a certified risk assessor of the potential lead hazards in lead-based paint, lead dust, and soil around your home. The purpose of a risk assessment is to indicate the places in your home where lead hazards exist, determine its origin and urgency, and offer the ideal lead abatement strategy that will provide a solution to your lead problem.
DIY Test for Lead-Based Paint
To avoid the expenses associated with hiring a professional, you can perform a DIY test for lead-based paint with home test kits. Home lead test kits are inexpensive and widely available at home improvement and hardware stores. However, their results are less reliable than having a lead inspection or risk assessment done on your home. You can also collect paint chip samples and send them to a laboratory for analysis if you want more detailed results.
Removal vs. encapsulation
Lead paint in homes (especially in homes with small children) can be a huge problem for homeowners, renters, and landlords. Lead abatement is a series of measures designed to prevent further exposure to toxic lead particles. Although both lead removal and encapsulation are effective means of removing lead from homes, they are widely different in their overall purposes and costs.
As its name implies, lead removal involves sanding or scraping lead-based paint from surfaces to eliminate the risk of lead exposure and poisoning permanently. On the other hand, encapsulation is the temporary containment of lead paint by applying encapsulants (coating materials) to painted surfaces to minimize human contact with toxic lead paint particles. Whichever lead abatement method you opt for will depend on two main factors; the level of deterioration of the lead paint in your home and your budget.
The removal method eliminates lead risk from your home – permanently. However, the process is expensive, time-consuming, and it has the potential to contaminate your immediate environment with deadly lead dust. The Environmental Protection Agency (EPA) has strict regulations guiding lead paint removal and disposal practices. The agency is also responsible for the training and certification of lead abatement personnel and firms. It is essential to hire an EPA certified lead abatement professional who can deploy the proper equipment to get the job done. Lead removal is an invasive abatement method, and the process carries a high risk of exposure. As a result, elaborate government-mandated safety protocols must be adhered to before, during, and after the procedure.
These include:
Homeowners must inform the EPA of any lead removal project five days before commencement.
Evacuation of all residents from the affected home at least a day before lead removal operations begin.
All home furnishings must be removed and stored safely or covered in plastic sheeting to prevent lead dust from settling on them.
Install screens on windows and openings to prevent lead dust from contaminating the immediate environment.
Use protective clothing or equipment like face masks and gloves when working on lead paint to prevent toxic lead dust and fumes exposure. Professionals working on lead paint must comply with EPA approved lead removal protocols.
According to EPA guidelines, the safe disposal of lead paint dust and other waste includes contaminated safety equipment.
Encapsulation is a process by which materials known as encapsulants are applied over lead-based paint surfaces to minimize the risk of lead exposure in your home. It is a cheap and immediate lead abatement method that does not require elaborate government-mandated safety procedures. Encapsulants like Polyurethane Epoxy, polymer-based cement, and chemical compounds are paint-like coating materials that bond with lead paint surface to function as a watertight seal preventing direct human contact with the lead paint.
To prevent the lead paint from breaking or creating toxic lead dust, carefully apply a measured layer of encapsulant over the lead paint surface. Although the encapsulation process requires minimal work-site preparation, ensure that the surface you are about to encapsulate is free from water leaks and is not damaged or peeling in any way. If you notice deteriorating lead paint, fix the damaged area before encapsulating it. You cannot encapsulate surfaces that experience continuous friction, such as; windows, drawers, and cabinets.
Apply the encapsulant over all joints and wall angles to complete the sealing process. Afterward, please wait for the encapsulation layer to dry before painting it with a conventional topcoat paint. Encapsulation can be done in stages because there's no creation of toxic lead dust during the process. Therefore, your family can stay in other areas of the house during the procedure. Encapsulation is not maintenance-free, and it requires regular inspection to check for failures. Encapsulation will not work in areas with high traffic or on surfaces touched continuously or walked on. Encapsulants used in such places, e.g., doors, floors, railings, thresholds, and stairs, often wear out quickly, reintroducing lead paint exposure.
Ways to get rid of lead paint
Professionals perform lead abatement activities to minimize lead-based paint hazards in homes. The methods range from methods that eliminate lead paint to containing the lead paint risk behind coverings or paint-like coating. You can do most of these tasks yourself, but hiring a certified lead abatement professional is recommended for most lead removal methods.
Lead removal is the process of scraping/sanding lead paint from walls and other surfaces inside and on the exterior of your home. This permanent lead abatement method can generate harmful lead dust, and an EPA certified lead abatement specialist must execute it. Professionals must perform safety procedures during the removal process. These include wearing Personal Protective Equipment (PPE) and installing screens on doors, windows, and openings to prevent toxic lead dust from polluting the environment.
This method relies on installing new materials to cover up the existing lead paint. And it is usually done on large and uniform surfaces like walls, pillars, and posts. Installation of materials like plywood, aluminum cladding, boards, and drywall protects residents from exposure to lead-based paints. However, the enclosure method does not eliminate the lead hazard, and the danger returns anytime you remove the covering.
Encapsulation is an inexpensive and easy lead abatement method. And it is done by merely covering lead-based paint with encapsulants (thick paint-like materials) that creates a watertight seal that prevents direct human contact with the lead paint.
Chemical stripping is an effective and safe method of lead removal. The use of chemical strippers prevents toxic lead dust, and it protects the wall surfaces from damage. The process works by applying the adhesive chemical stripper on the lead paint to bind both the paint and the stripper. The stripper is then carefully peeled off the surface, pulling the lead paint with it.
The replacement method is a means of permanently eliminating the risk of lead paint exposure in your home. Under this method, house fittings like doors, windows, sculptures, and other decorative moldings with lead paint are removed and replaced.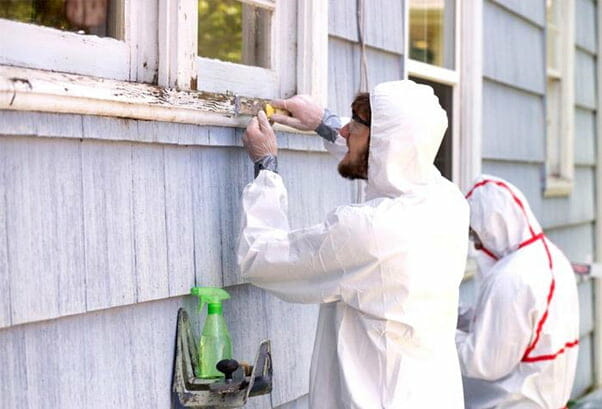 In the United States, federal laws enforce and subsidizes lead paint abatement methods, including testing for lead paint. The United States Congress passed the federal Lead-Based Paint Poisoning Prevention Act (LBPPPA) in 1971. The LBPPPA permits the Department of Housing and Urban Development (HUD) to regulate and authorize funding to detect and abate lead-based paint hazards in federally assisted housing. Although the LBPPPA mandates financial subsidies for testing and leads abatement programs in federally assisted housing, similar federal grants dealing with lead-based paints in privately owned housing do not exist.
In 1992, the U.S. Congress made significant corrections to the LBPPPA and passed The Residential Lead-Based Paint Hazard Reduction Act of 1992, otherwise known as Title X. Among other things, Title X authorized the Department of Housing and Urban Development to approve and disburse federal grants to state and local authorities to address and mitigate lead-based paint hazards in privately owned housing. The law also gave the EPA sweeping powers to enact and enforce regulations concerning firms and contractors paid to renovate, repair, and paint (The Lead Renovation, Repair, and Painting (RRP) Rule) houses built before 1978. The rule also gave the EPA the power to monitor the accreditation process and control the training and certification of professionals involved in lead-based paint assessment, inspection, and abatement.
Should the painter be accredited?
According to the EPA's Renovation, Repair and Painting (RRP) Rule, firms that receive certification from the EPA to perform lead abatement projects must hire certified renovators trained by EPA-approved training providers and must follow lead-safe work practices. The RRP Rule does not apply to homeowners who renovate, repair, and paint their own houses; however, they must abide by EPA's lead removal and disposal safety guidelines when working on lead paint.