Nothing else gives a metal roof a new lease of life like a fresh coat of paint. Repainting a metal roof is a relatively inexpensive way to prolong its life and make your home the envy of your neighborhood.
The total cost to paint a 1500 square feet roof range from $1,597 to $3,304. Average prices range from $1.26 – $2.7 per square foot. Professional painters charge between $35 – $50 per hour, depending on the roof's slope and condition.
Professionals can charge you extra for cleaning and prepping. A power wash can cost between $247 – $600 per hour. Total material and labor cost to clean, prep, and paint a roof can range from $1,843 to $3,904.
| Service | QTY | Low | High |
| --- | --- | --- | --- |
| Metal roof painting cost | Square feet | $1 | $2.4 |
| Metal roof painting labor cost | Hours | $35 | $50 |
| Metal roof -paint job supplies | Square feet | $0.26 | $0.36 |
| Total per square foot | | $1.26 | $2.76 |
| Total for project | | $1,597 | $3,304 |
Average per sq. ft. Estimate: $ 2.01
Average Project Estimate: $ 2,450
Metal roof painting per square foot
Most professionals quote their roof painting prices based on the client's roof size. Large roofs are more expensive to paint than smaller roofs. Calculating roof painting prices according to square footage, makes it easier for clients and professionals to agree on project costs quickly.
If you're hiring a professional to paint your roof, expect to pay between $1.26 – $2.7 per square foot for labor and materials. Labor costs alone range from $1 – $2.4 per square foot, and homeowners must know that labor costs make up around 70% of roof painting prices. The average price for materials is $0.31 per square foot, and material costs can range from $0.26 to $0.36 per square foot, depending on the quality.
Prices for additional work such as cleaning and prepping your roof for painting range between $0.15 – $0.50, or $15 – $50 per 100 square feet. Average cleaning and prepping costs for a 2,500 square foot roof is between $375 to $750. Professionals may bill you separately for the service or include it in their overall pricing. Professionals may not include fees for cleaning and prepping in their painting estimation. When talking to a painter, it is always good to ask if he performs roof cleaning and painting preparation.
Metal roof rust repair and prepping
Metal roofs are comparatively easier to maintain than other types of roofing. However, they are still vulnerable to rust that creates holes in metal roofing sheets, causing them to leak. Manufacturer's attempts to lessen the risk from rust has led to the development of galvanized metal sheets and protective coating for metal roofs. Yet, the effects of prolonged sunlight and water pooling on roofs can destroy the roof's protection and damage the roofing material.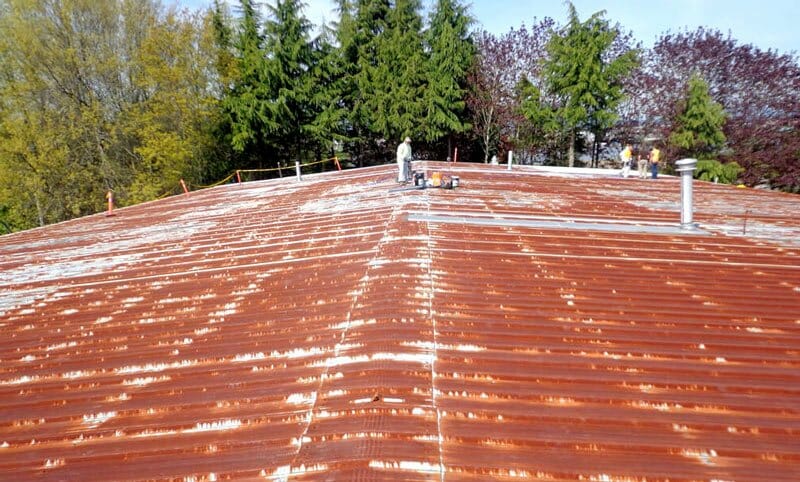 Rust damage in metal roofs can be repaired by a professional. In situations where excessive rust has created rusty holes and cracks in your metal roof, professionals can restore the roofing material with urethane roof cement and steel roofing mesh.
Properly repaired metal roofs can last for many more years, keeping your home cool and offering protection from the elements.
Below are the steps involved in the repair process.
Remove rusted screws and washers and replace them. If required, repair rusted holes around fasteners before putting in new screws.
You can begin the repair process by spreading a mixture of roof cement across the damaged part of the roof. Ensure that the cement overlaps the hole you want to repair by at least 1.5 inches on every side.
Cover the cement patch with a piece of steel roofing mesh. Spread the second batch of roof cement mixture over the steel roofing mesh. Cover the new cement patch with a new piece of steel roofing mesh, and apply a final cement batch.
Compress the entire layer of cement and steel roofing mesh to make it as airtight as possible. Afterward, smoothen the repair patch to make it blend into the surrounding roof surface.
Wait for the cement to dry, and move on to other areas in the roof that needs repairing.
Apply rust-inhibiting metal roof primer to the repaired areas. You can also apply roof coating to protect against weather and sunlight damage.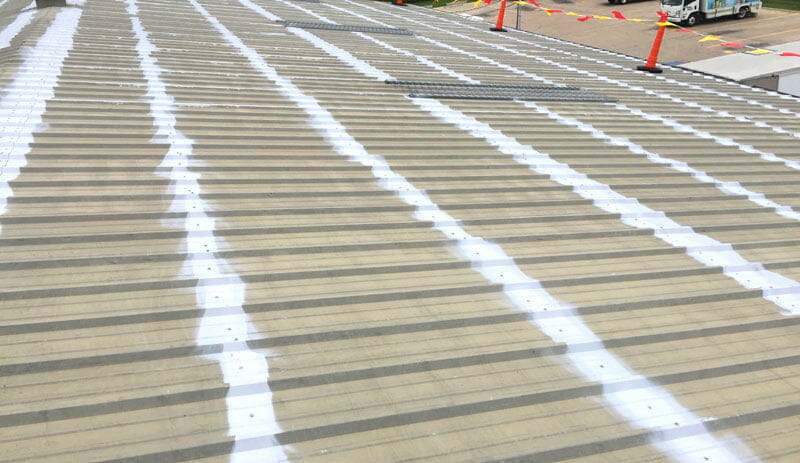 Preparation is a vital stage in the roof painting process. Professionals must perform each step involved in the process thoroughly to avoid roof repair failure.
Below are the steps involved in the preparation process.
Sweep all leaves, tree branches, and other debris off the roof.
Power wash entrenched roof dirt or scrub with water and a cleaning agent. To expose rust spots, use a hard, stiff brush to remove flaking paint and mold growing on the roof surface.
Use a wire brush with chlorine bleach and trisodium phosphate solution to remove discoloration caused by algae.
Flush down the roof with a power washer. A power washer can help complete the job faster and can easily remove rust spots in challenging to reach areas.
Leave the roof to dry before commencing any repair work.
Roof painters shouldn't just touch up a roof in need of a complete restoration. Homeowners who skip on essential roof treatments and repairs using inferior quality materials and paints may find themselves having to perform an expensive roof replacement down the line.
Metal roof paint vs. outdoor paint
Metal roof paint is distinct from ordinary exterior house paint. Although both types of paints are for outdoor use, they are formulated to perform different purposes. Metal roof paint and coatings are renowned for their exceptional waterproofing, strength, durability, and cooling properties.
Here are a few advantages of metal roof paint
Metal roof paint contains unique energy savings properties that help your home maintain a cool temperature. These properties help dissipate excess heat produced by sunlight and prevent your metal roof from absorbing too much heat into the building.
Metal roof paint has higher longevity than most paints used for both home interiors and exteriors. Metal roof paints have an average lifespan of more than ten years.
Metal roof paint can disperse more than 70% of the sun's heat, helping your home to maintain a cooler indoor temperature, ultimately saving you money on air conditioning bills.
Roof paints are formulated to be high quality and to tolerate harsh climates. They can retain a high degree of their molecular integrity after decades of continuous exposure to extreme sunlight and adverse weather conditions.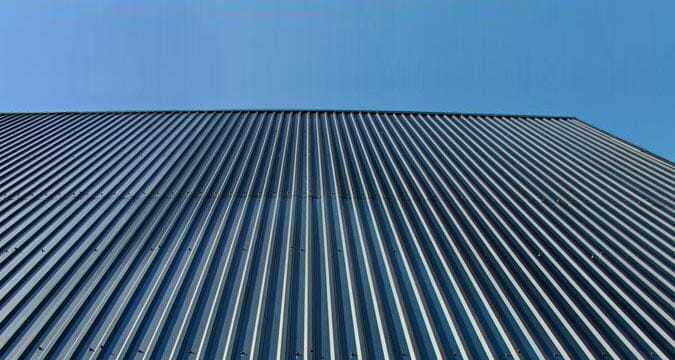 Below are a few disadvantages of exterior paints
Acrylic-based exterior paints are bereft of glossy coating, and painters must apply several layers of paint before achieving a shiny perfect finish. This practice increases the cost of your painting project.
Most types of exterior paints are not durable. They quickly deteriorate, and they tend to crack and peel off the wall surface within 3 to 4 years.
A coating of exterior paint may require between 4 to 8 hours of drying before a pro can apply a second coat of paint. Certain types of oil-based exterior paint require up to 24 hours to dry.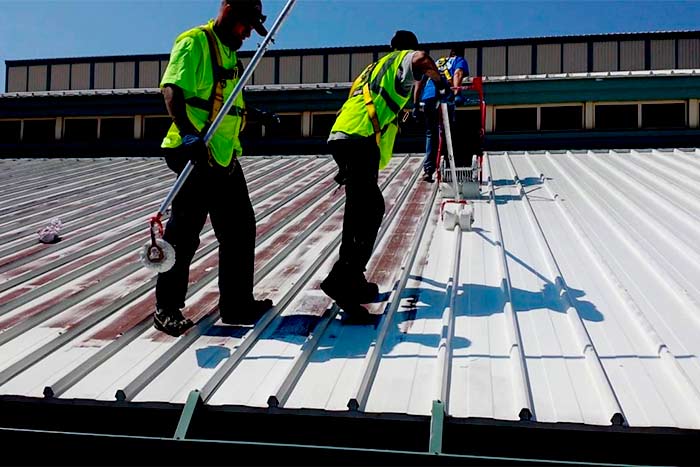 DIY vs. Professional painting cost comparison
| Service | QTY | Avg. DIY | Avg. Pro |
| --- | --- | --- | --- |
| Metal roof painting cost | Square feet | $.40 | $2.3 |
| Metal roof painting labor cost | Hours | | $35 |
| Metal roof paint job supplies | Square feet | $0.40 | $0.30 |
| Total per square foot | | $0.40 | $2.60 |
| Total for project | | $600 | $3,900 |
Average DIY Estimate: $600
Average Pro Estimate: $3,900
Cost to paint an average size metal roof
What is regarded as an 'average size' roof varies by location. But in the U.S, an average size roof is typically considered to be between 1,700 – 2,000 square feet. In this article, we will assume an average-sized roof to be 1,700 square feet.
The average cost of painting a 1,700 square foot roof is $3,417, and depending on the roof difficulty and material quality used, it is reckoned that you'll end up paying between $2,142 – $4,692. However, paying for labor alone will cost $1,700 – $4,080 in professional fees. For D.I.Y roof painting, the average cost of buying enough materials to paint a 1700 square feet roof is $527. Homeowners can spend between $442 – $612, depending on the quality of the materials.
Now, professionals will consider certain factors when estimating the cost of painting any roof. No two roofs of the same size will cost the same amount to paint because the condition and design of each roof play a considerable part in determining its total painting costs. Heavily weathered and rusting roofs will require substantial prepping, which will drive up the paint job's overall cost. Several layers of rust, embedded dirt, debris, and old paint may have to be scraped and removed during the prepping process. Preparing a 1,700 Square feet roof usually adds about $800 -$1,000 to your overall painting costs. Also, the use of metal roof anti-corrosion treatments and primers adds to your eventual costs.
How often should a metal roof be painted?
Metal roofs should be painted every 10 -12 years, which is almost the time it takes the protective coating to disintegrate. However, unusually extreme weather conditions may damage roof coating and accelerate paint fading. But otherwise, a high-quality roof typically needs to be repainted every ten years.
How long does paint on a metal roof last?
Metal roofs come with a 20 -30 year paint fade warranty, and homeowners can now purchase increasing brands of high-quality metal roofs with a lifetime warranty. Specific colors perform better over time than others. Inorganic or ceramic color pigments developed from metal oxides have superior fade resistant capabilities than organic pigments. Examples are beige colors and other earth tones like green and brown color variants.
Can I paint a galvanized metal roof?
Yes, you can paint a galvanized metal roof just like any metal roof. Galvanized metal is made by plunging a steel sheet in molten zinc, which oxidizes rapidly to develop a solid layer of carbonate/oxide coating that shields the new zinc surface from rust and damage.
Galvanized metal roofs have a brilliant silvery appearance, which is relatively unstable and does not adhere very well to paint. Also, "white rusting," a circumstance where a layer of white rust forms on weathered galvanized surfaces, is a common problem in moist and humid climates.
Before painting a galvanized metal roof, ensure that the surface is clean and remove all the white rust during the preparation stage to ensure that the paint adheres properly to the roof. The best paints for a galvanized metal roofs are acrylic (water-based) paints and coatings and high-quality acrylic anti-corrosive primers. Acrylic paints and primers will adhere quickly to clean galvanized metal surfaces and offer long term protection.