In the right colors, a stone fireplace forms an excellent rustic centerpiece for your house. However, when looking to reinvent the design and aesthetics of your home, painting a stone fireplace can prove to be a challenge.
But that's not to say it's impossible. With the right knowledge about paints, colors, and the different stone painting techniques, you'll be able to handle the job like a pro.
Here's your complete guide to painting a stone fireplace.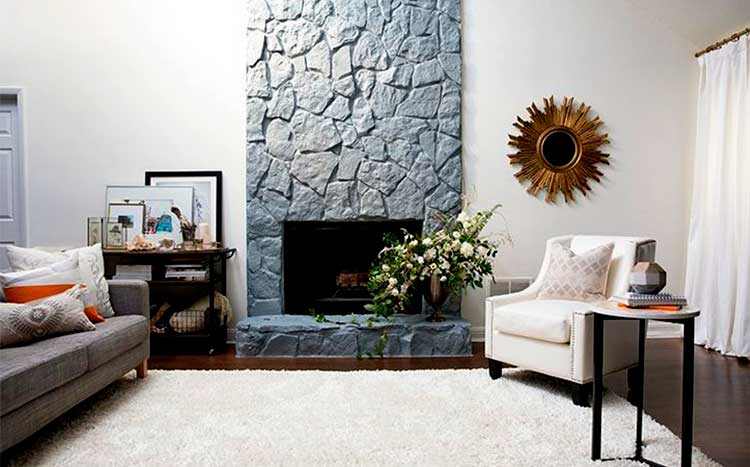 This depends on whether your fireplace is active or not. An active stone fireplace will require heat-resistant paint that can withstand up to 250 degrees of heat.
The most popular option in the market today is interior latex paints coupled with an oil-based or water-based primer and sealer.
Latex paints are quite easy to use, have no unpleasant odors, are more durable, and come with a wide range of finish options including gloss, semi-gloss, flat, eggshell, and satin.
Other paint alternatives that would also work well with stone fireplaces include acrylic paints, milk paint, chalk paint, and watered-down paints.
Note: The paint used for the exterior fireplace shouldn't be the same as the one used on the interior firebox. For a functioning firebox, you'll need to obtain a special heat-resistant paint.
The Best Paint brands for a Stone Fireplace
While Latex paints are the best for painting your stone fireplace, not all brands can be trusted for your project. Here's a list of our selected best paint brands you can consider for your stone fireplace.
Choosing the right color to paint a stone fireplace
Once you've nailed down the type of paint to use, the next big decision you'll have is choosing the colors. Depending on the final look you want, go for colors that will match, or at least be neutral with everything in the house.
Some factors that could help you choose the right paint color include:
Your personal style and room decor – Do you love solid colors? Paint over the stone fireplace with a color that complements the room decor. Bold shades of white, off-white, cream, grey, beige, and black can be a good fit for this.
The mood you want to project – If you want to create a dramatic feel to the room or make it look cozier, dark grey, black, and other dark colors will do the trick. For a calm and tranquil effect, go for the softer and lighter shades of colors.
Lighting – If the fireplace is in a dark room such as the basement, painting light colors like creamy white can help brighten the room. White fireplaces also make a room appear more modern.
You can also try whitewashing your fireplace using white paint or use different products like the Brick-Anew stone kit. These alternatives are perfect if you want to keep the colors neutral while allowing a light shade of stone to peek through.
How to Paint a Stone Fireplace Step-by-Step
Painting a stone fireplace may not be the toughest of DIY jobs, but it's not a walk in the park either. To get your desired results, you have to get everything right, from the materials to the prep work and even the painting technique.
Painter's tape
Drop cloths
Paintbrushes
All-purpose cleaner
Paint trays
Wire scrub brush
Protective gloves
Acrylic Latex caulk
Sandpaper
Goggles
Latex paint
Oil-based primer
Paint roller
Bucket and water
Step 1: Prepare the stone fireplace
According to most expert painters, this is the most important part of the job. Remove everything around the fireplace including your decorations, fireplace equipment, and screens.
Next, cover the floor with drop cloths and use the painter's tape to mask the mantle and all areas you want unpainted.
Step 2: Clean the fireplace surface
Use your paintbrush to brush up the fireplace surface to remove the dirt, dust, and other loose mortars. If there is old paint on the bricks, be sure to remove it first. Next, mix some water with your all-purpose cleaner and clean the stone surface using a wire scrub brush, rinse it then leave it overnight to dry.
Be on the lookout for any large cracks (bigger than a hairline crack) on the surface. If any, use an acrylic latex caulk to fill it before proceeding with the painting.
Stone fireplaces require at least one coat of primer and sealer for an efficient process. You'll need an oil-based primer for this to ensure the paint adheres well on the stone surface and that any soot or ash residue is easier to wipe from the surface.
Apply a coat of the primer evenly on the stone surface then let it dry before commencing to paint. You might need 2 – 3 coats of primer if the fireplace surface has cracks that need repair.
Once everything is dry, you can begin painting the surface using your chosen latex or caulk paint. Use a roller for better coverage then get your paintbrush and go over any missed spots. For best results, use two paint coats.
Your last step is to clean up your workspace. Clean your paint brushes, rollers, and tray with warm water and soap then dispose of the depleted paint cans.
Carefully remove the drop cloths from the floor then finally get rid of the painter's tape before the final paint coat completely dries up. This should be done at 45-degree angles to avoid ruining the fresh paint.
Which paint technique should you use on the stone fireplace?
Since the surface of a stone fireplace surface isn't always smooth, painting using conventional methods won't give the best results. You'll, therefore, have to adopt other techniques.
Among the most popular techniques you should consider include:
This technique involves painting over your stone fireplace with a thin paint solution, allowing some of the stone to show through.
To do this, you'll require;
Latex / Chalk paint (Light gray or Creamy white)
Paintbrush
Water
Drop cloths
Painter's tape
Staining pads
Protective gear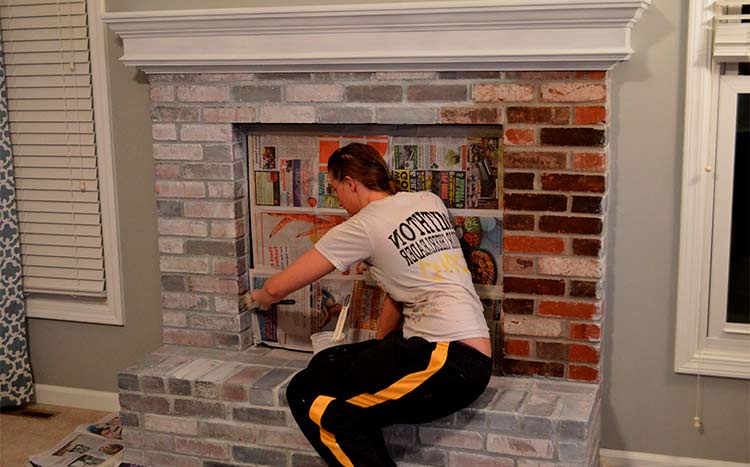 How to whitewash a stone fireplace
The first step is the prep work. Clear the area around the fireplace and clean it, lay the drop cloths, then tape off the areas that shouldn't be painted. Keep in mind, whitewashing is a little messy.
Next, mix one-part water with one part of the latex or chalk paint and stir. If the color is what you were looking for, brush on the solution over each stone and use the staining pad or a rag to wipe away any excess paint.
Once every stone is covered, look back to ensure the stone is peeking through the paint. You can add several extra coats in this step until you get your desired color, then leave it to dry.
Painting the stone fireplace a single solid color is easy and may take the shortest time. Due to the boldness of solid colors, you'll have to consider the wall and furniture colors to ensure that the new painting matches the intended decor.
To do this, you'll require;
Protective gear
Latex paint and oil-based primer
Paintbrushes and roller
Wire-scrub brush
Cleaner
Drop cloth
Painter's tape
How to paint stone fireplace a solid color
Your first step would be doing the prep work including crack repairs, laying drop cloths, and cleaning the stone fireplace using water and a cleaner.
Next, use a paint roller to apply the primer and get a paintbrush to cut in where the roller can't reach. Once the primer is dry, apply the paint in a similar fashion. You can add two or three coats to improve coverage.
Finally let the paint dry, remove the painter's tape, then clean up.
Painting for natural and textured looks (Faux painting)
Faux painting is a painting technique that basically replicates the appearance of your stone fireplace. If you don't want to whitewash or paint a solid color, this painting option allows you to retain the authentic 'stone' look but in lighter shade/color.
To do this, you'll need;
Protective gear
Paintbrush and roller
Painter's tape
Drop cloth
5 shades of Latex paint e.g (Brick-Anew latex paint)
Sponge
How to Faux paint your stone fireplace
First, lay your drop cloths then set the painter's tape on the mantel and other areas around the fireplace.
Next, clean the stones and let them dry then apply the paint in accordance with the instructions on the kit. Ideally, you should first paint the base coat then apply the 5 shade paint using the paint roller.
Finally, clean up your workspace and leave the paint to dry.
Quick tips on the painting process
Use top-down painting
If you've completed any DIY painting before, you probably know that painting from the top downwards is the best way.
Whether you're applying the primer or paint, the top-down painting will give you the best coverage as well as ensure paint/primer doesn't drip into already painted areas.
Use professional-grade paint brushes
Even though paintbrushes aren't recommended because they leave brush streaks, you'll be grateful for having professional-grade brushes with synthetic bristles.
These work well with latex paints and will be very useful when cutting in and painting tight crevices.
Start with mortar joints
Unlike flat surfaces, the mortar joints on stone fireplaces create an opportunity for the paint/primer to form little drips. To avoid this, start with these mortar joints and paint from there to the rest of the raised surface.
Avoid using excess paint when brushing through these joints, and always brush back to prevent the paint from pooling within the joint path.
The main challenge with painting a stone fireplace is the use of the wrong paint and failure to use a primer. While this isn't an issue in inactive fireplaces, it's a big problem for active fireplaces.
The wrong paint allows dirt and soot to damage and ruin all your paintwork. It may also be too thin that the bare stone becomes visible through the paint – beating the point of painting the fireplace.
How to paint fireplace surround
The fireplace surround refers to that framework protruding from the outer wall of the fireplace and surrounds its opening. In some cases, this surround could be made from stone, but most times it's made from wood.
If you want to paint it to a lighter or darker color, you'll need;
Drop cloth
Semi-gloss paint
Protective gear
Sandpaper
Primer
Paintbrush
Your first step will be cleaning the surround surface with equal measures of water and vinegar solution. Next, tape off the areas you don't want to paint then lay your drop cloths.
If the surrounding is wooden, use the sandpaper to sand down the rough spots in the direction of the grain. Wipe down the dust, apply the primer with a paintbrush then let it dry.
Finally, apply a coat or two of the semi-gloss latex paint leaving each coat to dry then clean up your workspace.
How do you paint the inside of a stone fireplace (Firebox)?
With the firebox, you'll first have to clean the inside, removing all the wood leftovers and ashes from past fires. Once all the dirt and debris is removed, use soap and water to scrub its floor and walls until everything is clean, then leave to dry.
Next, take a high-temperature paint and apply a coat of it on the firebox wall and floor ensuring that all the stains are covered. (Black paints are the most popular for this as they are better at hiding stains compared to other lighter options).
Be sure to open your windows and door for maximum ventilation since the high-temperature paints have really strong odors.
Finally, leave it to dry and clean up your workspace.
Yes, due to the high temperatures experienced in fireplaces, manufacturers have developed high-temperature paints that can withstand up to 1200 degrees Fahrenheit without peeling or bubbling.
Yes! Statistics from the National Association of Real Estate Appraisers show that a fireplace can boost your home's resale value by up to 12%.