The decision to replace or paint your vinyl shutters makes a huge difference in the appearance of your home. But like most homeowners, you probably aren't sure when to paint and when to replace.
You should consider painting your vinyl shutters when they are still in good shape but only appear faded. If they show signs of cracks, wear and tear, or they're broken, replacing is your best option.
Cost can also be a factor, so you need to weight up the DIY vs pro painting and the cost of replacement.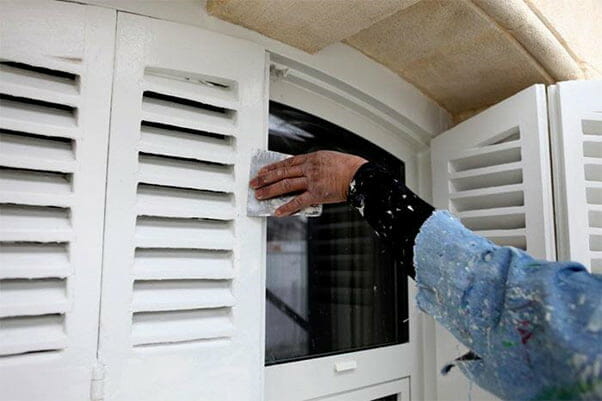 The average American home spends between $1100 – $3,500 on shutter installation, depending on the material used. But since Vinyl is one of the cheapest shutter materials, your replacement costs will be on the lower end of this range.
Other factors that may influence your total costs include; where the shutters are installed (interior or exterior), the size of the shutters, and the labor required (Pro or DIY).
The price of exterior vinyl shutters ranges between $40 and $60 a pair, but it can extend to $100 depending on your retailer. Interior vinyl shutters will cost you anywhere from $100 to $300.
The labor costs take up most of the replacement costs since the experts will have to remove the shutters and reinstall the new ones. It may take at least two hours to replace each vinyl shutter.
You can expect to pay anywhere from $60 to $100 per hour for these tasks.
| Product | Quantity | Low | High |
| --- | --- | --- | --- |
| Vinyl shutter cost | 15" wide shutter | $320 | $480 |
| Shutter installation labor cost | 2 hours per shutter | $480 | $800 |
| Total per window | Square foot window | $20 | $45 |
| Total per job | 8 Shutters | $800 | $1280 |
Average cost to replace vinyl shutter: Each: $130
Total house: $1,040
If you choose to replace the vinyl shutter yourself, you'll spend about $50 on each shutter and $400 for the entire house (8 windows).
Keep in mind, these figures are just estimates, and they don't account for taxes or the real-time price for each service. The total may vary slightly depending on the professionals you hire and retailers you purchase shutters from.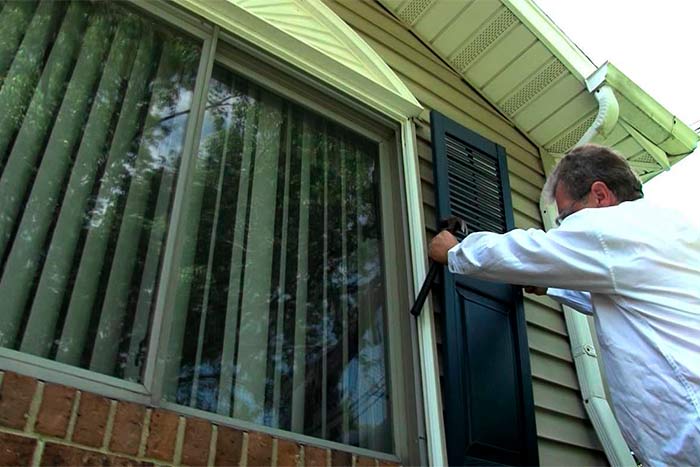 Cost to paint vinyl shutters
The average American home spends around $70 per shutter in painting their vinyl shutters. This price can, however, go as low as $50 and as high as $80, depending on the shutter size and the type of paint you use.
Vinyl paints range between $40 and $70 per gallon, and the price may be higher if you need a primer as well. For labor, most professionals may charge you anywhere between $30 – $45 per hour, taking at least an hour to paint one shutter.
The cost of other supplies may cost you between $20 and $25 per shutter.
| Service | Quantity | Low | High |
| --- | --- | --- | --- |
| Vinyl paint cost | 1 gallon | $40 | $70 |
| Shutter painting labor cost | 8 hours | $240 | $360 |
| Supplies – brush, tape, brushes, caulk | Per shutter (8) | $160 | $200 |
| Total per square foot | 8 shutters | $440 | $630 |
Average cost to paint vinyl shutter: Each: $66.90
Total house: $535
If you opt to do the task as a DIY, the entire process may cost you an average of $29.38 per vinyl shutter and $235 for the entire house (8 shutters).
Again, these figures don't account for taxes on any of the materials and labor. The prices are also subject to change based on the market climate.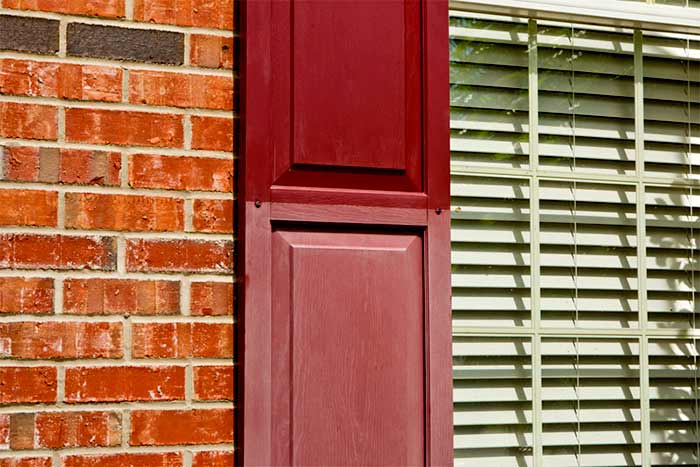 What kind of paint sticks to vinyl Shutters?
Acrylic Latex paints. These paints bond quickly with the smooth vinyl surfaces and can accommodate the temperature fluctuations experienced by Vinyl shutters. Most oil-based and paint mixtures won't stick with the vinyl surfaces.
In some cases, you might need to use a primer before painting the shutter. A primer helps hide spots where the fading was too much and improves the paint's cohesiveness with the vinyl surface.
It's also important to ensure that the paint colors you choose are either the same as the previous color or lighter. Darker colors absorb excess heat resulting in warping and paint peeling during the seasons.
To be safe, always look for paint brands that offer Vinyl safe color technologies.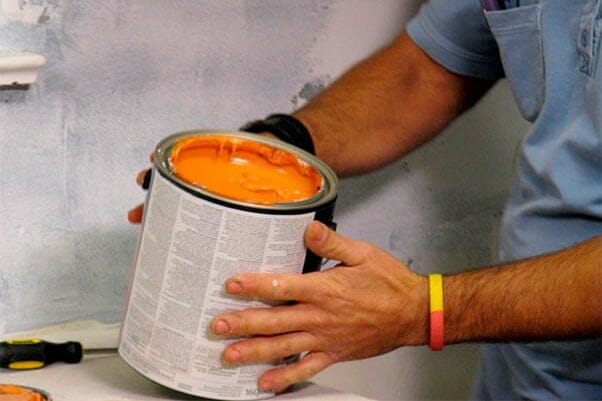 How long does paint last on vinyl shutters?
Around 7 – 10 years. One of the best things about vinyl shutters, besides their cost, is their low maintenance requirements. As long as you've used the right type of paints and paint colors, you won't have to worry about your shutters fading for almost a decade.
However, if you live in coastal areas or high humidity areas, the paint might last a bit shorter than 7 years. This is because humidity peels out paint faster than dry weather.
To improve the lifespan of your paint, try using lighter color shades.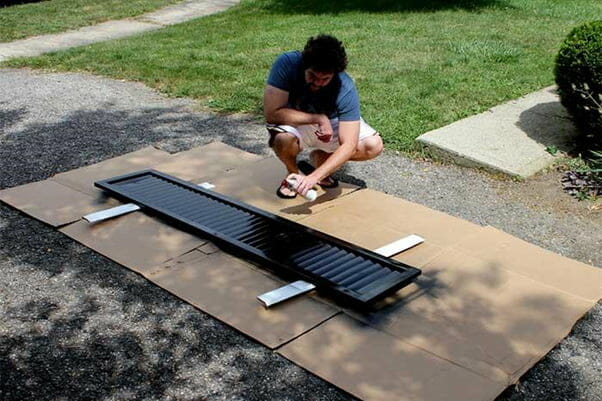 How long do new vinyl shutters last?
Around 7 years. Vinyl shutters may shine in cost and quality, but their biggest limitation is durability. Depending on how you maintain your shutters, you can extend its durability up to 10 years or more.
But generally, Vinyl shutters are less durable compared to other options in the market like wood or Aluminum.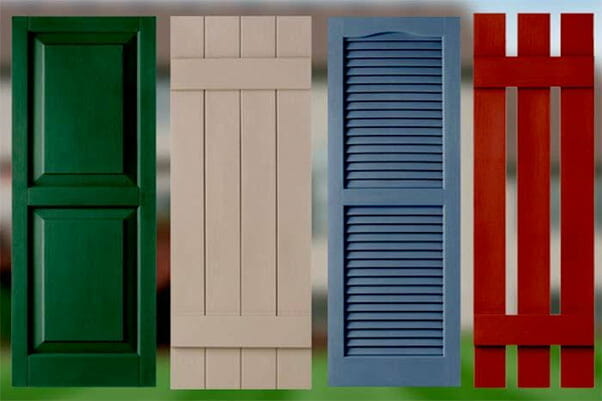 Is it cheaper to paint or replace Vinyl shutters?
Generally, it's cheaper to paint than to replace shutters. From the examples above, you spend around $66 per shutter when you paint, compared to the $130 when you replace it.
However, this cost impact depends on the state of your vinyl shutters and may vary in the long term.
If your shutters are in good condition with only slight fading, painting is cheaper both in the short and long term. For severe fading cases, painting might be a short-term solution, and you may have to spend so much more on repair and replacement costs in the future.
As a long-term solution, replacing your vinyl shutters is the best option. New shutters come with a better lifespan, less repair and maintenance costs, and better aesthetics. You, therefore, save more by replacing a cracked and peeling shutter instead of painting it.
Will painting vinyl shutters make them look new?
Yes! Painting your vinyl shutters will get rid of that faded look, giving it a new and shiny appearance, which makes the home more attractive.
However, you have to be cautious about the colors you choose. Only go for lighter colors that are proven to work well with vinyl surfaces.
Tips for painting vinyl shutters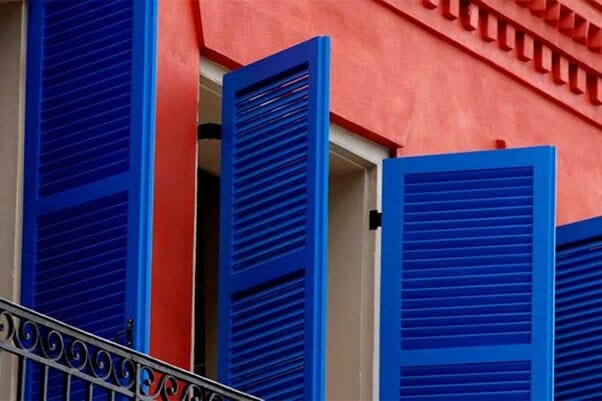 Painting your faded vinyl as a DIY is much cheaper than going for the pros. Nevertheless, you have to know what you're doing to ensure you don't do a poor job and hurt yourself in the process.
Here are a few tips to make the process easier:
Take down the shutters
Instead of struggling to paint the shutters standing on a ladder, remove them first and paint them on the ground. This is much easier, safer, and more convenient. Place the shutters in a shaded area and use spray paint to finish the job faster.
Clean shutters before painting
The shutters accumulate a lot of dirt on the house. So before painting, use a garden hose, some detergent, and a scrubbing brush to clean them. If the shutters were infested with mildew, use some bleach to remove the stains, and a power washer if there's peeling paint.
Consider a Primer
While a primer isn't necessary on shutters that are in good condition, it comes in handy on shutters that have badly faded or those with peeling paint. You'll first have to clean the loose paint chips with powder wash, then spray a coat of primer on the surface. The primer improves the cohesiveness of the new paint, ensuring that it doesn't conflict with the old paint.
Careful with the spray
Spray painting is the best way to paint the shutters once the primer has dried. But be careful not to spray too thick layers of paint. Opt for light, even coat layers, and wait 30 – 60 seconds between coats until you achieve the desired appearance. You should also consider renting an airless sprayer for around $50 – $75. It will save you a lot of time and usually results in better finishes.If you're working from an area with poor ventilation, ensure you wear a respirator before handling the spray. And finally, leave the shutters to dry overnight before reinstalling them to the house.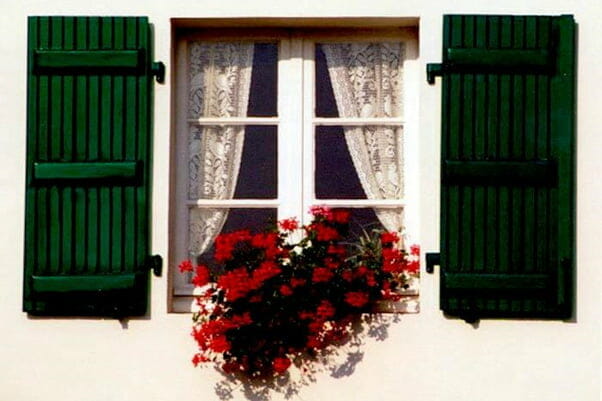 Yes! Painting your vinyl window shutters is not only easier, but it also saves you hundreds of dollars in extra cash. All you need is the right equipment and adequate knowledge on how to handle vinyl surfaces.
Nonetheless, when looking to replace the shutters, seeking the help of professionals is advised. This is because replacement takes more time and involves some measurements and calculations to ensure the new vinyl fits your windows.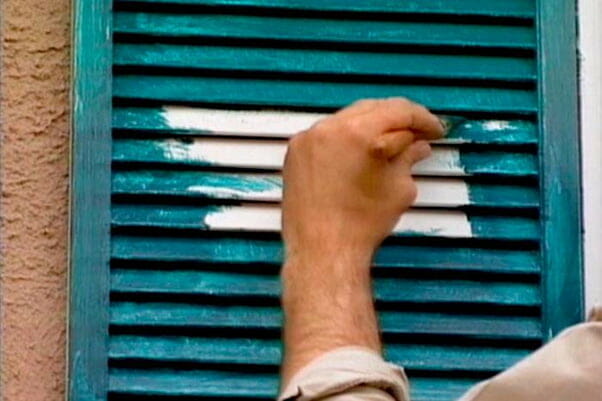 4 Best paints for vinyl shutters
Seeing how sensitive to paints vinyl surfaces are, you can't afford to go with just any paint brand in the market. Below, we've highlighted our top and recommended paint picks for vinyl shutters.
Sherwin Williams Duration Acrylic Latex
This is arguably the best paint for vinyl shutters in the market today. It's loved and recommended by many experts and comes in more than 100 colors. The paint was developed using Sherwin Williams' PermaLast Technology that gives it a thicker and more durable coating. It's, however, on the high end of the price scale but well worth the cost.
Key features
Numerous color options
Self-priming paint
Protection against peeling, warping, and blistering
Available in gloss, flat, and satin sheens
Comes with a limited lifetime warranty
Rust-Oleum 1909830 Vinyl Spray paintSherwin Williams Duration Acrylic Latex
The Rust-Oleum vinyl spray paint is among the most popular vinyl spray paints. It was specifically designed for vinyl surfaces and so it works well on window shutters, among other vinyl surfaces. The paint dries up pretty quickly, ensuring you spend less time painting your shutters.
Key features
Dries up within 10 minutes
Manufactured for vinyl surfaces alone
Permanent shiny and smooth color on vinyl surfaces
Cheaper than most vinyl paint alternatives.
Behr Premium Plus Ultra Exterior Paint and Primer in One
This Behr Paint boasts of impressive durability and flexibility. The paint comes with a guarantee of more than 10 years and can withstand extreme heat, moisture, and dirt. It uses NANO GUARD technology for its finish, which is mildew resistant.
Key features
Application versatility on numerous surfaces
Mildew resistant
Satin finish that gives it a pearl-like appearance
Durable; stain, dirt, and moisture resistant
Stain blocking and primer in one
Backed with a limited lifetime warranty
Krylon is one of the best manufacturers for vinyl spray paints, with this Fusion All-in-one being one of their best. The paint boasts of superior adhesion with difficult and rough surfaces, including vinyl, plastic, etc., without the need for a primer or sanding.
Key features
Satin finishes, great for both indoors and outdoors
Paint and primer in one – suitable for adhesion
Rust and fade protection
No sanding or priming required
Dries fast, about 25 minutes
Can spray in any direction, even upside down
Budget-friendly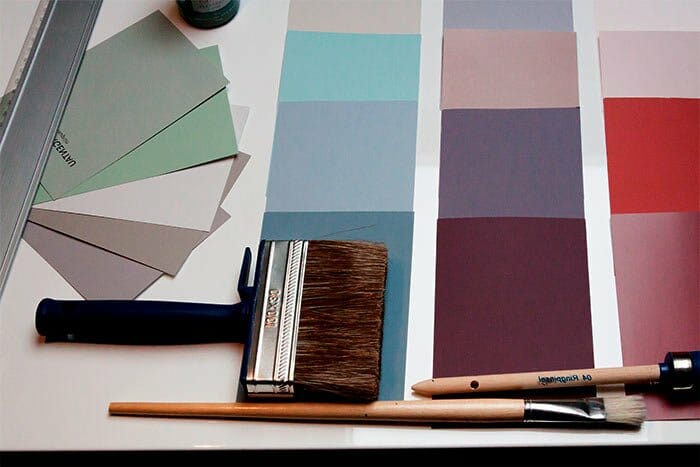 What to look for in paint for your vinyl shutter
Compatible Materials – Look for paint that works with the surface you want to paint. For vinyl shutters, ensure that the paints use vinyl safe colors technology. If you'll need a primer, it should also be compatible.
Durability – You want paint that will last long. Most paints can last up to 10 years without the need to be repainted. To determine which paint will last long, check if it's mold and mildew resistant, stain-resistant, and fade resistant.
Square footage – Knowing how many square feet a paint covers allows you to determine how many gallons you'll need and also how much you'll spend on paint. Choose a paint that's within your budget but covers more square footage.
Finishes available – Not all finishes are appropriate for your shutter. Vinyl shutter works well with gloss and semi-gloss finishes, and so are a better choice for your shutters. Satin can also work, but it takes more time to complete. Therefore, choose a paint with the finish you desire.