When it comes to easy painting DIY projects, painting window trims is often atop the list of many homeowners. After all, it's just plain simple brush strokes and you're done, right?
Wrong! Being one of the most visible interior and exterior parts of your house, painting your window trim is a pretty delicate matter. It requires the expertise and experience of a professional window trim painter to produce the finish you desire.
But this doesn't mean you can't do the painting as a DIY. You just have to ensure you know your way around the paintbrush.
The average amount you'll spend on painting trim (both interior and exterior) will vary depending on the window's size, shape, location, and finish options. In general, exterior painting will be more expensive than painting the interior window trims.
However, the national average cost to paint a window trim stands at $4.15 per linear ft or between $1.80 – $8.50 per linear ft. Per window, the job costs around $85 each with an actual range from $20 – $150 each.
These costs cover all the trim requirements including materials and labor. However, you will be charged anywhere from $1 – $2 per linear foot in labor for most painting services.
| | Quantity | Low | High |
| --- | --- | --- | --- |
| Material costs | Per Linear ft | $1.50 | $6.50 |
| Labor costs | Per Linear ft | $1 | $2 |
| Average cost | Per Linear ft | $2.50 | $8.50 |
| Total average | Per 100 Linear ft | $250 | $850 |
Note: The prices of home remodeling materials have sporadically increased over the past year due to the increased demand and shortage in supply. Therefore, expect to spend 5 – 10% more on the window trims than the prices stated above.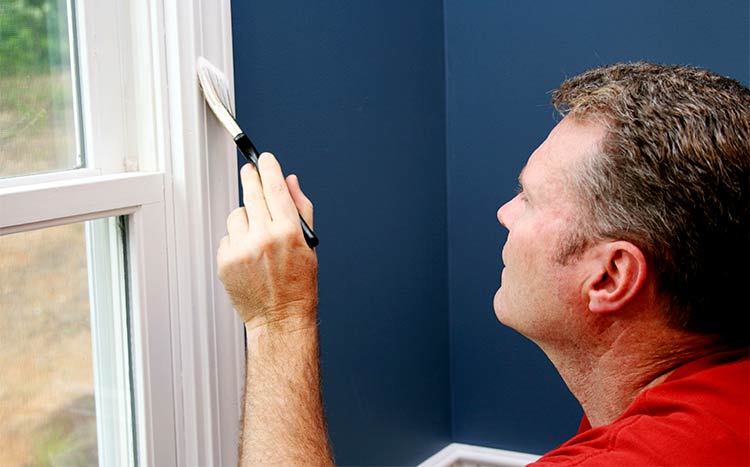 Cost to paint interior trim
The average cost to paint an interior window trim ranges between $20 – $100 per window or around $1.50 – $3.50 per linear foot.
These costs will vary depending on the brand of paint you choose, the type of casings on the window, its material, and the size. In general, interior trim painting is much cheaper than exterior painting.
However, you could spend more on the interior trims if they require more intensive prep work or if they are narrower than the exterior trims.
Cost to paint exterior trim
The total average cost to paint the exterior trim ranges between $2- $6.50 per linear ft. This comes to around $50 – $175 per window.
Among the key reasons for such a high cost is the use of exterior paints which tend to be more expensive than interior paints. This is because quality exterior paint brands e.g., Sherwin Williams may contain some weather-resistant properties.
Other factors such as hard-to-reach windows i.e., those on second or third floors also add to the cost making the overall estimates expensive.
Cost to paint window trim by material
The material of your window trim is also a key factor that will affect the costs of painting it. The most popular options among homeowners in the country today include wood, vinyl, and aluminum.
The average cost to paint a wood trim stands between $1.50 – $6.50 per linear foot. The paint(s) required for this material is either acrylic or latex paint depending on whether the trim is interior or exterior.
If you have vinyl window trims, the cost of painting trim ranges between $3.50 – $6.50 per linear foot. The paint required for this window is an acrylic one with fungicide additives since vinyl is susceptible to fungus infestation.
For aluminum or metal trims, the costs of window trim painting may be around $3.50 – $7 per linear foot. Acrylic or latex-based paints work best with this material on both interior and exterior trims.
Each of these trims may require a coat or two of paint depending on their condition.
Besides the labor and material costs, additional factors that may be included in your final estimate include:
The amount of prep work required before painting the window trim will also influence how much you'll spend. Tasks like scraping, power washing, sanding, and priming will add to the material and labor costs.
The good news, however, is that the costs for the prep work remain the same for both interior and exterior trim.
The casing design of your window frame will also play a big part in how much you'll pay for the trim. The more intricate the design, the harder it becomes to paint it and therefore, contractors will charge you more.
If the existing trim paint has faded and the first coat is peeling out, you may have to strip away that paint before applying fresh coats of paint or even primer.
While you can do this by yourself to cut down the costs, hiring a contractor to handle this part is always recommended and will mean paying extra per linear ft for the job.
In case the house is really old (painted pre-1970) you may have to test for lead presence which costs around $300 for inspections and between $4 – $7 per linear ft to remove.
If the window's trim, frame, or casing is cracked or damaged in any way, it will first need to be repaired before being painted.
Depending on the extent of the damage, different contractors will charge you differently for repairs. Replacing with new windows will also mean you spend a huge amount of money on the entire job.
Should I paint window trims?
Yes! While it's not a necessity to paint your window trims, the main reason why you should is because of its aesthetic appeal. When painted in the right colors and designs, your window trims can become the focal beauty point of your home.
It draws all eyes to it, making it a magnet to your guests and prospective buyers if you ever look to sell the house.
Other important reasons to have the existing window trims painted is if they've gotten old and have started fading or discoloration.
For a new house, if the window trims were pre-primed but not painted, you might also have to paint them. It's worth noting that the paint used for the trims will be different depending on the window location.
Exterior window trims will require exterior paint, usually latex-based, while interior window trims will do with interior acrylic paints. The material of the trims may also affect which paint will be used.
How to find cheap window trim painters
Once you've sorted out your budget for window trim painting, it's time to look for painters who can work within that range. And if you can find contractors who can work at an even cheaper price, then that's a big bonus!
Here are a few of the top tips that can help find cheap deals for your painting job.
Search the internet for online reviews
In an age where contractors are banking on their online presence, it's never been easier to compare quotes. A quick way to make google your best friend is by using local keywords like 'house painters near me' or 'window trim painters near me.'
The results of these searches will show you several painting companies and sole contractors within your local area plus their contact details.
With this data, you can now seek free project cost information from the contractors and determine who gives you the best deals.
Don't be limited to Google page 1
Once you click the Google search button, many people focus on the results on google page 1 alone. That's where they go wrong.
Most companies on page 1 are usually more expensive since they have paid Google to appear at the top. As a result, they'll factor in that marketing cost on your estimates making it more expensive.
This applies even on sites like Yelp and Yellow pages. Therefore, instead of limiting yourself to page 1 alone, visit also the contractors on pages 2 and 3 – they're more likely to be cheaper.
Ask for reviews and recommendations
If you don't want to handle the heavy load of looking for a contractor online, your friends or family can help. Look for any of your connections who has recently painted their window trim and ask for a referral or recommendation.
Doing this takes out all the hassle of finding a good contractor since your friends already know the quality of the contractor. You might also get some handsome discounts if the contractors offer them to referred clients!
Hire during the low season
Like every other industry, painting companies also experience seasonal fluctuations when it comes to jobs. For instance, the summer and early spring are usually the busiest times for contractors.
With most people at home and looking to renovate their homes, contractors enjoy the freedom to charge their prices higher than normal.
But during winter, business is low for most contractors and they're usually in desperate need of clients to stay afloat. So to survive, many of them offer amazing discounts to attract customers making it the best time to look for them.
How to choose the right window trim painter
Choosing the right window trim painter is always the hardest task for every homeowner. Before settling on the final contractor, you'll have to do a lot of homework, there's no shortcut.
However, there are several pointers that could help you separate experienced contractors from inexperienced ones. These include:
Any painting company that's been in the industry for a while definitely has the proper licenses and insurance. They should be willing to show you these credentials with ease.
Insurance, which includes the General Liability cover and the Workman's compensation cover, shows that the company is able to take care of their employees in case of accidents during the job.
Note: Don't take the contractor's word as the gospel truth when it comes to insurance. Contact their insurer and ask if their cover is still active.
Check for references and old work
A good painting contractor should be able to show you samples of some of their old work, which is similar to what you're looking for. This shows that they have the expertise to pull off the job and that they have some experience in the business.
If possible, the contractor should also be able to give you a reference who you can call and ask about their experience with the contractor.
Get at least three quotes
Getting at least three quotes is the cardinal rule when hiring any contractor for your home improvement project. Your window trim painter is no exception. When you have multiple quotes, you'll be able to compare estimates and understand the pricing of different aspects of the job, ensuring no contractor can fool you.
Additionally, a painting company is also more likely to give you their best deals if they know you have other options.
Besides every other aspect that you'll consider when picking a contractor, your budget will be the most important factor. Everything from whether you'll get vinyl trims or wood trim, to the quality of the paints, and the number of trims you can paint will be pegged to your budget.
However, don't be too quick to work with the contractors with the lowest fees. They could be inexperienced or they're using poor quality materials and paints.
Ask for a written contract
To avoid any surprise fees when painting the windows, ask for a comprehensive contract detailing everything you've agreed to. It should contain the total agreed costs, project timelines, payment schedules, and even how they'll go about the product.
If during paint selection you agreed to use Sherwin Williams paints only for the exterior trims, ensure it's in the contract, so that the painter can't go for a cheaper low-quality paint.
This way, you have something to hold against the contractor if they don't deliver the excellent job they promised.
Questions to ask your window trim painter
Once you have an idea of the professional house painters you can work with, asking questions is the best way to find the right painter.
You can contact them by phone, email, or an in-person visit and ask some of these questions to get their response.
Among the critical questions you should ask include:
How long have you been in the business?
Do you subcontract the work or do you have an in-house team?
Can you provide a list of references from your past clients?
Do you provide a guarantee or warranty for your work?
What do you expect from me before the paint job starts?
What extra painting services
will you offer during the project?
Which paint brand and grade do you recommend?
What color palette do you recommend for my trim?
Do you provide a well-detailed free estimate for the job?
Will you provide a well-detailed contract for the whole project?
How long will it take to complete the paint job?
Asking these questions will keep the contractor on their toes and ensure they do a great job. If you don't like how a contractor responds, go with your gut and avoid them.
Nevertheless, these aren't the only questions you can ask. They are only intended to help you get started when dealing with house painters.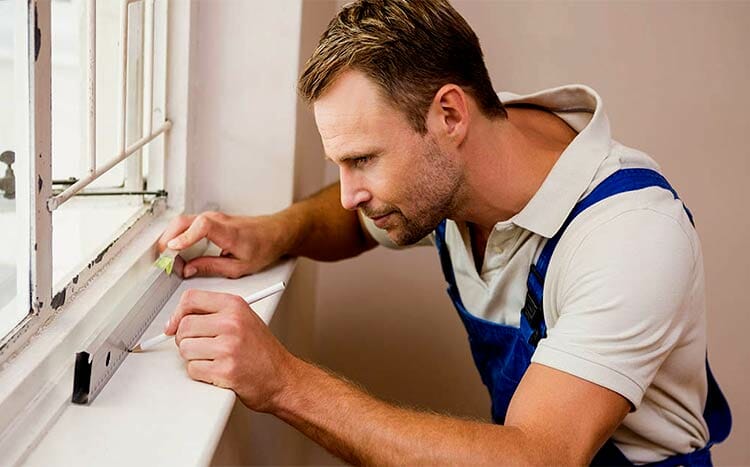 How to save when hiring painting contractors
Paint the trims, interior doors, ceiling, walls at the same time
Besides looking for a cheap contractor, you can also cut down your budget by painting your entire house at the same time. Doing this means that if you get to purchase all your materials and supplies in bulk which tends to be cheaper.
Labor is also cheaper if the window trim painter is still the one painting the ceiling, doors, floors, and walls.
Let the painter purchase the paints and supplies
Many house painters usually have partnerships with paint manufacturers allowing them to purchase the paints at a discount because they purchase in bulk. They will also get high quality paints like Sherwin Williams at a very reasonable price.
On average, your contractor can purchase all the supplies and paints at around 15 – 30% cheaper than you would at your local stores.
How do I choose window trim color?
When choosing the paint colors for the trim, White is often the go-to for most homeowners. It easily matches the walls and crown molding and gives off a classic appeal to the house.
However, if you want to go for something different, here are some options you can try:
Paint trim the same color as your crown molding, walls, doors, ceilings, and siding if exterior. This will make your house appear bigger and more modern.
Paint trim darker than your wall or ceilings and doors. This will bring more focus to it creating some depth in your house.
Paint a neutral trim color like black, beige, gray, or cream. These are great alternatives to white and may work perfectly if you have a ceiling or interior doors that match this color. If you go for black, ensure you use it with some white color to provide balance.
Paint trim bold colors instead of neutrals. However, this will only be effective if your walls are painted a light color to provide contrast in your house.
DIY vs Professional window trim painters
Since painting windows isn't such a tough job, you easily be tempted to work on the trims yourself. While it's not a completely terrible idea, there are numerous benefits to enjoy if you opt to hire professional painters for the job.
If you're not sure whether to hire an expert or work as a DIY, here are a few tips.
It's okay to paint windows as a DIY if:
The window trims, walls, and doors around it are in good condition and only require a fresh coat of paint.
Only a few window trims require painting and they're not in a very visible position
You have had previous experience and expertise painting window trims
You have all the tools required to complete the painting project
When to hire professional painters
You'll require a professional painter for painting trim if:
Your windows are high, i.e., those on the stories higher than the first floor. Safety comes first.
You require a professional painting finish completed in a short time
The existing window trims have old paint which needs to be removed or stripped
The walls, frames, or casing are in poor condition and require some patching before the paint job begins
Need a professional house trim painter?
Try our FREE service! HomeGardenGuides.com is the fastest and easiest way to get three quotes for your window trim painting project from the best and most affordable contractors near you.
The service quickly matches you with the 3 painting contractors voted #1 by previous users in your area. All you have to do is:
Scroll up to the top of the page and enter your ZIP Code in the blue form.
Give us a few details about your window trim painting project, plus some contact information.
We will then forward your paint job details to the closest three painting contractors, all voted best priced in your area, who will price your job.
IMPORTANT: There is no obligation to hire any of the contractors. This is a free tool and service to be used at your pleasure.
Yes! Most painters can easily replace your wood trim before painting. However, they will charge you more for such an activity.
It depends on your painting needs. In many cases, it's cheaper to paint the interior trims than exterior painting due to the cost of exterior paints. However, painting interior trims can be more expensive if:
The house has more linear ft of interior trim
The interior trim requires more prep work than normal
The interior trim is narrower than the exterior trims (increases painting difficulty)
Yes! Painting your trims may seem like a simple project but it can completely transform your home making it appear new. If it's in the real estate market, beautiful trims can play a massive role in attracting prospective buyers.