Painting your wood ceiling boosts a room's aesthetic appeal, makes it look cozier, bigger, and warmer, depending on the color you choose. Although it may seem odd to paint wood ceilings, especially newly installed ceilings, painting them helps to cover up the natural wood texture and ensures your ceilings last longer.
The average cost of painting a 12-by-12 wood ceiling ranges between $300 and $1,000. Wooden ceiling painting costs are dependent on the shape and detail of the wood, quality of paint and labor costs.
A couple of factors determine the cost of painting wood ceilings. These include:
Cost To Paint Ceiling by Height
Most ceilings in homes are 8 ft tall, but you may find ceilings as tall as 18 ft tall. The total cost of wood ceiling painting is increased by approximately 10% for every additional foot of ceiling height.
| Ceiling Height | Cost per square foot. (inclusive of labor and materials) |
| --- | --- |
| 8 - 9 ft | $3 |
| 10 - 12 ft. | $4.50 |
| 12 - 18 ft. | $6.50 |
High ceilings are more expensive to paint than low ceilings. The higher costs can be attributed to the difficulty in access for higher ceilings and additional equipment needed, like step ladders and scaffolding.
The type of ceiling being painted influences the cost of the ceiling painting job by $1 to $4 per square foot. This is because different ceiling types differ in appearance, style, height, and texture, which make painting easier or more difficult.
| Wood Ceiling Type | Cost per square foot. |
| --- | --- |
| Flat ceilings | $3 to $3.50 per sq ft |
| Cathedral ceiling | $5 to $8 per sq ft |
| Vaulted ceiling | $4.5 to $6 per sq ft |
The average cost to paint flat wood ceilings is fair but increases depending on the prep work required.
The cost to paint popcorn ceilings increases depending on the texture per square foot. The high painting cost of popcorn ceilings is because the process is complex, requires specific tools, and the texture results in more surface area, which requires more labor to cover.
Cathedral ceilings and vaulted ceilings present roughly the same amount of ceiling painting work. Painting these ceilings is time-consuming and requires scaffolding; thus, you may up to 50% more premium or $2 to $4 per square foot.
Exposed ceiling painting cost is the same as most other ceiling types, but the project cost can increase by up to 50% due to the prep work. For instance, working on an exposed basement ceiling requires exposed electrical work, beams, and ductwork to be covered, which attracts higher costs.
Cost of Preparations Before Painting a Wood Ceiling
Are you painting a newly built house ceiling or an already existing one? You will incur a higher cost fresh ceiling that has never been painted than painting a previously painted ceiling. It costs you more because less ceiling paint and labor are required when painting the latter.
Prepping your ceiling for painting determines how the finished product looks and adds significant costs to the total price. The prep costs include moving furniture and furnishing and purchasing plastic covers to cover items that couldn't be moved to prevent damaging them.
Prep work for empty rooms is cheaper because it doesn't involve moving or covering furniture and furnishings.
Repair costs are also part of the prep costs. It costs about $250 to $900 to repair a wood ceiling. The total cost is significantly higher than when repairing other ceiling materials. That's because wood chips, cracks, and rots due to water damage. The cost to paint ceiling is highly influenced by the extent of the damage.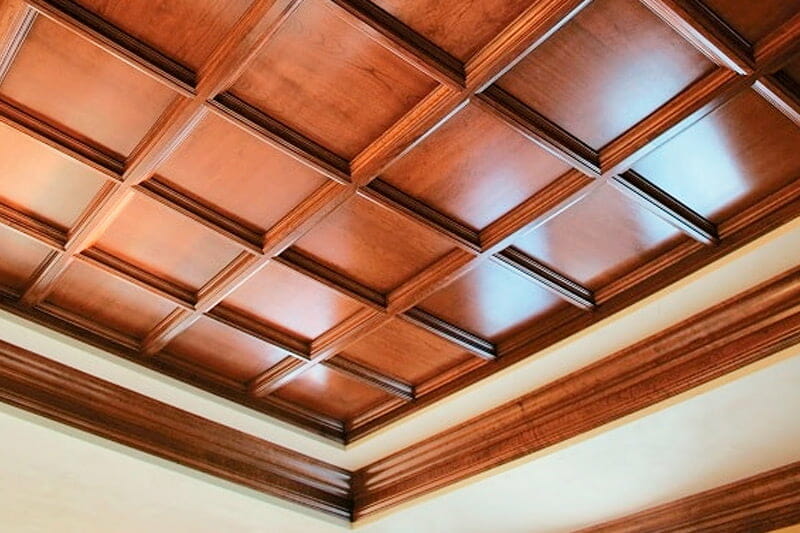 First, you have to estimate the amount of ceiling paint you require to cover the surface area you wish.
The general cost of ceiling paint depends on the brand, quality of the paint, and discounts. The estimated price for a gallon of good quality ceiling paint is $30. A gallon covers 350 to 400 square feet or a little less than half of a gallon for a 12-by-12 square foot room ceiling.
The number of gallons you need depends on the size of your home and whether you're painting all the ceilings in your home.
Matte ceiling paint and flat white ceiling paint cost less than semi-gloss ceiling paint and high-gloss ceiling paint, while oil-based ceiling paints are more expensive than latex ceiling paints. The price also increases when your ceiling features a pattern with differently shaped woods and differing colors.
If you need your crown molding or interior trim painted in the same color and at the same time as your ceiling, you will add $0.5 to $1.5 to the project cost.
Cost To Paint Ceiling Per Square Foot
The national average cost for painting the ceiling of a single room is between $125 and $300, i.e., $0.5 to $3 per square foot.
The total cost reduces by 10-15% if you need several ceilings painted across your home. The costs for painting ceilings for a single room are higher because the overhead costs ceiling painters incur, like insurance, fuel, and supplies, remain the same.
The actual costs per square footage are also dependent on other factors, like the texture of the ceiling and the number of coats required. Additionally, these rates don't apply to special types of ceilings, like the cathedral and vaulted ceilings.
How Much Does It Cost To Do It Yourself?
Painting your ceiling may be cheaper, of course, and you get to do it on your terms. However, the cost of purchasing supplies, such as rollers, brushes, thinners, drop cloths, masking tape, and ceiling paint can range between $200 and $600.
Hiring a professional painter is always a better option because you get to avoid some of the most common ceiling painting DIY mistakes, such as:
Uneven coating
Under or over thinning paint
Forgetting to cover all surrounding surfaces
Improper preparation of the ceiling, which leads to quick failure of the new ceiling paint coat
You can save the time and energy you'd use on the DIY project by hiring a professional to do it for you in a fraction of the time and without any mistakes.
How Much Does It Cost To Hire a Professional?
Hiring professionals to paint your wood ceiling helps prevent ceiling damage and guarantees painting job satisfaction. It also ensures that you get the best job done because a professional painter is trained, experienced, and certified to do the job at the highest quality.
Some painting cost factors a professional ceiling painting contractor will use to determine the price for painting your wood ceiling include the square feet to be covered, your location, the type of paint used, and the number of coats required.
The labor cost makes up 60% of the total wood ceiling painting costs. Therefore, you can expect most paint contractors to charge a minimum fee ranging from $40 and $60 per hour.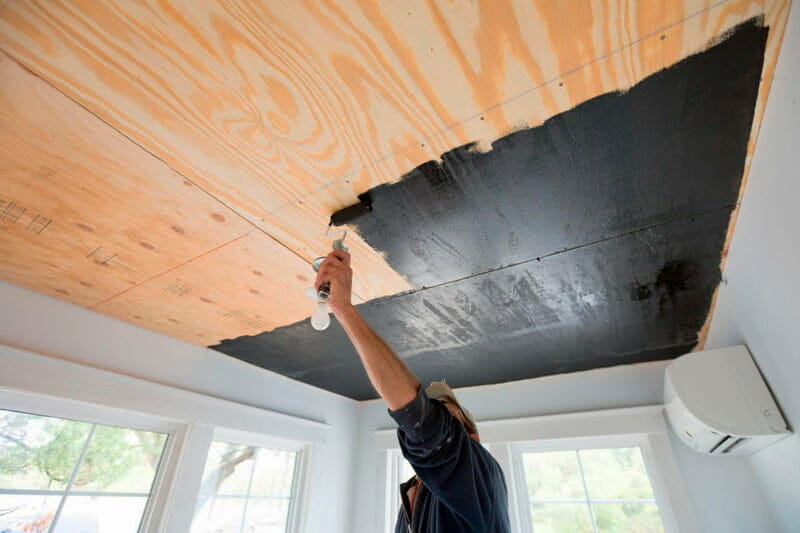 How Do You Get in Touch With the Professionals?
Home Garden Guides is a great tool that quickly matches you with the best painting specialists in your locality. You can get three estimates from professional ceiling painters or a general contractor in two minutes. Just follow the steps below to enjoy this great service:
Scroll to the top of the page and enter your zip code
Answer questions about your siding job
Your siding details are forwarded to three local experts who will send you a price estimate for your painting job with some friendly advice.