Stucco is a versatile siding material for homes. However, since it has some shortcomings, it is always good to ask yourself whether it is perfect for some areas of your home.
You can Stucco foundational walls, as long as you provide it with a stable base, and follow the best practices of stucco installation. Doing so will ensure that your wall is protected by a beautiful, water-resistant, fire-resistant, low-maintenance, and long-lasting layer.
Here is what you should know about stucco, and why it is okay to stucco a foundation wall.
To stucco an exposed foundation, you will need to mix clean sand, hydrated lime, and Portland cement.
Mixing them in such a way that the mixture contains 1/2 part hydrated lime, one part portland cement and 3 parts of sand will give you an ideal stucco mixture. Adding water to this mix will then give you the final stucco material that is ready for application onto the exposed foundation wall.
How do you apply stucco on an existing foundation wall?
Before starting the installation process, you need to prepare the wall. Do so by getting rid of any silt, dirt, and debris that is on the walls.
The most effective and efficient way of cleaning the walls is to use a pressure washer. And if you don't have one, and you aren't applying the stucco on too much foundation area,, then spraying the surface with a garden hose and then scrubbing it with a stiff brush, will get the job done.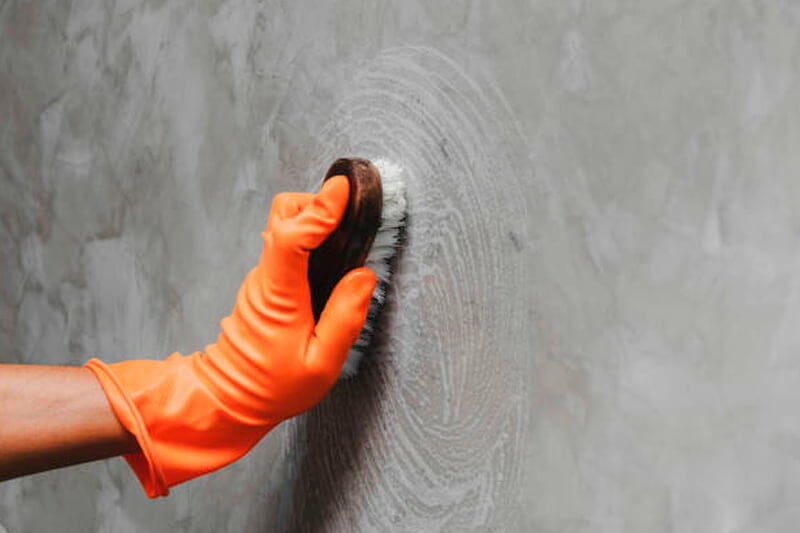 Start the stucco siding installation process by applying the scratch coat. This is an initial layer that is designed to make it easier for subsequent layers to stick onto the surface. It is generally lighter in terms of its stucco consistency.
To apply this coat, spread the stucco mixture onto the surface, making sure that it is about 1/4 inch in thickness. After spreading the mix onto the surface, scratch it by creating horizontal lines on it. Give it time to dry, and then cross-rake it.
Wait for the scratch coat to dry, and then spray it with water. Doing so will enhance the strength of the bonds that will form between the stucco coats and your block foundation wall.
Step 4: Brown coat application
After waiting for the scratch coat to become rigid — it can take as little as 5 hours to be firm enough to withstand cracking –, the wall will be ready for another coat.
The second coat of fresh stucco will contain a mixture of water, sand, and cement at a ratio of 5:4:1. Apply this mix to the drying scratch coat, making sure that you keep it at a thickness of about 3/8 inch or 1/8 inch, depending on the number of coats that you intend to use.
And after you are done applying it on the foundation, immediately level and smoothen its surface.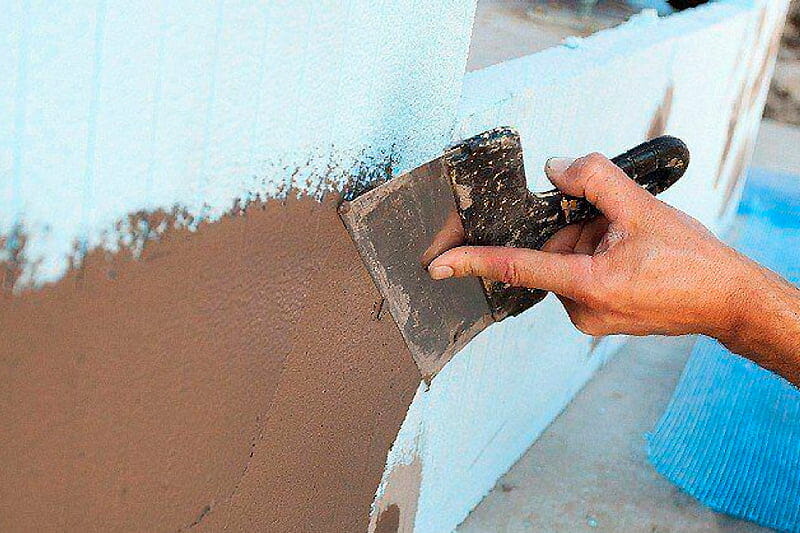 Step 5: Moisturize and let it sit
Spray the coat with water to maintain the ideal moisture content. Do so about twice a day if you live in areas with low humidity. And then give the coat enough time to dry — a period that ranges between 7 days and 21 days will be sufficient.
Step 6: Final coat application
After the brown coat dries, the next step will be to apply a finish coat. This coat is usually made up of water, sand, and cement at a ratio of 4:3:1 (although you can still get good results with a stucco consistency similar to that of the second coat), and it is typically about 1/8 of an inch in thickness.
Since this is often the visible coat, you can give it a little bit of color. The most reasonable method of doing so involves adding pigmentation to the resulting mix. Doing so will enhance the uniqueness of the finished product.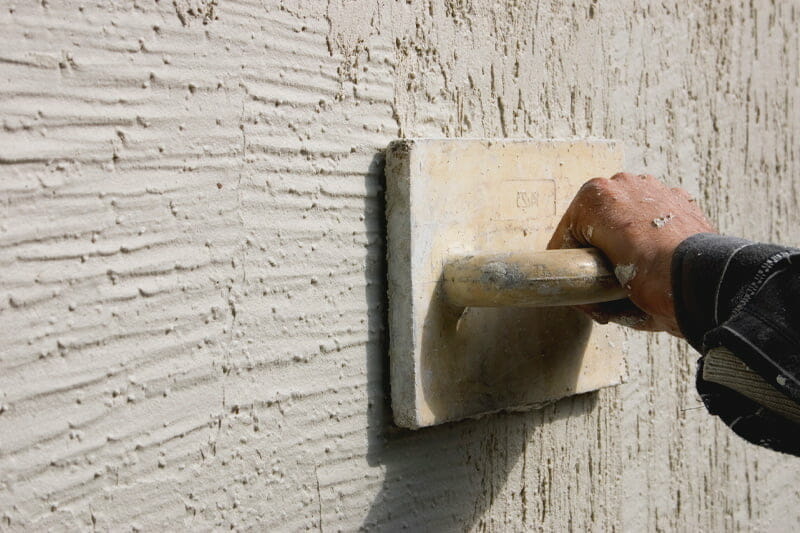 Like with every other siding material, there are advantages and disadvantages of using stucco on a home. The following are the ones that stand out.
It is a siding material that has been in use for thousands of years. Many homeowners still prefer applying stucco thanks to the many advantages that come with its use.
Here are the main ones.
It is an extremely durable siding material. Provided it is properly taken care of, it can easily last between 50 years and 80 years without showing signs of wear and tear.
It is water-resistant, which makes it a perfect and effective protective foundation covering for homeowners who are looking for ways to moisture-proof their homes. This is thanks to the fact that it does not have any joints or seams.
Therefore, while you can always cover your walls with siding materials like simulated stone siding or simulated brick siding, stucco is preferable because it doubles up as a sealer.
Opting for stucco will guarantee unlimited styling options. This is because you can style stucco layers with different patterns. You can paint it. And you can also add pigments to the stucco mix in order to give it a distinctive appearance. This allows for unlimited creativity when it comes to beautifying poured concrete blocks and other bare foundation finishes.
It offers a decent level of soundproofing
It is fire-resistant, making it extremely effective at improving the fire resistance of walls.
Unlike siding materials like wood that require a lot of maintenance, stucco siding requires little to no maintenance
Even though stucco siding has a lot of advantages, it is far from perfect. The following are the main disadvantages of using it.
It can easily develop cracks in cases where a home is still settling or where its foundation shifts
Its application on surfaces, like poured concrete walls and true stone foundation wall surfaces, calls for a high level of expertise. This makes it extremely challenging for most homeowners to effectively install it on their own
Stucco Installation and Maintenance Tips
The slightest stucco siding installation mistakes can compromise its durability and water resistance.
Here are tips that will come in handy in helping to ensure that you end up with a durable and water-tight stucco installation.
To minimize the risks of mold problems, avoid painting over stucco. Applying paint on stucco will simply reduce its breathability, and this can lead to moisture being trapped behind the stucco layer. It may then result in mold problems.
Therefore, if you want to add color to stucco siding, adding a pigment to the stucco mix is a better idea.
If you choose to retemper the base coat or the finished coat, you should only do so once.
To minimize making mistakes when applying stucco, it is always advisable to practice applying it on a small surface. In most cases, buying a cement board and using it as a practice surface is always recommended. Doing so will help to ensure that you can get the desired surface texture that you want during the actual application.
If you are applying stucco over a metal surface, you will need to install it with metal lath or steel mesh. This is necessary in order to ensure that the stucco creates stronger bonds with the surface.
To guarantee a lasting stucco siding installation on a house construction, you should always moisturize the stucco layers as you wait for them to harden.
When applying the brown coat, you can opt to float it. If you choose to do so, make sure that you do so before it completely hardens.
Stucco is bad because it is brittle, and this makes it easy to crack. This is so especially in cases where it is applied to a home whose foundation is still settling.
There is also the fact that it is not easy to install. This is unfortunate especially given that the slightest of mistakes can lead to a stucco installation that easily stains and which experiences recurring mold problems. As a result, an inexperienced person has a very slim chance of ending up with great results.
DIYers and homeowners who are on a budget, therefore, have a higher chance of ending up with compromised stucco installations.
However, it is important to note that when it is properly installed and taken care of, stucco is one of the most durable siding materials in the market with a lifespan that ranges between 50 years and 80 years. It essentially provides a lasting covering that will remain in place for as long as a house stands.
The total cost of installing stucco siding varies depending on the surface area that has to be covered, the average labor cost in the given area, and the type of finishing that one chooses.
Here is an estimate of what it typically costs to stucco a home when the cost of all the materials needed are considered.
| Description | Cost ($) |
| --- | --- |
| The typical range of stucco siding installation | $1,929 - $7,541 |
| The average cost to stucco a house | $8,000 - $11,100 |
| The labor cost of stucco installation (per square foot) | $2 - $3 |
| Material cost per square foot of stucco | $5 - $6 |
| The typical cost of base stucco (per bag) | $31 |
| The typical cost of finishing coat stucco (per bag) | $17 |
Stucco is a siding material that is primarily made up of sand, Portland cement, water, lime, and other additives. A typical stucco mixture is usually applied methodically, in layers. It is often used to beautify homes. And it also serves as an effective way of improving a wall's resistance against fire and moisture.