One of the best and easiest property siding materials to work with is corrugated steel. It is available in large panels and is easy to install. It is strong and adds curb appeal to your property. It is also affordable to use as siding.
Corrugated steel siding costs about $5 to about $8 per square foot. Siding a 1,500 square foot house will cost you between $7500 to $12000. Corrugated steel siding installation is affordable compared to other siding materials.
If you want to side your property quickly and affordably, corrugated steel siding is the solution. Without denting your bank account, you can install a dent-proof siding on your property.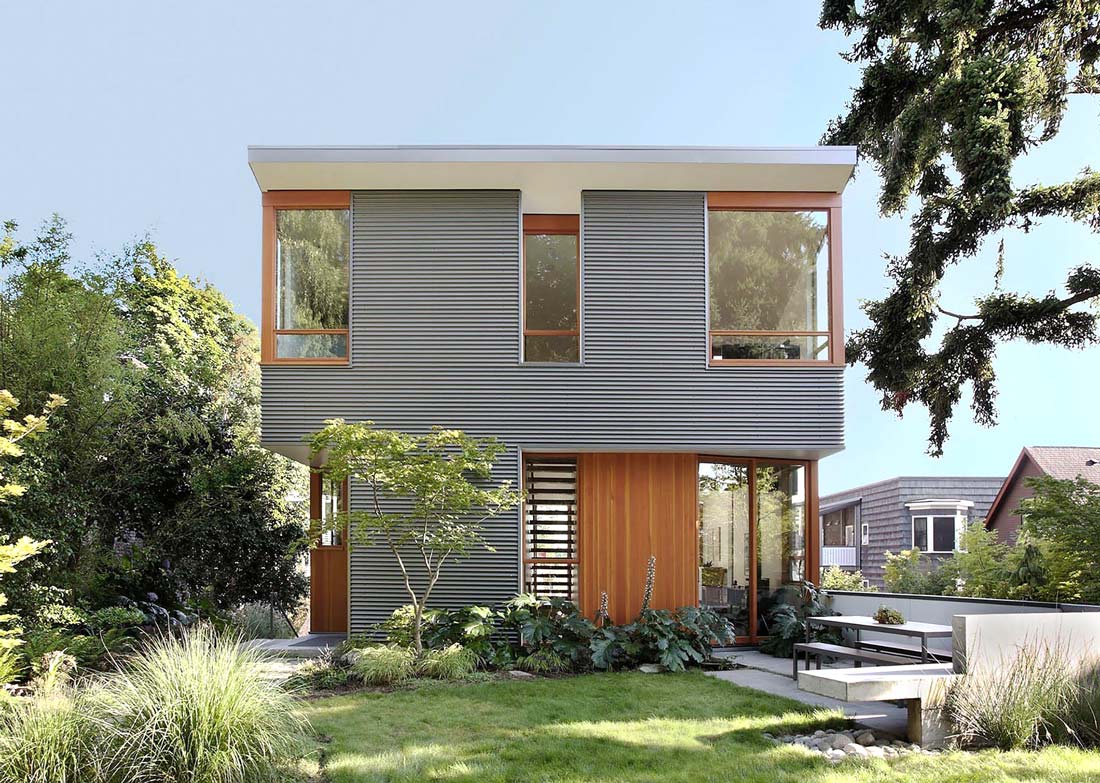 | Siding | Cost per sq ft |
| --- | --- |
| Tin | $1 - $3 |
| Aluminum | $2 - $3 |
| Corrugated Steel | $5 - $8 |
| Insulated steel | $5 - 6 |
| Vinyl wrap aluminum | $5 - $7 |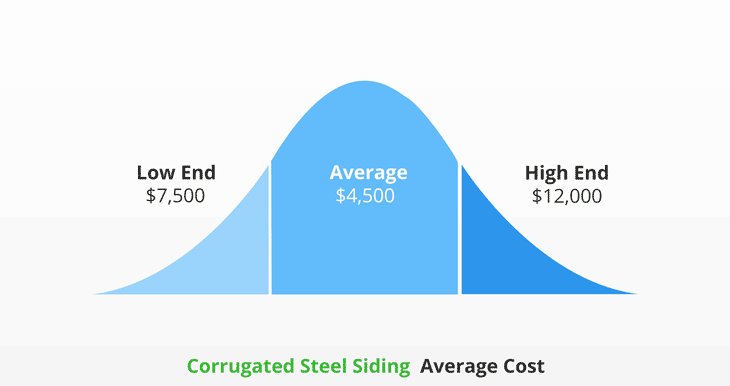 After tin, aluminum is the next most affordable siding material for sidings. It costs from $2 to $3 to install aluminum sidings on your house.
You can also use steel sidings for your project. Steel is a strong and durable siding material. Thus, it is a commonly used siding on many buildings. You will pay $4 to $6 per square foot to install steel sidings.
Insulated steel siding is a steel siding that makes your building look like a log cabin once installed. It enhances the curb appeal of your home and energy efficiency due to the insulation. It will cost you between $5 and $6 to install insulated steel siding on your building.
Vinyl Wrapped Aluminum Siding
Both aluminum and vinyl have been in use as sidings for a long time. PVC-coated aluminum siding is available for all your siding projects.
Unlike ordinary vinyl sidings, vinyl-wrapped aluminum siding is strong and hard to crack. Similarly, unlike ordinary aluminum sidings, it does not fade fast. It also doesn't need maintenance or regular repainting.
You will pay $5 to $7 to install the vinyl-wrapped aluminum siding.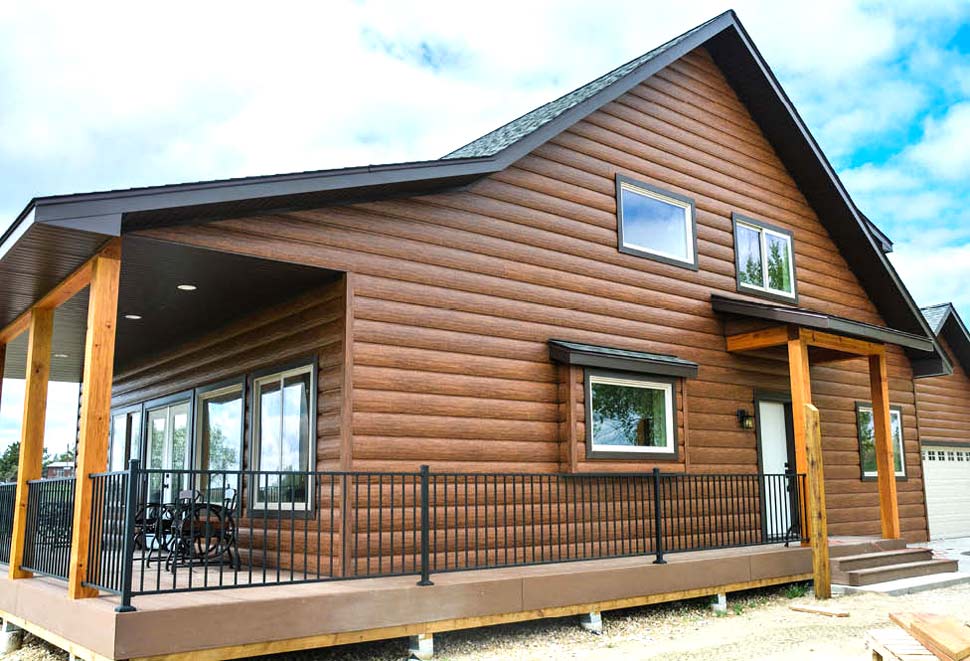 Zinc siding is often installed as an accent. It is available in panels. If you choose zinc sidings, you will pay $15 to $20 per square foot.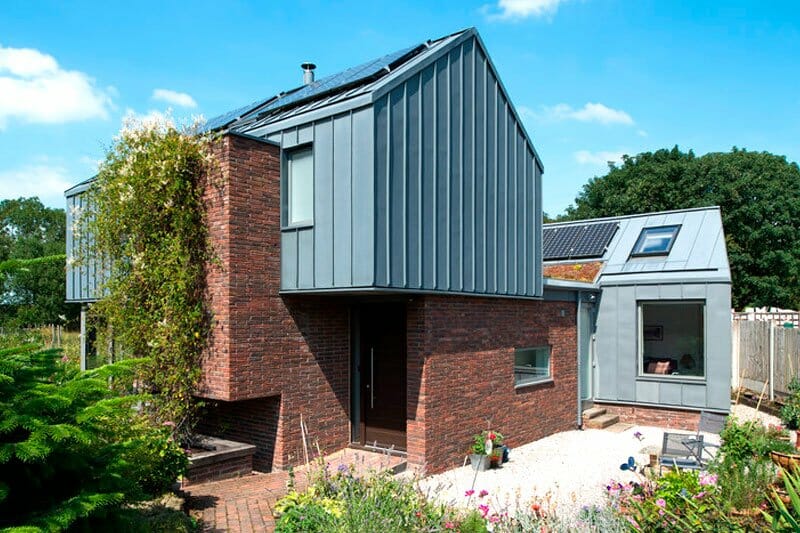 Like zinc sidings, you can use copper sidings as accents since it is expensive. You can expect to pay $20 to $30 per square foot to install copper sidings.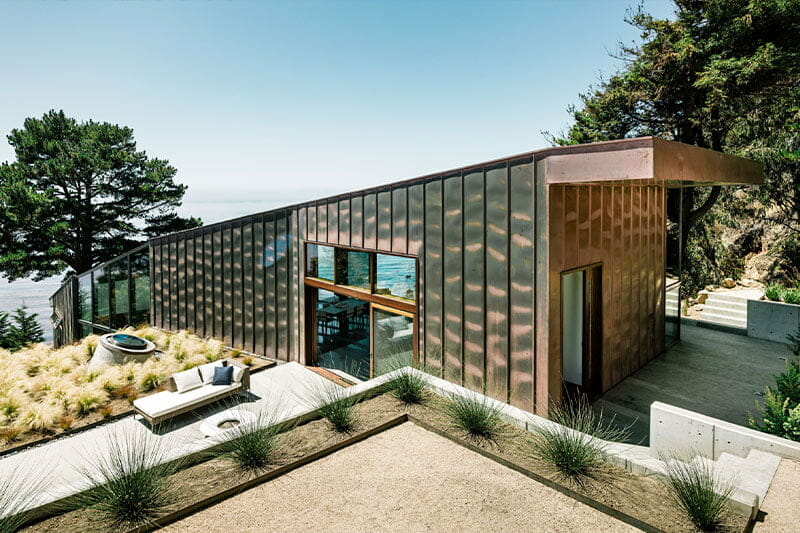 Factors That Affect The Cost Of Siding Your Home
The cost of your siding project may increase or decrease from the estimates due to several factors.
The key factors that may cause the cost of siding your home to vary from given estimates include:
If you have existing sidings, you have to remove them before installing your new corrugated steel siding.
Removing the existing sidings is an additional cost. A professional siding installer will charge you an extra $1 per square foot to remove the existing sidings.
The installer you choose for your project determines how much you will pay for your siding project. It is essential to get a siding installer who will work with your budget.
To get an affordable installer for your corrugated steel siding, you can use the Homegardensguide.com service. It is easy to use and provides a quick solution.
At the top of the tool, enter your zip code.
Then, answer a few questions on the nature of the siding project.
The information you provide will be sent to three installers.
You will then receive three quotes and free advice from the installers with no obligation to hire. You can use these quotes to compare the price of the installation service. You can then choose the installer who can complete the job competently and within your budget.
Siding projects require the installer to use special equipment. This equipment is used to provide help in lifting heavy materials, finish off ends, and even dispose of debris from the project.
Whether you DIY or hire a pro for this task, you will have to incur this additional cost. Consequently, the final price will be higher than the estimate.
Dumpsters for rent, gutters, corner caps, soffits, and J channels are among the special equipment you need for a siding project.
Material Of The Siding You Choose To Use
The price of your siding project changes depending on the material of the sidings you use. Tin, aluminum, and corrugated steel are affordable siding materials. On the other hand, zinc and copper siding sheets or panels are highly-priced.
Before you choose a material for your siding, budget for your purchases. Afterward, purchase the siding material and installer within your budget,
Benefits Of Using Corrugated Steel Siding
Corrugated steel has ribs and grooves on it. The grooves give the siding texture and enhance the strength of the sidings.
Corrugated steel siding is also available in different colors to enhance the appearance of your property.
Corrugated steel siding will last a long time. Corrugated steel is strong and is not affected by wind rain or sunshine. As a result, it doesn't rust or fade. Maintaining its structural integrity over a long time.
Little Maintenance Required
When you use corrugated steel siding you need regular maintenance. Since it doesn't rust or fade fast, you won't need to regularly repaint the sidings. Therefore, you will save a lot of money for installing corrugated steel siding.
Corrugated steel siding is easy to install. With a few tools and basic siding installation and construction skills, you can have your siding installed in a few hours.
Compared to other materials, corrugated steel siding is affordable. Starting at $5 per square foot, installing these sheets as siding saves you a lot of money. Materials such as zinc and copper sidings can cost up to $30 per square foot to install.
In addition to using them as sidings, corrugated steel sheets can also be used for roofing. So, if you have a construction project, you can get a discount by buying a large quantity at once to use for both roofing and siding.
How To Install Corrugated Steel Siding
Here is how to DIY the installation of corrugated steel siding.
First, prepare the wall to receive the corrugated steel siding. You will do this by ensuring that it is smooth. Make sure that there aren't nails or wires jutting off the wall. All insulation and foam boards should also be properly installed and hidden away to leave only the building frame ready to be sided.
Starting at the bottom corner, place the corrugated steel siding panels in place. Once they are properly in place, you can nail them to the frame of the building. Your sidings could have or not have pre-fabricated holes. Use them to nail the siding in place. If prefabricated holes are absent follow the manufacturer's nailing instructions.
Third, continue to add the sheets starting from the bottom upwards. At the top, you can cut the sheets to fit into the height of the building. Make sure to measure and cut before you nail them to the frame as it will be hard to do it while already installed.
In this step, install the edging guards at the corners of the building. This ensures that the corrugated steel sidings are properly fixed in place. Further, they cover the corrugated steel siding edges to ensure that they don't cut anyone passing near them.
Finally, you can install trim around the windows and doors. Make sure to seal the trim to avoid moisture loss from the building to enhance its energy efficiency.