Exterior home siding is the first line of protection between your home and outdoor elements. Some siding materials possess unique thermal properties which can reduce your home electricity consumption and ensure comfortable, all-season indoor temperatures.
Wood and vinyl siding are the two siding materials with the highest energy efficiency ratings with R-values of 0.80 and 0.61, respectively. Followed by fiber cement with an R-rating of 0.37. Stone veneer, with an R-value of 0.11 has the least energy efficiency.
Insulated vinyl siding is an environmentally friendly siding option that guarantees significant heat gain or loss during cold or hot seasons. In other words, energy efficient siding exists to provide more electricity savings than a standard hardie board or fiber cement cladding for example. You can install new siding on an existing insulation to reduce your energy costs.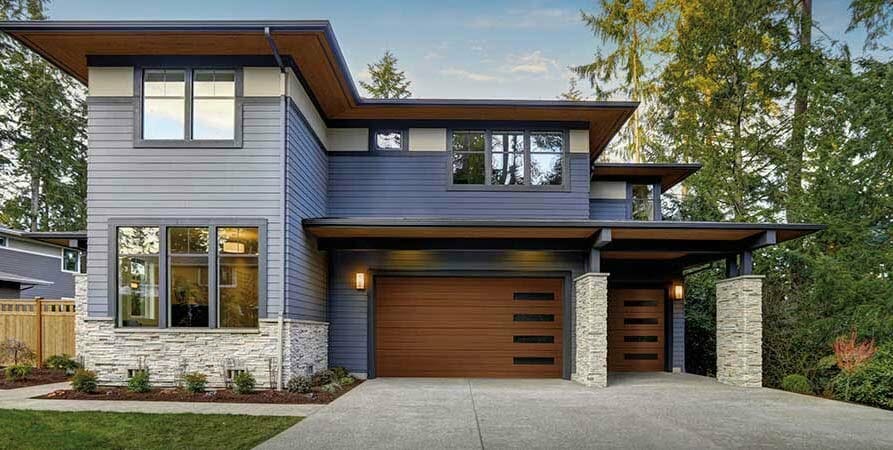 These are siding products with unique thermal properties that allows them to retain or disperse heat effectively. They are insulating sheathing products covering your home's exterior, preventing your house from using excessive electricity for cooling or heating. Siding manufacturers also incorporate insulating technology into these classes of siding products to deliver more energy performance and provide the following benefits for homeowners.
Superior insulation for their homes.
Save money on electricity bills.
Additionally, energy-saving cladding should reduce heat and air loss by around 19 percent. And provide consistent and comfortable temperatures throughout your home interiors all year long.
Insulated siding
A recent development is the emergence of insulated composite siding, which makes use of cellulose fibers, or expanded polystyrene foam (EPS) to increase your annual home electricity savings by around 20 percent. Examples include insulated vinyl siding. The EPS foam backing fills the space between the cladding and your home exterior wall, creating a rigid yet permeable exterior surface that regulates interior temperatures without sacrificing comfort. It is a highly effective material with a typical R-value of 3.96 which is more than double the R-value of a conventional exterior cladding.
Insulated siding is manufactured in compliance with the U.S. Department of Energy and the United States Environmental Protection Agency guidelines.
How to determine a siding energy efficiency
The most common method of identifying the energy performance of a cladding material is by its R-value. Most exterior siding has a R-value of between 0.3 and 1. Cladding materials with the least energy savings have an R-value of around 0.11. However, adding rigid foam insulation backing can increase the R-value from 0.40 to 0.80 and even higher.
Below is a table illustrating common cladding materials and their R-value.
| Siding | R-value |
| --- | --- |
| Hardboard (½ inch) | 0.34 |
| Wood (½ inch) | 0.81 |
| Wood Shingle | 0.87 |
| Wood Bevel Lapped | 0.80 |
| Plywood (⅜ inch) | 0.77 |
| Plywood (¼ inch) | 0.93 |
| Brick (4 inches) | 0.44 |
| Stone | 0.44 |
| Vinyl (hollow backed) | 0.61 |
| Aluminum (hollow backed) | 0.61 |
| Steel (hollow backed) | 0.61 |
| Vinyl (installed with ½ inch insulating board) | 1.80 |
| Aluminum (installed with ½ inch insulating board) | 1.80 |
| Steel (installed with ½ inch insulating board) | 1.80 |
| Stucco (2 inches) | 0.40 |
| Fiber Cement | 0.37 |
R-value is the unit by which building professionals measure the thermal properties of construction materials. It indicates the specific insulating capabilities of a particular siding product (e.g vinyl siding). Cladding materials having a high R-value possess better energy efficiency than materials with a lower R-value. Installing cladding materials with a high R-value optimizes your home electricity usage, saving you money in electricity costs in the long run.
The best and worst-performing energy-efficient sidings compared
It can be challenging for homeowners to determine how much energy your cladding will save. Here is a list of the best and worst performers.
Below are examples of cladding materials that will reduce your home electricity consumption, putting cash into your wallet.
Wood siding
Wood cladding does not compromise natural aesthetics at the expense of energy performance. Natural wood fibers are eco-friendly and combining them with natural insulation products will increase your electricity savings. The main drawbacks of wood cladding are its high cost and regular maintenance.
Vinyl siding
Vinyl cladding is a common choice for homeowners looking for a cost-effective and energy-saving cladding alternative.
Vinyl cladding is cheaper to install than wood siding (homeowners typically DIY install vinyl cladding as a home improvement project), and it is more durable. Vinyl cladding offers significant energy savings over its lifetime.
Insulated vinyl siding
Home insulated vinyl siding is one of the best examples of insulating sheathing products that reduce heat loss and improves your home electricity consumption albeit, at a higher cost.
You can replace existing siding with insulated vinyl siding or install it as a new siding to benefit from its exceptional longevity, ability to withstand elements, and low maintenance costs mean you will recoup your investment over time.
Metal siding
Steel siding is a cheap and durable material designed to reduce your home electricity consumption, paired with insulation. Steel siding shares similar R-values with aluminum siding, but they have low R-value than insulated vinyl siding. You replace existing metal cladding with new siding to improve the R-value of an existing building or install cladding on a new home to achieve a considerable reduction in electricity usage.
Stucco siding
Stucco cladding is an excellent choice for homeowners who desire beauty, durability, and longevity while reducing their electricity costs. Although it is more expensive than vinyl siding, stucco is best suited for dry climates with hot temperatures like New Mexico instead of say, Northern Virginia. Stucco cladding is efficient at trapping cool air, keeping your home interiors comfortable, and reducing the demand for air conditioning.
Fiber cement siding
Fiber cement siding is a durable and low-maintenance siding renowned for its remarkable strength. Fiber cement is also available in various designs and thicknesses that increase your home desirability and improve energy efficiency. Fiber cement can be more expensive to install than other cladding types including vinyl siding. Fiber cement requires professional installation which is a major disadvantage.
The losers
Some exterior cladding materials have poor thermal conducting properties compared to cladding materials such as fiber cement vinyl or steel siding. The secret to achieving high or low heat gain is by using the appropriate exterior siding for your climate and combining it with high-quality insulation to achieve better performance.
Brick siding
Brick cladding has low energy efficiency, especially when used without insulation. The level of thickness required for brick cladding to achieve an excellent energy performance is about 2-inch thickness.
Stone veneer siding
This option is expensive, and also offers abysmal levels of energy efficiency compared to other cladding options.
Homeowners ought to carefully consider their choices when choosing the best energy-saving siding for their needs. Although, electricity reduction and potential savings on their utility bills is a priority. It is crucial to consider the potential costs of keeping the cladding in optimal condition.
For example, while wood siding offers excellent energy efficiency and insulation properties. It is expensive to maintain and preserve in good condition over time. Stucco cladding shares similar issues despite its excellent energy-efficiency ratings. On the other hand, vinyl siding requires minimal maintenance.
Examples include:
Vinyl siding
Low installation and minimal maintenance costs. Long lifespan with zero moisture and pest issues.
Aluminum siding
It is relatively inexpensive to install and maintain. Aluminum is not corrosive nor rust and warp under extreme temperatures. Insulated aluminum has a higher R-value than real wood siding, and it is a more long-lasting material.
Fiber cement siding
It has higher installation costs, but it is exceptionally durable with incredible moisture and pest-resistant properties.
Four ways energy-efficient cladding can save you money
Lower utility bills
Installing exterior siding capable of retaining indoor heat during winter and keeping out high outdoor temperatures during summer reduces your home demand for heating and cooling, leading to a decrease in your electricity bills all year round and keeps more cash in your wallet.
Low maintenance costs
Durable, electricity -reduction siding cost less to keep in good condition.. Examples like vinyl siding have minimal maintenance costs, saving you money.
Higher home value
Installing high-quality siding with considerable electricity savings will increase your home resale value, ensuring a decent profit when selling your property.
Energy tax credit eligibility
Installing energy-reducing siding can qualify you for federal energy tax credits designed to encourage homeowners to adopt efficient heating or cooling systems with lower environmental impact.
Benefits of energy-efficient siding
Saves money
You can save money with siding that reduces your home electricity consumption lowering your electricity utility bills.
Reduces sound penetration
Noise reduction due to the extra padding in insulated siding prevents noise from playing kids, lawnmowers, loud music, passing cars and aircraft, from entering your home.
Increased durability
The foam backing insulation in energy-saving siding acts as a buffering pad providing increased resistance to impact damage. Additionally, the foam backing insulation in insulated vinyl siding effectively seals the gap between the siding and the wall preventing moisture penetration and damage.
Comfort
Insulated siding keeps your home interior temperatures at comfortable levels regardless of the season and prevents an issue known as thermal bridging.
Environmentally safe
Most energy-saving siding has high green ratings. They are produced according to stringent environmental standards following federal guidelines on ecologically safe manufacturing practices.
Curb appeal
Increased curb appeal is another benefit of energy-saving siding products. Most home shoppers see the advantage of buying a home with reduced electricity consumption and often pay asking prices often to the delight of many homeowners.
Decrease in pest issues.
Certain insulating materials chemical treatments to prevent insect and pest infestation. Foam backing insulation also seals the gap between aiding and your home exterior wall, preventing access to insects and small rodents.
Insulated vinyl siding is the best insulating home siding available. Insulated vinyl siding offers excellent energy consumption keeping your home interior within comfortable temperature levels. Insulated vinyl siding is highly durable, and can withstand harsh weather conditions offering the best protection against the elements. Advantages of insulated vinyl siding include a long lifespan, and you can DIY install insulated vinyl siding as a home improvement project.
Yes, you can. You can clean exterior siding with with a garden hose and water. Cladding materials including hardie board can be cleaned with a brush. Hardie board, vinyl, and fiber cement have low maintenance requirements.