Shiplap and drywall are both excellent materials for your interior walls. These materials possess different features that make them unique, and the material you choose for your walls will depend on your budget and preference.
Typically, shiplap tends to be much costlier than drywall, depending on the material/wood used. The wood used for shiplap includes hardwood, cedar, and pine, all having different prices. On rare occasions, drywall may be more expensive than shiplap after the finishing process.
How much more expensive is shiplap than drywall?
Shiplap is much more expensive to install than drywall but on average about 350% more depending on the quality of timber use. Where drywall costs around $2 per square foot to install, shiplap costs between $4.50 per square foot. This means shiplap costs more than drywall by about $1.50 to $5 per square foot.
With such a huge difference, you will want to take the time to research both materials before choosing one. Although the material you choose will depend on your budget, needs, and preferences, it is essential to know the strengths and weaknesses of the materials.
What is the cheapest way to do shiplap?
The cheapest way to do shiplap is by using faux. Shiplap wood may be pretty costly, especially if you are on a budget. However, you can still create a shiplap look using plywood instead of true shiplap boards. That's why faux comes in handy for homeowners on a budget.
Typically, true shiplap boards tend to be around ¾ inches deep. This means you will be forced to remove all molding that includes crown molding, baseboards, and door trim to install shiplap, then reinstall it. This will be extremely costly as more time, labor, and materials will be required.
The easy and cheaper way is to use plywood that is ¼ inches deep. With plywood, you will not need to remove the molding. Cutting thin shiplap strips from the plywood shouldn't be difficult. However, you should ensure that the saws used by home improvement centers do not leave rough, uneven edges on your sheets.
Do you need drywall behind shiplap?
No, you do not need drywall behind shiplap unless the state law or building code of the property requires you to. However, failing to put drywall behind shiplap has several disadvantages.
The room will become less insulated because shiplap is not as thicker as drywall.
You will need to put insulation behind shiplap.
Shiplap has many seams and gaps that may make the room more echoey and less aesthetically pleasing.
Drywall does not have many fragments like shiplap, so it is more effective in maintaining the room's temperature. Mostly, people install shiplap over drywall when remodeling homes because there is no any financial benefit for removing the drywall before installing shiplap unless it is extensively damaged. If anything, removing the drywall will cost you more.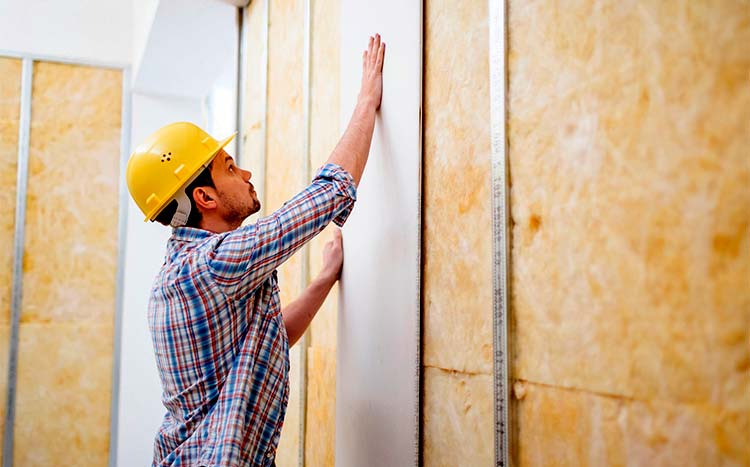 Shiplap vs. drywall: pros and cons
Shiplap and drywall have many benefits, but they also have a fair share of disadvantages. Below are the main pros and cons of these materials to help you make a sound choice for your home's interior.
If you have eyes on shiplap, check out its benefits and weaknesses before making the final decision.
Pros
Shiplap is highly versatile and attractive. It gives your home a classic, warm and natural look because of its natural wood design.
Shiplap is far more durable than drywall and more resistant to scratches and dents.
This material makes a room feel bigger when installed vertically.
This material can be installed either vertically or horizontally without any issues.
Installing shiplap is relatively easy, and any DIYer with hands-on skills can handle the task.
Shiplap is stronger than drywall and can hold nails for wall décor and pictures without developing unsightly holes on the wall.
Cons
Shiplap has many seams which attract dust easily, which means more cleaning and maintenance.
Replacing shiplap boards is quite hectic because you will be forced to remove and replace a significant portion.
Installing shiplap can last for much longer than drywall.
Shiplap can warp and even rot if not installed properly.
This material does not work for all spaces and can make a home look unappealing if it does not match with the rest of your decor.
Drywall also has several advantages and disadvantages that you should consider before choosing it for your interior walls.
Pros
Drywall is cheaper to install compared to shiplap. It is one of the most affordable materials for interior walls.
Drywall is easy to repair as you can patch/repair holes, cracks and chips in a heartbeat.
This material is energy efficient as it offers excellent insulation. It keeps cool air inside during warmer months and maintains heat during freezing weather.
Drywall is eco-friendly. It breaks down easily and can be recycled.
It is highly versatile as it comes in many types, including green, purple, blue, soundproof, and fire-rated drywall.
Drywall is fire-resistant because the gypsum material is incombustible.
Cons
Drywall is highly susceptible to water damage and can develop mold and mildew when exposed to water for too long
Drywall is easily damaged, which makes it a vulnerable choice for a home with kids and pets
Installing drywall is quite complex and requires more labor. This is because the panels are large and heavy, which makes them difficult for DIY projects
Drywall is not flexible, so it is not the best option for curved surfaces. Also, finishing drywall is quite a hassle.
Drywall is not as durable as shiplap and plaster.
What can I use in place of shiplap?
If you want to spruce up your space and do not want to use shiplap, here are the top ten alternatives you can use.
Reeded or fluted sheets
Board and batten
Plaster
Reclaimed wood planking
Textured wallpaper
Tile
Nickel gap boards
Patterned wood
Caning
Applied molding
You can choose the option that appeals to you the most in terms of cost and style. Ensure the material you choose will complement your home décor to give your home a classic and timeless look.
Shiplap vs. drywall soundproofing
Shiplap has many seams compared to drywall, which means it does not offer excellent soundproofing. Shiplap's noise resistance cannot be compared to that of drywall. Drywall features gypsum sandwiched between two thick sheets of paper, which makes it highly noise resistant.
Installing drywall behind shiplap offers you the best soundproofing. However, you can use other cheaper soundproofing materials instead of drywall to lower the project cost.
Shiplap vs. drywall insulation
Drywall is typically thicker than shiplap. It is also less permeable and does not have fragments like shiplap. This makes it more resilient to temperature changes, which means it offers excellent insulation than shiplap. Of course, you can place insulation material behind shiplap to maintain your home's temperature, but drywall is much more effective in maintaining temperature than shiplap.