Replacing worn or dated siding is a great way to add value and boosts your home's curb appeal.
Typically, it costs $9,500 to replace siding. The real range is $6,000 to $18,000. The cost depends on the materials used, the home's size, location, the complexity of the job, and the finishing options you choose.
Other cost factors such as disposal and permits will affect the overall project cost.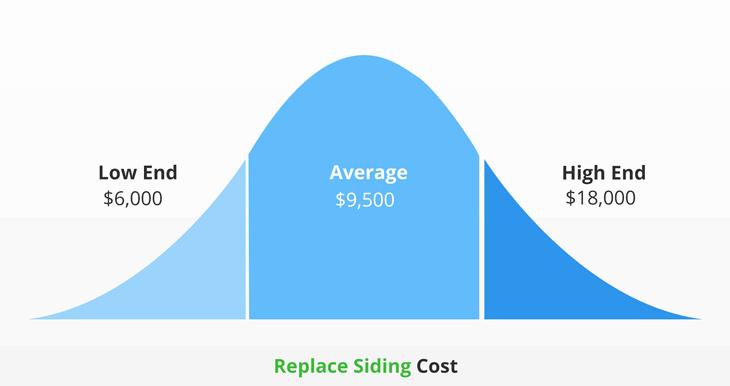 Cost to replace siding per square foot
The average cost to replace siding is around $2 to $16 per square foot, including materials and labor. Materials cost between $1 and $12 per square foot, including fasteners and waste. Labor, on the other hand, costs between $1 and $4 per square foot.
The quality of the installation depends on how experienced the professionals you hire are. For this reason, you should make sure you do your homework and interview several contractors before choosing a particular one. This will help you know which one is best suited for the job. Also, you should get several quotes and estimates to compare and choose the most reasonable option.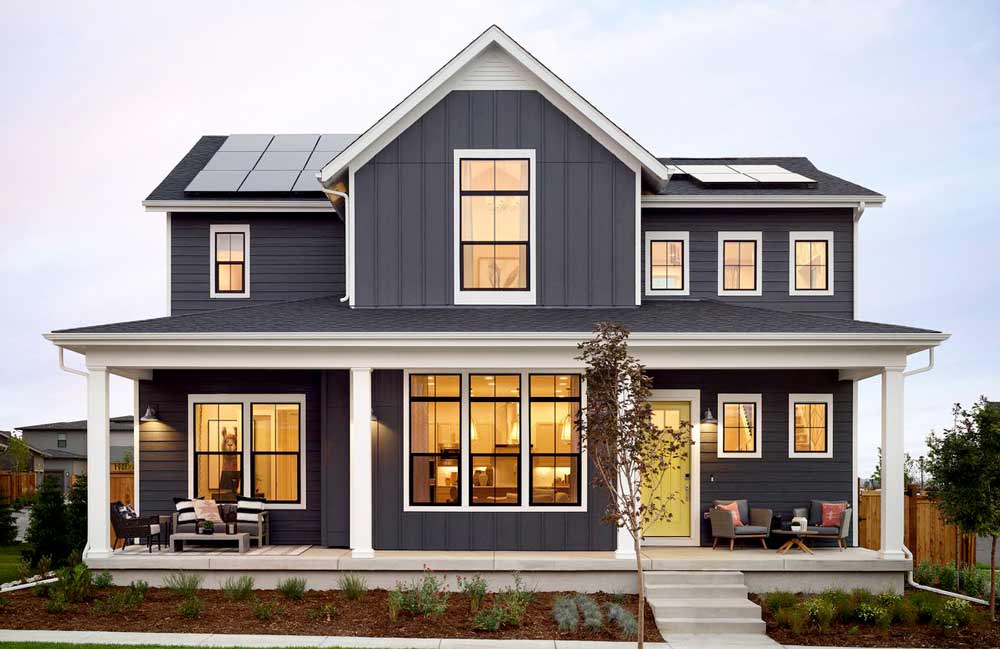 Cost per 1,500 sq. ft. house
Replacing the siding on a 1,500 square foot house will set you back by approximately $3,000 – $24,000. This cost is inclusive of labor and materials, but it may vary widely depending on your location, the complexity of the job, and finish options.
The cost may be cheaper if you DIY the project because labor costs usually account for approximately 70% of the total project cost. However, if you are inexperienced, it is best to leave the job to the professionals to avoid ruining your house's look and value.
The average labor cost for replacing siding for your home is in the vicinity of $1 to $4 per square foot. The price may vary depending on the difficulty of the job and your location. Usually, complex installations such as second stories, unique designs, and hard-to-access places may add labor cost to up to 20% of the project cost. Also, costs for disposal of the old material and repairs will increase the overall labor cost.
Before you begin the installation, your contractor will assess the worksite and give you a detailed estimate. The estimate includes the labor cost, materials, removal cost, prepping cost, etc.
Some contractors may offer hourly rates of about $50 to $150 for the project. However, it is best to ask for fixed rates because hourly rates may be impractical for a job lasting for more than a day.
Cost to replace siding by material
Below is a summary of the siding replacement cost by material
| Material | Quantity | Low | High |
| --- | --- | --- | --- |
| Vinyl | Sq ft. | $2.50 | $7 |
| Aluminum | Sq ft. | $3 | $6 |
| Wood | Sq ft. | $3 | $15 |
| Brick | Sq ft. | $12 | $18 |
| Steel | Sq ft. | $4 | $8 |
| Stone | Sq ft. | $15 | $30 |
| Hardie Board | Sq ft. | $2.5 | $5 |
| Fiber Cement | Sq ft. | $5 | $13.5 |
| James Hardie Siding | Sq ft. | $9 | $11 |
The average cost to replace vinyl siding is about $2 to $7 per square foot. Vinyl siding is relatively easy to replace, making it relatively cheap compared to other materials. This material is the most popular for siding homes because it is readily available, affordable, and durable.
Vinyl siding can last for about 20 to 40 years. It requires minimal maintenance, making it an ideal option for people looking for low-maintenance siding materials. Besides, it is beautiful and can boost the home's aesthetics and curb appeal. If you are looking for a durable and inexpensive siding material, vinyl is an excellent pick.
Aluminum siding replacement costs approximately $3 to $6 per square foot. Replacing this type of siding is easy, and most homeowners can DIY the removal process.
Aluminum siding is another highly popular siding material. It is affordable and can last for approximately 30 to 50 years. Its durability and little or no maintenance make it an excellent choice for people looking for a low-maintenance lifestyle. It takes paint application quite well, but it may need repainting after every 10 years to maintain the home's integrity.
However, it dents easily and can be challenging to repair. Besides, oxidation makes the material develop a patina over time, which makes it unappealing.
Wood siding does not last as long and will need replacing more often. Replacing wood siding costs about $3 to $15 per square foot on average. The replacement is rated easy to intermediate, which means it is not as difficult as most people think. Wood siding can last for about 15 to 40 years, but it requires high maintenance. If you decide to side your house with wood, you should make sure it gets proper care and maintenance.
Wood is, however, prone to damage and mold and may need regular repairs to keep it in shape. Also, you must repaint it after every few years to protect it from the effects of harsh weather.
Wood siding gives your home a rustic look and feel, which makes it very beautiful. If you love the natural wood look, it is the best choice for your home's siding.
The cost to replace brick siding is approximately $12 to $18 per square foot on average. Brick siding is highly durable and can last for about 50 years or more if maintained properly. It is more difficult to install than other vinyl and wood.
Brick siding is quite expensive because of its durability and difficulty of installation. This material costs about 6% more than vinyl siding. So, if you plan to use it to reside in your house, be ready to pay more. It makes an excellent choice for people looking for durable siding materials.
The average cost to replace steel siding is about $4 to $8 per square foot. Steel is commonly used for commercial purposes, and it is relatively easy to install. This siding material is very strong and durable and is expected to last for a lifetime.
Steel siding makes your home unique and effectively protects it against harsh weather elements. It requires minimal maintenance, but it should be repainted often to keep it in good shape. If you love an industrial look, steel is the perfect siding material for your home. However, if your neighborhood has a strict homeowners association, steel may not be an ideal pick. Besides, it is susceptible to rust and corrosion, which may affect its durability if not properly maintained.
Replacing stone siding will set you back by approximately $15 to $30 per square foot on average. Stone is an expensive choice for house siding, and it is costlier than steel. It, however, has excellent strength and durability.
Stone siding gives a home a beautiful rustic look. It requires highly skilled contractors because the installation is quite challenging. Besides, the cost can go to the higher end for multi-story homes. Stone also requires additional fixtures and a high finishing level to make it look beautiful and appealing.
DIYing this kind of project is difficult because it requires a high level of expertise. Also, the task can take a long time, which is why hiring a pro is the best choice.
The average cost to remove siding ranges between $0.25 and $0.75 per square foot or about $1,000 to $3,000. This cost includes the labor cost for the removal and the dumping fees, which range between $50 and $250.
Before installing new siding, you must remove the old siding first. More so, you should inspect whether the cladding is in good condition to ensure the new installation develops no issues.
The degree of difficulty makes the removal cost vary widely. For instance, it may be easier to remove vinyl siding than steel or stone siding. If you wish to lower the price, you can DIY the project. However, working with hard materials such as steel may be challenging. Also, you may risk hurting yourself during the process.
How to estimate the cost of siding replacement
It is not easy to estimate your siding budget, especially with a wide range of between $6,000 and $23,000. There are several cost factors you should understand first before you begin the project. These include:
Type of material: the siding material hugely affects the total cost for the replacement. For instance, replacing vinyl siding will be on the low end of the cost, while wood siding replacement will be on the high end. Metal siding will be in the middle because it is expensive than vinyl but cheaper than wood.
Accessibility: if you have a 2 story house, expect to add about 20% to your total installation cost because special equipment such as scaffolding will be required. Also, walls that are difficult to access will move the replacement cost to the high end.
Location: regional differences also play a big role when it comes to pricing projects. The cost for repairs, installations, or replacements usually reflects the living index of your locality. If you live in an area with a higher home value, expect to pay about 50% more than other areas.
Labor: the labor cost for any project tends to be higher than the material cost. If you decide to hire pros to reside your house, ensure you look for at least 5 quotes. This is because different pros offer different rates, and relying on one quote may not give you the right price range.
Repairs: when estimating the siding replacement cost, make sure you include repairs if any. The cost for repairs will not be inclusive of the overall replacement price. So, if your home needs repairs before installing new siding, the total cost will lean towards the high end.
Estimating the cost of replacing your siding is essential as you can set aside enough money to run the project.
When it comes to siding replacement, deciding whether to hire a pro or DIY the project may be challenging. The task is quite difficult and may not be suitable for beginners. Also, it is quite expensive, making many homeowners want to DIY it to lower the costs.
Doing the project yourself can significantly lower the cost because labor costs will be excluded. If you are looking to save money, DIY is the way to go. However, if you want the project to run faster, hiring a pro is the best.
Pros
The siding replacement cost will be lower, so you will save some money
DIY allows you to better your skills
It gives you the freedom to manage and run the project your own way
It will give you a feeling of satisfaction
Cons
Residing a home is not a job for beginners
The project can take a long time and become an inconvenience
You risk injuring yourself during the job, especially for complex installations
You may hurt the home's resale value
Professional contractors have been rigorously trained to reside homes. Therefore, they will handle the job professionally and ensure everything is perfect before they leave. Even if you wish to lower the installation cost, it is recommended to hire a pro for high-quality results.
Pros
The project will be finished on time
The new siding will have a professional look and feel
It improves the value of a home if you plan to sell
Pros can handle complex jobs and ensure everything looks perfect
Cons
Labor is usually costly, so the installation cost will be higher
You may not be sure of the job outcome
Pros may not understand your vision, so the results may not be as you want