Horizontal siding installation is the go-to option for most homeowners, but vertical installation is growing in popularity.
Vertical siding cost a little more to install and if done wrong will have your home looking like a barn instead of a house. When applied to the right home however, it really can set your house apart from the rest.
Typically, vertical siding is used for commercial applications, while horizontal siding is commonly installed on residential homes, but more and more homeowners are opting for vertical siding in 2021.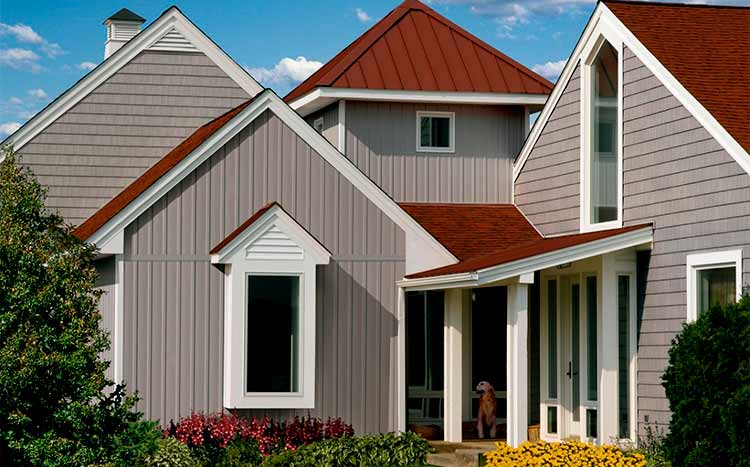 Ok, so you have decided to opt for a siding exterior for your home. Vertical or horizontal siding, which is it going to be? Addressing these three primary concerns can help you make the right call.
1. Unique or traditional look
Here is where your personality comes in. Would you prefer your home to blend into your neighborhood with the sleek but traditional horizontal siding look? Or, you prefer the distinctive and attention-grabbing vertical siding. Horizontal siding offers benefits such as a timeless design that appeals to virtually everyone. However, choosing vertical siding means you risk your home becoming polarizing (depending on your neighbor's architectural leanings) feature within your neighborhood.
2. Durability consideration
Although horizontal siding is generally durable and long-lasting, it is highly susceptible to moisture damage. Mist, rainwater, and washing could result in water accumulating behind the siding strips causing corrosion, rot, mold, and mildew. In contrast, vertical siding has no gaps or open seams, allowing water to slide off it.
Horizontal siding is a cost-effective option for homeowners on a tight budget. Its installation process does not require any specialized tools or materials. On the other hand, installing vertical siding is an expensive, complex, and time-consuming affair requiring special tools and materials, which affects your total costs.
HomeGardenGuides.com is a free service that quickly matches you with top-voted local contractors.
You can get three estimates fast by real certified experts in your area in just 2 minutes.
Scroll to the top of the page and enter your Zip code.
Answer questions about your siding job
Your project details are forwarded to three local experts. They will send you a price estimate for the job and some friendly advice.
IMPORTANT: There is no obligation to hire. This is a free tool and service to be used at your pleasure.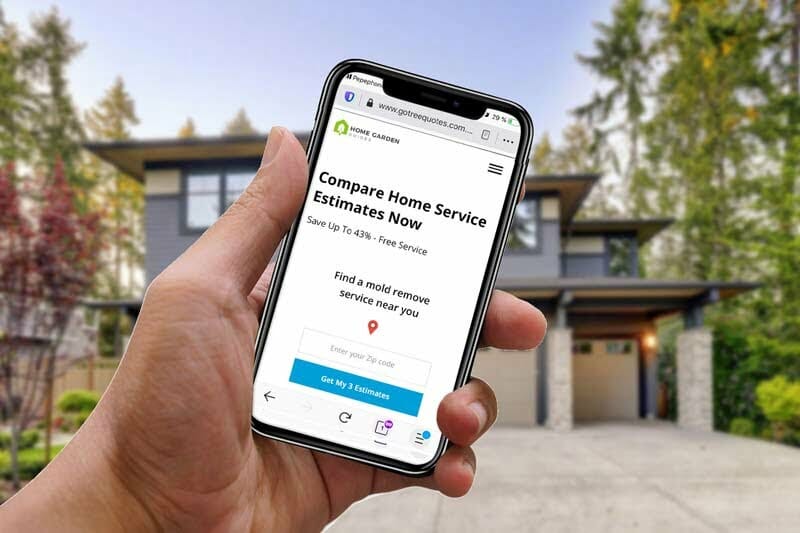 Vertical siding, as the name implies, is a top-to-bottom vertical installation of siding panels on your home exterior. The sleek and modern looks of vertical siding is a reason why many individuals consider it as a more contemporary alternative to the horizontal siding. A variation of vertical siding known as board-and-batten siding uses the same principle of top-to-bottom siding installation.
Pros
Distinct looks and appearance.
Available in a wide variety of sizes, colors, and shapes for you to choose from.
Cost-effective and mostly maintenance-free, only requiring periodic cleaning.
Exceptionally durable and resistant to moisture damage.
Cons
May reduce your home resale value due to its low general appeal.
The installation process is complex and time-consuming.
Higher installation costs due to labor-intensive installation.
Requires special tools and prior experience to install successfully.
Different types of vertical siding
There are several vertical siding types available to suit your siding tastes.
Vertical vinyl siding is an excellent alternative to wood siding. It is a cost-effective and durable siding option available in a broad range of colors and finishes. Vertical vinyl siding has an average lifespan of around 30 years. It is water-resistant, easy to install and maintain.
Vertical metal siding – vertical metal siding is an excellent choice for homeowners looking for durability and longevity without frequent maintenance. Available in steel and aluminum, vertical metal siding is weather-proof and fire-resistant.
Vertical wood siding – homeowners love the natural appearance of wood siding, which accounts for its vast popularity. Though expensive and requires constant maintenance. Wood siding multi-dimensional outlines add value to your home, giving it desirability that few siding materials can't match.
Vertical board and batten siding – lends your home exterior a unique appearance. It consists of battens (narrow wood strips), alternating with broader wood or vinyl panels to create a layered look that provides a special appeal and protects your home for years to come.
Composite vertical siding – is made from a combination of wood and plastic polymer. It provides a durable impact and fire-resistant exterior shell that can be finished to mimic wood without its drawbacks.
Installing vertical siding
Installing vertical siding is a complex procedure, which is a primary reason for its high costs. Contractors need to fix furring strips to the wall surface before installing vertical siding to ensure a smooth and even finish. Here are a few tips to guarantee high quality and fault-free vertical siding installation.
Do not attempt to install vertical yourself unless you have the appropriate tools and experience.
If you hire a contractor, confirm if the company has plenty of prior experience installing vertical siding.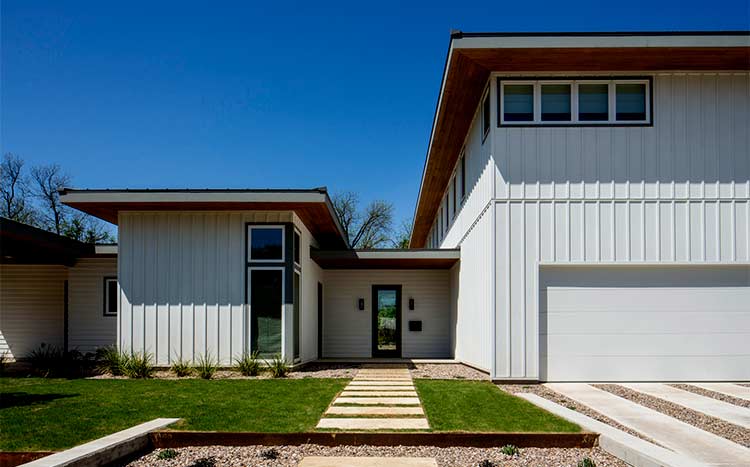 Commonly seen on residential homes, horizontal siding is a clear favorite among homeowners and builders alike for its easy installation and cheap costs. You can install horizontal siding in strips or shingles to create a traditional look for your home exterior. Other patterns include clapboard, log siding, and butt-edged horizontal siding.
Pros
An excellent choice for budget-minded homeowners.
General desirability and acceptance mean it increases your home resale value.
Easier to install than vertical siding. It requires no special skills or tools, making it the ideal DIY project.
Horizontal siding is available in an extensive range of colors, styles, and shapes.
Cons
Design flaw allows water to seep between the siding strips, damaging the siding or wall.
Wooden horizontal siding is especially susceptible to moisture damage.
Although touted as easy to install, horizontal siding consists of several small panels and requires lots of screwing during installation.
Different types of horizontal siding
Horizontal metal siding – available in steel and aluminum, it is extremely popular with homeowners who want durability and aesthetics. Horizontal metal siding provides a strong, long-lasting protective shell around your home exterior with little or no maintenance.
Horizontal log-look siding – gives your home exterior a rustic appearance. Horizontal log-look siding can be replicated with various materials, including wood, metal, and composite.
Horizontal wood siding – is a popular and relatively inexpensive siding material. It is available in a vast range of shapes, sizes, textures, and colors. Although vulnerable to water damage. Wood siding is durable, and when properly cared for, can last for around 20 years.
Cedar siding – is a beautiful horizontal wood siding that provides a sleek and natural look for your home. Unlike most wooden siding, horizontal cedar siding has natural water repellent properties and is less susceptible to moisture damage or rot.
Horizontal fiber cement siding – is a durable and water-resistant siding type that is easy to maintain and cheap to install. It is a cost-effective option for homeowners looking for a durable siding alternative to wood. In addition, horizontal fiber cement siding is less prone to mold damage, and it is an all-around weatherproof siding material.
Installing horizontal siding
Installing horizontal siding is pretty much straight forward whether you are a DIYer or hiring a professional. Several online DIY guides are covering the entire installation process beginning from wall preparation to painting. Ensure that you stick to the manufacturer's guidelines at every stage. Below are some tips to help you out.
Strip the walls of all previous siding before you put up a new one.
Leave ⅛ inch expansion gaps between each board when installing fiber-cement lap siding.
We recommend priming your siding on both sides before installation and painting to protect the backsides against rot.
Mixing vertical and horizontal siding
You can combine both vertical and horizontal siding on your home exterior to achieve a stunning visual effect. Also, mixing vertical and horizontal siding of different colors can give your house a more distinctive look. There are numerous examples where you can integrate both siding orientations into your home structure.
Homes with attached garages can benefit from the two siding orientations to transition between the two structures.
You can use horizontal siding on your home while reserving vertical siding for the gables.
Vertical siding can provide an excellent accent backdrop for dormers on a home with horizontal siding installed.
Cost of vertical vs. horizontal siding
Average costs of installing both vertical and horizontal siding will depend on the type of material, the project complexity, home design, and size. Vertical siding typically costs more to install than horizontal siding. Below are the average material and labor costs by siding type. 
| Type | QTY | Vertical siding price range | Horizontal siding price range |
| --- | --- | --- | --- |
| Vinyl | Per sq. foot | $4 - $12 | $2 - $8 |
| Engineered wood | Per sq. foot | $4.5 - $10 | $3 - $8 |
| Hardiplank cost | Per sq. foot | $7 - $28 | $5 - $20 |
| Wood siding cost | Per sq. foot | $4 - 17 | $2 - 14 |
Vertical siding Is the more expensive siding due to its higher installation costs. Average labor costs to install vertical siding is 25-60% higher than horizontal siding labor costs.
Installing vertical siding on your home won't make it taller. However, people are attracted by the longitudinal orientation of the siding, which draws the roof, making the house more elevated than it seems.
Vertical siding has long been a staple for covering commercial building exterior walls. However, vertical siding is fast becoming a trend among residential homeowners who desire a rustic farmhouse look for their homes.