Whether you have just bought a new home, want to remodel your old home, or plan to build your new one, it is essential to make it as appealing as possible. Most people prefer installing vinyl siding because it is a cheaper alternative, and it makes the house look incredibly beautiful.
On average vinyl siding costs $10,750 for the average single-story home. The real range is $6,100 to $15,900. The price can vary depending on the type of siding you choose, your home size and amount technical cutting needed around obstacles such as windows and doors.
To get the best estimates try this FREE service, enter your Zip code in the form above, followed by a few details about your siding job. Up to 4 top voted local experts will get in touch and give you an obligation free estimate.
The below prices are based on the cost to install vinyl siding to an average 15,000 square foot house.
| Service | Quantity | Low | High |
| --- | --- | --- | --- |
| Vinyl siding cost | 15,000 Square feet | $31,134 | $43,084 |
| Vinyl siding labour cost | 842 Hours | $27,885 | $67,899 |
| Vinyl siding job supplies | 15,000 Square feet | $ 5,975 | $6,761 |
| What to expect | | | |
| Total per square foot | | $4.64 | $8.40 |
| Total for project | | $65,051 | $117,827 |
Average Vinyl siding Estimate: $91,439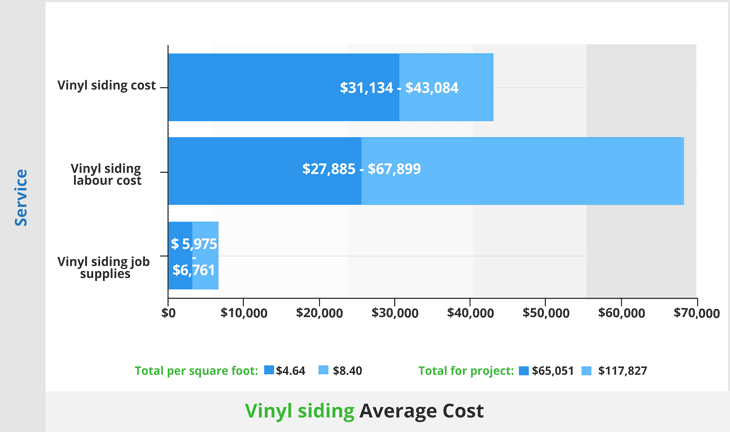 The national average cost of materials for installing vinyl siding is approximately $2.36 per square foot, coming in between $1.98 to $2.74. For the labor and materials, the total cost per square foot is about $6.51, with a range of $4.65 to $8.37.
Vinyl siding per square foot
The cost of vinyl siding per square foot is about $3.80 to $7.50 for materials. If you are looking for higher brands and custom colors, you can pay up to $12 per square foot. If you want more affordable prices, you can select standard-grade or builder-grade vinyl siding. You will have to pay more for premium-grade vinyl siding, and the price can range from $6 to $12.
Before you buy vinyl siding, ensure you research the prices to avoid being extorted by unethical sellers or suppliers.
Vinyl siding per 1,000 ft. sq.
The average cost to install vinyl siding on a 1000 square foot house is approximately $7,500. On the low end, expect to pay $3,000 while you can pay up to $12,000 on the higher end for a ranch-style home. For two or more stories home, the cost ranges between $3,600 and $19,500.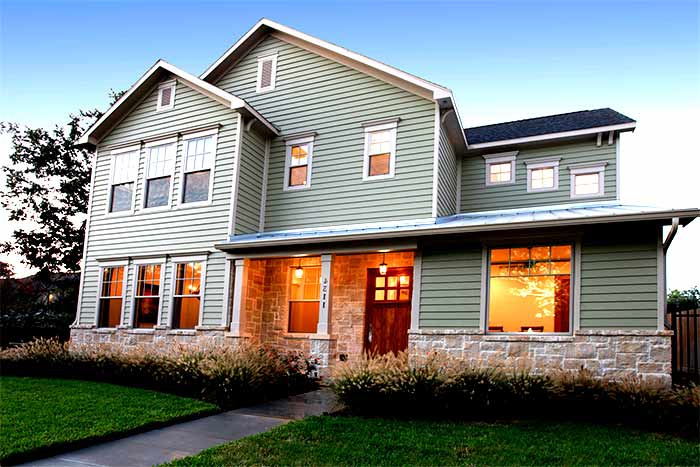 Vinyl siding cost for 1,500 square foot house
If you want to install vinyl siding on a 1,500 square foot house, expect to pay approximately $4.64 to $8.40 per square foot. The total cost of installation, labor, and materials is approximately $65,051 to $117,827, while the average cost is about $91,439. However, the overall cost will depend on your location, the size of your home, and the type of vinyl siding.
After many years, your vinyl siding will start to wear out and will call for repairs. On average, most homeowners pay between $400 and $600 to repair their vinyl siding. However, several factors can influence the final cost of repairs, which include regional trends and the type of siding you choose.
Usually, vinyl siding will start aging at different rates depending on your climate. So, after like ten years, you may start noticing cracks, or the paint may start failing. Typically, holes and cracks are the first signs that show your siding needs repair. However, you may not notice other symptoms that may end up creating more problems.
Even if it is a bit costly to repair or replace your siding, you have so much to gain than lose. For instance, new siding improves your home's aesthetic appeal and protects it from moisture, bugs, and insects. Besides, it increases your home's resale value, making it a great choice if you intend to sell your house.
The following are several signs that tell you it is time to repair or replace your siding.
This is the most obvious sign that your vinyl siding is damaged, and it needs repair as soon as possible. If you do not patch the holes or repair the dents, you may expose your house to bugs and mold. It is, therefore, best to repair any holes as soon as you notice them.
Loose siding caused by cracks or gaps is another sign that you should repair your house soon. This is because the cracks and loose panels may allow rainwater and moisture to pass through this, exposing your home to mold underneath.
Dry rot underneath your house
If you have used wood siding, dry rot underneath may damage the integrity of the house. Although the panels may look fine to you, it may be rotting inside due to moisture and mold.
Extreme weather or heat can cause the siding to start warping or bubbling. This increases the gaps and will expose your home to rain, moisture, and pests. For this reason, you must immediately repair any warping or bubbling vinyl siding.
If you notice that you are repainting your home too much, it means that its waterproofing has started to wear off. This can make the panels susceptible to moisture, which may cause worse problems in the future. You can paint vinyl but make sure you use the correct cleaning products and paint to prevent warping of the panels.
In case you notice any mold, fungus, or mildew on or underneath your panels, it means your house is exposed to moisture. You should, therefore, try to find where the moisture is passing through and fix it immediately. Cracked or leaking pipes are the major causes of mold underneath your home.
Sometimes your home's siding may be damaged due to unforeseen accidents like storms or trees. For instance, a rotten tree may fall on your house and damage one side of the wall. This will call for immediate repairs or replacement of the siding.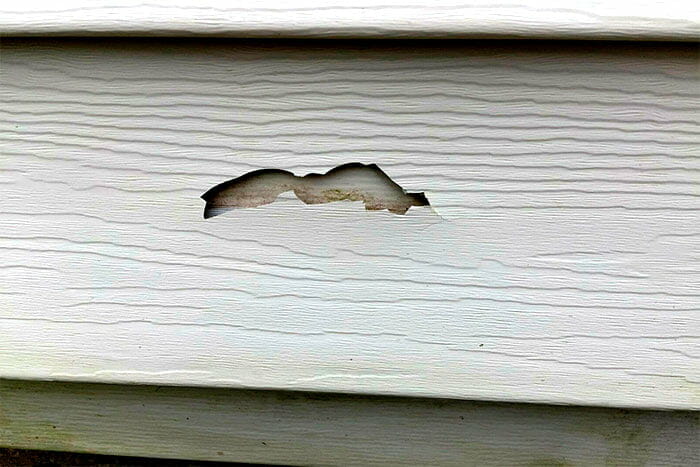 How long does Vinyl siding last?
Vinyl siding lasts for a very long time, depending on the quality of the materials used and the contractors' experience or expertise. Typically, vinyl siding can last up to 60 years. If you do regular maintenance like painting and handling small repairs, the vinyl siding can last over 60 years.
You may need to replace your vinyl siding after about ten or twenty years if it needs major repairs. According to most manufacturers, high-quality siding lasts for approximately 20 to 30 years, after which it starts becoming ineffective.
If you live in a harsh climate, your siding may start aging after 10 to 15 years. Dark vinyl siding starts fading after a few years if you live in a sunny climate. However, regular maintenance extends the life of your siding, which is why you should ensure you maintain it frequently.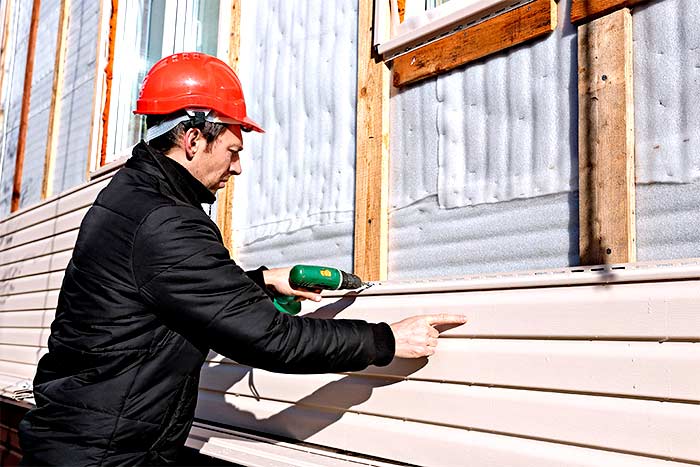 How much is a box of vinyl siding
One box of vinyl siding goes for approximately $160 on average. The standard vinyl siding box contains 24 pieces of vinyl sheets, each measuring 4 x 150 inches. One box of vinyl siding can cover 100 square feet. So, for a 15000 square feet house, you will need approximately 150 boxes.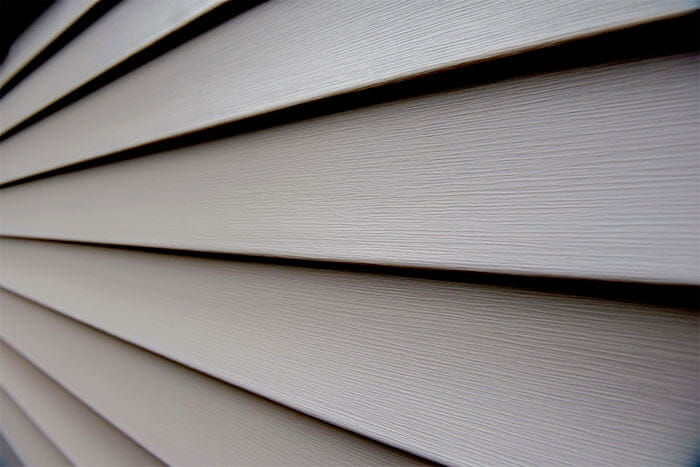 What cost factors are there with vinyl siding?
There are several cost factors you have to consider when installing vinyl siding. These include:
Odd shaped houses- Some homes have unique and complex shapes that make it very challenging to install vinyl siding. Such homes will take a longer time and will require a highly experienced professional for the job. Due to the complexity of the home, professionals will charge a higher price for the job.
Second story – if you are installing siding on a two or more-story house, the cost will be higher because you will need special equipment such as scaffolding. Also, installing siding on such houses is more challenging and risky. For this reason, you should be ready to pay more for special tools to make the work easier.
Time of year- typically, the time of the year you choose to install your siding matters a lot. For instance, if you install your siding during winter, you will spend less on the overall cost. This is because most contractors have little work and will be willing to lower their rates to attract more customers.
If you can wait until winter to do the installation, you will save a lot on the total cost compared to the summer season. However, if you are in a hurry, ensure you find a contractor that will offer you the best value for money.
Board size- the cost of vinyl siding will vary depending on the size of the board. Therefore, depending on the size you select, you should know that the cost will reflect the overall price.
Permits- since the installation of vinyl siding will make major changes to your home, you must obtain a permit for the job. The total cost for acquiring the permit will differ from one municipality to another. So, if the job costs more than a certain amount in your state, you will need to pay about $5000 or more.
Size of the home- the size of the home also matters a lot when installing vinyl siding. Larger homes will need more boards, while smaller homes will use fewer boards. Besides, if the house is more than two stories, it will cost you more on the installation.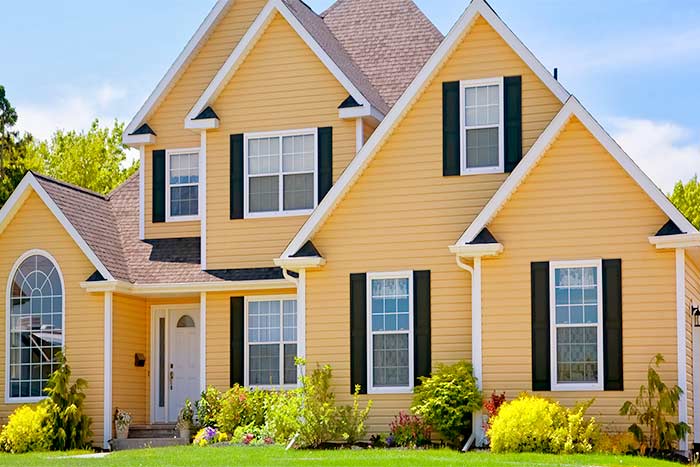 According to Consumer Report and Remodelling Magazine's Cost, replacing your home's siding significantly increases the resale value of your home. It is, therefore, one of the best home improvement projects that show a direct ROI.
If you are looking to install or replace your vinyl siding, you may be torn between hiring a pro and doing the project yourself.
If you are an experienced DIYer and have handled similar projects in the past, you may be experienced and competent in installing or replacing your siding. If you DIY your project, you will save more on the costs, but you will take longer to finish the project than professionals.
Depending on the home's size, design, and weather, professionals take weeks to complete the installation fully. This means that you will take longer because of availability and lack of enough experience.
If you are a beginner, it is best to let professionals do the job for you. Although vinyl siding installation may look simple and straightforward, beginners will have difficulty handling the project. This is because they will have little or zero experience working around corners, trimming openings, soffits, eaves, etc.
Besides, it is more difficult and dangerous to install siding on two or more story homes if you do not have enough experience. Also, you may end up damaging the siding material, which will call for new purchases.
You may think that you are saving on the installation costs but end up spending more due to accidents and replacement of damaged materials. For this reason, you should consider hiring a pro if you are not confident enough to replace vinyl siding yourself.
You will save on the costs.
You can do the job at any time
The installation will be done the way you visualize it.
No one will boss you around.
You will feel fulfilled for completing the project.
Lack of enough knowledge and experience
You still need to buy all the necessary equipment for cutting and fitting.
The house and materials will be more susceptible to damage.
You are more prone to making mistakes.
If you are busy or lack enough knowledge to install vinyl siding yourself, the best option is hiring a professional to do the installation for you. Since the installation of vinyl siding is a big project, you need to be sure that all the aspects are covered.
Although hiring a pro will cost you more, you will have peace of mind knowing your house is in the hands of professionals. Besides, the house will have a professional look and feel.
However, before hiring a contractor, it is critical to do some research to select the most experienced one. You should also research the prices to install the siding to have a clue of the general estimate for the job. With knowledge of the materials and average estimate for the job, your contractor will not extort you.
You should also be definite about what you want so that the professional will deliver according to your expectations. Make sure you discuss the pricing before the job to avoid surprises when the work is halfway done or complete.
Pros of hiring contractors
The contractor will be insured, licensed, and bonded, thus, protecting your home and himself in case of accidents.
Professionals come with all the installation equipment.
They will complete the job faster.
You will have peace of mind.
The house will have a professional look.
Professionals obtain permits and abide by the set building codes.
They are more expensive.
Their availability may be unpredictable.
They may not give you the desired results.